Help, my puppy wants to be held all the time and he cries when I put him down!
If that sounds familiar, don't worry, we've got you covered.
The first few weeks with a new puppy can be overwhelming, especially if said pup wants to be with you 24/7.
Fortunately, we're here to help you with 9 tips on how to manage a clingy and whining puppy.
Just keep on reading.
Tips to Try When Your Puppy Wants to Be Held All the Time
When you adopt a puppy, you can't wait to take them home and have hours of fun with them.
However, you quickly realize that puppies want constant attention and whine/cry when you leave them alone or don't hold them.
It's like having a baby in the house.
Unfortunately, you can't be with your puppy 24/7 because you've got work and family.
Moreover, holding your puppy all the time will become harder and harder as the little one grows up.
So, let's see what you can do if your puppy cries when not being held.
#1 Understand Why Puppies Want to Be Held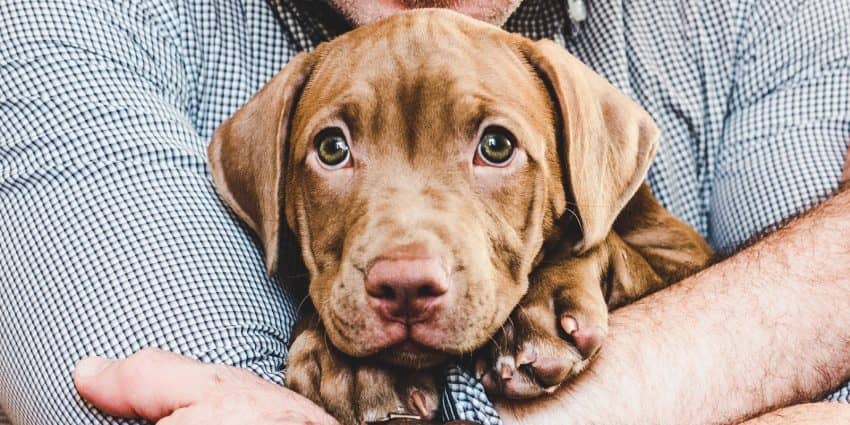 It's very traumatic for puppies younger than two months to be separated from their mother and siblings.
Such puppies are not ready to be on their own yet, but even older puppies will be upset when you bring them home.
While some new puppies are scared and hide under the bed, others get clingy because they think of you as a "surrogate" mother.
Being in your arm can be soothing for the puppy because they can feel your heartbeat, and it reminds them of their mother.
Usually, once your puppy adjusts to their new home, they will stop being so obsessive and demanding.
However, the adjustment period can last from a few days to a few weeks.
#2 Don't Pick Your Puppy When They Cry
"Why is my puppy crying" and "Should I pick my puppy when he cries?" are questions you're going to ask yourself a lot during your first few days with a new puppy.
When you hear a whimpering and crying puppy, your first instinct is to grab them and hold them close.
You just can't stand that constant wailing and the thought that your puppy is miserable.
While you have good intentions, you're teaching your new puppy that all they have to do is cry, and you'll come running to their side.
The more you hold your puppy when they cry, the more your puppy will howl and whimper when you leave them alone.
As cruel as it sounds, don't pick up your puppy when they cry.
Sooner or later, the puppy will tire and go to sleep.
That's the only way to stop your puppy from whimpering all night and day.
#3 Reward Silence
If your puppy cries when not being held, wait for them to stop wailing. Then you reward the silence with a tasty treat.
Your puppy will soon realize that they get delicious food when they're quiet and will stop howling to pick them up.
The hard part is waiting for the puppy to stop crying.
Most owners give up because they can't stand the horrible sounds of distress. But you'll have to see it through.
Depending on how stubborn your new puppy is or how much you've encouraged the behavior, it can take minutes to hours.
Start small. Reward your puppy every time they're silent even if it's only for a second or two and build on that.
#4 Establish a Routine
As I already said, the first few days are traumatic and stressful for most puppies.
But you can make things easier for your puppy by establishing a daily routine as soon as possible.
Dogs like it when things are predictable. So, your puppy will be less nervous and clingy when they know what to expect.
However, remember that puppies are like babies.
They need lots of attention and love to flourish. So, plan to spend as much time as possible with the puppy without being around 24/7.
Also, you should make sure that all family members spend time with the puppy.
Otherwise, the little one will bond with a single person, and you'd be wondering why your puppy only wants to be with you.
#5 Start Crate Training
I've met many owners who think that crate training is cruel and unnecessary.
However, crate training creates a safe place for your puppy where they can relax, nap, and have some me-time.
Moreover, crate training is invaluable when it comes to housebreaking your puppy, and it can speed up the process.
But you can't expect to put your puppy in the crate and leave them alone for hours.
That's a good way to make your puppy more anxious and likely to cry for you. You have to introduce the crate slowly.
Start by letting your puppy explore the crate so that they can get familiar with it.
Make it as comfortable as possible and feed your puppy inside. You want to create as many positive associations with the crate as possible.
Once your puppy seems comfortable with the crate and willingly goes inside, you can close the door for a couple of seconds and build on the duration slowly.
#6 Keep the Puppy Close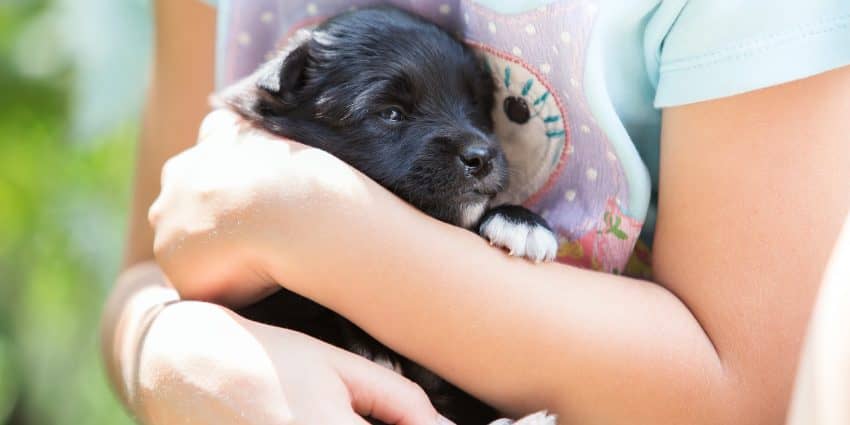 During the first few weeks, it's normal for puppies to be agitated when left alone and cry for you to come to the rescue.
You can solve the problem by keeping the puppy close to you without holding them in your arms.
For example, you can put the crate in your bedroom so that your puppy knows they're not alone at night.
But don't get up to check on the puppy at night or respond to their cries. Let them learn to calm themselves.
During the day, you can move your puppy's playpen so that your pet isn't alone for long hours.
#7 Tire Your Puppy
If your puppy wants to be held all the time, you might not be providing enough physical and mental stimulation. Remember that a tired dog is a good dog.
Once your puppy has sufficient exercise per day, they're less likely to make a fuss and won't have the energy to bawl for you to pick them up.
However, be careful not to exhaust your puppy.
Puppies don't have the same endurance as adults and shouldn't do any strenuous exercise until their bone plates close.
But there are many games that you can play with your puppy that will tire them.
#8 Rule Out a Medical Problem
If your puppy wants to be held all the time, and that's not their usual behavior, you should take the little one to the vet.
When puppies are sick and in pain, they might feel more protected in your arms and demand that you cuddle them.
A puppy that doesn't want to be held and squirms in discomfort should also raise the red flag.
The same goes if your new puppy just lays around.
It's normal for a puppy to be in shock for the first few days, but apathy and lethargy are signs of illness. 
#9 Avoid Common Mistakes
If your puppy has been crying for hours to pick them up and hold them, it can fray your nerves and create problems with your neighbors.
However, you should keep your temper at check.
You won't achieve anything good by scolding or disciplining your puppy physically.
Your dog won't understand why you're punishing them and will become scared of you.
Keep your temper at bay and leave the room if you think you're about to do something that you'll regret later.
Also, you might get some earplugs to deal with the noise.
It's normal for puppies to want to be held all the time.
They are a lot like babies in the first few weeks and can drive you crazy with their insistent crying and clinginess.
What you have to do is be patient, keep the puppy close until they adjust, and provide enough physical stimulation.
And of course, tons of love.
What do you think about these 9 tips for when your puppy wants to be held all the time? Tell us below!