Looking for the perfect homemade mini training dog treats recipe?
You're going to love this super simple idea!
It only has three ingredients and all of them are right in your grocery store.
Read on to learn how to make it!
Prefer something hypoallergenic? Try these Limited Ingredient Treats!
Mini Training Dog Treats Recipe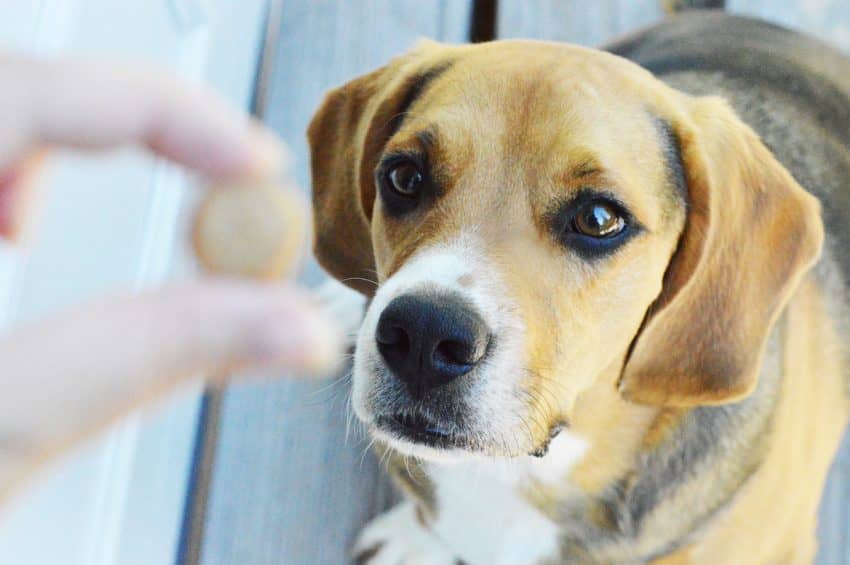 Training treats are a must for positive reinforcement dog training but it can be hard to find just the right ones in the store.
For one thing, they always seem to be made for chihuahuas!
While we don't need big treats for our big dogs, we definitely want to do more than just fill half of their tooth!
Another problem: if you look at the ingredients on any store-bought dog training treat, you'll see that it's loaded with preservatives and unnecessary fillers.
Plus, if your dog has certain food allergies, it's almost impossible to find an option that works for them. Nearly all treats have either chicken or beef, two of the biggest allergens for dogs.
By making them yourself, you not only control the ingredients but also the size.
Now, let's check out the recipe. Keep reading after because I have some tips on choosing ingredients and making this a hypoallergenic treat.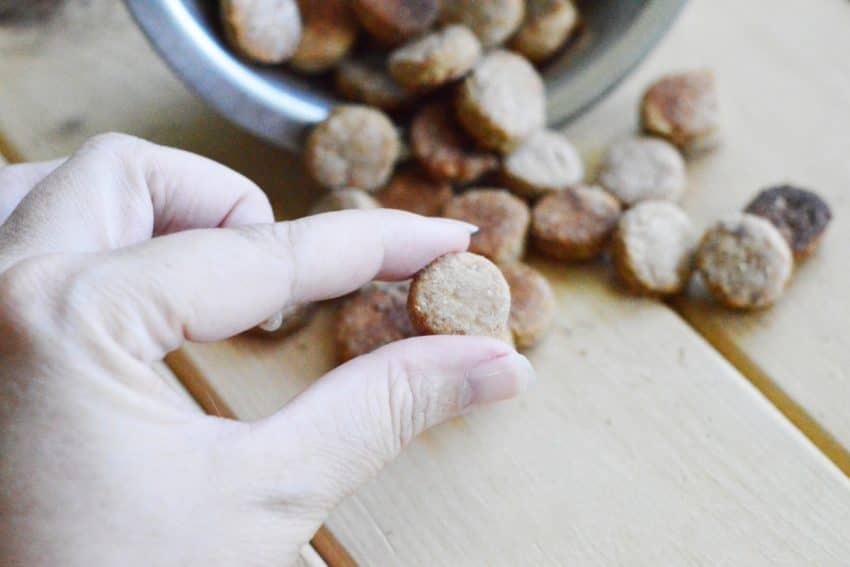 This post contains Amazon affiliate links. If you make a purchase through these links, we earn a small commission at no extra charge to you.
How to make these mini training dog treats
Check out the table below for a quick list of what you'll need to make these training treats for your pup! You don't HAVE to buy the brands I recommend, they're just to give you an idea:
Ingredients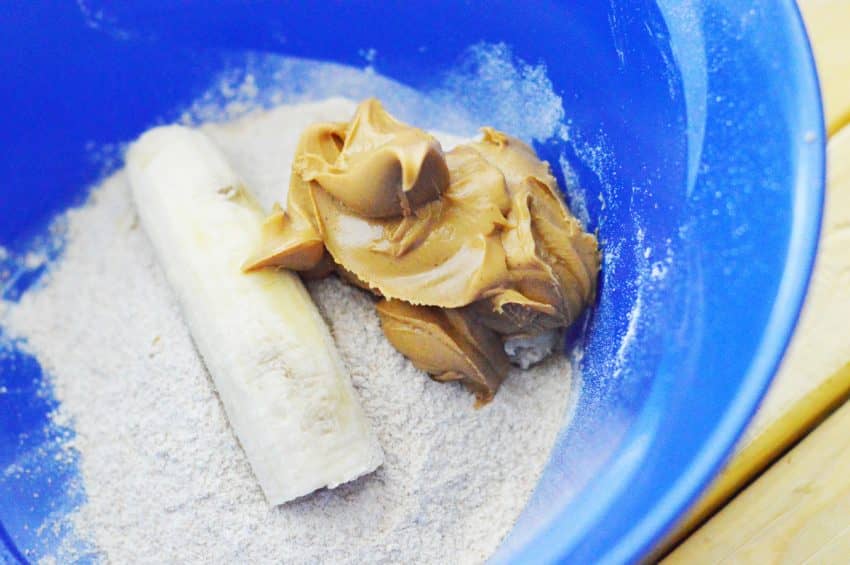 Supplies
Baking sheet (aka cookie pan)
Rolling pin
Wax paper, parchment paper, or a silicone baking mat of some sort to roll out the dough on
Tiny cookie cutters, a pizza cutter, or a knife to cut the dough into small pieces
Mixing bowl
Directions: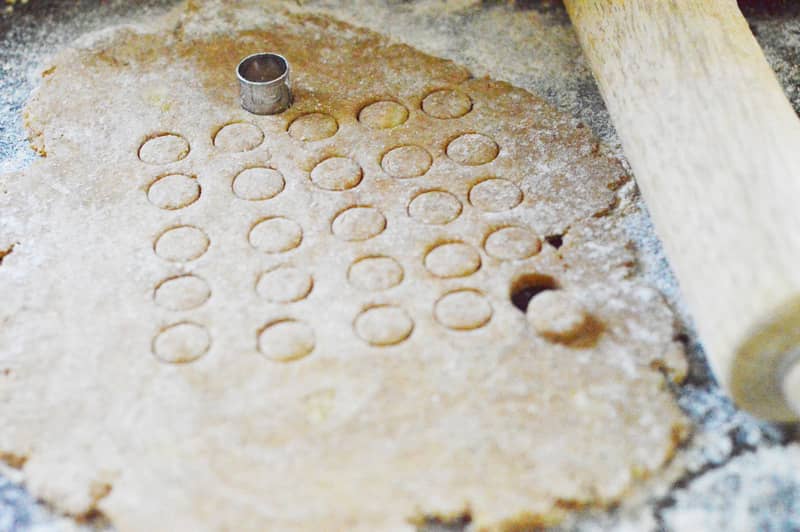 Combine ingredients in a bowl and smash them together using a fork. You can also use a blender or food processor if that's easier, but seriously, smashing it works fine.
Once mixed well, switch to using your hands to knead the dough. Or you can use something like a Kitchen-Aid mixer if you really don't want to get it all over your hands.
Place the dough ball on a flat, floured surface and roll it out to about ¼ of an inch thick using a rolling pin.
Using a ¾ inch to an inch cookie cutter, cut out as many pieces as possible with whatever shape you desire. You can also just use a knife to cut them into pieces.
Place on a cookie sheet covered with parchment paper.
Heat oven to 50 degrees Fahrenheit and bake for 12-15 minutes or until hard.
Let cool before serving to dogs.
Store in an air-tight container. If you're making an XL batch and don't plan to use them all up quickly, you can also store them in the freezer for later. Just let them thaw out before you serve them to your dog.
*Tip: If you have a little extra time, put the dough in the refrigerator for 30-60 minutes. It makes it a bit easier to work with.
Optional Add-Ins & Hypoallergenic Swaps
The flour is really the only ingredient in this recipe that could be problematic for dogs with food allergies. Even though they're major allergens for people, very few dogs are allergic to bananas or peanut butter. So if you want to make this hypoallergenic, here are a few alternatives to the wheat flour:
Amaranth flour
Arrowroot flour
Oats or oat flour
Coconut flour
Almond flour
Millet
If your dog doesn't like the taste bananas (or if YOU are deathly allergic and can't even handle them), you can try pureed pumpkin instead. You may need a bit more flour though since pumpkin isn't as thick as bananas.
Honestly, you can swap out the bananas with just about anything. Even pureed veggies like carrots and sweet potatoes will work. Just adjust the flour until you have the right consistency. As long as you can roll it out, it should bake just fine.
Oh, by the way, you can also use this same exact recipe to make dog biscuits! Just cut them into larger pieces or use a bigger cookie cutter.
Tips for Choosing the best ingredients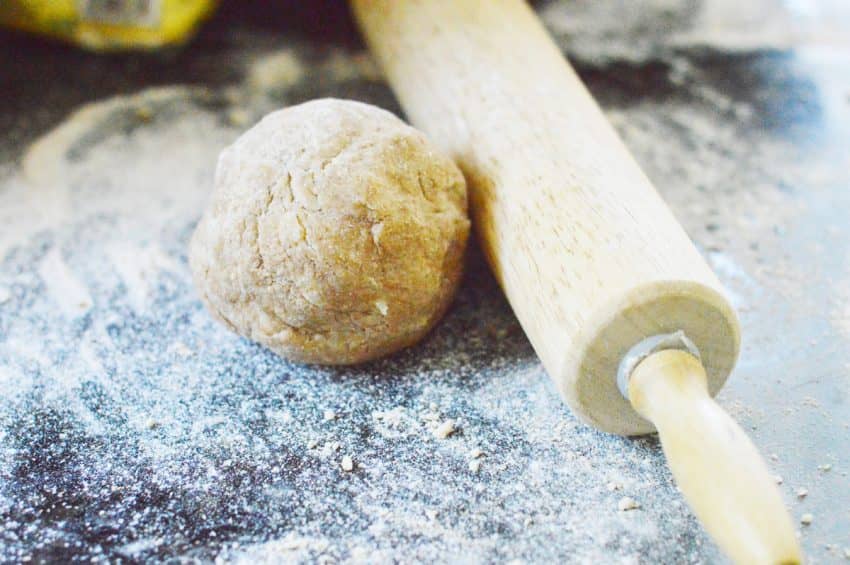 While bananas are pretty much standard and self-explanatory, below you'll find some tips on choosing the right peanut butter as well as swapping out the wheat flour.
What is dog-safe peanut butter?
By dog-safe, we mean xylitol-free, as xylitol is incredibly toxic to dogs.
Fortunately, very few brands contain xylitol and they're all specialty brands (like Nuts 'N More).
Think top-shelf or health food store PB, not middle-shelf grocery store.
If you stick to national brands like Jif & Skippy or generic store brands, you should be fine.
Just make sure you check the ingredients list. Some brands list it as a "natural sweetener," followed by "birch xylitol" in parentheses.
Ideally, you'll also want to use a no-sugar-added PB, like Spread the Love. It only has one ingredient- peanuts.
However, if you're not really keen on spending $10+ for a jar of PB, honestly, Jif is fine.
I make my dog peanut butter treats with plain old Jif, Skippy, or even Walmart brand PB and she hasn't grown an extra head yet! 😀
As long as you're feeding your dog these treats in moderation you shouldn't have an issue.
Is whole-wheat flour really okay?
Contrary to popular belief (and up until a few days ago, my own belief), grains are not bad for dogs.
A recent study even found that a grain-free diet may contribute to heart problems.
Now, I'm not quite ready to dump my dog's grain-free food into the garbage, but I do think it's fine to include some quality grains in her treats.
However, if your dog is allergic to wheat, then obviously you'll want to avoid it!
In that case, you can use something like coconut flour or opt for one of these dog treat recipes instead:
I hope your pooch loves these homemade dog treats as much as mine does! They make great rewards during training time, and they're a lot healthier than just giving her hunks of cheese!
What do you think of these mini training dog treats? Share your thoughts below!
Last update on 2023-09-25 / Affiliate links / Images from Amazon Product Advertising API