If you're looking for a Milliard Premium Orthopedic Pet Bed review, chances are you've heard good things and you're wondering if it's right for your dog.
Today, we'll talk about the top features of this budget-friendly bed and how the compare to some of the other best dog beds out there.
We'll also discuss the pros and cons so you can make an informed decision!
By the time we're done, you'll know for sure if this is the best orthopedic dog bed for your pooch!
Complete Milliard Premium Orthopedic Pet Bed Review
This post contains affiliate links. If you make a purchase through these links, we earn a small commission at no extra charge to you.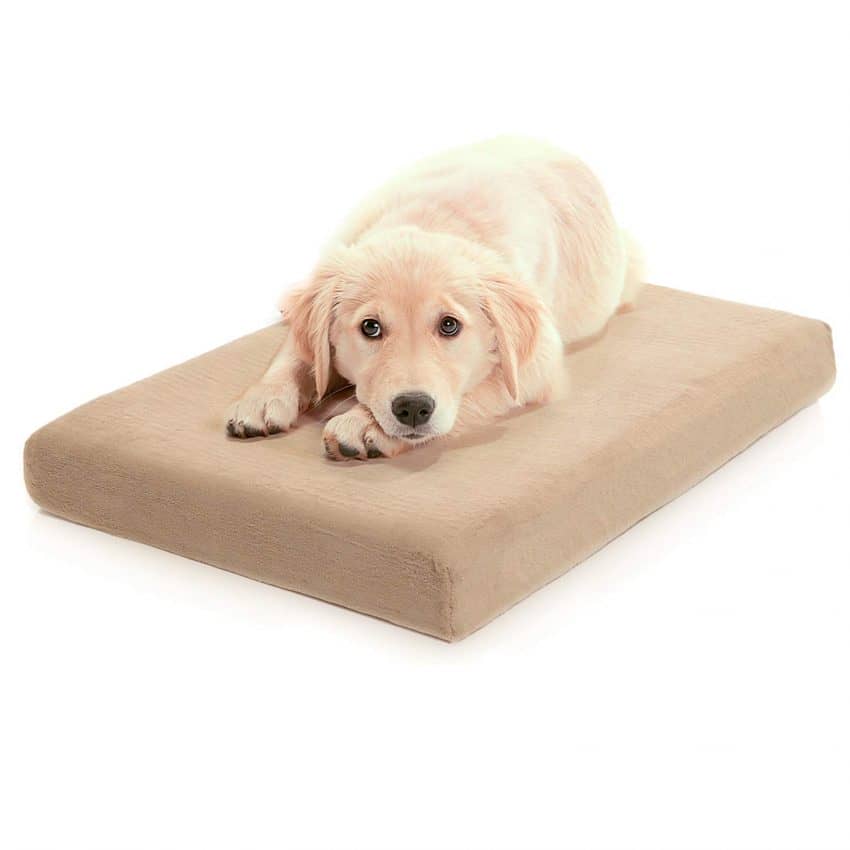 Let's start with the basic features of the Milliard dog bed, since it's hard to figure out if it's the right bed for your pooch without them!
I've talked quite a bit about what I look for in an orthopedic dog bed in past articles, but I'm going to do a quick recap.
Check out the table below for a quick overview of what I look for, along with a brief explanation.
| | |
| --- | --- |
| Feature | Explanation |
| Affordability |  I'm not made of money, so the price tag plays a major role in finding the perfect dog bed. |
|  Good memory foam |  Not all memory foam is created equal. I look for a high-density foam, preferably with cooling gel or open-cell foam on the top layer. |
|  Easy to clean |  My dogs get very messy in our yard, so I want a bed that can be tossed in the wash (or at least have a cover that's easy to remove and wash). |
|  Price vs. durability |  I'm okay with spending more for a longer-lasting bed, or less for one that will only last a year. I'm not okay with spending a fortune on a short-term bed, though! |
|  My dog vs. durability |  My Pharaoh Hound is a destructive dog who loves to tear apart her bed, so I have to consider if it will last longer than an hour in our house. |
| Skin-friendly materials |  My pit/lab has seasonal skin issues, so the materials have to be hypoallergenic and soft to the touch. |
| Made in the USA | While it's not my top concern with dog beds, I do factor it in. |
| Brand respectability | Again, not my top concern, but I'll pick a brand that's well-known vs an unknown brand if all other things are equal. |
Now, let's see how the Milliard Premium Orthopedic Dog Bed features at a glance. We'll talk more about them in the pros and cons.
If you want to follow along, check out the bed on Amazon.
Milliard Premium Orthopedic Pet Bed Features
4″ of memory foam, with sturdy foam on the bottom and a luxe layer
Waterproof cover to help prevent spills and accidents from seeping through
Washable cover that zips on and off
Rubber grips on the bottom to keep it from slipping
CertiPUR-US memory foam is safe and free of chemicals
Four sizes ranging from small to XL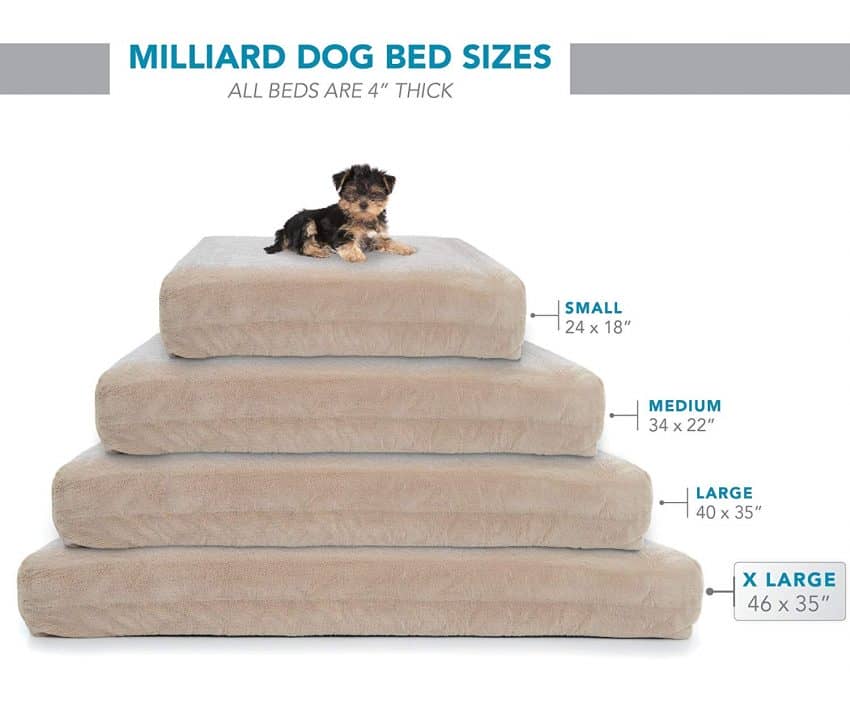 Now, let's dig a little deeper and check out the pros and cons.
Pros & Cons of the Milliard Premium Orthopedic Pet Bed
Pros
Affordable:
Perhaps the best thing about the Milliard Premium Orthopedic pet bed is the affordable price tag.
In fact, I think it's the cheapest orthopedic pet bed that we've covered!
More value for the money:
Along with being affordable, this bed actually gives you more value for your money. Basically, it's a higher quality bed than many others in the same price range.
For example, I've bought $50 beds that were just stuffed with polyfill (the low-quality stuffing found in plush toys). I'd rather pay $16 more for a memory foam bed!
Durable for the price:
Is it the most durable bed on the planet? No. However, it is more durable than you would expect for the price.
Orthopedic memory foam: 
This bed has a total of 4″ of memory foam, including a strong base to help support your dog's bones and joints.
The memory foam itself is CertiPUR-US, meaning it's guaranteed to be free of chemicals and other unsafe materials.
Brand respectability:
The company is located right "next door" to me in New Jersey (I'm in PA), so their name is familiar to me. I love that they give back to families in need, both by donating time and money.
Cons
Cover isn't durable:
I've poured through reviews, and there's one common pro among them: the cover falls apart in the wash.
Customers complain that it not only falls apart, but also leaves behind those rubber non-skid dots all over the dryer.
Many have also said that it shrinks quite a bit after washing.
They do sell a replacement cover for a reasonable price, though.
Cover also isn't really skin-friendly:
The 100% polyester cover isn't the most skin-friendly fabric out there. In fact, some even call it the worst material for skin! The man-made material doesn't really "breathe" well.
Combined with the non-cooling memory foam (it's standard poly foam versus open-cell or gel), that could make your dog pretty uncomfortable in the hot months.
Plus, polyester is known for trapping dust mites, making it a bad choice not just for dogs with allergies, but for people, too.
Remember, you come into contact with your dog's bed almost as much as they do!
Related:10 Best Hypoallergenic Dog Beds & Blankets
Not good for aggressive chewers:
If your dog is a digger or a chewer (or both), this isn't a good fit. My Freya would most likely destroy it within five minutes of bringing it in the house.
There are other far more durable options for chewers, including my personal chew-proof bed, the Kuranda All-Aluminium bed.
Not made in the US:
As I've said before, when it comes to dog beds, it's not as important that they're made in the US as it is for things like food.
However, I know many pet parents don't want anything made elsewhere, so I'm including it as a con.
Not all of the products are made in China, though. Some are from Japan or India.
No warranty:
As far as I can tell (and I looked both on Amazon and their website), the bed doesn't come with any sort of warranty.
They do say to contact them if you're unhappy, but they don't specify what they're willing to do to make you happy again.
My Recommendation
I would recommend the Milliard Premium Orthopedic dog bed for an adult dog that's not really much of a chewer and doesn't have sensitive skin.
As I said, it would never work for Freya, but my lab/pit Mocha isn't a bed chewer. She'd be fine sleeping on it in my room.
I don't love that there are so many issues with the cover, but even if you need to replace it every few months, you'll still end up paying less overall than you would for a more expensive bed.
Overall, it's a solid option for those on a tight budget who want to get their pup something comfy!
Do you have any thing to add to my Milliard Premium Orthopedic pet bed? Share your thoughts below!