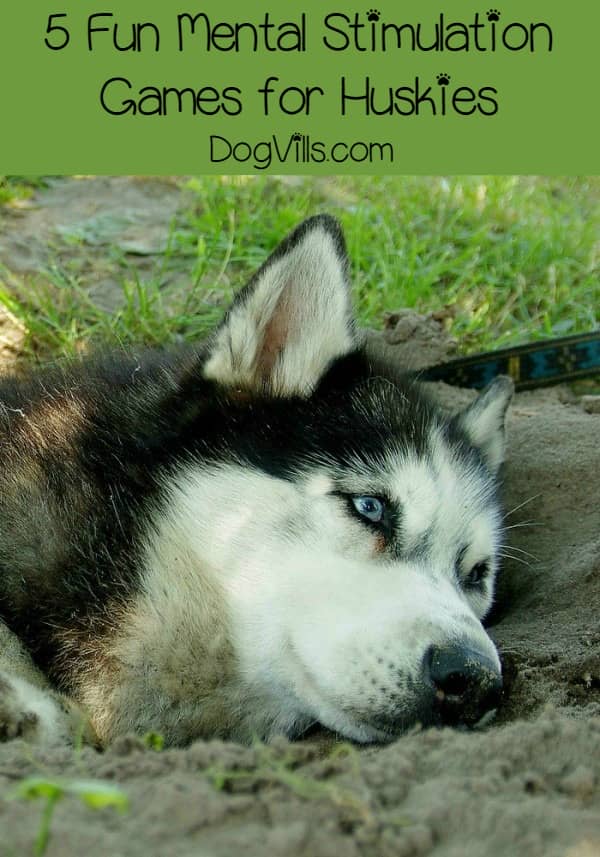 If you have been on the hunt for five fun mental stimulation games for your husky, you have landed in the right place!  
Why 5?  
Because it is a nice round number to start with, and one for just about every day of the week.  Keeping your husky on his toes and mentally stimulated is fun!  
Not only does he need walks and runs to be physically tired, but he needs to be mentally stimulated as well.
Check out the question that inspired this post, then read on for five fun mental stimulation games for your husky!
 I am taking a Husky/ Border Collie on (predominantly Husky, only temporarily) and would like some ideas of mind games to use for mental stimulation. Walking and running is already planned out, some agility work and obedience.
5 Mental Stimulation Games for Your Husky
1- Use his nose
Hiding his treats is a fun game for him (or at least we like to think so, he can't really tell you on his own).
By hiding his treats, it forces him to use his nose and brain to find his reward.  You can make this even more fun by creating a makeshift obstacle course in your backyard, and his treat will be at the end!  
[embedpost postid="21455″]
2- Get creative
You don't have to go out and buy all sorts of crazy expensive dogs toys; you can use what you have at home!
I am sure you can find a stick (or a broomstick), some string, and one of his favorite toys.  Tie the toy to the end of the stick.  
Now, don't go with your instinct, which is to dangle it fast and shake it in front of him and make him chase you, if you move slow, he will start to use his mental energy, rather than physical, to get his toy.  
This is a good time also to work on commands such as 'stop' or 'heal', whatever you are using to make him stop walking.
3- Hide-and-seek
Play this with humans, not treats.  
Once he learns how to stay and come, you can hide (or someone else does) and you let him loose to find them.  
This will more than likely take a few times for him to 'get it', but it is super fun when he does!  
Be sure when he finds you, that you give him lots of praise, and a treat doesn't hurt either!  He just used his nose and some brain power to get you!
4- New tricks
There are always new tricks you can teach your dog to do!  
Dogs love to please their owners (and treats and praise go a long way too!)  Every time you have a training session; you are challenging him mentally.  
Work on one at a time; you will both find the time spent together fun and rewarding.  
Just be sure you are rewarding his behavior with treats, and lots of them.  When he does the slightest thing right, reward with lots of praise and a treat.
5- Out with the old in with the new
Swap out his toys!  
If you have kids, you know that playing with the same toys over and over for them gets boring after a while (that is usually when they start to bug you).  
Dogs are the same way.  
Sure he might have a favorite toy he likes, and that is ok, you don't have to take that away.  
But think about introducing something new to his stash, something a little different that what he might already have.  New toys will stimulate his brain, just like it does with a child.
Our dogs need to be mentally stimulated often (just like we do, or we get bored too).  
Keeping his mind sharp will help him stick around a little longer with you, make your times together more fun and enjoyable and keep him on his toes.  
Remember how happy your dog was to learn to tricks and please you?  
He still does!  
Can you think of any other fun mental stimulation games for your husky?  Share with us in the comment section below!