If you're looking for some amazing Maltese dog names for your new puppy, you're going to love our list!
Whether you're looking for ideas for your Maltese pup OR inspired by Malta itself, we've got you covered.
We've come up with a whopping 80 ideas, with plenty for both males and females.
You'll find the perfect idea below.
Complete List of Maltese Dog Names
According to I Heart Dogs, the Maltese ranked among the top 20 most popular dog breeds of 2019.
This small breed of dog originated from the island country of Malta, Italy. However, it's not the only one!
Malta's official national breed is actually the Kelb tal-Fenek (aka Pharaoh Hound).
Since Pharaoh Hounds are relatively rare in the US, we're going to assume you're searching for Maltese dog names for the actual Maltese breed.
That said, if you are here searching for the names for the latter breed, we're also including some great names straight from Malta itself.
Male Maltese Dog Names
Some of these names are inspired by the Maltese breed's signature white color. Others by names and places in Malta.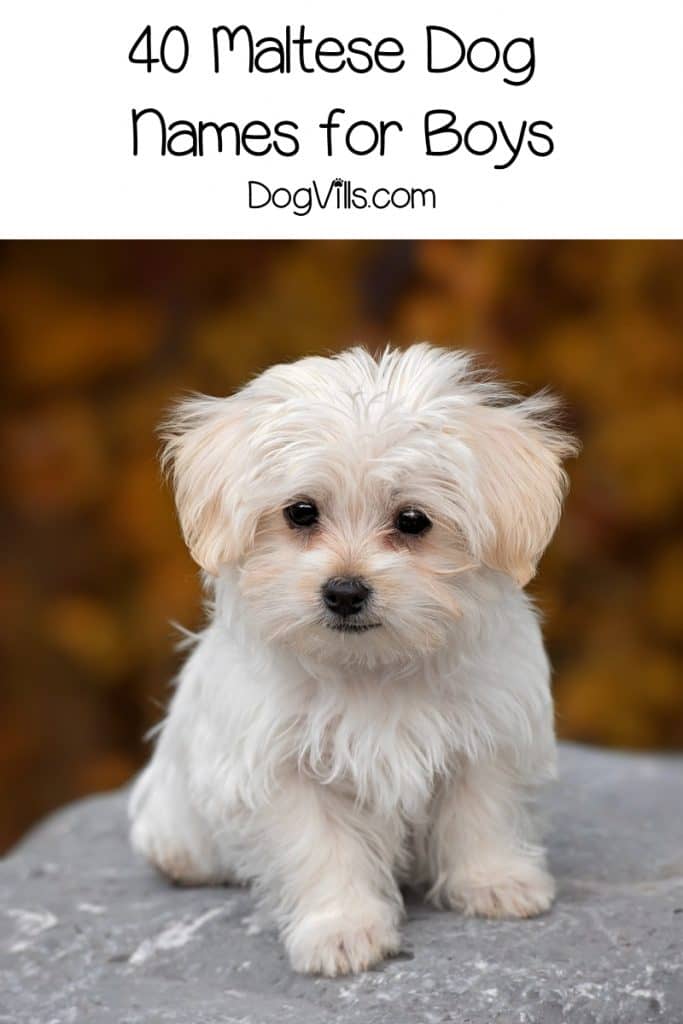 Aiden– When spelled with an "e," it's one of the most popular names in Malta.
Albino – Inspired by the Maltese coat color.
Aldo– Means old and wise
Aodh – The original version of Aiden in Malta
Avalanche– Like the snow slide.
Barrakka – A popular garden in Malta
Birgu– A city in Malta
Blanco– Means "white" in Spanish.
Blizzard– Named after the severe snowstorm.
Bones– Like the hard substances in our bodies.
Casper– Named after Casper the Friendly Ghost.
Cloud
Comino – A town in Malta
Enzo– Means ruler of the house
Frosty– Like Frosty the Snowman.
Gavin– From Celtic origin meaning "white falcon or hawk."
Ghost– Like the apparition.
Gustuż – Means handsome in Maltese.
Habib– Means "friend" in Maltese
Helu– Sweet in Maltese.
Ivory– Named after the hard material made from elephant tusks.
Kannoli – Exactly what it sounds like but spelled the Malta way.
Kelb– Means dog in Maltese
Liam– Another popular boy's name in Malta!
Marcellino – A version of Mark
Marshmallow– Like the soft, fluffy, sweet snack.
Mirko– Means "celebration"
Nelu– Means cute in Maltese
Parr– A Maltese name that means "enclosure," but still sounds neat.
Phantom– Named after The Phantom of the Opera, who donned a white mask.
Polar– Named after the polar bear.
Popcorn– Like the popular movie snack.
Porkchop– Named after pork, aka the other white meat.
Ricasoli – A town in Malta
Snowball– Named after the round object made from snow.
Tristian– Malta's version of Tristan.
Tofu– Also known as bean curd and made with soy milk.
Whiteout– Referred to as a weather condition with zero visibility.
Whitey– Another word for the color white.
Winter– Because winter is synonymous with snow.
Female Maltese Dog Names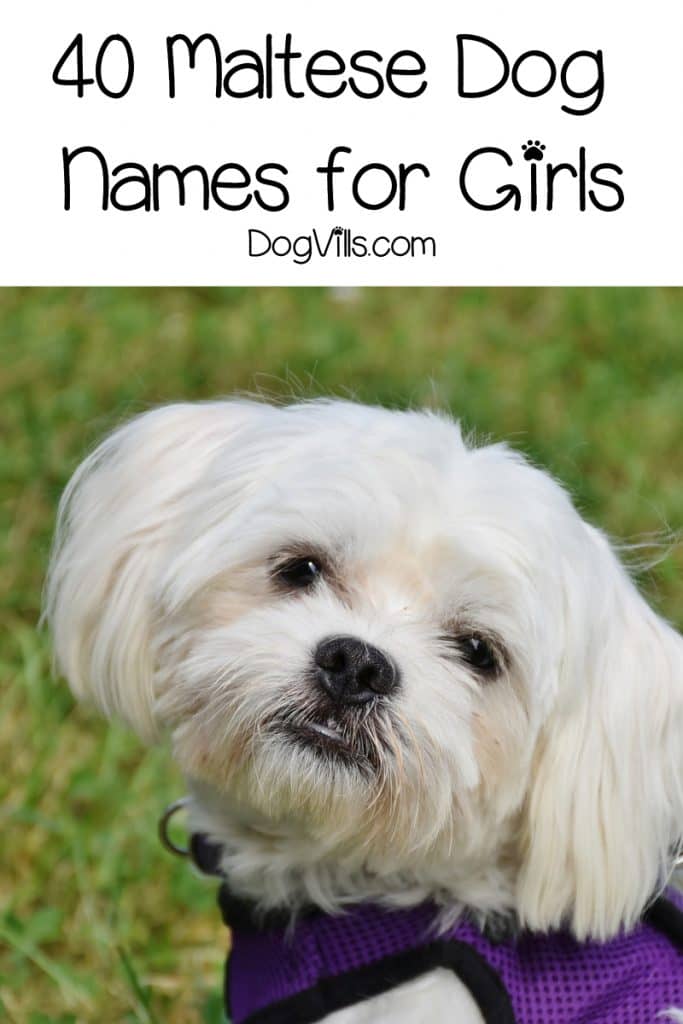 Alaska– Named after the snowy U.S. state.
Alessia – Popular girl's name in Malta.
Angel– Named after the spiritual being.
Arianne – One of Malta's most beautiful popular girl's names.
Aspen– Named after Colorado's popular ski resort town.
Bella– Means beautiful
Blanca– Means "white" in Spanish.
Brie– Named after the fancy, creamy cheese.
Brook– Means "stream," and is popular in Malta.
Borra– Means white in Maltese
Buttermilk– Like the fermented, dairy drink.
Coconut– In reference to the fruit's white inside color.
Cotton– Named after the fluffy, soft fiber.
Crystal– Like the beautiful, light, bright glass.
Diamond– Diamonds are a girl's best friend, much like their dogs.
Dove– Like the white domestic bird.
Easton– A popular girl's name in Malta.
Gardenia– Named after the white flower that is native to Africa and Asia.
Glacier
Hanini– "Adore" in Maltese
Heaven– Like the place in the sky, beyond the bright white lights.
Jasmine– Named after the fragrant flower.
Kapunata – a funny food name for dogs inspired by Malta cuisine.
Lacey– Something consisting of lace.
Lampuki – A type of fish pie in Malta, but super cute name!
Luna– From Latin origin meaning "moon."
Magnolia– Named after the white-hued flowering plant.
Mayo– Like the thick sandwich condiment.
Mdina– A city in Malta, and no I didn't forget a letter.
Opal– Like the milky, white gemstone.
Pearl– This gift from oysters is usually pure white.
Powder– According to com, powder is defined as "any solid substance reduced to a state of fine, loose particles by crushing, grinding, disintegration, etc."
Salt– Salt is white after all, right?
Shaba– Means "cloud" in Maltese
Sierra– From the Spanish word meaning "mountain chain."
Snow (or Snowy)
Snowflake– Like the flake of snow.
Sugar
Valetta– A beautiful name that comes from a city in Malta.
Vanilla– Like the edible fruit of the orchid family.
Whether you choose from names inspired by your Maltese dog's color or directly from their origins, you can't go wrong with any of these ideas!
What are your favorite Maltese dog names? Share below!