Today, we're discussing how to make a dog with chronic kidney failure comfortable.
It's hard to imagine our dogs in pain, but there are things we can do to soothe them.
We'll also discuss exactly what causes chronic kidney failure, so you know what to watch out for.
Let's get started.
Chronic Kidney Failure in Dogs
Chronic kidney failure is a condition that many dogs face as they age.
It occurs as a result of kidney disease, and although it's generally thought of as a feline condition, many more dogs are afflicted by it than many people realize.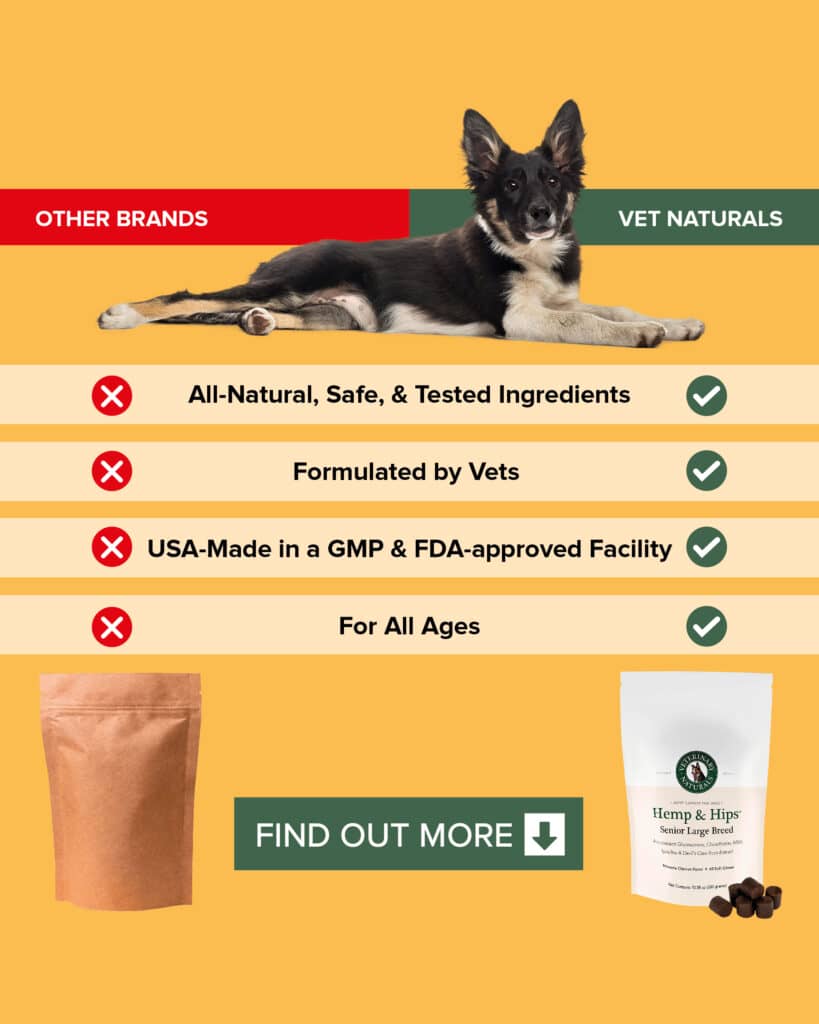 As dogs age, their bodies begin to wear out, this can lead to a host of diseases, one of which is kidney disease.
Unlike other diseases, chronic kidney failure is a degenerative condition that cannot be cured, so it's important to know how to keep our dogs as comfortable as possible while they battle this disease.
During your dog's chronic kidney failure treatment, he'll be relying on you to remain comfortable, and that's just what we're going to talk about in a bit.
First, though, it's important to know exactly what kidney failure is, what it entails, and how it's treated.
What Do Kidneys Do?
Kidneys are one way that our bodies get rid of the toxins in a dog's blood. When the body breaks down food to make energy for itself, it also produces waste products.
These waste products, along with excess minerals are filtered through the kidneys as the heart pumps blood through them.
As the heart pumps blood through the kidneys, the blood is transported through small tubules known as nephrons.
These nephrons reabsorb some of the water in the blood along with any useful nutrients and transport them back into the blood.
The remaining waste is passed through the kidneys down the ureters and into the bladder, becoming urine, where it is stored until the dog urinates.
In addition to filtering his blood, your dog's kidneys also play an important role in controlling his body's hydration levels.
When he goes into chronic kidney failure, his kidneys begin to function less and less, inhibiting his body's ability to absorb nutrients, retain water, and filter toxins out of his blood, which is why chronic kidney failure is so dangerous.
What is Chronic Kidney Failure
As mentioned above, chronic kidney failure is a degenerative condition in which the kidneys slowly stop functioning.
The version we're talking about today is chronic, which means a long-term condition.
However, if kidney failure occurs secondary to another health issue, it can be acute. This means that it occurs rapidly.
Sometimes when kidney failure is secondary to another medical condition, it can be rectified by addressing the underlying cause, however chronic kidney failure has no corrective approach.
Kidney failure, especially chronic failure, is generally related to old age and is a general wearing out process.
It comes on slowly, so it often goes undetected until the dog has very little kidney function left, often as little as 25% to 33% of normal working capacity.
Symptoms
Chronic kidney failure has a host of symptoms, but one of the most common is excessive drinking and urinating.
As your dog's kidneys function less and less, his body will tell him to drink more water.
This is an effort on his body's part to dilute the toxins that are slowly building up in his body due to his kidneys' reduced ability to filter his blood.
Dogs will often have accidents in the night due to this increased water intake.
DO NOT take water away from your dog if he is showing signs of excessive thirst and urination.
This can make his kidney disease worse, exacerbating an already extremely dangerous medical condition.
Other symptoms include:
Urinary incontinence or "leaking"
Dehydration
Lethargy
Reduced or no appetite
Weight loss
A chemical odor to the breath
Ulcers of the mouth
Pale appearance
If your dog shows any of these symptoms, take him to the vet immediately.
Kidney disease and kidney failure are dire conditions, and early diagnosis is key to both your dogs quality and length of life through this condition.
Diagnosing Chronic Kidney Failure
Diagnosing this disease is usually done with two types of tests: a complete urinalysis and a blood chemistry panel.
A complete urinalysis is exactly what it sounds like. This test analyzes your dog's urine.
The test looks at the urine's specific gravity and protein levels as well as looking for signs of stones and other possible indicators of kidney problems or disease.
Dogs with chronic kidney failure will have a low urine specific gravity as well as increased protein levels in the urine.
While a urinalysis goes directly to the urine to tell one part of the kidney story, a blood chemistry panel takes another route, examining levels of certain biochemical markers in the blood to determine the health of a dog's kidneys.
There are two waste products released into the blood by the kidneys: blood urea nitrogen (BUN) and blood creatinine (CREA).
When the kidneys begin to lose function, they produce more of these waste products.
High levels of these two waste products can be an indicator of kidney disease, especially if the levels are very high.
Treating Chronic Kidney Failure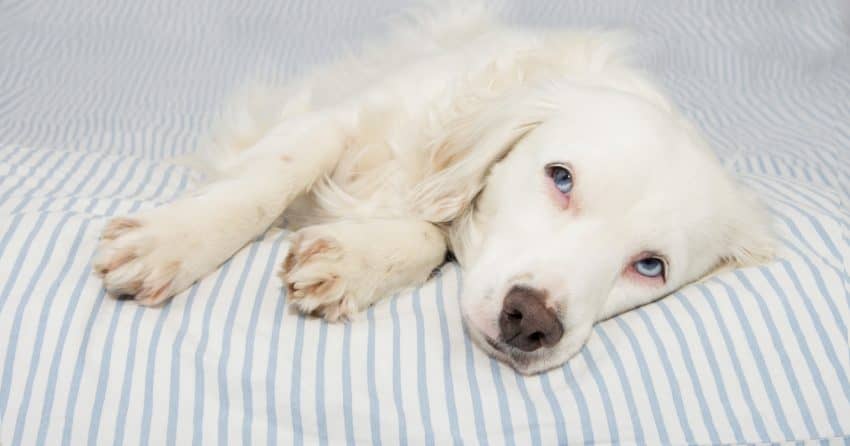 Once your dog is diagnosed with kidney failure, whether chronic or acute, your vet will begin treating him immediately.
It's important that the excess toxins from the blood are removed as quickly as possible to both get your dog feeling better and giving his body a break from the damage that these toxins do.
Kidney failure treatment is approached in two steps.
Flushing
The first step in treating chronic kidney failure is flushing the dog's system to remove accumulated toxins from his blood.
This is done via high doses of IV fluids.
This process can help the kidneys bounce back somewhat by removing the toxic metabolites from your dog's bloodstream
It leaves any healthy or even mildly-damaged kidney cells an environment more conducive to healing and better function.
During this phase, the fluids your dog receives will most likely be a simple saline solution.
This solution allows for proper rehydration as well as rebalancing your dog's electrolyte levels which may have been thrown out of whack due to excessive drinking, dehydration, or simply his body's reduced ability to self-regulate due to his kidney disease.
There are three different outcomes you can expect during this phase, and unfortunately, there's really no way to tell which one outcome your dog will have until the flushing process is complete.
These outcomes are:
Resumed Function – The most positive outcome. Your dog's kidneys will be healthy enough to resume functioning and continue functioning for a few weeks to a few years.
Sporadic Function – This is not an ideal outcome. The flushing will remove toxins and kickstart your dog's kidneys, however, chronic kidney failure has progressed to a point where the kidney cannot sustain functionality. If this is your dog's outcome, his kidneys will begin to fail again within 3 to 14 days.
No Function – This is the more dire outcome. The kidney disease has progressed to the point where flushing has no effect. There is nothing further that can be done.
Continued Treatment
If the first flushing step is successful, your vet will move on to the next step, which is the continued treatment of your dog's condition.
This continued treatment will involve both a special diet, continued fluid therapy, and medications as your vet sees fit. The steps in continued treatment include:
Special Kidney Diet
 Nutrition is the key to treating chronic kidney failure. Your vet will prescribe a special kidney diet that is lower in protein, phosphorous, and isn't acidified.
This diet reduces the strain on your dog's kidneys, allowing them to work better longer.
Phosphate Binder
 Kidneys remove excess phosphorous in the body. Impaired kidney function leads to an accumulation of excess phosphorous in the body.
Your vet will combat this by prescribing a phosphate binder which will remove excess phosphorous for your dog, alleviating the strain on his kidneys and body.
Home Fluid Therapy
 Although your dog's kidneys' may be functioning better, he is still in chronic kidney failure.
Home fluid therapy using subcutaneous fluids, fluids that are administered under the skin, allows you to continue to flush your dog's system at a slower pace and help reduce kidney strain.
Other Medications
A host of issues occur due to chronic kidney failure.
Your vet will address them by prescribing medications that can lower blood pressure in the kidneys to prevent strain, regulate calcium and thyroid levels, and even stimulate the bone marrow to produce more red blood cells.
All of these will be prescribed as need, as not all dogs will require them.
Lifespan After Diagnosis
Many dogs respond well to the treatment of their chronic kidney failure, although not as well as cats.
I have seen cats at the vet where I worked who have lived with kidney disease for years and years. However, dogs don't do quite as well.
The prognosis for dogs is anywhere from 6 months to 4 years. In general, the larger the dog, the less time he has.
This is due to the sheer amount of fluids required to properly flush his system as well as his body's large size producing more toxins as it breaks down food for energy.
How to Make a Dog With Kidney Failure Comfortable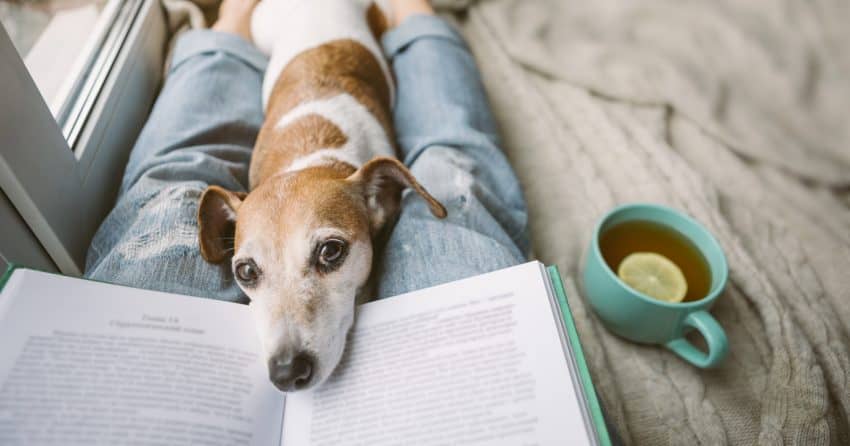 Now that you know all about chronic kidney failure including what to look for and how it's treated, let's talk about how to keep your dog comfortable during chronic kidney failure.
Often times, the treatment itself will make your dog feel much better.
Flushing all the toxins out of his system and easing the strain on his body will have him feeling much better in relatively little time.
A dog with chronic kidney failure will require special care for the rest of his life, and the best way to keep him comfortable is to follow his treatment exactly.
The following steps will help you keep your dog comfortable throughout his chronic kidney failure management:
Follow diet and medication prescriptions exactly.
Don't feed extra snacks.
Feed your dog small meals throughout the day rather than one or two big meals. Small meals are easier on his kidneys.
Keep clean, fresh water on hand at all times and never withhold water for any reason.
Warm your dog's food up just a bit if his appetite is poor. This can often entice him to eat.
If your dog is diagnosed early enough and you follow the treatment laid out by your vet, your dog could do very well with his chronic kidney failure.
Remember, diagnosis, treatment, and adherence to medical advice are the keys to both treating his chronic kidney failure and to keeping him comfortable throughout the rest of his life.
If you do those things, and your dog's kidney failure isn't too severe, he could have several years of good living left.
Have you dealt with kidney failure in your dog? How did you keep him comfortable? Share below.