So you've come here in search of the least aggressive dog breeds, ready to grab a handy dandy list and start your adoption journey.
Here's the thing: it's not quite that simple.
Aggressiveness is a learned behavior.
Dogs that become aggressive do so because of shoddy training, improper socialization and, too often, because they've been abused or mistreated.
Sometimes, aggression is also just a complete misunderstanding.
We mistaking playing for fighting.
Or we see a scary open mouth full of sharp teeth coming right for us when our dog is just thinking "kisses!"
So as you read over this list of the least aggressive dog breeds, consider it more of a list of "well-mannered" dogs.
Typically relaxed breeds (typically, there are exceptions, of course) who either want to kick back and relax with their families or really love being social butterflies.
We're not saying that these dogs are better than others, nor are we saying that your dog is an aggressive breed if he's not on this list.
It's just a starting point for finding fairly relaxed pups.
7 Least Aggressive Dog Breeds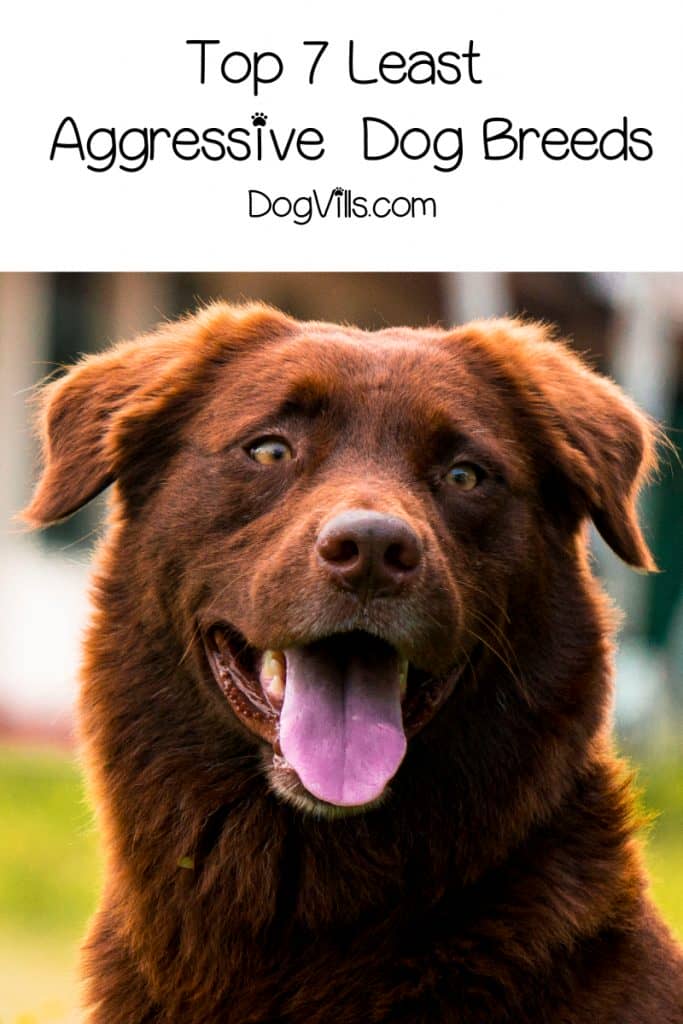 Once again, I feel like I have to remind you that any dog can make the least aggressive list through proper training and socialization.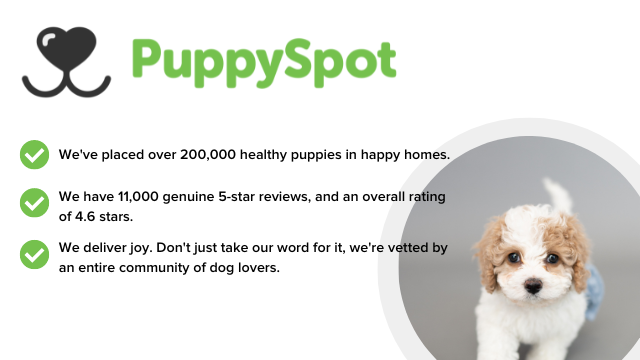 Just because your breed isn't on this list doesn't mean he's not a super chilled pup!
However, each of these breeds has a pretty solid reputation for going with the flow. Let's take a look!
1- Beagle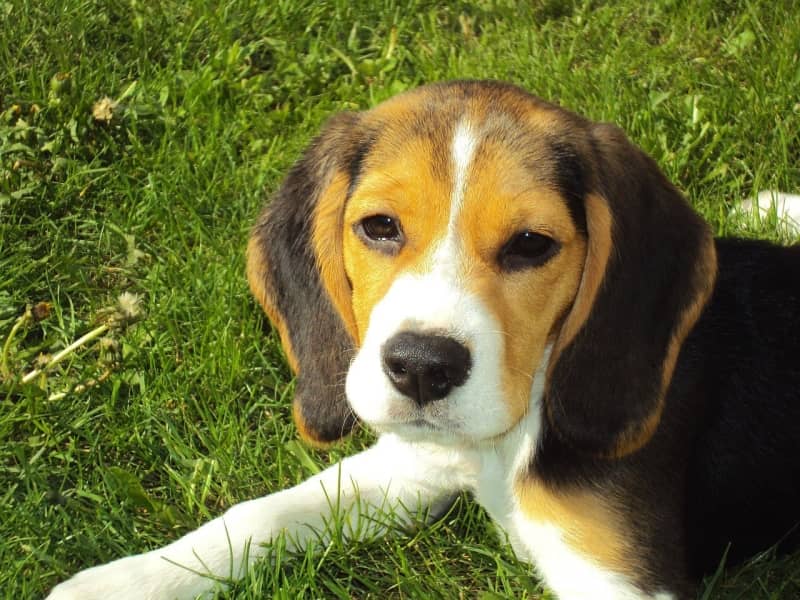 Beagles are pretty well known for being great family dogs. Just look at those soulful eyes! 
They are child-friendly, affectionate, dog-friendly, playful, social and stranger friendly.
While the beloved Beagle is definitely not a shy guy (he knows how to make his presence known) he's far from pushy and aggressive about it.
He's a loyal companion that gets along with everyone in the family, making him one of the best dogs for kids, too.
2- Golden Retriever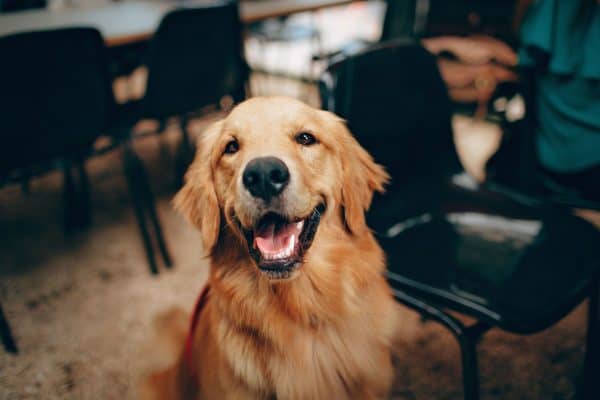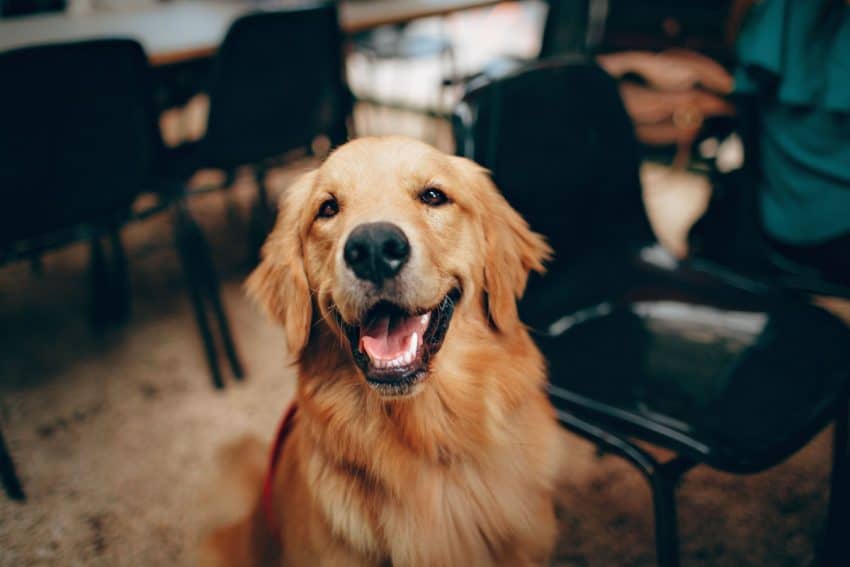 Golden Retrievers are dogs that are very well-mannered, charming and intelligent.
In addition, they are patient, easily trained and gentle with children. In fact, they can even get along well with cats.  It's no wonder they're among the top 5 most popular dogs in America!
If you're curious, they're #3, after the Labrador Retriever and the German Shepherd.
Goldens are not aggressive, destructive or mean in nature, but, like any other dog, they can get distracted easily when they are bored.
3- Great Dane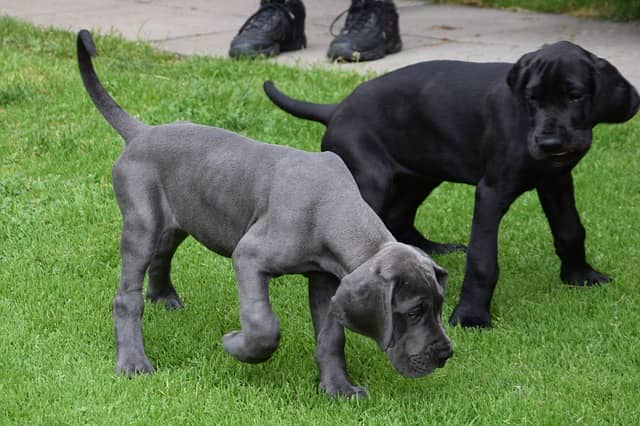 While it is true that Great Danes are big and powerful dogs, they are known as gentle giants for a reason.
They are affectionate, charming, patient, playful and great with children. As people pleasers, they're also incredibly easy to train.
They are not aggressive dogs by nature, but will become protective if required to do so. Great Danes love to be around other people and other pets as well.
4- Irish Setter
Irish Setters are energetic, loving, full of energy, smart, affectionate and high-spirited.
They love to be the center of attention and are joyful in whatever activity they are engaged in.
This pup makes a great family dog. He loves kids, and his high-energy is perfectly tuned to theirs.
However, he can get a bit rambunctious, so you'll need to train him to relax around young children.
5- Newfoundland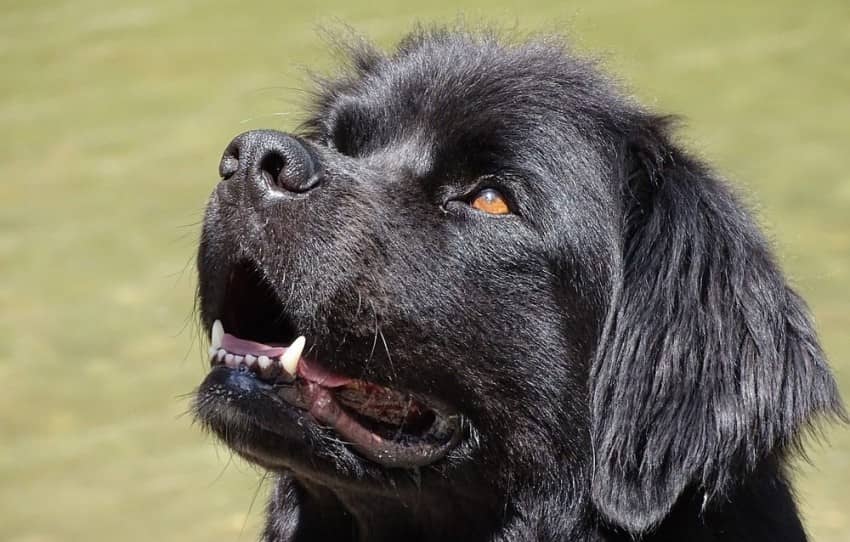 Another wonderfully gentle giant,Newfoundland dogs are strong, powerful and massive, while at the same time they are intelligent, sweet-tempered, peaceable and loyal.
They make the ideal family dog since they are great with children as well as other pets, like cats and dogs in the home.
They love to be thought of as lapdogs and enjoy parking themselves on your feet.
Not AT your feet, but ON your feet! Think of them as giant foot warmers!
Along with the pit bull, he's earned the title of "nanny dog" for children!
6- Bullmastiff
A Bullmastiff dog is sweet, protective and mild-mannered.
They are also territorial, intelligent, affectionate and adaptable. It is important to note that these dogs are not cat friendly nor are they dog friendly.
This is especially true of dogs that are of the same sex as they are. In that regard, they're among the most aggressive.
However, with that said, a Bullmastiff is great with children and incredibly loyal to his family.
7- Pugs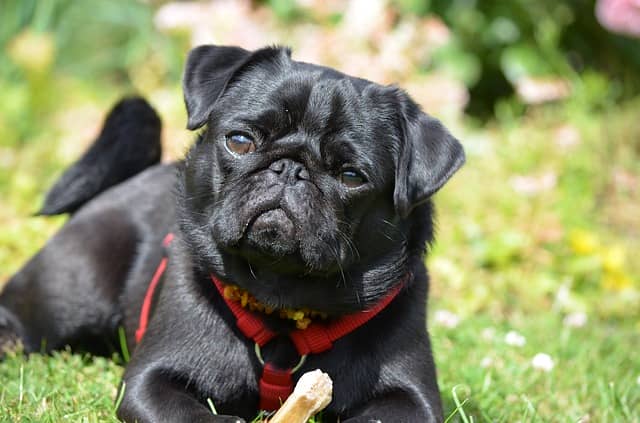 On the smaller end of the spectrum, the Pug is a pretty chilled little guy who happens to be one of the best dogs for families with small children.
He's smart and gentle, loves his people and even gets along pretty well with cats.
Like I said above, any dog can be one of the least aggressive dog breeds with the right training, socialization and, most of all, loving family.
Just like any of these dogs can become aggressive if mistreated. It's all in how you treat your dog.
Still, if you're looking for dogs with an overall reputation of being pretty relaxed, this list is a good starting point.
Do you have any thoughts on this list of least aggressive dog breeds? Who would you add to the list? Tell us about your favorite breed in the comments!