If you're on the search for some great Korean dog names for males & females, wait until you see our list!
Perhaps you are inspired by certain artists or actors, or maybe you just love Korean culture in general.
From K-Pop superstars to Korean cuisine to traditional names, we've rounded up the best ideas to help you on your quest for the perfect puppy name!
Take a look!
You may also love these Top 105 Funny Italian Dog Names
Korean Dog Names
What spurred us on to write a list about Korean inspired dog names? Well, K-pop of course!
K-pop or Korean pop music and Korean dramas have taken the world by storm.
Whether it be their amazing dance choreography or the drama filled TV shows, they have certainly made their mark in the entertainment world.
We were also took inspiration from tasty Korean cuisine (we love our bulgogi beef) and, of course, traditional baby names.
Let's start our list of Korean inspired dog names with ideas for your male pup!
Male Korean Dog Names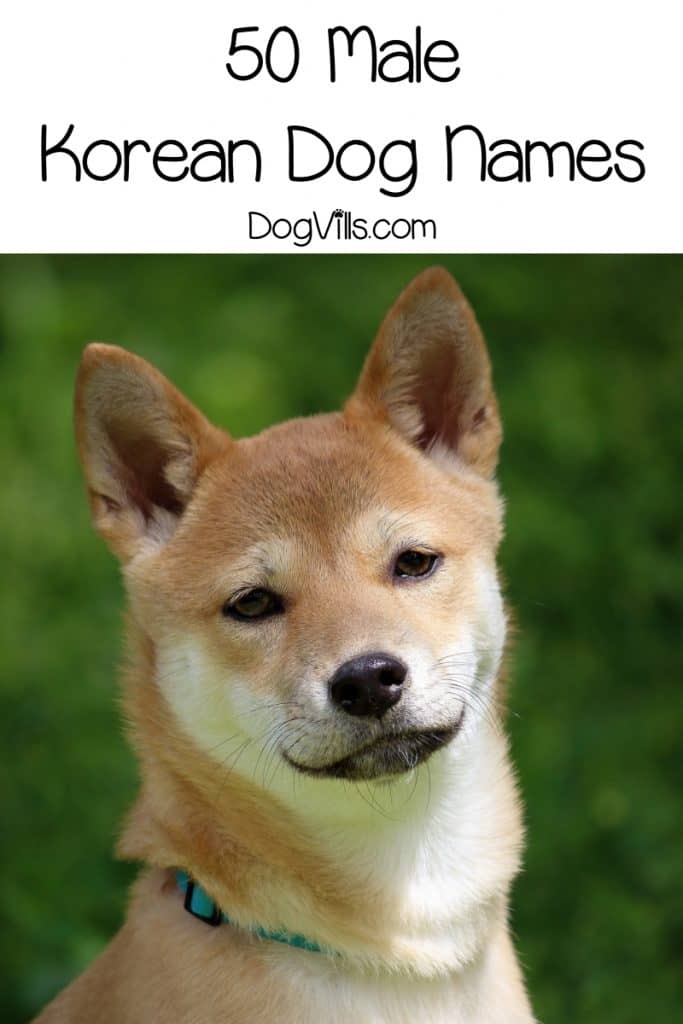 Big Bang, Tae Yang, G-Dragon, if you love K-pop we're sure you know who these people and this group is.
Let's see if we can break down different names and their meanings for you. Koreans always have their own unique style, and we're sure that with the right choice, so will your pup!
Bon-Hwa – Meaning "glorious", because your pup sure is.
Bukkumi – a type of sweet rice dumplings
Busan – A big city in Korea, and the setting for the famous zombie movie Train to Busan.
Chin-hae – Meaning "depth" of the ocean, a great name to illustrate the depth of your love for you pooch and his for you.
Cho – While it means "handsome" in Korean, it sounds closer to "ugly" in Mandarin. Namer beware!
Chung-Ae – The "ae" sound is commonly heard in Korean, this name meaning "noble and love" sounds very authentic Korean.
Da
Dae – "Greatness"
Daegu – a city in South Korea
Daeshim – "The greatest mind". Consider naming your fur baby this if he or she catches on quickly during training.
Dalgona- a spongy candy
Geon – "strength".
Gi – "Brave", for those ever-loyal watchdogs.
Gimpap- a tasty seaweed rice rolls dish
Ha-joon
Himchan – K-Pop star
Hayan – Meaning pale or white. All white dogs will do well with this name.
Horang-i – "Tiger", it might be better for a feline, but it makes for a unique name for a dog.
Hwan – Another name meaning "shining and bright"
Incheon – The name of a major airport in South Korea, and also means "kind river".
Iseul
Jae-hee – Jae for short, this moniker means "shining"
Joon – Used to describe someone with a lot of talent. If your dog can turn tricks easily, Joon is a great name.
Jung – Righteous
Kai- from the K-Pop group EXO
Kang-dae – Mighty and strong.
Korain – Easier to pronounce, this name means "glorious."
Luhan – a K-Pop star
Manduguk – perfect name for your little dumpling!
Min-ho – Brave and heroic.
Nunchi- means able to gauge the moods of others, fitting for a dog!
Park- after Park Geun-hyung, the actor
Ramyun- Korean ramen
Ryung – Brightness
Seo-Jin – "Omen', your dog is definitely a good one.
Seung – Winning
Si-woo – Start the rain, divine intervention or protection. Your dog is your protector.
So – Smile. Great for spitz type dogs.
Su-won – To defend or protect, which is what your dog will be doing for you against any harm.
Tae – "Great"
Taemin – K-Pop star
Tae-Hui – "Big" or "great". The perfect name for larger dogs.
Topokki -a spicy rice cake
U-Yeoung – Glory and honor.
Ulsan- a city in South Korea
Ye-jin – Valuable and precious, just like your pup.
Yeo – Mildness. Try this name if your dog shows destructive tendencies and has unmatched energy.
Yoon- after Korean Drama star Yoon Moon-sik
Young-jae – One who will be forever prosperous. Hopefully your dog can bring that kind of luck to you!
Yu-jin – For all the precious fur babies.
You can also choose names from your favorite K-pop group or name your pup after your favorite character in a Korean drama.
However, names such as Hayan, Yeo, Gi and Cho surely illustrate your pup's appearance and personality better.
That said, we do love the name Tae Yang (after the famous South Korean singer songwriter), which means "sun."
It coincidentally is pronounced similarly in Chinese.
Now let's zip on over to the other side of the coin and take a look at names for little girls.
Female Korean Dog Names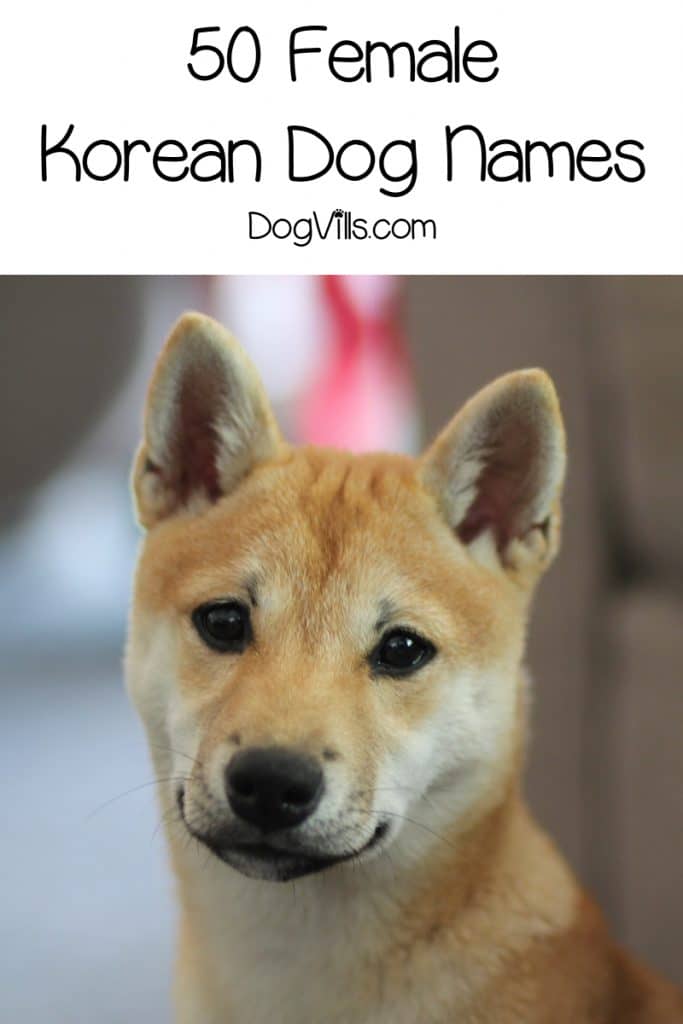 Korean women are known to be determined, down to earth and tough. They are also among some of the most beautiful ladies!
Let's see if we can find names that fit your fur baby girl.
Ae-cha – A loving daughter. One can hope your dog is such a lady.
Ahn- after Korean drama actress Ahn Hye-sook
Bitna – Shining, for the shining star in your life.
Areum – Beauty
Choon-hee – For fur baby girls born around the springtime.
Chun-hei – A lady with grace and justice.
Dae – It can also be a girl's name, meaning "shining".
Dasik- a tea cookie
Deokhye – the last princess of Korea
Eun – Silver. A great name for huskies that have a silvery tinge.
Haru – Day
Hee-young – For the fur baby girl who brings joy and prosperity wherever she goes.
Gaeul – Autumn. Is your dog born in the fall?
Gumi- city in South Korea
Guri- also the name of a city
Hae – Ocean. (Not to be confused with Hea).
Hea – Grace
Hei-ran – Orchid
Hye – Smart and intelligent.
Inneeka- means "because of," but it's beautiful!
In-na – For small and delicate doggos.
Ja – A unisex name meaning attractive.
Jae -hwa – Respect and beauty.
Ji-a
Ji-Yoo – wise
Ki
Kuri – For copper-haired fur baby girls.
Kwan – For strong girls.
Mee – A beautiful woman/girl. Pronounced like the English word "me", giving your dog even more individuality.
Mi-cha – Beautiful daughter. Isn't that what your dog is?
Min-jee
Mi-Kyong – Beauty and brightness
Mirinae- "Water of the Silver River"
Miryang – South Korean city
Mi-young – A beauty that lasts forever.
Ren- from K-Pop group NU'EST
Salanghada – means the act of loving someone
Sang – Forever
Sang-hee – Pleasure and benevolence as well.
Seo Ah – graceful
Seoul – The capital of South Korea, and also a play on the word "soul".
Soo
Sook- one of pure nature
Wangbi – Queen consort (the wife of a crowned king)
Yakgwa – a yummy honey pastry, perfect for your sweet girl!
Yon – The beautiful lotus blossom flower.
Yong
Yoo
Yu-na – To endure, a name for girls who can handle the ruff stuff.
Yun
A great thing about Korean inspired dog names is the shortness.
You can encompass all that is your fur baby in just one or two syllables.
In-na is such a cute name for small dogs and Eun is beautiful for a silvery canine.
Then you have names like Sang and Mi-young, depicting how long you want to have with your fur baby.
Our list of great Korean dog names are (somewhat) easy to pronounce.
Remember, you don't want to name your dog something excessively long and hard to say. Short and sweet is best for training.
In-na is our favorite for girls and Tae Yang is our top choice for boys.
What are your favorite Korean dog names? Did you choose to name your dog after a Korean celebrity? Share your thoughts below!