Wondering how to keep your dog's bed from smelling like dog?
I hear you and I've got you covered!
As a dog parent to some stinky pups over the years, I've tried every trick and finally figured out what worked!
Read on for awesome tips from simple sprays to the best steam cleaners and more!
How to Keep Your Dog's Bed from Smelling Like a Dog
Isn't that a funny question: how do you keep your dog's bed from smelling like a dog? I mean, they're dogs and it is their bed, after all!
If dogs ruled the earth, I wonder if they'd sit around Googling "how to keep my human's bed from smelling like a human?"
After all, our odors have to be far more offensive to them since their sense of smell is astronomically better than ours.
Joking aside, I totally get the reasoning behind the question. I've had some stinky pups over the years and wow, can those beds retain odors!
So, how did I manage keep my dog's bed smelling fresh? Keep reading to find out!
How to Keep a Dog Bed Smelling Fresh
Keeping a dog's bed smelling fresh is a bit of a challenge but with the right tools, it's totally doable!
Let's start with buying the right bed, then we'll move on to tips for those of us who already have a dog bed and don't want to get a new one!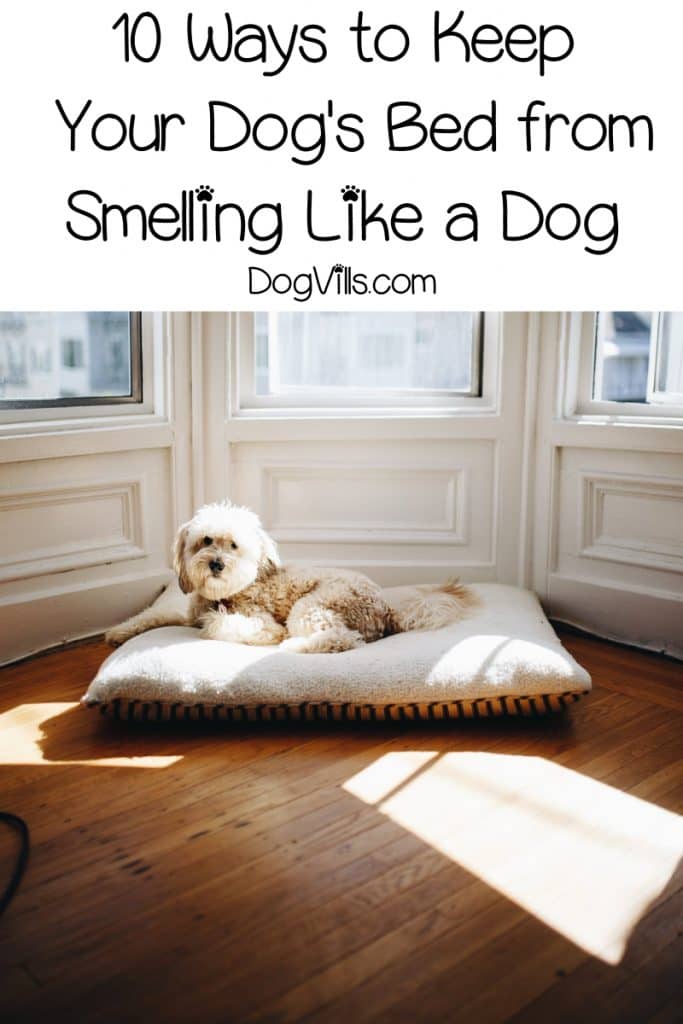 FYI, this post includes affiliate links. If you make a purchase through them, we earn a small commission at no extra charge to you. Thanks!
1. Buy an odor-resistant dog bed
The most obvious way to keep a dog's bed smelling fresh is to buy a bed that resists odors!
There are quite a few good ones on the market but top pick has to be the Kuranda elevated dog bed. See below for my favorite model.
It uses stretched vinyl to create sort of a hammock. Since there's no stuffing, there's less material to get stinky.
Here's the thing, though: odor-resistant is not the same thing as odor-proof and it's still possible for these beds to get stinky.
So, even if you have the world's best odor-resistant bed, you'll want to keep reading!
2. Invest in a few washable covers
Even if your dog bed comes with a washable cover, you'll want to invest in a couple more.
See, theoretically, you're supposed to wash your dog's bed weekly to prevent it from getting stinky.
That's all fine and dandy for those who actually have time to do so (or a machine large enough for a dog bed) but what about the rest of us?
That's where the extras come in handy! It's a lot easier to swap out covers weekly and then wash a couple of them together, constantly keeping a fresh supply ready to go.
Besides, extra covers are great for those late-night accidents. Who wants to do laundry at 2 AM after an incontinent dog wet the bed?
If you don't want to spend a ton of cash on proprietary covers from your dog's bed company, check out this video on making your own no-sew extras!
3. Make it waterproof
Aside from elevated dog beds like the Kuranda and Cujo Cot, most beds are merely "water-resistant," meaning urine & water can still seep through to the inside.
While urine is the biggest offender, even if you don't have an incontinent dog, waterproofing is still a good idea.
It's easy enough to waterproof the bed yourself. Just buy a good mattress cover and wrap your dog's bed in it before adding the regular cover.
You can also wrap it in vinyl fabric or even just strong garbage bags.
4. Use a pet-safe fabric spray
Our main goal is to prevent odors rather than mask them but if your dog's bed stinks and you have company coming, a good fabric spray works in a pinch.
Obviously, make sure that it's pet-safe. This one from Colton's Naturals is pretty good.
Also, spray the underside of the bed versus right on top where your dog sleeps.
5. Air it out
Air out your dog's beds between washings by setting it outside on a dry sunny day.
Give it a good shake to remove dirt, dander and loose hair, then leave it outside for a few hours.
Ideally, you should hang it up so that air flows through the entire bed, but if that's not practical just flip it a few times throughout the day.
6.Vacuum the bed daily
If you have a particularly messy dog or one that sheds a lot, give the bed a good daily vacuuming.
On the other hand, for dogs that don't shed much or that really don't get messy, every couple of days is fine.
While any vacuum will suffice, I find it easier to use a good handheld model, like this one by BISSELL.
7. Invest in a good steam cleaner
If you want a deep down clean you'll want to steam clean your dog bed every so often.
First, take it outside and shake it out. Then, give it a good vacuuming before breaking out the steam cleaner.
Make sure you let the bed dry before allowing Fido to lay on it, otherwise you'll end up with wet dog smell, which defeats the purpose of steam cleaning it!
I have an awesome handheld steam cleaner but sadly the company went out of business. This one by PurSteam has great reviews though:
8. Keep Fido groomed
A daily brushing and weekly grooming routine can go a long way to reducing dog odors in general, especially if he has a thick coat.
Don't make the mistake of over-bathing your dog, though. Too much bathing can actually make your dog smell worse. Weird but true!
Unless he has a skin condition and your vet recommends weekly baths, once a month is more than enough.
Some breeds (like my short-haired Pharaoh Hound) only need baths a couple of times a year.
Need tips on how to bathe your dog? Check out this video:
9. Consider an air purifier
While an air purifier won't reduce bed odors at the source, it can help improve your overall air quality and make the whole house smell better in general.
Make sure you get one with an activated charcoal filter. Check out my top 5 picks for the best air purifiers for dog odors.
If you just want to know my #1 pick, go with the Blue Pure 211+ by Blueair.
10. Try doggy deodorant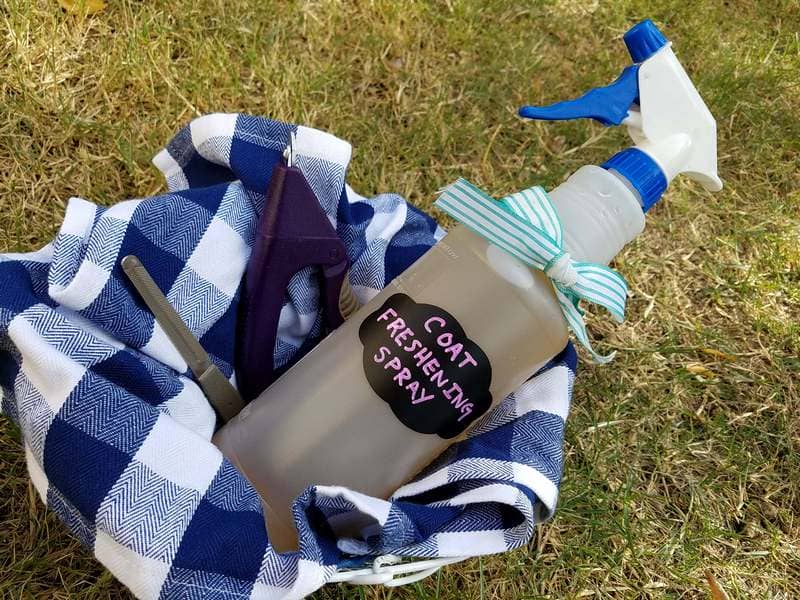 While dog deodorizing spray is more of a band-aid solution that masks rather than prevents odors, it's still great in a pinch!
It's also incredibly easy to make on your own. Check out our tutorial for DIY freshening spray to see how!
Honestly, as long as you keep up with regular cleanings of both your dog and his bed, you shouldn't have an issue with odors.
While my Pharaoh Hound is one of the rare virtually odor-free dogs, I've had some stinkier pups over the years and these tips definitely helped me!
Do you have anything to add for how to keep your dog's bed from smelling like a dog? Share below!
Last update on 2023-05-25 / Affiliate links / Images from Amazon Product Advertising API