Choosing Italian dog names for Cane Corso puppies just makes sense, since they originated from the boot-shaped nation!
If you recently adopted one of these magnificent brave dogs and are at a loss for name ideas, we've got you covered!
Read on for 50 of our favorite male and 50 female names for Cane Corso dogs!
Then, tell us if your favorite name made our list.
Related: 100 Italian Greyhound Names For Male & Female
Content & Quick Navigation
Italian Dog Names for Cane Corso Puppies
Ah the Cane Corso, an Italian dog breed that exemplify the words "tough" and "powerful."
It's only fitting that their names illustrate that and many more adjectives similar to those words.
These well-suited guard dogs are athletic hunters originally bred to hunt big game.
Although they are a seemingly large and scary breed, Cane Corso dogs are actually quite kid-friendly and affectionate with their family
However, in general these large dogs can be quite intimidating to strangers.
And there we have it, the intelligent, affectionate, tough and powerful Cane Corso deserves a name that will reflect these awesome traits.
Since they originate from Italy, let's see if we can find the right Italian name for your new puppy.
Male Italian Names for Cane Corso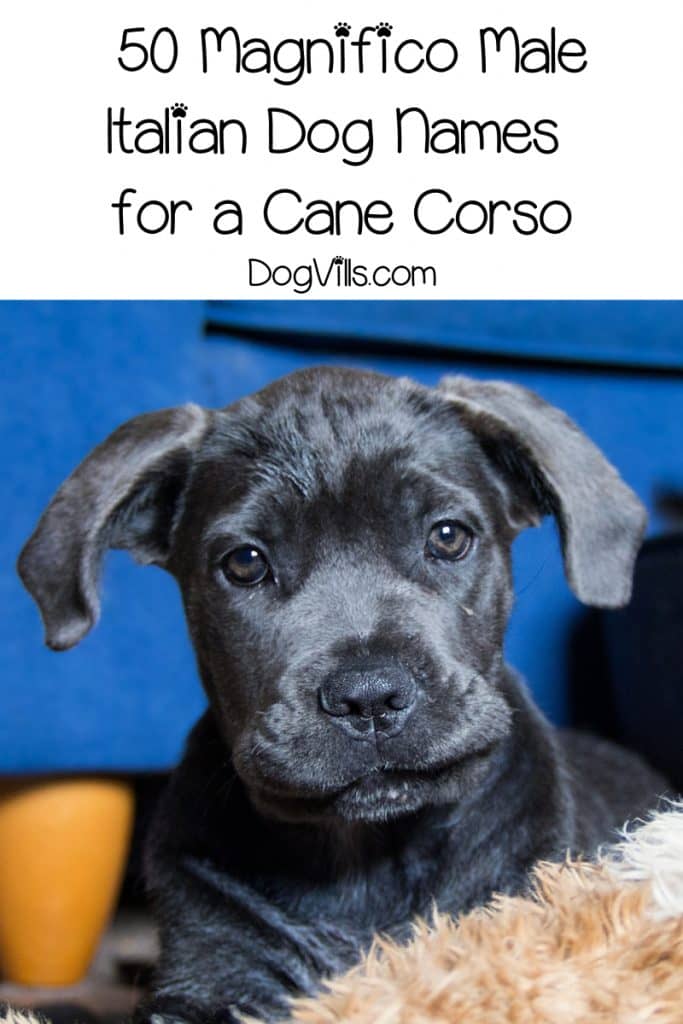 It was quite easy to find some great Italian names for their fierceness as well as their gentle side! Take a look!
1. Bruno
2. Dante – Steadfast and faithful, which is exactly what your Cane Corso is.
3. Enzo – Ruler of the house. Hopefully it's you, but we all know our dogs run things.
4. Gino
5. Rocco
6. Tito
7. Don – As in mafia dons, although it actually means head of household
8. Lorenzo – A form of Laurence
9. Antonio – Italian form of Anthony. Worthy of admiration or praise, which your Cane Corso will definitely be.
10. Francesco
11. Alessandro – Defender of men. How fitting for man's best friend!
12. Diego
13. Giovanni – God is merciful
14. Christian
15. Luca
16. Niccolo – People's triumph
17. Alessio
18. Jacopo
19. Gabriel – The archangel, and God's bravest man. In this case, God's bravest dog.
20. Giacomo
21. Vincenzo
22. Salvatore – Savior, which your dog will be.
23. Stefano
24. Giulio
25. Giorgio – Not as in Armani, but as in the farming man.
26. Angelo – God's messenger.
27. Paolo – Small or petite, nothing like your Cane Corso but that's the humor in it.
28. Raffaele
29. Gianni
30. Franco – French man, for if you have a bit of French in you.
31. Luciano – Light of the day. Your Cane Corso will be the light of your life, not only the day.
32. Marco –
33. Emilio
34. Faustino – Fortunate
35. Flavio – Golden-haired. Perfect if you choose a fawn colored Cane Corso.
36. Nero – The strong one
37. Vito – Full of life, as all dogs are
38. Ventura – Good luck and fortune
39. Geronimo
40. Jenoah
41. Giambattista – a unique name that translates to John the Baptist
42. Danilo
43. Dino
44. Donatello
45. Armani – Longing for, and for those longing for style.
46. Benito
47. Cesare
48. Silvano
49. Tito
50. Valentino – Another fashion powerhouse, but also meaning healthy.
Now not all of the names need to mean something, sometimes they just sound cool (like Tito).
I love the idea of giving a powerful Cane Corso a name that means "small," so Paolo is a great pick!
Although a lot of the options presented above are great and fitting for what the dog means to you, what he brings into your life, and what he looks like.
Some if not all of the names above can be unisex, but we have also compiled a list of names just for little Cane Corso girls.
Female Italian Names for Cane Corso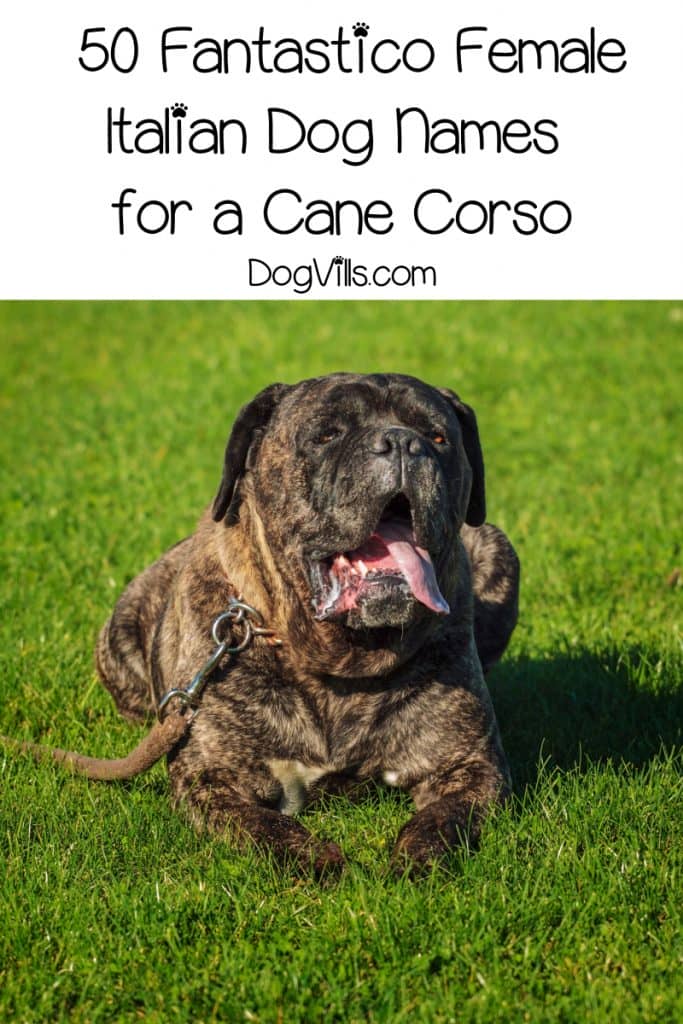 1. Sofia – Woman of wisdom. The Cane Corso is an intelligent dog indeed.
2. Giulia/Giuliana
3. Martina
4. Greta
5. Chiara – Bright and clear
6. Gaia – Mother Earth Goddess
7. Francesca
8. Alessia
9. Vittoria – Woman of victory
10. Viola
11. Nicola
12. Elena
13. Arianna
14. Mia
15. Camilla
16. Bianca
17. Serena
18. Angelica
19. Caterina
20. Margherita
21. Alessandra – Protector of humanity. Doesn't that sound exactly like a dog?
22. Valentina – Strong and sound.
23. Angelina – God's messenger
24. Antonia – Invaluable, just like we're sure your dog is to you.
25. Aria
26. Aurora
27. Flavia – Golden-haired woman. Suitable for a fawn colored female Cane Corso.
28. Gina – Queen, as your dog most likely will be.
29. Marcella
30. Marissa
31. Perla – Gemstone. Something precious just like your pup.
32. Veronica
33. Vita
34. Isabella – Promise of God
35. Donna – Lady-like
36. Emilia
37. Daria
38. Cassandra
39. Bibiana – Full of life. We're sure your dog will be exactly that.
40. Cecelia/Celia
41. Clara
42. Diana – Divine woman, just like Lady Di.
43. Gloria
44. Madonna – My lady, or if you're a huge fan of the singer.
45. Serena
46. Tatiana
47. Venetia
48. Verona
49. Zita – Small girl, so it's a great ironic name!
50. Virginia
I kind of love Clara as a great female Italian Cane Corso dog name, how about you?
It's such a sweet name that tells the world, "she may look tough, but she's a big softie at heart!"
From names such as Zita and Flavia, that describe the appearance of your new Cane Corso pup, to meaningful ones such as Perla and Gina, we hope our list can help you narrow down your search for suitable names.
Do you know any other fantastic Italian dog names for Cane Corsos? Share below!