Is it better to have two dogs instead of just one?
You might be wondering that if you're thinking about adopting a second dog, but you're not sure if it's the right decision.
Fortunately, I've got your back with these amazing pros and cons of having two dogs.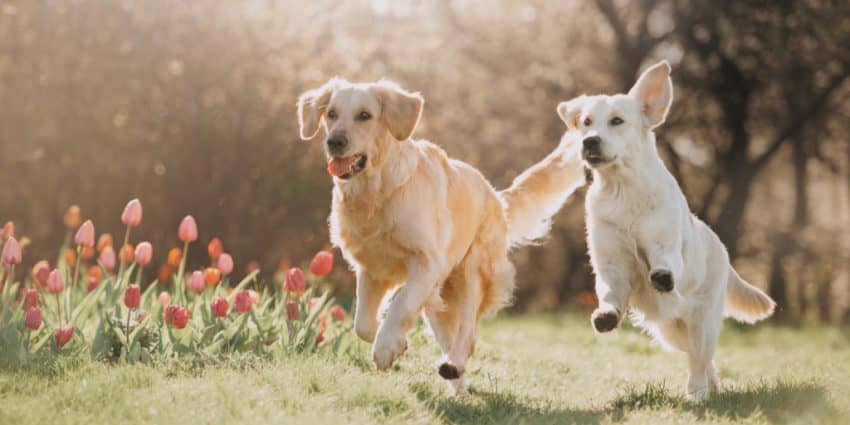 Is it Better to Have Two Dogs Than One?
When you get a dog and fall in love with them, you start thinking, "Are two dogs better than one?"
After all, your dog has given you so much love that you want more and more of it.
So, is it better to have one dog or two?
Well, it depends on how prepared you are to take care of two dogs, and if you're going to have enough time to satisfy their need for attention.
Moreover, you have to take your dog's feelings into account.
Not all dogs would appreciate another pet in the house and might react aggressively to the intruder.
To solve the two dogs vs. one dog debate, let's see five advantages and three disadvantages of owning two dogs.
5 Pros and Cons of Owning Two Dogs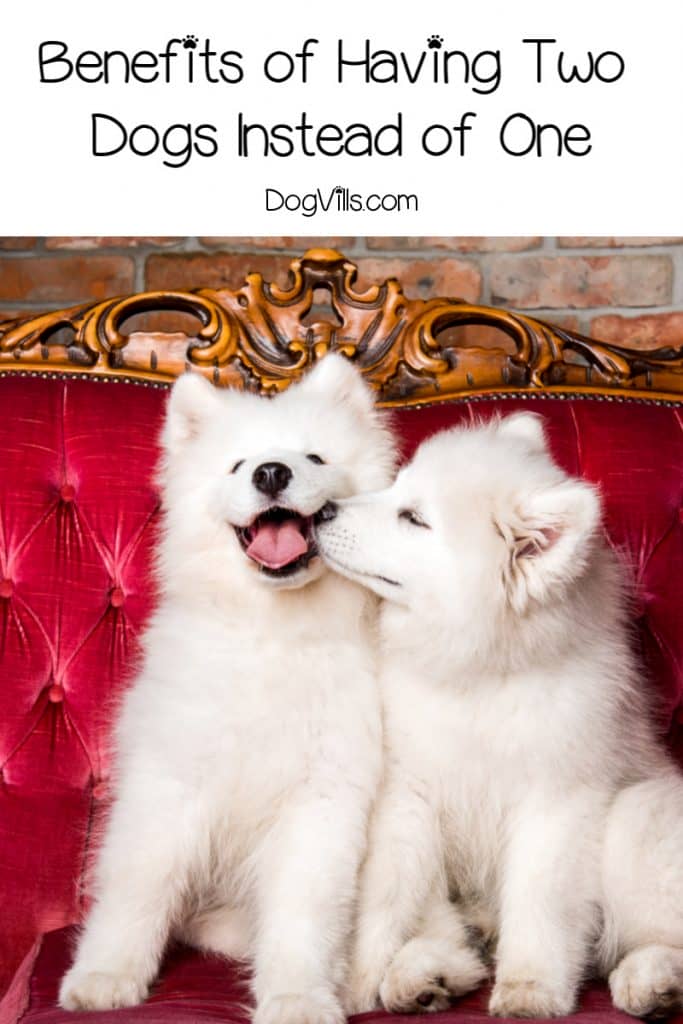 If you need some arguments to convince your family that you need a second dog, I've got you covered.
Let's see why it is better to have two dogs than one.
#1 Your Dogs Won't Be Lonely
We might have domesticated dogs thousands of years ago, but dogs still have their unique social structure.
In other words, your pooch needs to belong to a pack to be happy.
While dogs accept humans quickly as members of their pack, you don't stay at home all day long to keep your dog company.
So, your pet can get quite lonely when they don't have anything to do when you're away.
Think about how you would feel if you don't have anybody to speak to. You'd probably go crazy after a couple of days.
However, if you have two dogs, they will keep each other company, and they won't be so lonely.
Furthermore, dogs do need to interact with other members of their species to feel happy.
Even if we love our pooches with all of our hearts, we don't speak their language and can't replace another canine.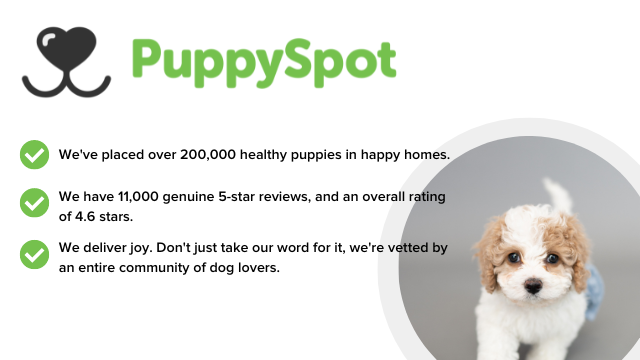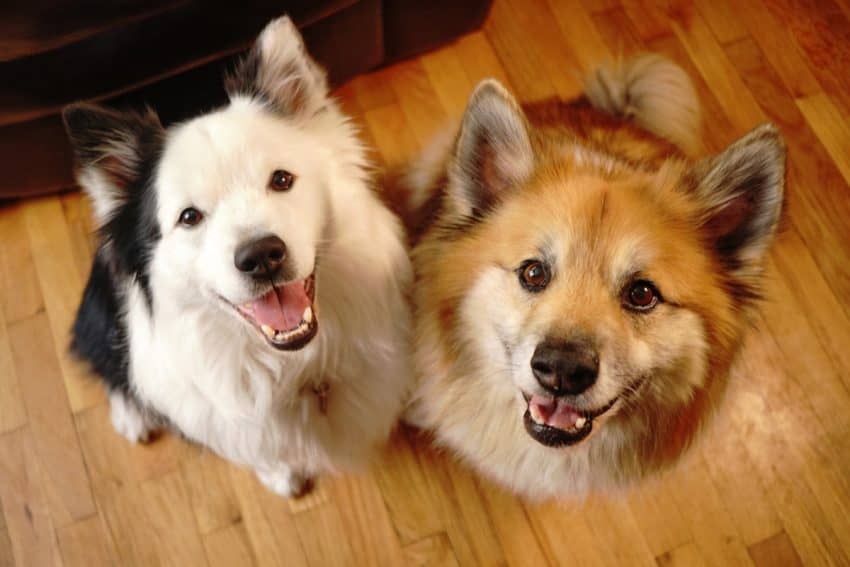 #2 Two Dogs = Twice the Love
Two dogs mean that you get twice the love and attention.
That's a pretty sound reason why two dogs are better than one, don't you think?
In addition to this, one dog might not be enough for a family with four or five members.
Imagine if you have to share your pooch with so many people.
Moreover, some dogs tend to bond with a single person, and you might feel left out of the fun.
#3 Training is Easy
Dogs are amazing animals, and they can learn from one another. Usually, the older dog will show the puppy all the tricks they know.
So, it will be easier to train your second dog because you'll have a four-legged assistant.
Moreover, puppies usually look up to adult dogs for guidance and copy their behavior.
As such, older dogs can teach the younger one the rules of the household and will make sure that the newcomer adheres to them.
Potty training also will be slightly less difficult because dogs tend to relieve themselves on spots that other dogs use.
#4 Two Dogs Tire Each Other
Another benefit of having two dogs is that they will keep each other busy during the day when you're working.
Usually, your dog spends the better part of the day sleeping and waits for you to come back so that they can go crazy.
It can be quite difficult to tire your dog in this situation.
However, two dogs will play, roughhouse, and chase one another around the house.
They won't spend the whole time napping and will be less energetic when you come back from work.
So, you will spend less time exercising your dogs.
#5 It Lessens the Chances of Separation Anxiety
Separation anxiety is a serious condition that owners often mistake for a behavior problem.
What happens is that your dog gets so attached to you that they can't function when you're not around to offer comfort.
Usually, such dogs whine, bark, pace, or destroy when you leave them alone in the house.
Some might even relieve themselves inside the house or become clingy and obsessed with you.
Having a second dog can prevent your dog from forming such strong attachments.
Moreover, as I already pointed out, two dogs keep each other entertained.
3 Cons of Having Two Dogs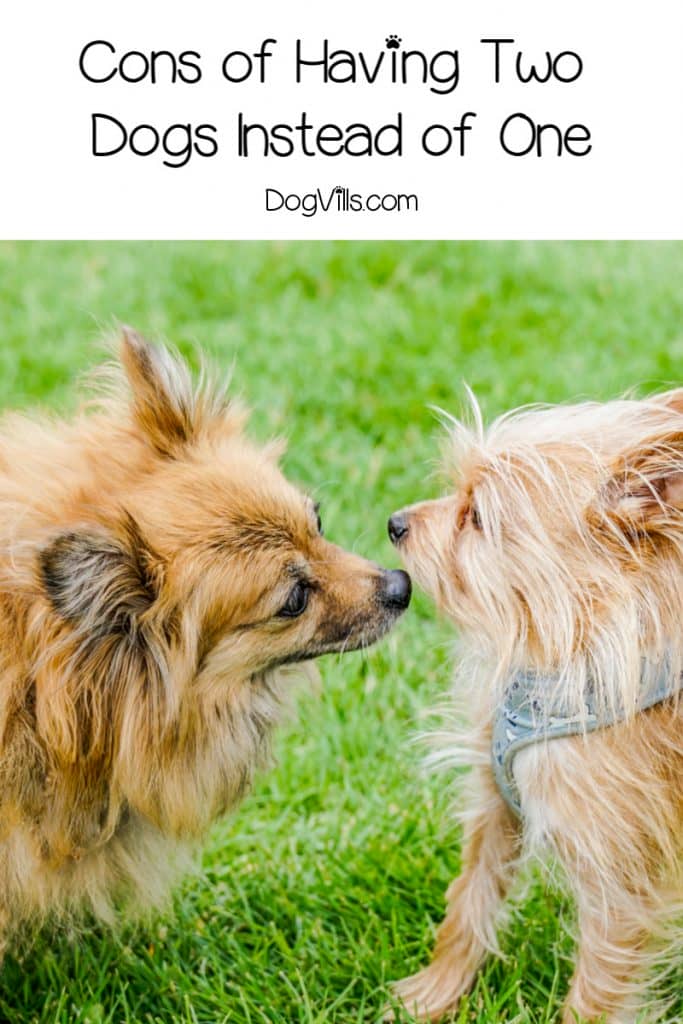 When we're talking about why it's better to have two dogs, I should also mention what the drawbacks are.
They aren't meant to make you give up adopting a second dog but to show you what the challenges are.
#1 Two Dogs Are Messy
Sometimes two dogs keep each other company too well. What I mean is that two dogs can make a bigger mess in the house than a single pet.
They might break and knock stuff down when they're playing.
They'll also be shedding twice the fur and making twice the noise when barking.
So, if you're a neat freak and don't like your house to be out of order, having one dog might be better than two.
#2 Two Dogs Means Twice the Bill
Some people might say that feeding two dogs is almost the same as feeding one.
While your food bill probably won't change that much, having two dogs still is more expensive than having one.
You'll need to get a second leash, grooming supplies, deworming medicine, beds, bowls, and so on.
Otherwise, your dogs might fight over where to sleep and who should eat first.
Not to mention that your first dog won't like to share with the new one.
In addition to this, two dogs equal a larger vet bill. You'll need to have both dogs checked regularly and cover any potential health issues.
If both dogs get sick, it can get quite pricey.
#3 Your Dogs Might Not Get On Well
A lot of owners take a second dog and think that their two dogs will become best friends immediately. That's not the case.
First, when you adopt a second dog, their gender matters.
Two males or two female dogs are more likely to compete for the position of top dog.
They might fight, growl, or snap at each other, and you'll have to keep them separated.
In addition to this, sometimes, two dogs simply don't get along due to opposite personalities.
Some breeds don't play well with others and can be quite aggressive to other dogs.
In such situations, you're left wondering what to do after you've already committed to a second dog.
You can't simply return the dog to the shelter, right?
Adding a second dog to your household won't be easy.
You'll have to introduce the new dog slowly to avoid potential conflicts and jealousy.
It means some extra work from you and a lot of patience and time.
I'm not going to lie to you. Two dogs require more care than a single one.
Imagine everything you do for your dog and then multiply it twice. However, it's worth it because you get double the love and attention.
What do you think about the one dog vs. two debate? Is it better to have two dogs or not? Tell us in the comment section.