Is it safe to give your dog iodine supplements? Iodine and dogs is just one of many supplementation regimens that has become popular in the past year or two. Many well-meaning owners scour the internet for supplements to keep their dogs healthy, thinking that like us, dogs need them. The reality is that most dogs don't need any sort of supplement at all, and in fact, supplementing their diet when uncalled for can cause more problems than we as owners are trying to fix. The same goes with iodine and dogs.
Why Iodine for Dogs has Become So Popular
Proper iodine levels have been linked with more efficient thyroid function as well as an emerging link to reduced chance of cancer. Due to this information, many supplementation companies have jumped on the bandwagon, aggressively promoting supplementation of iodine as a way to promote better health and longer life in our pets. Of course, owners jump on this because we all love our fuzzy buddies. BUT what the companies don't tell you is that over supplementation of iodine can actually cause problems. They also don't want you to know that a high-quality dog food generally has everything a dog needs in the food, including iodine.
Dogs Almost Never Need Any Supplementation At All
The reason people need supplements is because most of us don't eat the type of balanced diet that gives us all the nutrients that our bodies need. Our diets are not usually varied enough, and almost all of us are severely lacking in the fruits and veggies department. We take supplements to fill the gap left by our diet choices. Dog's are in a totally different boat.
Dog food – a high-quality food – has everything a dog needs. Unlike people who pick and choose what they eat, our dogs eat what we give them, and if we give them excellent food, they will have all the vitamins, minerals, and nutrients that they need to be healthy. In essence, they eat better than we do. They eat a scientifically formulated food designed to give them all the good stuff they need to live a long and happy life. However, that only occurs if we give them good food. If a dog eats bargain basement junk dog food, he will not have everything he needs. However, if he eats a high quality food like Blue Buffalo, Natural Balance, and the like, he'll be sitting pretty.
Iodine and Dogs – Too Much of a Good Thing
Like any other mineral or vitamin, too much of a good thing is a BAD thing. Taking into account that a high-quality food gives our dogs everything they need to function at their peak, adding in a supplement can actually cause problems. In the case of iodine and dogs, an overabundance of iodine can actually cause the problems that a normal level of iodine prevents. When too much iodine is present, it can result in the overproduction of T4 and T3 in the blood. While too little of this can cause hypothyroidism, too much can actually lead to the same thing via the immune system attacking the thyroid gland. Too much iodine causes an attack on the thyroid which in turn actually reduces thyroid hormone levels, causing the very problem that iodine in dogs is touted to treat.
Never Supplement without Speaking with Your Vet
Whether it be iodine, a multi-vitamin, or some other supplement, never give anything to your dog – even something over-the-counter – without first speaking with your vet. Even if your dog has an issue and needs a certain supplement, your vet will want to be in the loop to guide you through dosage and to keep track of blood levels. In short, iodine and dogs are perfectly paired if you feed your pooch a great food. It's always a good idea to stay away from supplements unless your vet directs otherwise.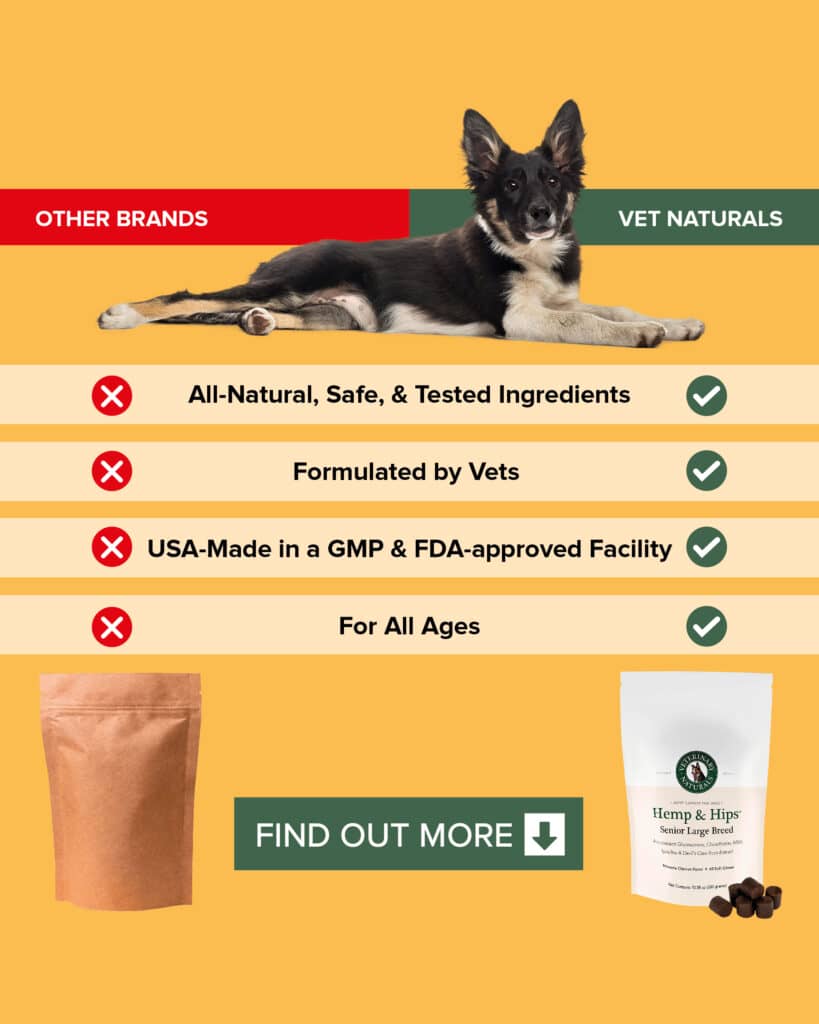 Do you have any other questions or concerns about iodine for dogs? Share below!