If you've been researching the best diet for your canine pal lately, you may have come across the term "human-grade dog food" more than a few times. What, exactly, does it mean, though?
Is it better for your pup than other dog food? If so, can you buy it online or do you have to make a trip to a special store? Can you just make it yourself?
We'll look at the answers to all of those questions and more below. Let's dive in!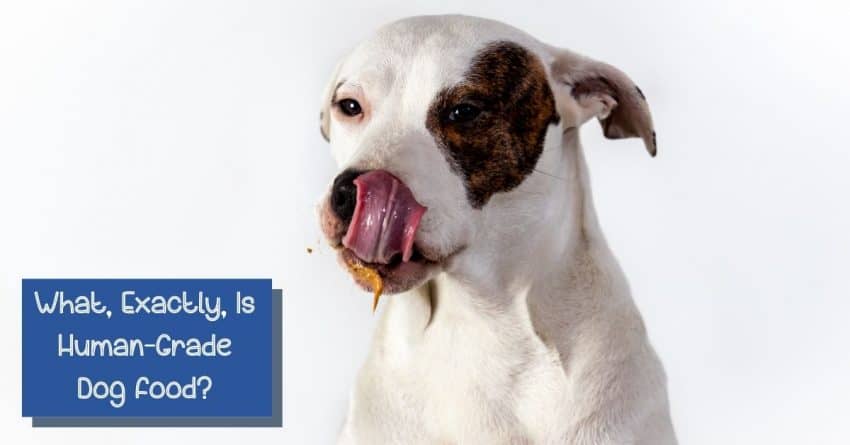 Human-Grade Dog Food on Amazon: Top Picks at a Glance
Already know what human-grade pet food is and just want to know which brands to try first? Check out the handy-dandy table below!
Just a quick head's up, this post includes affiliate links. If you buy anything through them, we'll earn a small commission at no extra cost to you.
Image
Top Pick
Most affordable
Product Name
ZIWI Peak Air-Dried Dog Food – All Natural, High Protein, Grain Free and Limited Ingredient with Superfoods (Beef, 1.0 lb)
The Honest Kitchen Human Grade Dehydrated Grain Free Dog Food, Beef 10lb with 100ct Pet Wipes
Dr. Harvey's Canine Health Miracle Dog Food, Human Grade Dehydrated Base Mix for Dogs with Organic Whole Grains and Vegetables (5 Pounds)
Portland Pet Food Company Human-Grade Dog Food Pouch — Mixer, Topper, and Rotational Meal (Mixed Flavor, 4-Pack)
Weruva Dogs In The Kitchen, Variety Pack, Pooch Pouch Party!, Wet Dog Food, 2.8Oz Pouches (Pack Of 12)
Top Benefit
Safe for puppies and older dogs
One 5lb bag makes 33 meals
Sustainably sourced proteins
Check Current Price on Amazon
How does AAFCO define human-grade food for dogs?
Let's start with how the premier authority on pet food defines human-grade dog food. The Association of American Feed Contol Officials (AAFCO) wrote an entire guidebook on standards for this type of food. Here's what they say:
In the AAFCO-defined feed term "human grade" the use of the term "human grade" is only acceptable in reference to the product as a whole. The deed term specifies that every ingredient and the resulting product must be stored, handled, processed, and transported in a manner that is consistent and compliant with regulations for current good manufacturing practices (cGMP's) for human edible foods as specified in 21 CFR part 117.
They go on to explain that the entirety of the food must be completely edible for humans. Before we go on, we should define exactly what "edible" means. I know what you're thinking, "I already know what it is…it's something that you can eat!"
While that's true, the USDA actually has its standard for the word. To be considered palatable for human consumption, all product ingredients must be safe for human consumption, and the product must conform to federal regulations in 21 CFR 110, Current Good Manufacturing Practice in Manufacturing, Packing, or Holding Human Food.
So, if we put all of that together, we can see that human-grade dog food must be safe enough (and palatable enough) for a human being to eat. Let's dig a little deeper, though.
Human-grade Vs. Feed-Grade: It's All About the Ingredients & Processing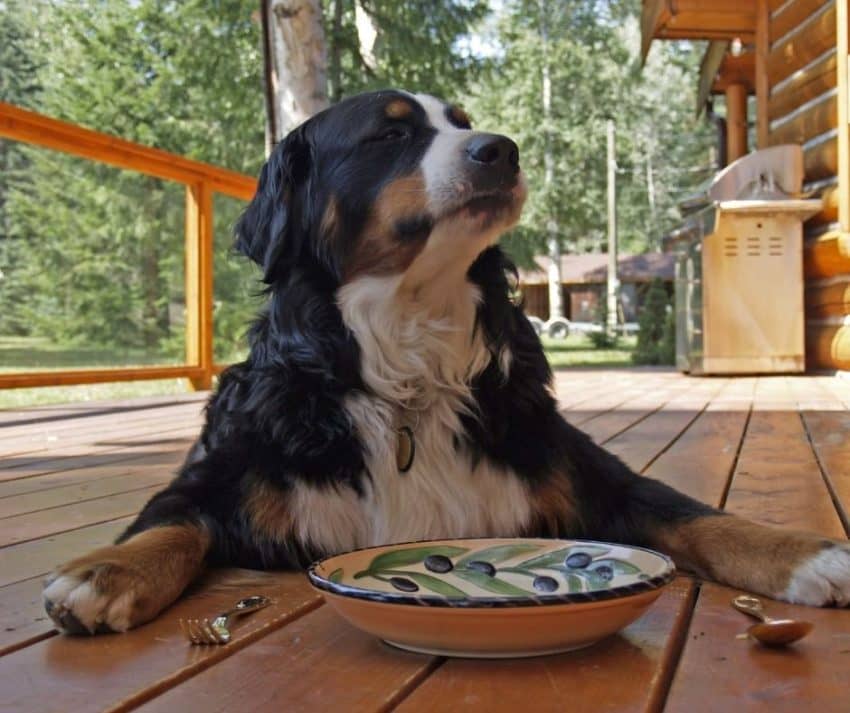 Human-grade dog food is just what it sounds like: safe food for people to eat. It means it's legally suitable and FDA-approved for consumption by a human.
On the other hand, feed grade is a term used to describe an inferior grade of product that is not fit for human consumption according to FDA standards. It may include chemicals, fillers, and animal parts that even the most adventurous human wouldn't eat.
Let me put it another way.  Most of the mass-produced cheap dog food that you find on grocery store shelves isn't actually all that healthy. First, much of it is full of corn, which dogs can't digest well. Even the not-so-cheap stuff uses filler grains that don't really serve much of a purpose in terms of nutrition.
Second, instead of using quality ingredients and cooking the food as you would for a person, they use waste products from the human food industry (feathers, bones, fat trimmings) cooked in rendering plants.
On the other hand, human-grade dog food contains ingredients that you'd find in people's food. All these ingredients and the resulting product are handled, processed, and transported to follow good manufacturing practices.
Common ingredients
The most common ingredients in human-grade dog food are proteins from sources like beef, chicken, and pork. They may also include fruits & vegetables such as carrots, spinach, broccoli, potato, etc.
On the surface, these ingredients don't really sound all that different from those you'd find on the labels of plain old commercial dog food, right? There are two main differences, though.
First, human-grade dog food brands only use the parts of the animal that, well, humans could actually eat. Maybe not always would, but could. Second, the ingredients are processed in a way that would make them safe for human consumption. Let's discuss that in a bit more detail.
How is it made?
So, how is human-grade dog food made? That really depends on where you buy it.
For some stores, first, they ask a few questions about your dog and then suggest a meal plan based on their needs (pre-packaged brands don't do this step).
Next, they prepare and portion their meals in their own USDA kitchens with no contamination.
The company then processes the ingredients in a way that retains all vitamins, minerals, and antioxidants.
Finally, they package the food in a way that keeps it fresh until it reaches your door.
For the most part, all of the recipes are free from by-products, artificial flavors, and preservatives. However, keep in mind that many artificial flavorings, colorings, and preservatives technically meet "human-grade" requirements, so do your research. In my experience, though, most companies that specialize in fresh dog food value their reputation, so they wouldn't risk it by using substandard ingredients.
Where do you buy human-grade dog food?
You have quite a few options when it comes time to shop for human-grade pet food.
Grocery stores: First, most supermarkets carry at least one brand (Freshpet is the most common, and it's fairly affordable).
PetSmart & other pet stores: They tend to have a wider variety than grocery stores, both in-person and online.
Specialty websites: Sites like The Farmer's Dog, Ollie, & Nom Nom are your best bet if you want personalized recipes.
Amazon (see below)
Top-Rated Human-Grade Dog Food Brands on Amazon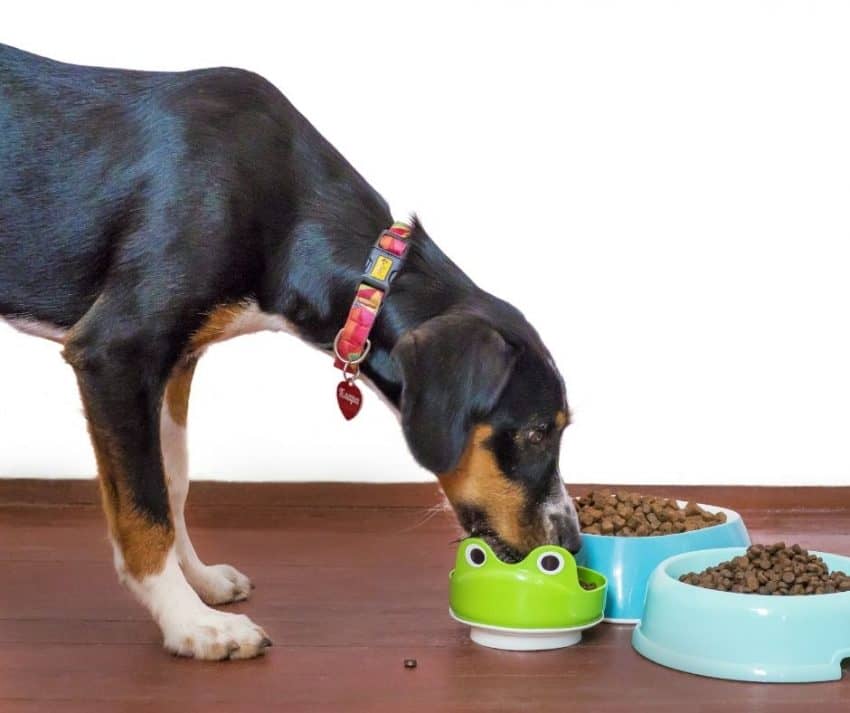 Surprisingly, Amazon also carries quite a few human-grade dog food brands. Most of these are either freeze-dried or dehydrated, but still great options if you're on a budget or can't get to a store. Let's take a look at some of your best choices there.
Type: Dry
Ingredients:
Beef, Beef Heart, Beef Kidney, Beef Tripe, Beef Liver, Beef Lung, New Zealand Green Mussel, Beef Bone, Lecithin, Inulin from Chicory, Dried Kelp, Minerals (Dipotassium Phosphate, Magnesium Sulfate, Zinc Amino Acid Complex, Copper Amino Acid Complex, Iron Amino Acid Complex, Manganese Amino Acid Complex, Selenium Yeast), Salt, Parsley, Preservative (Citric Acid, Mixed Tocopherols), Vitamins (Vitamin E Supplement, Thiamine Mononitrate, Vitamin D3 Supplement, Folic Acid).
Benefits:
Ethically sourced New Zealand beef (grass-fed and free-range)
Promotes healthy skin & coat
Good for dental and oral health
May improve joint health & mobility in senior dogs
Heart-healthy recipe
If your dog has a beef allergy, Ziwi also makes a lamb and a chicken recipe.
ZIWI Peak Air-Dried Dog Food – All Natural, High Protein, Grain Free and Limited Ingredient with Superfoods (Beef, 1.0 lb)
HIGH PROTEIN, NUTRIENT DENSE: Authentic whole-prey ratios, featuring 96% free-range Beef, Organs, Bone, and New Zealand Green Mussels. Safely air-dried ingredients deliver peak nutrition and mouth-watering taste for the pickiest dogs.
GRAIN-FREE, LOW CARB: Limited Ingredient (L.I.D) premium dog food without added carbohydrates, ideal for food sensitive dogs. NO cheap fillers such as grain, potato or peas, which are linked to obesity, food allergies, and other health concerns.
10% SUPERFOOD BOOST: Cold-washed Green Tripe, New Zealand Green Mussels, and Organic Kelp; holistic ingredients to support digestion, healthy skin and coat, joint health, reduce inflammation, and promote heart and brain health.
TOPPER or COMPLETE MEAL for ALL LIFE STAGES: Perfect as a topper for a nutrition and flavor boost, and ideal as a complete meal for peak nutrition and health; optimized from puppy to senior dogs, including small and large dog breeds.
ETHICAL and SUSTAINABLE: ZIWI sources only 100% free-range, grass-fed, grass-finished meats, and wild-caught seafoods, all from New Zealand farms and pristine oceans. Farmed without added hormones, antibiotics, or growth promotants.
Type: Dry (Dehydrated)
Ingredients: Dehydrated beef, chicken, turkey, or fish, dehydrated sweet potatoes, dehydrated potatoes, organic flaxseed, dried organic coconut, dried parsley, dried papayas, dried cranberries, dehydrated pumpkin, dehydrated honey, dehydrated kale.
Benefits:
100% Human Grade
Grain-free
Made with ranch-raised beef
Dehydrated for easier digestibility
Safe for puppies and older dogs
The Honest Kitchen Human Grade Dehydrated Grain Free Dog Food, Beef 10lb with 100ct Pet Wipes
PACKAGE INCLUDES: (1) Honest Kitchen Human Grade Dehydrated Grain Free Beef 10lb and 100ct Petfaves pet wipes
GRAIN FREE, RANCH RAISED BEEF: The Honest Kitchen Grain Free Beef dog food is high in protein made with real whole food ingredients like ranch raised beef & kale, which are gently dehydrated for maximum nutrient retention and easy digestion.
SUITABLE FOR PUPPIES & ADULT DOGS: Complete & Balanced nutrition for adult dogs and puppies of all breeds and sizes, including large breed puppies, as well as adult mothers (gestation/lactation).
EASY HOMEMADE: Just add warm water for a wholesome & delicious meal. Serve alone as a complete meal for maximum nutrition, or use as a topper to their dry food.
HUMAN GRADE: Unlike most pet food, this recipe is 100% human grade – made with human grade ingredients & produced in a human food facility. That means higher quality ingredients & more safety standards, just like you'd expect from your own food.
Type: Dehydrated
Ingredients: Organic Rolled Oats, Organic Barley, Organic Triticale, Organic Spelt, Organic Brown Rice, Organic Kamut, Sweet Potatoes, Carrots, Potatoes, Tricalcium Phosphate, Celery, Peas, Green Beans, Beets, Broccoli, Parsley, Dried Yeast, Lecithin, Alfalfa, Dried Kelp, Ground Flaxseed, Dried Ground Fenugreek, Dried Ground Fennel, Dried Ground Ginger, Dried Ground Peppermint, Zinc Proteinate, Iron Proteinate, Vitamin E Supplement, Manganese Proteinate, Vitamin A Acetate, d-Calcium Pantothenate, Thiamine Mononitrate, Pyridoxine Hydrochloride, Riboflavin Supplement, Biotin, Vitamin B12 Supplement, Vitamin D3 Supplement, Folic Acid
Benefits:
Affordable (one 5-lb bag makes 33 meals)
100% human-grade
Kidney Support formula
No preservatives, dyes, chemicals, and fillers
Beneficial to dogs with digestive issues
Type: Wet
Ingredients: Beef, Brown Rice, Peas, Carrots, Beef Heart, Eggs, Millet Flour, Vegetable Oil, and Powdered Eggshell. Guaranteed Analysis: Crude Protein Min 12%. Crude Fat Min 9%. Crude Fiber Max 1%. Moisture Max 64%. Calories 316 kcal/9 oz.
Benefits:
7 different recipes
Each recipe has 11 ingredients max
All-natural, fully cooked meals in each pouch
Gluten-free, wheat-free, and grain-free options
Made for all life stages from puppies to senior dogs
Portland Pet Food Company Human-Grade Dog Food Pouch — Mixer, Topper, and Rotational Meal (Mixed Flavor, 4-Pack)
EXCLUSIVELY REAL INGREDIENTS: All-natural, fully cooked homestyle dog meal pouches are crafted with premium, fresh ingredients--unlike canned food. All ingredients are certified human-grade, and we exclusively use USDA-certified meats packaged in a generous 9-ounce pouch. Real, healthy, wet dog food! No need to refrigerate until after opening, and nothing like dehydrated dog food, ever. Each healthy dog food pouch is nearly TRIPLE the size of typical dog food toppers.
ALL-NATURAL DOG FOOD: Gluten-free, wheat-free, and grain-free options, this premium dog food is made with the best ingredients making them a great natural choice for sensitive dogs. No ingredients from deceased animals. Every product has 11 or fewer whole ingredients. No animal by-products, preservatives, artificial colors, artificial flavors or supplements are added. Contains organic eggshells, organic potatoes and sweet potatoes, and Oregon sea salt.
GREAT FOR WELLNESS, PICKY OR SENIOR DOGS: Taste so good, even picky dogs, sensitive dogs, and older dogs can't refuse! Made for all life stages, from puppy and adult to senior dogs, large breed and small breeds. Use this fresh dog food as a supplemental meal, complement combined with dry dog food as a mixer, or as a dog food topper to entice picky dogs with a tasty boost of whole nutrition. Can also be used as a healthy dog treat or as small dog food.
CONVENIENT LARGE DOG FOOD POUCH: Ready to eat. No thawing. No adding water. The easy wet dog meal pouch allows you to give your pet real food at home or on the go. Great for travel, hiking, on-the-go lifestyles or simply a delicious human-grade meal at home. Lightweight and easy to store, you don't need a can opener for this instant meal or treat.
THOUGHTFULLY MADE, CLEAN FOOD: Entirely sourced and made in the USA from quality human-grade ingredients. Portland Pet Food Company donates 5% of their net profits to local non-profit animal shelters and programs, so you can feel good about every part of your healthy dog food purchase.
Ingredients: The Dogs In The Kitchen Pooch Pouch Variety Pack includes two each of Chicken Breast Love Me Tender, Chicken & Turkey Fowl Ball, Chicken & Pumpkin Funk in the Trunk, Chicken & Salmon Goldie Lox, Lamb & Pumpkin Lamburgini, Beef & Salmon The Double Dip.
Benefits:
Grain-free, Gluten-free, & Carrageenan-free
Sustainably sourced proteins
Incredibly affordable compared to others human-grade wet food pouches
High-moisture content to help your dog stay hydrated
Very easy to use, just open a pouch and pour it into the bowl!
Type: Wet
Weruva Dogs In The Kitchen, Variety Pack, Pooch Pouch Party!, Wet Dog Food, 2.8Oz Pouches (Pack Of 12)
Pooch Pouch Party Variety Pack (2.8oz Pouches, Pack of 12) A variety pack featuring cage-free chicken, wild-caught salmon, grass-fed beef and lamb. Sure to please even the pickiest pups!
"Variety pack includes 2 each of: Love Me Tender, Fowl Ball, Funk in the Trunk, Goldie Lox, Lamburgini and The Double Dip. "
Dogs in the Kitchen - An all natural blend of premium proteins that dogs can't resist!
Sustainably sourced proteins, moderate fat, and high-moisture content to help your dog thrive.
Grain-free, Gluten-free, & Carrageenan-free. No corn, wheat or soy. Free from any artificial colors & preservatives
Produced in Human Food Facilities under the Strictest B.R.C. Global Standards for Food
Weruva is a family company, wholly owned & operated by pet parent's David & Stacie Forman
Conclusion
Human-grade pet foods are produced in a manner that meets food safety standards and is more than nutritionally adequate for dogs. Today, you can feed your furry best friend a high-quality diet with human-grade ingredients.
We are more aware of what dog foods should be comprised of to be healthy and that we should select high-quality proteins and fats, complex carbohydrates, and prebiotics for pups' good gut health.
For a healthy dog, pet parents should ensure that they do thorough research on human-grade dog food brands. Don't be fooled by marketing and advertising. Take a close look at the ingredients label and make your own decision.
Have you tried any of the above human-grade dog food brands? Share your thoughts below!
Last update on 2022-10-10 / Affiliate links / Images from Amazon Product Advertising API