Are you wondering how to teach your dog to drop something?
Perhaps your favorite shoe?
Then, you've come to the right place to seek answers.
I'm going to show you step-by-step how to train your dog to respond to the "drop it" command!
Dogs are curious animals who like to investigate and taste whatever they find on the ground.
Your brand new shoes, poop, chewing toys, leftovers from dinner, your dog just can't resist checking it out.
While you don't want to discourage your dog from all explorations (that would make for a boring day for Fido), you do need to make sure he responds to the "drop it" command when he finds something potentially dangerous.
Of course, you also don't want him chewing your new shoes or your child's favorite lovey! That's where training comes into play.
How to Teach Your Dog to Drop Something
You probably know that dog training is crucial for a healthy dog-owner relationship.
And in our case, the drop command might save your dog's life one day if he picks something poisonous or something sharp and dangerous.
Let's start first with some tips.
Don't shout
Your first instinct when your dog picks something he shouldn't is to shout, right?
You're scared, annoyed, and frustrated and you don't want your dog to ruin your shoes or eat something dangerous. When you shout, you'll probably startle your pet, and he will drop whatever he is holding.
But that tactic is not going to work every time. And it can have unwanted consequences.
In the worst case scenario, your dog will start to growl and guard the things you want to take away from him. Or he will spring away from you with his treasure. You don't want to be chasing after your dog in the dog park, do you?
Moreover, if you have to shout constantly to make your dog do something, this is no fun for your or poor Rover. He doesn't understand why you're acting this way. And this will definitely strain the relationship between you two.
Even if you teach your dog to drop something by rewarding him when he let the object go, that's not the right method.
You're relying on fear. Your dog should be willing to spit out whatever he is holding. And that's not so impossible or hard as you're thinking. You'll teach your dog to trade whatever he's found for a tasty treat.
[embedpost postid="23545″]
What do you need?
To start your training, you must pick a toy that your dog likes – one he wouldn't mind giving to you. Don't pick his favorite one or one he's crazy about or you'll get nowhere. It could be a chewing toy, a stuffed animal, a squeaky toy.
Then pick up a bag of delicious treats. Your dog should want the treats more than he wants the toy. It might take you a few attempts until you find the right combination of toy/food but don't give up.
You might also pick a clicker if you usually train your dog with one. If you don't have one, don't worry. You can use cue words or hand gestures.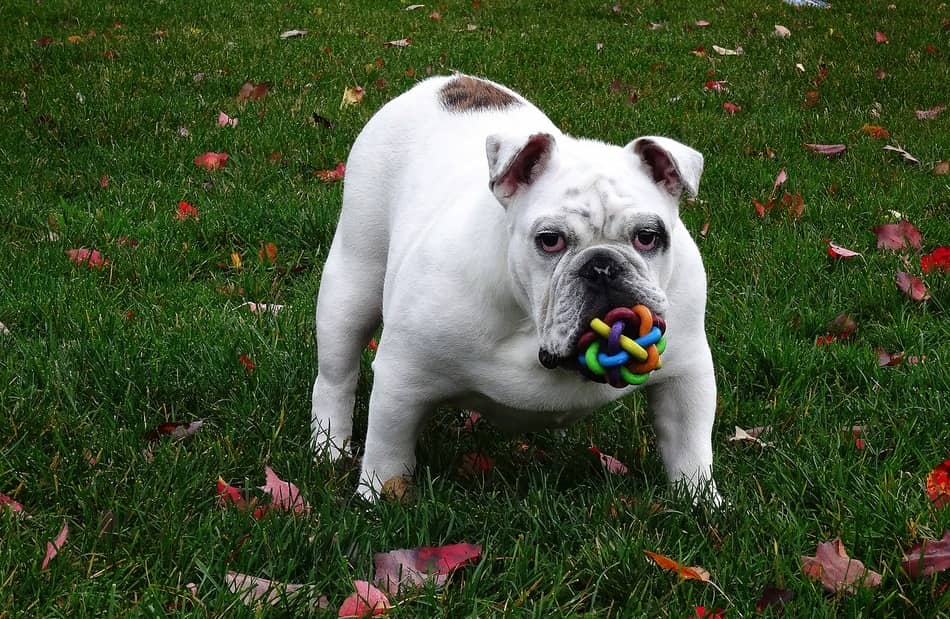 Teaching your dog to drop in three steps
Training a dog to drop is easy, and you can do it in three steps.
Step #1
Get the toy and give it to your dog. You might want to wait a few minutes for Rover to calms down before you proceed.
Offer the mouth-watering treat to your dog. He won't be able to resist and will drop the toy. When he does it, say ''Yes!", give him the treat, and pick the toy.
Give the dog his chew back when he eats the food.
Repeat.
If your dog is not interested in the toy after a few repetitions, that's normal. End the training secession.
Step #2
After the dog has mastered step one, it's time to move to the next level.
Start by giving your dog the toy. Do a brief repetition of the previous step.
Then reach for the object, but don't show the treat to the dog.
Your dog should drop the toy when he sees your hand in anticipation of the treat.
If he does it correctly, say "Yes!", and give him the food.
Repeat until your furry friend is no longer interested in the toy.
If your dog doesn't drop the toy when you reach for it, go back and continue to practice step #1. Try again later.
Step #3
In step three, you're reinforcing the learned behavior by training with different toys and different locations. The point is that your dog should be ready to accept the trade and give whatever he has found. You can also practice with safe objects, which are interesting to your dog.
After your dog is giving up toys/objects happily and readily, you can add your cue word. It should be something simple like "Give, please" or "Drop, please." You can also introduce a hand gesture. When you reach for the chew, say the cue word, and eventually, your dog will make the connection between the two.
And since dogs often find interesting things when they go for a walk in the park, get used to carrying a bag of delicious treats.
I told you that teaching your dog to drop object is not that hard, right? But unfortunately, some dogs do tend to guard their food and toys intensely. In such cases, you must get professional help from an experienced dog trainer.
What about your four-legged friend? Does he drop objects on command? How did you teach him? Share in the comments.