How can you prevent an older dog from falling off of the bed?
One of the risks of letting your dog sleep in your bed is that they might fall and injure themselves severely.
Fortunately, we've got 6 tips for you to protect your older dog and keep them on the bed.
6 Tips on How to Prevent an Older Dog From Falling Off The Bed
Dogs seem graceful and surefooted when they run around the house or jump up and down the couch.
But dogs aren't cats and might get hurt if they lose their footing and tumble from the bed or the stairs.
As dogs get older, the risk of injury after a fall increases.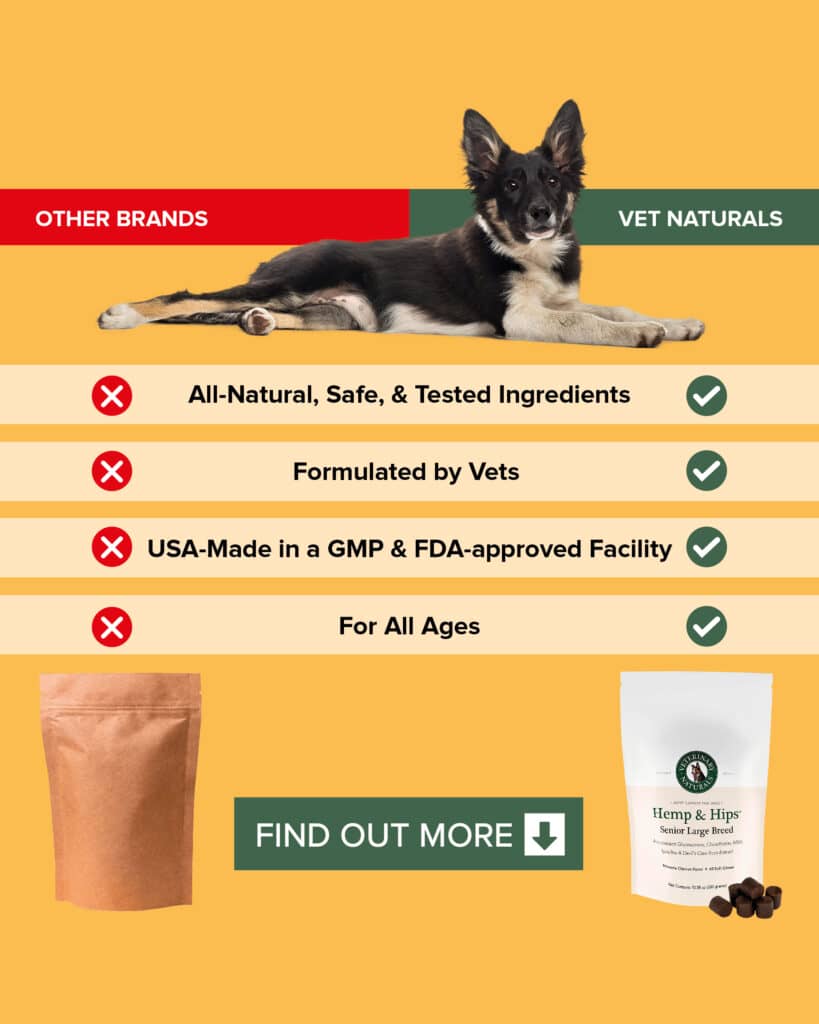 That's because your dog's bones aren't as strong as before, and a fall might result in a broken leg, head trauma, or sprains.
Moreover, small dog breeds are more prone to injuries, even if they fall from a low height.
So, preventing your dog from falling off the bed is essential to avoid health complications.
FYI, this post contains affiliate links. If you make a purchase through these links, we earn a small commission at no extra charge to you.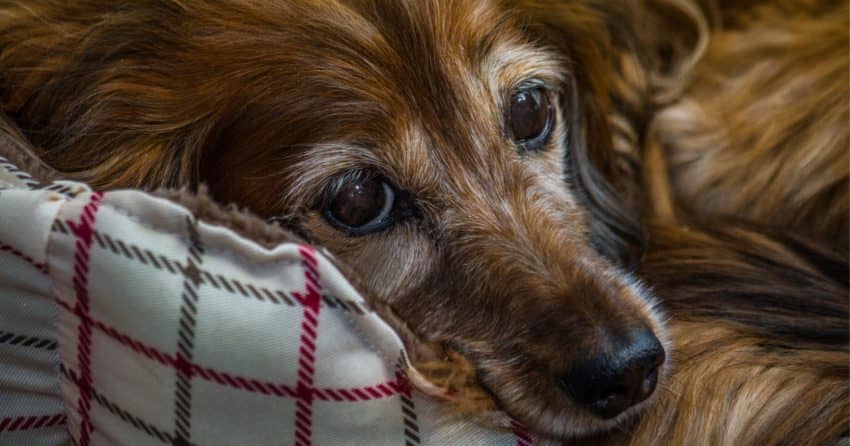 #1 Go To the Vet
Dogs hide their pain so well that you have to look for subtle signs to tell that your dog is hurting.
Don't assume that your dog is falling off the bed because they're getting old. There might be something really wrong with them.
For example, a dog going blind might fall from the bed because they can't see.
Other illnesses and chronic conditions could also affect your dog's ability to jump and move around.
It's better to be safe and have your dog checked.
#2 Get a Suitable Dog Bed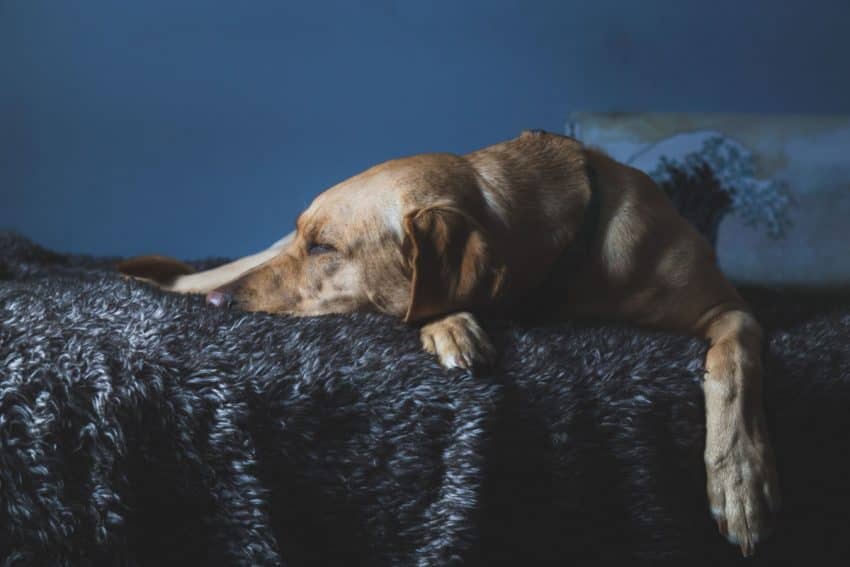 Most dogs love to cuddle at night with their owners, nap on the couch, or stretch on any comfortable surface.
That's why many owners don't think that dog beds are a necessity.
However, all dogs should have a separate bed.
When they get older and reluctant to jump on your bed, your pooch might be more comfortable sleeping in their "nest."
Moreover, dog beds are designed for your dog's needs in mind.
For example, an orthopedic dog bed, like the Big Barker one above offers better support for your dog's bones and joints than your mattress.
Memory foam beds are excellent for relieving muscle and joint aches.
So, consider getting a dog bed for older dogs or a bed for dogs with arthritis if you haven't done so already.
Then place the bed in your bedroom near your bed. In this way, your pooch can stay without you worrying about them falling off the bed.
You might encourage your dog to use the bed by leaving something with your smell in it.
Moreover, some dogs do prefer to sleep on the floor when they get too old for jumping.
So, they won't mind moving to their dog bed as long as they're close to you.
#3 Move Your Bed
Unfortunately, some dogs attach to their owners so strongly that they might refuse to sleep away from you.
In this case, try moving the bed flush to the wall. Then put the dog between you and the wall.
Your dog will have to walk over you to leave the bed and will probably wake you up.
Then you can help your pet to the ground. Having support against your dog's back also ensures that they won't roll off the edge.
If you're worried about your pooch falling off the foot of the bed, you might also place some pillows on the ground to cushion the fall.
#4 Get a Low Bed
Another way to prevent an older dog from falling is to switch from a high bed to a low one that's close to the floor.
Even if your dog falls from such a bed, they're less likely to get injured.
If you don't want to buy a new bed, you can remove the slats and leave the mattress on the frame to lower the height.
You can also just buy a lower frame, just make sure it fits your mattress.
Or, if all else fails, put the mattress on the floor and sleep on it with your dog.
#5 Consider Bed Rails
To prevent your older dog from falling off the bed, you can also try bed rails.
Install them on the side of the bed, and your dog should be safe during sleep.
You can get such rails from the children's department at most big stores or contact medical bed companies and make inquiries.
If you can't find any suitable for your bed, stacking pillows on the edges also works to create a barrier.
While rails are effective at stopping your dog from falling, you have to be careful with them.
Your dog might try to jump over the rails and end up hurt or get their head stuck between the rails.
#6 Use a Ramp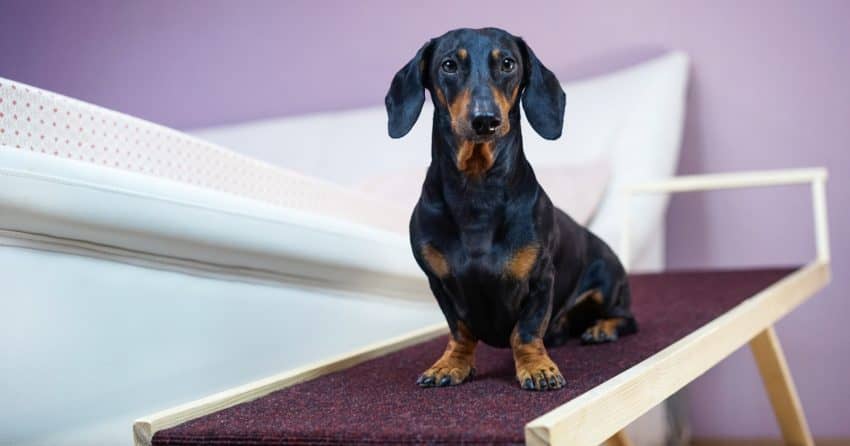 If your dog falls off the bed when they attempt to jump on the ground, you might consider a bed ramp.
Ramps provide a smooth rise up for dogs and make climbing up and down easy.
Stick to ramps because bed steps for dogs aren't suitable for dogs with mobility issues or joint problems. Moreover, choose ramps with rails to prevent your dog from falling off the sides.
The problem is that you'll have to teach your dog to go up and down the ramp and that takes time. But here are some tips:
Introduce your dog to the ramp slowly. Give your pooch plenty of time to get familiar with the new object.
Once your dog seems comfortable, lead them to the bottom of the ramp.
Use treats to lure your dog up and down the ramp.
Positive reinforcement and practice are key to success. Always praise your dog if they climb without hesitation and give plenty of rewards.
Don't force your dog to climb is they seem reluctant or try to jump off. Lead your pooch back to the bottom of the ramp and try again in a few minutes.
Keep the session short and practice as much as possible throughout the day.
What to Do If My Dog Falls From the Bed?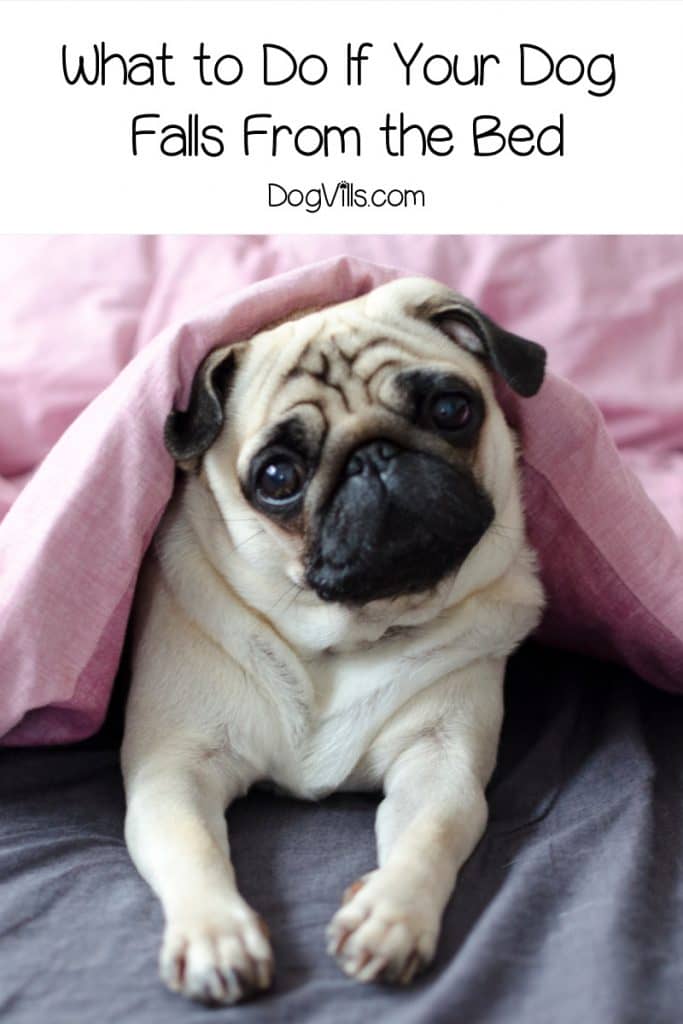 Since we're talking about how to prevent an older dog from falling off the bed, you probably want to know what to do if your dog falls.
It can be scary to witness your beloved pet thumbing from the bed.
You're probably going to spend the next few hours worrying that your dog is in pain or worse.
Here are some tips to help you deal with the situation:
Observe your dog for the next few days. Some injuries might not be apparent after the fall but worsen a couple of days later.
Monitor your dog's breathing. If your dog is panting, they might need urgent medical help.
Watch out for stiffness, limping, whining, and excessive licking.
Take your dog to the vet if you notice any change in their eating and elimination
Keep an eye for signs of head trauma. Blood from the nose, ears, and mouth might signal a head injury.
If the dog is bleeding, call your vet immediately for advice.
Have a pet first aid kit in the house for emergencies.
Unfortunately, as dogs grow old, they can't jump and move as well as before and might fall off the furniture.
In most cases, teaching your dog to sleep in a dog bed is your best option to prevent injuries.
However, remember to take your dog to the vet to rule out any medical conditions.
Moreover, your vet can give your dog pills to deal with chronic pain and muscle stiffness.
What do you think about these 6 tips on how to prevent an older dog from falling off the bed? Tell us below.
Last update on 2023-09-22 / Affiliate links / Images from Amazon Product Advertising API