Sometimes, it's hard to make your dog take a bath.
Sure, a lot of dogs love water, but they definitely prefer the beach to the shower, and nothing is going to change their mind.
Or, at least, that's what you think.
You see, whether you have a Chihuahua or a Siberian Retriever, there is always a way to make your dog fall in love with bath time, and we're going to show you some of these ways on this article.
Bath time is not only the time to make your dog all shiny and new, it's also a great opportunity to bond with your four-pawed best friend.
So, to make it more enjoyable for both of you, make sure to keep these following tips in mind!
How to Make Your Dog Love His Bath
1. Don't be too brusque
Or, put in a different way, don't rush it! Turn bath time into a relaxing time, when you and your dog can bond and play together. You should take it slow, which means that you will have to find the time to bathe your dog. So, early in the evening – when you are done with all your chores and evening walk – would be the perfect time!
2. Go for a walk first
Especially if it's hot outside, going for a walk will make your dog want to refresh himself after, which is perfect. Your little friend will be more than happy to jump into the bath after a strenuous walk. And, since your dog will already be exhausted, he won't have the energy to fight you so he wouldn't go into the water!
3. Make it fun and positive
Instead of thinking about it as a chore, think about bath time as quality time spent with your furry best friend. Make it fun and turn it into playtime for both of you! You can use toys to lure your dog into the tub, and once he's there, he will be enjoying his time way too much to fight you or try to run away from the bath.
4. Perfect the temperature
As you know, a dog's body temperature is different from a human's body temperature. So, naturally, what works for you in terms of bath water might not work for your little friend. The trick here is to use warm water, neither too hot, nor too cold.
But, take into account your circumstances as well. If you and your dog have spent the day outside under the blasting sun of the afternoon, he might enjoy a cold bath better than a warmer one (and so would you, naturally, so just go with that logic).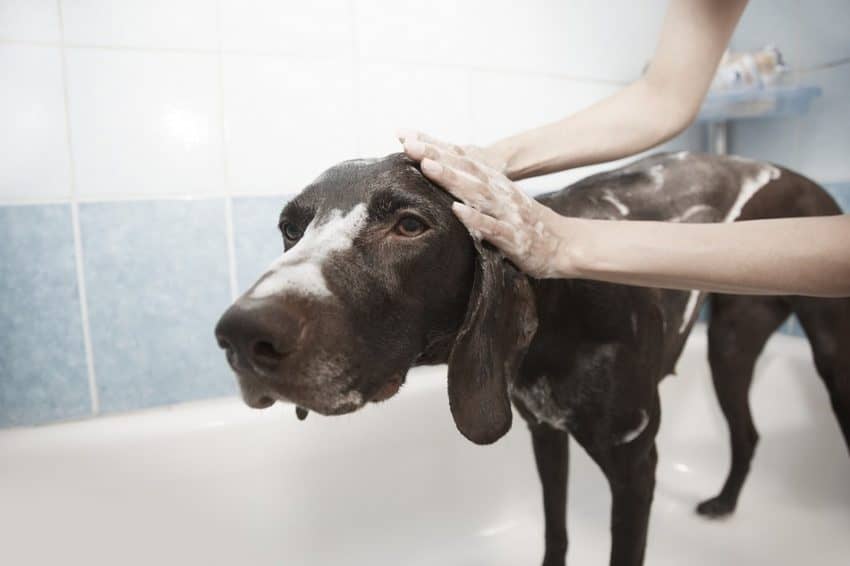 5. Forget the blow dryer, go for a towel instead
Sure, it would be easier to blow dry your dog's coat than wait for it to naturally dry. But, you should know that having a blow dryer blasting hot air at you is not the best experience for dogs. Instead, invest in a good towel and pat your dog's coat dry, gently, without being too aggressive.
This small change can turn your dog's bath time from unpleasant to very agreeable, and it will only cost you a few bucks, so think about it!
6. Make it fun by inviting a friend
…for your dog, not for you. By that, we mean that if your dog is properly socialized and can behave around other dogs, it wouldn't hurt to bring another canine friend to take him through the experience. Of course, this other dog should be one that your furry friend already knows and gets along with, so one from the dog park, or a friend's dog will do the trick!
7. Use food as a bargain
By bringing good dog food to bath time, you will help your dog create positive associations with the bathtub. Sure, it might be difficult to convince him to eat there at first. But, with a little work, and a lot of patience, it will happen, and you won't have to worry about bath time ever again.
8. Finally, give your dog a treat after each bath
That will teach him that he did something good, and again, condition him into associating bath time with treats. Dogs like it when you let them know that they've done something good by giving them a treat, so do that, and after a while, bath time will be as smooth as you want it!
Do you have any other tips on how to get your dog to love his bath? Share below!