Worried about how to find pet food in the midst of panic-driven shortages?
First, take a deep breath and let yourself relax for a moment.
While your grocery store shelves (and even the virtual Chewy aisles) may be eerily bare, there's till plenty of pet food in the nation.
Let's take a look at a few alternatives for finding pet food during times of crisis.
How to Find Pet Food During a Shortage
I don't think I have to tell you how crazy the last couple of weeks have been!
Literally everything seems to be flying off the shelves, from toilet paper to water to ramen noodles.
Sadly, "literally everything" also includes food for our beloved pets.
Just a week ago, the shelves were overflowing with everything from canned cat food to giant bags of dog food.
If I ran out of my dog's favorite food topper or my cat's preferred flavor of canned food, no problem. I'd just go grab more!
Yesterday, the stores in my area only had treats left. Anything with actual nutritional value was gone.
So, what do you do when you find that your local stores have a very limited supply of pet food?
You seek an alternative method, of course.
Let's look at some of your choices (we'll go over all of them, including grocery stores, because there may be some you didn't consider).
We'll also look at their ordering process and how to find out if they have what you need.
PET STORES
Many states have ordered a shut-down of nearly all businesses.
Fortunately, pet stores remain on the "essential businesses" list and are permitted to stay open.
However, many may opt to limit hours or shut down entirely on their own, so call ahead before you make a trip.
Pet Supplies Plus
Pet Supplies Plus is a private retail pet supply store with 460+ locations in the U.S.
They feature an array of dry, wet, freeze-dried and grain-free dog food, as well as treats, including biscuits, bones, chews and sticks.
Pet Supplies Plus also allows you to order online and pick up curbside in as little as two hours.
Since you can select your local store, it's easy to see what's in stock before you head out.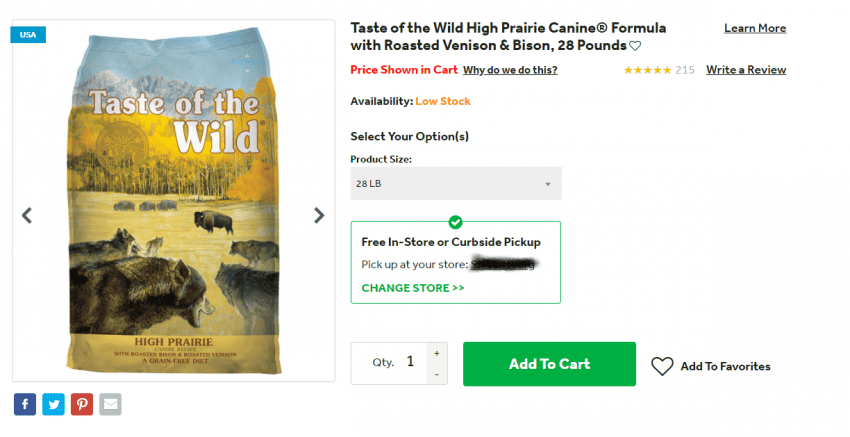 Petco
Petco has 1,500+ locations throughout the U.S. and Mexico.
Besides dry and wet dog food, they also have raw and fresh, vet-authorized diet and weight management dog food formulas.
In addition, Petco has a variety of dog treats from popular brands such as Greenies, Isle of Dogs and Plato Pet.
They allow you to buy online and pick up in store OR have your order shipped.
If you're planning to pick it up in the store, you can easily see whether it's currently in stock (not all stores carry all brands, though).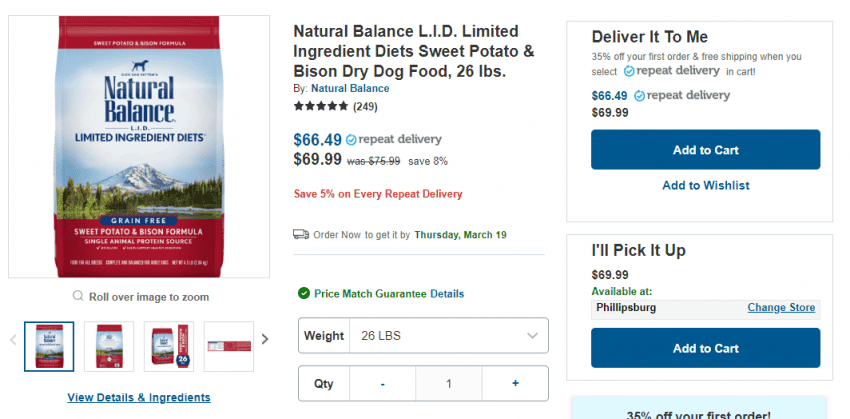 PetSmart
PetSmart has 1,600+ locations in the U.S. and Canada.
They have a variety of canned and dry dog food brands like Beneful, Eukanuba and Iams.
Again, you can order online and pick up in stores, or just order online for home delivery.
On the product pages, you'll be able to see whether it's in stock for either option.
The good thing about PetSmart- as one of the largest pet food retailers, they usually have a good amount of stock.
The bad thing? They're also one of the first places everyone looks, so that stock can dwindle fast.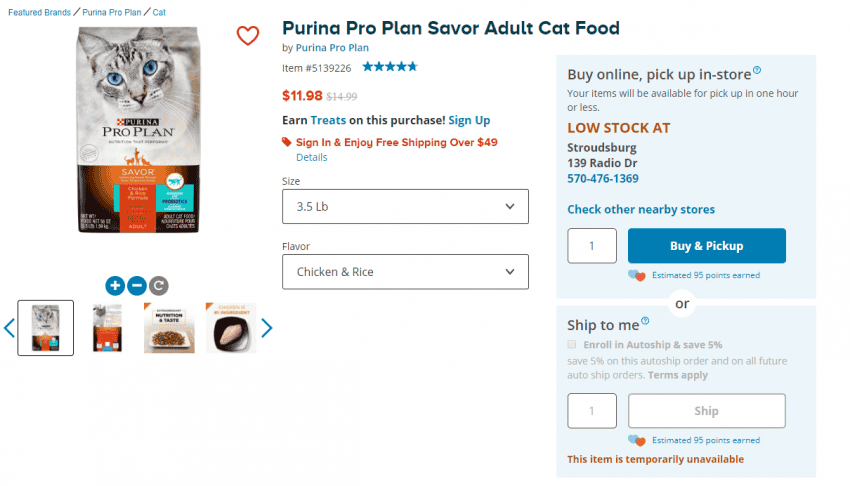 GROCERY STORES
Quite a few grocery stores actually carry "premium" dog food.
While much of it is still not "top shelf" quality, you can find some decent food to feed your dog during a pet food shortage.
Albertsons
Albertsons has approximately 2,250 locations in 35 U.S. states. They offer an array of dry and moist dog food, as well as dog snacks.
Besides in-store shopping, Albertsons also offers pickup and delivery orders.
You'll need a free account to see if something is even in stock, though.
Aldi
Aldi has approximately 11,324 locations throughout 20 countries.
In 2019, two of their signature dog foods were awarded Gold Medals for the Store Brand Editor's Pick Award.
While it's definitely not "premium" food, again, it'll keep your dog from starving in a pinch.
Aldi partners with Instacart, so you can shop online for delivery or to pick up in stores.
However, at this time their hours are limited, so call ahead to your local store to make sure they're open.
Unfortunately it appears that the only way to see what's in stock at your local store is to sign up with Instacart, then start shopping.
Kroger-
Kroger has about 2,757 stores in 35 U.S. states.
They feature a variety of canned and dry dog food from over 20 popular brands like Blue Buffalo, Beneful and Pedigree.
Kroger offers 4 ways to shop- in-store, same-day pickup, delivery (within hours) and 1-3 day shipping.
The nice thing about Kroger- once you select your store you can see right on the search results page whether it's available for pickup and/or delivery.
It saves you a little time since you don't have to open each product page to find out.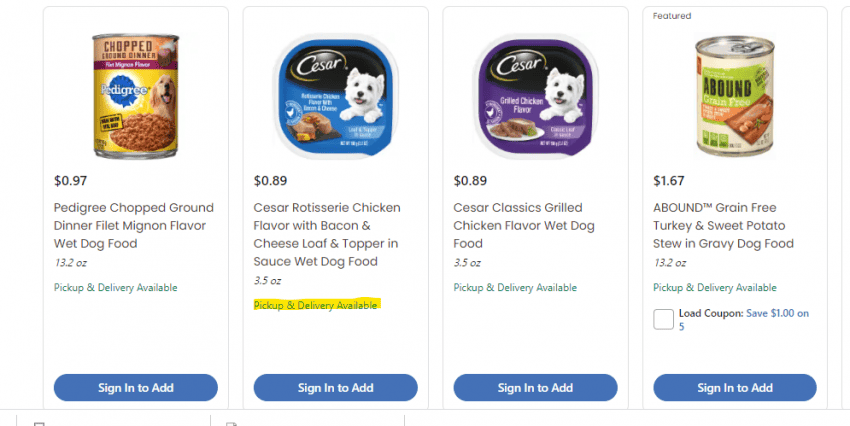 There are a ton of other grocery stores, of course.
Stick with those that let you buy online and pickup in store for now.
That way, you won't drive 20 miles away to grab the last bag of Blue Buffalo only to find that someone beat you to it.
OTHER STORES
Big Lots
A retail store with 1,400+ stores in 47 U.S. states.
The store features an array of dog food and treats from brands like AKC and Pedigree.
Stock is limited, but you can see what's available by shopping online.
Honestly, they're hit or miss when it comes to quality.
I've found Nature's Recipe there on a few occasions, but also plenty of "made in China" food that I would never give my dog.
Costco
A membership-only retail warehouse club with about 785 warehouses in 12 countries.
They have an array of dog food and treats from brands such as Kirkland Signature and Nylabone.
It's easy to see what's in stock, too. They put a big "Out of Stock" banner right across products in the search results.
Unfortunately, right now that banner appears on most of their pet foods.
Still keep them bookmarked if you're a member, as that could change.
Walmart
Walmart has 11,503 stores throughout 27 countries.
They feature a large selection of dry, wet and dehydrated dog food, as well as a large selection of dog treats.
While they don't sound like a top choice for finding premium foods, they actually carry some great brands, including Canidae and Pure Balance.
Plus, you can easily sort by your preferred store to find out what's in stock.
I do recommend using their app, though. It's a little quicker when you're specifically looking for in-store availability.
While you can use their grocery app to order food for pickup, keep two things in mind:
The stock doesn't seem to be updated often (many times I order something only to learn they don't actually have it)
Their pickup service is extremely busy right now, so it could be days before you can get a slot.
ONLINE RETAILERS
FYI, this section contains affiliate links. If you make a purchase, we earn a small commission at no extra charge to you.
Amazon.com
Amazon has a huge selection of dry, wet, dehydrated and frozen dog food from numerous brands, including Blue Buffalo, Natural Balance and Tuffy's Pet Food.
Their site allows you to refine your choices by flavor, food feature or health benefit.
However, as the world's largest retailer, they are quickly running out of stock of nearly everything.
As of this moment, though, they do have a good amount of pet food left.
However, be very careful to read the reviews and make sure you're buying from a reputable party and not a 3rd party seller.
Too often, these unscrupulous sellers send you expired food, torn bags, or something entirely different than what you ordered.
Don't let that scare you, though. You can find pet food on Amazon that's good for your dog.
The Blue Buffalo below is actually sold by the brand, and it's in stock (again, as of this moment, that could change five minutes from now).
Blue Buffalo Cat Food, Natural Chicken Recipe, High Protein, Adult Dry Cat Food, 12 lb bag
REAL CHICKEN IS THE FIRST INGREDIENT: BLUE Wilderness dry cat food is made to unleash your cat's wild side with high quality deboned chicken to satisfy their carnivorous cravings and maintain lean muscle
GRAIN FREE FOR SENSITIVE STOMACHS: Treat your cat to the finest natural ingredients with a dry cat food made without chicken or poultry by-product meals, corn, wheat, soy or preservatives
THE PERFECT BALANCE OF FLAVOR AND NUTRITION: Omega-3 & 6 fatty acids help promote a shiny coat and healthy skin, while carefully balanced calories from proteins and fat help maintain healthy body weight
CONTAINS IMMUNITY-BOOSTING LIFESOURCE BITS: LifeSource Bits contain a precise blend of antioxidants, vitamins and minerals to support immune system health, life stage needs and a healthy oxidative balance
NOURISHMENT IN EVERY BAG: Contains one 12-lb. bag of BLUE Wilderness High Protein Natural Dry Cat Food, Chicken Recipe
Chewy.com
Chewy has a massive assortment of dry, freeze-dried, frozen, human-grade, raw and wet dog food.
They also have a large assortment of crunchy, dehydrated, dental, freeze-dried, jerky and rawhide-free dog treats.
However, like Amazon, stock is selling out fast. As of today, many of the things I usually buy are gone.
The plus side? They seem to be filling their stock back up fairly quickly. You'll need to click each item to see if it's in stock.
Also, orders may take a little longer than their usual 2 days to arrive.
EntirelyPets.com-
EntirelyPets.com is a privately-held, online pet supplies retailer.
They have a variety of dry, wet, freeze-dried and veterinary diet dog food, as well as puppy milk replacers.
Entirely Pets has hundreds of brands to choose from, including Big Creek Foods, Eukanuba and Greenies.
In addition, they also have a host of dog treats. The best part? Most of it is currently in stock!
MAKE YOUR OWN DOG FOOD
The final option is to make your own dog food and dog treats at home.
Most recipes only require a few ingredients and you'll know exactly what is going in your dog's food.
If you're planning to do this for the long-haul, though, talk to your vet to make sure you're meeting your dog's requirements.
Listed below are some ideas for meals and treats.
MEALS-
TREATS-
Honestly, it's not that hard to find pet food if you just keep your wits about you.
We see people buying everything in sight and then panic ourselves, especially when our favorite store has empty aisles.
It leads us to think that there's a pet food shortage, when there's really not (at least not at the moment).
In fact, experts say there's not even a shortage of human food right now!
If everyone just buys what they need, we'll all quickly see that there's plenty to go around.
Are you having a hard time finding pet food right now? Share below.
Last update on 2023-09-24 / Affiliate links / Images from Amazon Product Advertising API