If you're wondering how to clean a dog bed without a washing machine, I've got you covered!
Maybe you are currently without a washing machine and don't feel like toting your dog's bed to the laundry mat.
Or perhaps you have an awesome machine…but your dog's bedding is WAY too big to fit into it.
Whatever the reason, cleaning your dog's bed (and covers) without a washing machine isn't as hard as you'd think!
We'll talk tips on making it work, but first, let's discuss which types of bedding simply can't go into a washing machine (whether you have one or not!)
Why would you need to clean a dog bed without a washing machine?
If you're here because you don't have a washing machine at all, then you already know the answer to this question and can skip down to the next section. 😀
For the rest of us, let's pretend for a moment that you have the world's best washing machine (which definitely isn't my $300 generic top-loader).
It's big, it's beautiful, and it all but sings a happy little song while cartoon birds fly around its shiny metal head.
Even with the Snow White of washing machines, there are times when it's just not feasible to throw your dog's bedding into it!
For example:
You have a Great Dane…and a Dane-sized bed to go along with him (highly unlikely that his bed will fit into your machine)
You bought a bed without removable covers and even though the bed itself is machine-washable, it won't fit into your top-loader.
Aforementioned bed isn't machine-washable, so even if it would fit into your machine it's a no-go.
You bought a luxury dog bed with a luxury cover and you're afraid the machine will ruin it.
You found the perfect dog bed with removable, washable covers…then saw the negative reviews about how said cover shrinks/shreds/disintegrates in the wash.
I could go on, but I think you get the point.
I've had large dogs for the last 18 years and I don't think I've ever actually been able to machine-wash their beds.
So, how do I keep them from getting utterly disgusting to the point that I have to throw them out and start anew? Let's find out!
FYI, this post contains affiliate links. If you make a purchase through these links, we earn a small commission at no extra charge to you.
How to Clean a Dog Bed Without a Washing Machine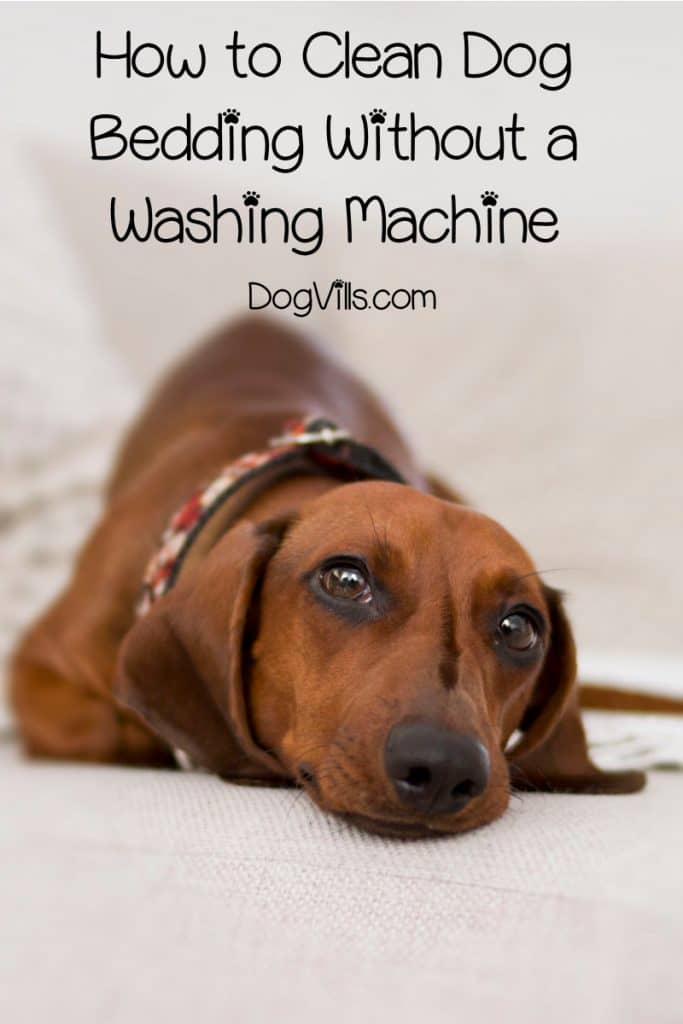 Below you'll find the multitude of ways to clean a dog bed without a washing machine.
Keep in mind that you don't need to do all of them every time. If my dog's bed is just a little grungy, I may just use one of the methods.
If it's particularly gross, I mix and match until I feel like it's not longer a toxic waste dump of dog dirt & grime.
1. Shake it out
This is one step you really can't skip, regardless of which other methods you choose to try.
Take your dog's bed outside and give it a good shake! If it has a cover, take that off and shake it on its own.
Really go nuts here and take out all your frustrations on the bed!
We even whack it against the deck railing (cover the rail with a clean sheet, towel or blanket first).
You'd be surprised how much dirt, hair & grime comes out just by giving it a good beating.
2. Vacuum it
Now that you're back inside, break out the vacuum and slap on the upholstery attachment.
Once again, if your bed has a removable cover, take it off for now and vacuum the bed sans cover.
Vacuum the top, then flip it and do the bottom. Flip it back over and do another once-over on the top for good measure.
Now put the cover back on and vacuum it once more with the cover in place.
It seems like a lot of extra work to do it with and without the cover but I find it gets a lot more debris out than just doing one or the other.
If you need a recommendation for a good pet hair vacuum, the Shark TruePet has great reviews!
It's on our vacuum cleaner wish list (my mother- who lives with me- is obsessed with vacuum cleaners!).
Sale
3. Steam-clean it
If vacuuming alone doesn't really do the job, the next step is to use a really good steam cleaner on it.
I tried to find you a good video of how to steam clean a dog bed, but came up short.
However, it's basically the same concept as steaming your mattress (which you may want to do next!), so check out this video:
I'm so sad because the steam cleaner that I have and love no longer exists (apparently the company went bankrupt), so I can't recommend it to you.
When it kicks the bucket, I'm thinking of replacing it with this one:
Sale
McCulloch MC1275 Heavy-Duty Steam Cleaner with 18 Accessories, Extra-Long Power Cord, Chemical-Free Pressurized Cleaning for Most Floors, Counters, Appliances, Windows, Autos, and More
SATISFACTION GUARANTEED — Backed by a 2-year hassle-free warranty and supported by a customer service team based in Andover, KS
CHEMICAL-FREE CLEANING — Naturally deep clean and sanitize without the use of harsh chemicals using hot, pressured steam to eliminate grease, grime, stains, and mold from a wide range of surfaces including ceramic tile, grout, granite, sealed wood flooring, laminate, appliances, grills, autos, and more
LARGE CAPACITY TANK — The 48-ounce water tank heats up in under 8 minutes and provides up to 45 minutes of steam with optional lockable steam trigger for continuous steam cleaning. Water Fill Method- Measuring Cup (16 oz).Steam Pressure- 43 psi
18 VERSATILE ACCESSORIES — Equipped for steam cleaning jobs in and around your home including a floor mop, mop pads, nylon brushes, brass brush, scrub pad, squeegee, and more
SUPERIOR REACH — An extra-long 15.7-foot power cord and over 9-foot steam hose provide added maneuverability and reach for those hard to get to places. Steam Rate- 33-37 g/min. Steam Pressure- 43 psi
Built to meet U.S. voltage requirements. Certified, safety-tested, and warrantied for use only in the U.S.
4. Use a UV Sanitizer
Using a UV sanitizer is another great way to clean a dog bed without a washing machine.
These neat gadgets use UV light to kill germs and bacteria. I have one called Raycop (it looks like a Stingray) and it works fantastic.
While mine also includes a deep-cleaning vacuum, you'll want to give the bed a good once-over with your regular vacuum first.
Like my steam cleaner, I also use my Raycop on my mattress and it's easy to see the difference.
I highly recommend giving this step a try if you have allergies, as it helps remove a lot of the pollen and dander from your dog's bed.
My model is the one below, but they have others, including a "lite" model that's a good chunk of change cheaper.
Raycop RS2 UV Sanitizing HEPA Allergen Vacuum Effectively Removes Dust Mite Matters, Bacteria, Viruses and Pollen
RAYCOP RS2 is our high-performance model with 3 operating modes to provide the deepest cleaning for all fabric types. Features unique and patented RayClean Technology to remove dust mite matter, pollen, and 99% of common bacteria and viruses from fabric surfaces.
UV Sanitizer: Uses a powerful UV lamp with a wavelength calibrated to effectively eliminate over 99% of bacteria and viruses from fabric surfaces throughout the home. Laboratory tests confirm the survival rate of commonly found E-Coli and Staphylococcus bacteria was close to 0% after just 1-2 seconds of exposure. UV light also alters the DNA of dust mite eggs and significantly reduces egg hatch rates to drastically reduce the population.
HEPA filtration: High-Efficiency Particulate Air filter captures particles as small as 0.3 microns and traps over 99.9% of the dust mite matter, pollen and pet dander that settle on fabric surfaces. These allergens are the leading causes of environmental allergies and trigger asthma symptoms.
Pulsating Pads: Pulsating pads vibrate 4,600-5,000 per minute depending on the operating mode to agitate and loosen household dust, dirt and dust mite matter. This vibration function, in conjunction with the suction and rotating brush, removes dust and allergens 3 times better than the standard vacuum cleaner.
Official RAYCOP North American product backed by one-year limited warranty and local customer support.
5. Hand-wash it Little House style!
If you have a machine-washable bed but no machine, get ready to play Little House on the Prairie with it!
Fill up a tub with water (cool or warm, depending on what they label says, as you want to mimic the washing machine directions).
Now, add some vinegar to the water. There is no exact measurement, as it depends on how much water you need to use. Let's start with a cup, though.
You can also add a little baking soda to the water if you're dealing with really nasty bedding. If it's really really awful, you can use Dawn dish detergent.
Skip the laundry detergents, though, as they're designed to go through a machine's rinse cycle and it's too easy to leave residue behind during hand washing.
Check out the video below on how to hand wash clothes (again, I couldn't find one specific to a dog bed), you'll use the same basic concept here.
6. Accessorize it!
Okay, so this isn't exactly about how to clean your dog's bed without a washing machine so much as it is about how to keep it clean.
Whether your dog's bed comes with a cover or not, you should consider adding an additional waterproof layer to it.
It's hard to find a one-size-fits-all cover, but you can easily make your own with a waterproof mattress liner.
Just wrap it around the bed, cut it to fit, and seal it shut with some fabric fuse tape.
Top it off with a handmade removable cover. The video below shows you how to make one.
Any or all of the methods above will get your dog's bed clean without a machine.
Of course, some methods will get it cleaner than others, which is why I mix and match depending on how bad it is.
That said, it it's so bad that it's becoming a health hazard, you'll either want to make that trip to the laundry mat or just chuck it and buy a new one.
I'm a big fan of elevated beds because they're pretty much just "hose down and go" when it comes to keeping them clean.
Do you have any other tips for how to clean a dog bed without a washing machine? Share below!
Last update on 2020-06-06 / Affiliate links / Images from Amazon Product Advertising API