One of the most important parts of taking care of your dog is trimming his nails, but how do you fix an overgrown dog nail?
Some dogs love having their feet touched, some barely tolerate it, and others still absolutely loathe it.
No matter how they feel about it, dogs need to have their nails trimmed regularly.
Read on to learn why it's such an integral part of their health, then find out how to fix a nail that's gotten out of control.
Related: 5 Ways to Strengthen Dog Nails to Prevent Cracks and Splits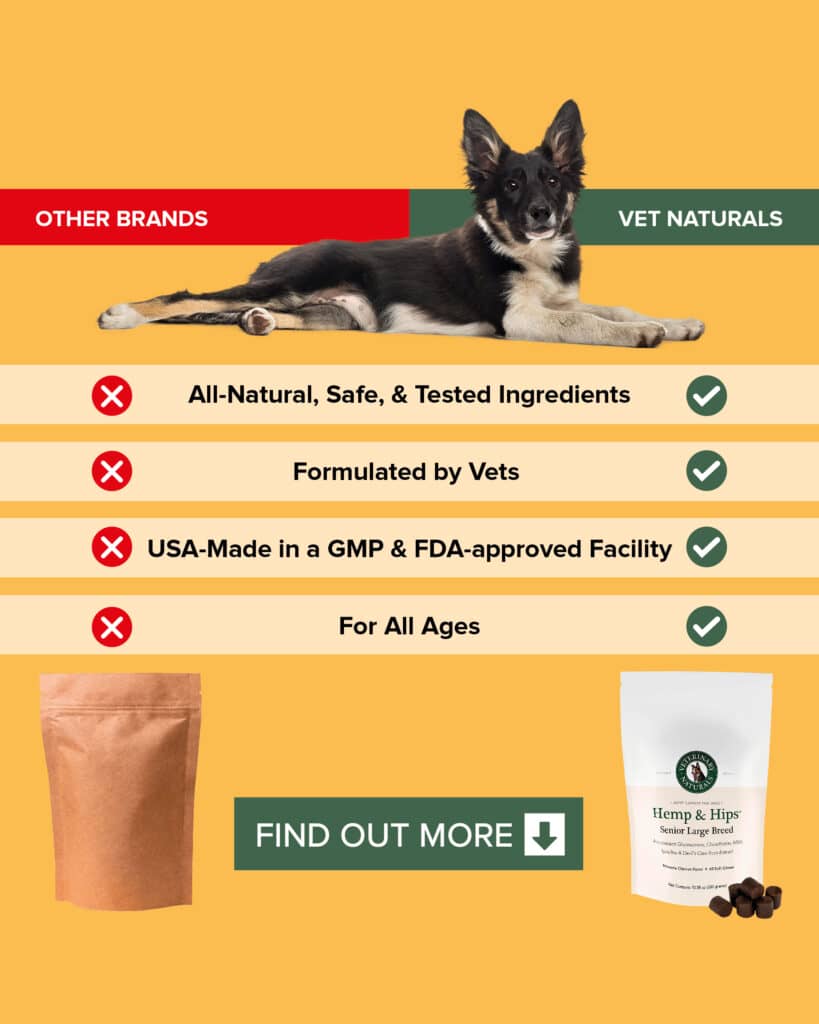 Content & Quick Navigation
Why are overgrown dog nails such a bad thing?
Think about if your toenails got too long; they'd tear holes in your socks, right? Well, if a dog's nails get too long, they can tear into your floors and carpeting.
Here are a few potential problems of long dog nails:
If a dog's nails are too long it can also cause problems with walking because the nails hold the paws further off the ground.
This in turn can cause problems on the pads of the paws as well.
Long nails may crack easier because of the angle at which they hit the ground as the dog walks. If this occurs, the nail may get infected which causes a whole other set of problems.
When a dewclaw is too long, it can get caught on materials or other items and tear.
In extreme cases, the nails can actually start to curve under and grow back into the pads – but this would be serious neglect.
Related: How To Treat Dog Nail Discoloration
Start cutting their nails when they're young and you'll have fewer issues later!
Ideally, you want to start acclimating your dog to having his nails cut when he is a puppy. It's important to start this right away so that your dog realizes this is part of the routine.
If your dog does not like having their feet touched, they will require more patience on your part.
You will need to work with your dog and encourage them by rewarding them for compliant behavior.
Of course, you can easily take your dog to a groomer to have their nails trimmed.
The groomer we take our dog to has a partnership with the local humane society, so new puppies and recently adopted dogs can get a free "paw-dicure" with proof of their adoption.
They also offer quick tutorials and allow owners to have hands on practice with their groomers so they can get used to trimming the nails themselves.
A lot of people worry about hurting their dog, but it is not as difficult as people make it out to be. Let's take a look at the steps needed to trim your dog's nails.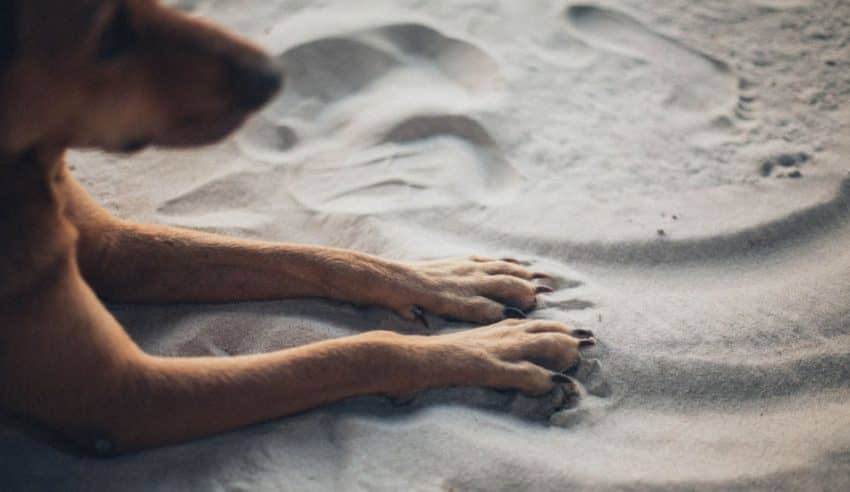 This post contains affiliate links. If you make a purchase through these links, we earn a small commission at no extra charge to you.
Step By Step Guide for Fixing An Overgrown Dog Nail
1. Gather your supplies
You will need a few things to trim your dog's nails, and it's best to have them on hand and ready.
2. Find the quick
The quick is the vein in the center of the dog's nails. You need to locate it because you don't want to cut it while trimming the nails. It will bleed if it's cut.
Generally, the quick is whitish on dogs. However, if your dog is brown or black, the quick is dark too. Use extra care that you don't cut it by accident.
This video illustrates how to find the quick, even on a dog with dark fur:
3. Familiarize yourself with the clippers you will be using
Before cutting your dog's nails, make sure you know how the clippers work.
You want to be sure that the process is easy and stress-free for your dog, so it's essential that you know what you are using.
I also let my dog sniff the clippers each time, that way she is familiar with the tools as well.
Some clippers work in a guillotine style. Some are like scissors. Almost all of them have a safety latch.
According to our groomer, bigger dogs with thicker nails require the guillotine style
because of the strength of the cutter.
The last thing you want is the nail to split because it didn't cut cleanly.
4. Figure out the most comfortable position for your dog
You want nail cutting to be a positive experience for your dog since this is something you will regularly be doing. You need to figure out a comfortable position for your dog.
Some little dogs might sit in your lab nicely. Bigger dogs might sit on the floor happily, giving you their paw one at a time.
My coon hound needs about three straight jackets as she can't stand to have her feet touched at all!
It's important to find a good position since this will also help you to be confident in trimming your dog's nails. They will pick up on your feelings. So, don't be nervous.
5. Position the trimmer
Dog nails should be trimmed at a 45 degree angle. It does not matter if you use scissors or a guillotine style clipper. If you cut the nail straight across it will cause the nail to splinter.
6. Little by little
Once you are ready and your dog is in position, it is time to start trimming! It is a good idea to start by trimming a little at a time.
This way you can be sure that you do not cut too much and cut your dog's quick.
Remember also to trim your dog's dewclaws if they still have them. If you don't cut the dewclaws, they can grow long enough to start pressing back into the toe pad. They grow circularly.
They could also get caught on something and rip. Ouch! Check out this video for dealing with the dewclaw:
7. Reward good behavior
As you cut your dog' nails, reward her after each paw is successfully trimmed. This will help her have a positive experience with nail trimming.
I also make sure that she gets a special treat when the whole ordeal is finished; sometimes it is an extra day at the dog park, other times it might be a special dinner.
This way, she expects good things when she is a good girl.
8. Use styptic powder
If you accidentally cut the quick, your dog will bleed, and it will hurt. It is a good idea to have your styptic pencil at the ready.
Just blot the cut quick with the powder. It will help stop the bleeding.
This video explains how to use it properly:
9. You are done!
Hopefully, you and your dog worked together nicely to trim his nails.
Conclusion
So how do you fix an overgrown dog nail?
If your dog's nails are long because it has been a while, only cut a little bit. This is because the quick grows too.
You will need to cut a little bit every few days until you can safely retrain the quick. Taking it bit by bit also ensures you aren't hurting your dog by cutting the quick.
Don't forget to reward your dog! She needs to learn the trimming nails is part of the routine and that she shouldn't be nervous.
Rewarding her good behavior helps to make nail trimming a positive experience and lets you fix an overgrown dog nail.
Did you ever have to fix an overgrown dog nail? Share your thoughts and experiences below!