How do you break up a dog fight?
Very carefully!
While you NEVER want to get in the middle of your dogs' equivalent of a caged death match, you can do other things to break them apart.
Today, we'll learn what to do and what not to when your dogs get into a fight!
Related ➨ What can I give my dog to calm him down?
How Do You Break Up a Dog Fight: Do's and Dont's
Breaking up a dog fight can be tricky and dangerous. I briefly touched on this in a previous post regarding what to do if you find yourself in the midst of a dog fight while walking your dog.
That post got a lot of comments, some of which I found highly disturbing. That's why I've decided to do a more in-depth post focusing solely on breaking up a dog fight.
I want to first stress that unless you have A LOT of experience with dogs and with aggressive behavior you should never attempt to break up a fight.
I know the first instinct of any dog owner is to try to get the fighting dogs apart, but if you don't know what you're doing, you could become injured in the attempt.
You might think that's a small price to pay, but the larger price could be medical bills or an inability to go to work. In addition to that, your intervention could actually escalate the fight if you don't know what you're doing.
Now that we cleared that up, let's talk about what you should and shouldn't do!
Are you witnessing a Cat fight? Read How do you break up a cat fight?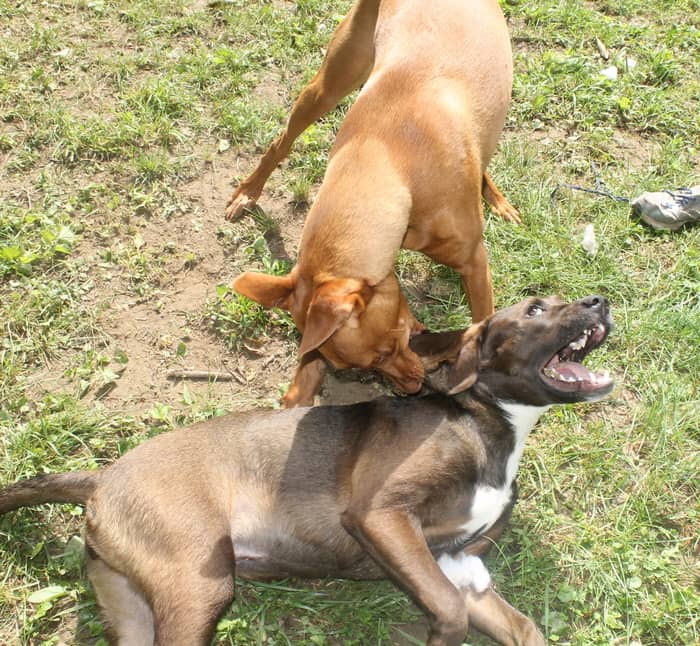 1. Don't Go for the Collar
One of the biggest no-no's in breaking up a dog fight is attempting to grab the collar.
NEVER EVER DO THIS.
You are putting your hands directly into the line of fire. When dogs are in the middle of a fight, they have no idea what's going on. They're oblivious to everything except the other dog.
If you attempt to grab a collar, you are setting yourself up for a possible bite, at the very least. At worst, you could be maimed.
2. Don't Kick at the Attacking Dog
Again, getting yourself in the middle of a brawl is the best way to get injured, possibly severely.
Another thing to note is that breaking up a dog fight by using force will not work. Rather, you'll be fueling the aggressive atmosphere.
When the dog feels a kick to his body, he will more often than not increase the intensity of his attack. Remember what I said, in the middle of a fight, the dogs only have eyes for each other.
3. Don't Use Mace or Pepper Spray
Never under any circumstances use these products as a means of breaking up a dog fight.
Mace and pepper spray act as mucous membrane inflammatories. They cause itching, burning, and swelling of the eyes, nose, and throat. You could very well kill a dog with this stuff. And because it can be difficult to aim in the midst of a brawl, you could hurt or kill both animals. DON'T do it!
4. Don't Go for the Leash
You might think that grabbing the leash would be the way to go when breaking up a dog fight, but that's a bad idea, as well.
When dogs fight they use their teeth as weapons, gnashing and biting to cause injuries. If you pull on the leash of either dog, you could very well cause even great harm.
If one of the dogs happens to bite down on the other while you're pulling at the leash, a simple bite could turn into an extremely nasty wound.
5. Do Use the Wheelbarrow Method
There is really only one effective way for breaking up a dog fight, in my opinion – the wheelbarrow method.
While this method is best done by two people, if you're alone, go for the aggressor. This is the dog putting out the most effort. Neutralizing him will most likely end the fight.
The wheelbarrow method is almost exactly as it sounds.
You grab the dog as if you're grabbing a wheelbarrow, with his hind legs as the handle. ONLY do this if you can safely grab the hind feet.
If you can, grab the hind feet and begin pulling backwards.
This will put the dog off-balance.
This effectively prevents him from further attack and stops biting.
When you put the dog in this off-balance position, he will lose his footing or at least his balance. Most times, this will end the fight.
Check out this video for a visual of how to perform the wheelbarrow method to break up a dog fight:
Breaking Up a Dog Fight Requires Skill
I want to reiterate this point as strongly as possible.
IF YOU DO NOT HAVE EXTENSIVE EXPERIENCE WITH DOGS DO NOT TRY BREAKING UP A DOG FIGHT.
An angry, confused dog is not a creature to be taken lightly. Even if you do manage to break up  the fight, you may be left with a dog who is now focused on you.
If you don't know what you're doing and if you have any hesitation whatsoever, you could be in real trouble.
As horrible as it sounds, the average person's best bet in breaking up a dog fight is to avoid it at all costs and to NOT intervene.
I know that sounds horrible. It sounds horrible to me as I write it.
But if you don't know what you're doing, your dog could either be injured even more severely or you could be injured.
And please remember: dog fights are not the result of an evil dog vs. a good dog. Dog fights are the result of instinct. Dogs are neither good nor evil. They are just dog.
NEVER injure one do to protect another. Never use chemical mace or pepper spray.  You could kill one or both of the dogs. And NEVER try breaking up a dog fight if you don't have a ton of experience.
Does this answer the question of how do you break up a dog fight? Share your thoughts and experiences below.