So, here is a story that will surely make you laugh. A family leaves the house for a few hours while they headed for a family movie outing. It is amazing the epic mess their Husky dog made in just the three hours that they were gone. So, what happened, you ask?
Apparently, the Husky got bored and decided to find something to do to occupy his time until his owners came back home. So, what did he decide to do, you ask? He found a calligraphy set in the home. I am sure you can see where this is going. The bored Husky turned the family's living space into his own personal artist canvas, by using his inked-dipped paws to do all the work. The good news is that the calligraphy ink is not toxic to pets or humans and is 100% biodegradable.
Here's the funny part…he knows that he is not allowed on any of the human beds in the house. So, what did the family find on their bed? One lone paw print on the side of the bed, as if he was saying, "I better not jump up there since I am not allowed on the bed."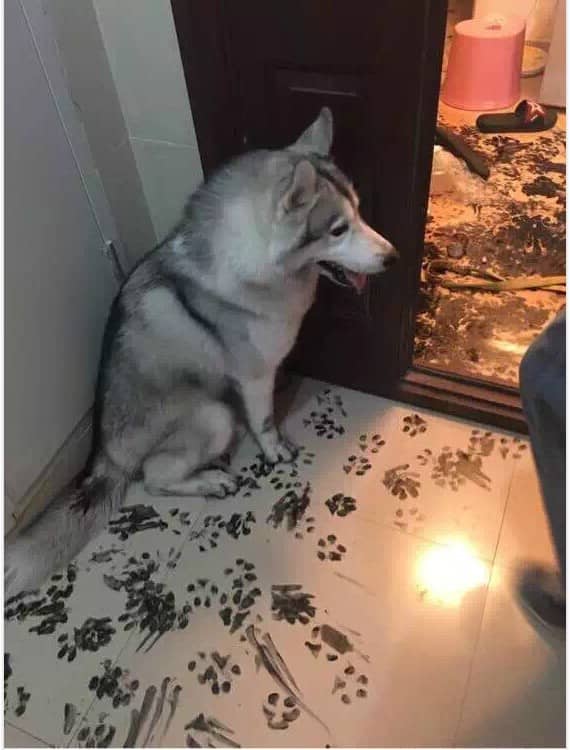 When the family returned home, they took and posted pictures of their dog's epic mess and the photos quickly went viral. The 11-picture album that was posted by the family on Imgur, features the Husky sitting by the door after his antics, waiting for the family to come home and looking as innocent as can be, along with images of his antics aftermath, taking place in several rooms throughout the home, including the dining room, living room, kitchen and hallway. The family had a lot of cleaning up to do, but they really weren't too angry.
I loved reading the various comments that people left in regards to the Imgur pictures. One person commented, "Maybe the dog just wanted to play a game of Blues Clues and got a lil carried away." Someone else commented, "Haha that's a busy floof." And yet another person commented, "This makes me love my cat even more."
What would you do if you came home and saw this epic mess? Has your husky ever gotten into mischief while you weren't looking? Share in the comments!