Looking for some of the most heartfelt dog quotes that help you describe just how much you adore your pup?
As a lover of both dogs and quotes myself, I've got you covered!
Use these wonderful words to customize cards and gifts for dog lovers, or just print them out and hang them to remind you why dogs rock!
Let's check them out, shall we?
Inspirational & Heartfelt Dog Quotes
We've covered a lot of dog quotes in the past, from short & snappy to breed-specific to the most touching quotes to help soothe the loss of a dog.
Today, we're focusing solely on heartfelt! What does that mean? Well, to me, it means quotes that say what my heart would if it could speak!
Take a look and you'll see what I mean.
1. Be kind to your dog…
This one says "Be kind to your dog. He is only a few years of your life, but you are all of his."
I think that's a powerful reminder of just how important we are to our dogs, don't you?
2. Greatest Treasures…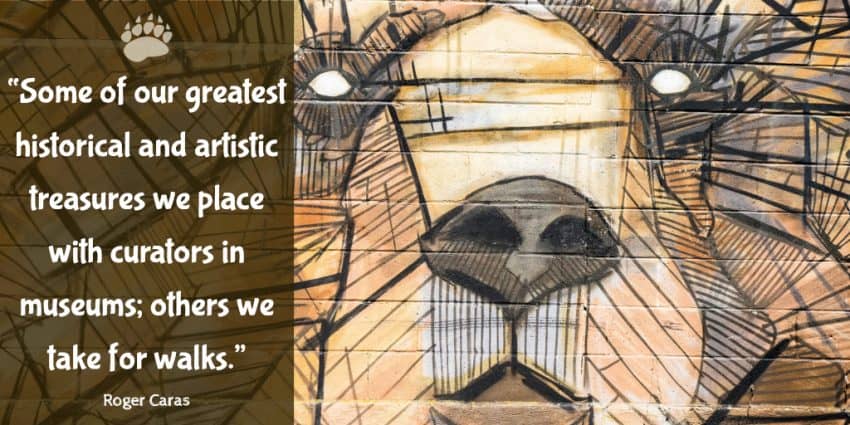 "Some of our greatest historical and artistic treasures we place with curators in museums; others we take for walks." ― Roger Caras
Dogs are definitely one of humanity's greatest treasures, don't you agree?
3. Dogs do speak…
"Dogs do speak, but only to those who know how to listen."
I can tell you from experience, when you really work on your bond with your dog, understanding them becomes second nature.
4. They love us more than anything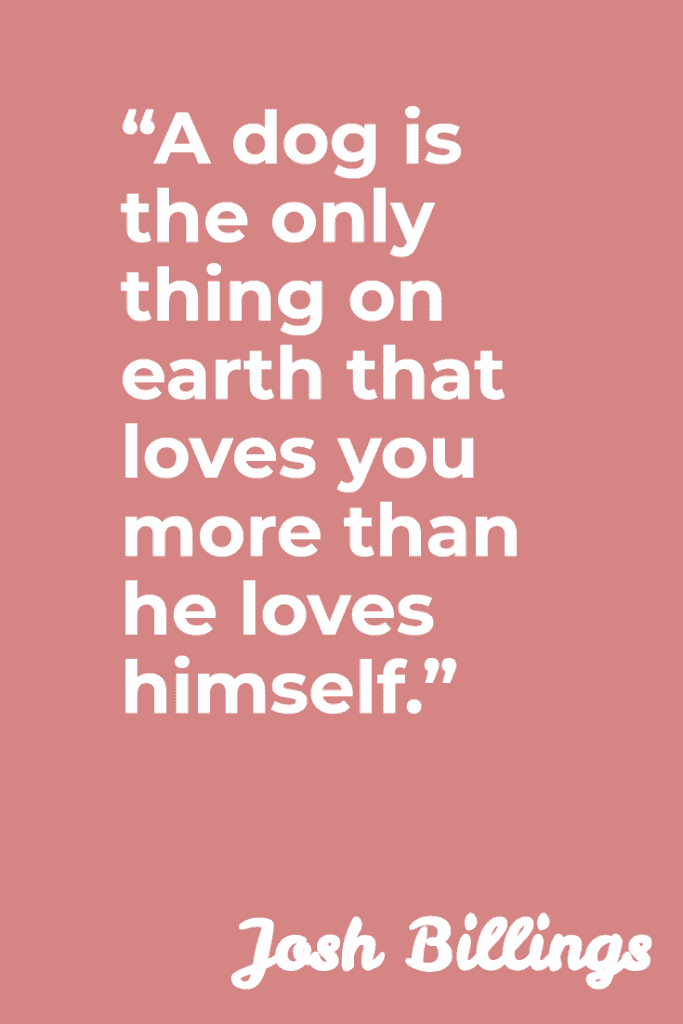 "A dog is the only thing on earth that loves you more than he loves himself." – Josh Billings
Our dogs love us more than anything, including themselves. It's up to us to make sure we're worthy of that love.

5. Dogs have a way…
" Dogs have a way of finding the people who need them and filling an emptiness we didn't know we had."
When I was trying to conceive my son for 6 years, my dogs filled a major void and really helped me get through it.
6. A much nicer place indeed!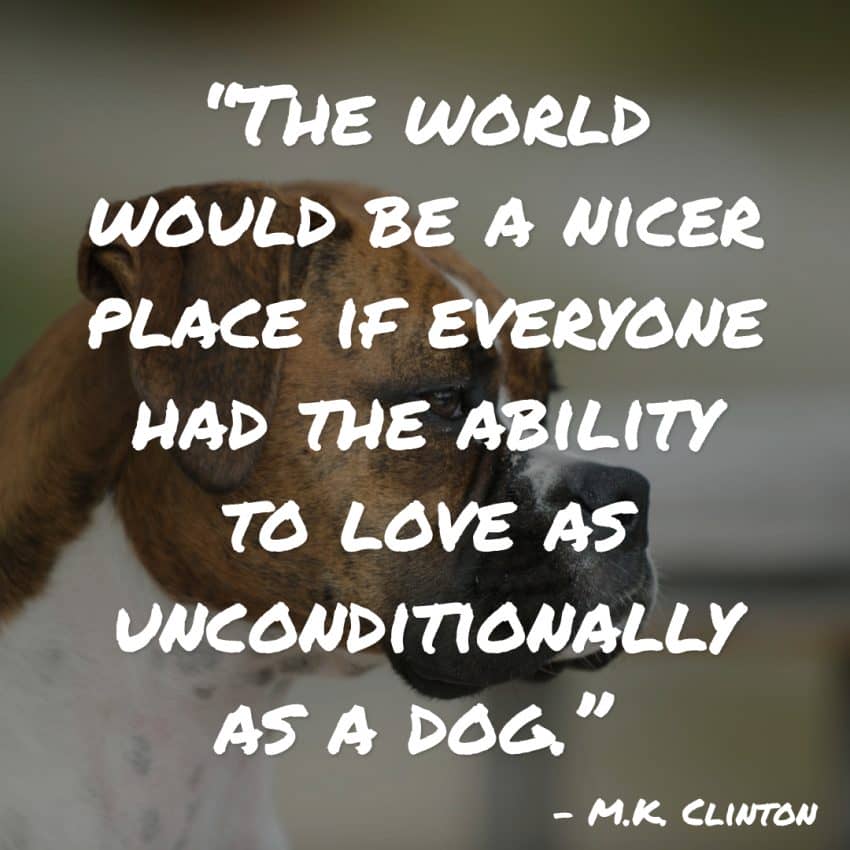 "The world would be a nicer place if everyone had the ability to love as unconditionally as a dog." – M.K. Clinton
Can you imagine how beautiful and kind the world would be if we could love even half as unconditionally as a dog?

7. I love pit bulls…
Here's one for all my pit bull lovers! "I love pit bulls because their hearts are as big as their heads." Totally true!
8. Become partly a dog…
"In order to really enjoy a dog, one doesn't merely try to train him to be semi human. The point of it is to open oneself to the possibility of becoming partly a dog."  – Edward Hoagland

When you really bond with your dog through training, you learn to see things the way he does. There's no truer gift to either of you.
9. Dogs teach humanity
I couldn't agree more with this one! In case you can't see it, it says "Those who teach the most about humanity aren't always human."
I truly believe that you can tell everything you need to know about a person based on how they treat their dogs.
10. A good role-model
"I think dogs are the most amazing creatures. The give unconditional love. For me they are the role model for being alive."  – Gilda Radner
Another one of the most heartfelt dog quotes that reminds us to use our dogs as a guide for good behavior!
There's no better role model for demonstrating true love.
11. Be half the person your dog is
"If I could be half the person my dog is, I'd be twice the human I am."
Try as hard as we may, we'll never be even half the person our dog is! Still, we should strive to be worthy of them!
12. Thankful that dogs exist
"I do not concern myself with my inability to feel such comfort amidst humans (other than with very few friends and family), but, rather, am simply thankful that at least dogs exist, and I'm humbly aware of how much less a person I'd be – how less a human – if they did not exist. "

― Rick Bass, Colter: The True Story of the Best Dog I Ever Had
A long one, I know, but it's definitely one of the most heartfelt dog quotes. I am thankful every single day that dogs exist. How about you?
13. Their love can cure you
"Sometimes the best medicine is a dog who thinks their love can cure you."
After my gran died, my boy Coop just walked over and laid his head on my shoulder while I cried into his soft fur.
While it didn't stop the pain, it definitely gave me more comfort than any medicine in the world ever could.
14. Fully understand the meaning of love…
"Nobody can fully understand the meaning of love unless he's owned a dog. A dog can show you more honest affection with a flick of his tail than a man can gather through a lifetime of handshakes."

– Gene Hill
If you want to learn what love really is, get a dog! Plain and simple, right?
15. All you need…
We'll end our list of heartfelt dog quotes with a simple yet powerful truth- "All you need is love, and a dog."
The best part? If you have a dog, you have the love covered!
What are your favorite heartfelt dog quotes? Share below!