Celebrate your love for your pooch with these great Valentine's Day treats for your dog!
Valentine's Day isn't just for humans.
Our dogs love to get treats and gifts too!
What better day than the official day of love to show our canine companions a little extra attention?
Obviously, you can't give them a box of chocolate (it's toxic to them!), so we've come up with a few other ideas for Valentine's Day treats for your dog.
Check them out!
Great Valentine's Day Treats for Your Dog
Affiliate links included below. We earn a commission if you make a purchase, at no extra cost to you.
1. Yogurt dipped rawhides
Yogurt dipped rawhides are fun Valentine's Day treats for your dog.
They are also ideal for keeping their teeth healthy by reducing tartar build-up.
These rawhides can be purchased online at sites like Etsy and Amazon as well as retail stores such as PetSmart.
They often come in seasonal colors and shapes to make them extra special!
If you don't love the idea of giving your dogs rawhide, you can make your own using bully sticks!
Just dip them into plain yogurt mixed with a bit of peanut butter, then refrigerate. The yogurt will harden over the sticks.
You can also do this with just about any other type of dog treat.
RELATED: Super Cute Valentine's Day Dog Mom Gift Ideas
2 . Doggy gift baskets
Dog gift baskets are a fantastic way to treat your pup to some great new toys and treats.
You can make your own or buy a premade doggy gift basket!
Personally, I like making my own because I can choose toys and treats that I know my dog will love.
You can add things like a new favorite toy or two and some yummy doggy treats.
Grab some heart-shaped dog toys to bring it all together into a Valentine's Day theme!
Here's a great idea: hide it all inside a box and let your dog discover all the fun new playthings!
3. Natural dog treats
Dogs love eating treats, but you want to be sure that you are choosing healthy, natural treats for your dog. Here are a few tasty ideas:
Carrot chunks are not only natural but also low in calories too.
Green beans! My dog LOVES fresh green beans even more than she loves her favorite "junk food" treat.
Popcorn is another treat that is good for dogs as long as you don't add seasonings to it like salt or butter.
Frozen bananas are treats that dogs love and are loaded with nutrition.
Apple slices make an ideal treat and dogs love the crunching sound they make. Apples are also packed with vitamins and fiber. Try coating them with peanut butter!
4. Homemade dog cookies
Making your dog some delicious cookies is not as hard as you may think.
You control what ingredients go into these cookies, and you don't have to worry about additives that aren't healthy for your dog.
Try our Heart-Shaped Cinnamon Pumpkin Dog Treat Recipe for an easy treat your pooch will love!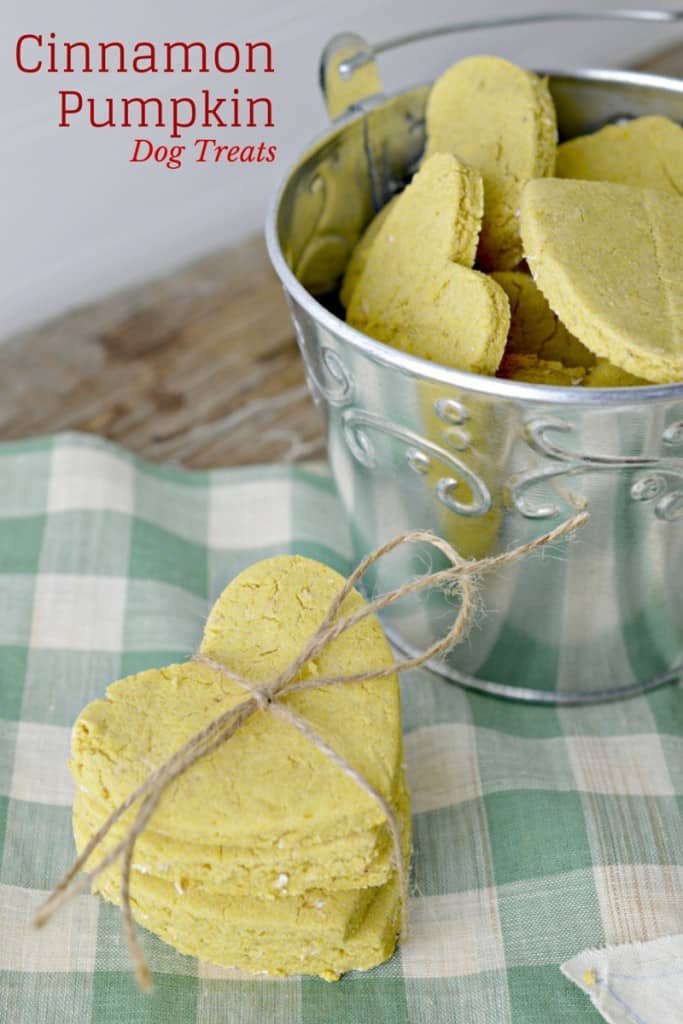 5. Dog jerky
Dogs love jerky, and the best thing is that it is good for them as long as you stick to all-natural ingredients that are healthy for them.
Some of the top dog jerky treats include:
You can also make your own! Just use a food dehydrator to dry out strips of hormone-free meat, like chicken or beef.  Check out this video for an easy recipe:
These are just a few fun ideas for safe Valentines' Day Treats for your dog!
Of course, you don't have to give your dog food to show love. You could just set aside some extra time for more snuggles on the big day!
All dogs love spending more time with their human pals!
Do you have any other ideas for Valentines' Day treats for dogs? Share in the comments!