Doggy cameras were all the rage this year at CES, with offerings from just about every major tech company. Today we're telling you about the GoPro Fetch Dog Harness and what makes it a particularly unique entry in the doggy cam genre.
GoPro Fetch Dog Harness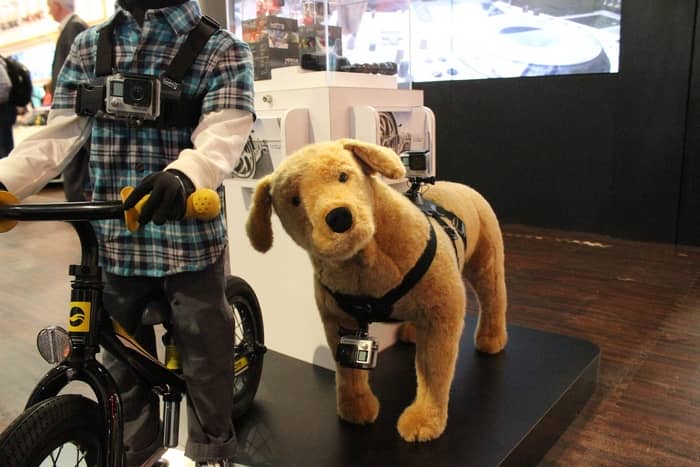 Affiliate links included below. Thank you for the support
Go Pro Pet Accessory have seen a rise in pet accessories that center around technology, especially when it comes to dogs. GoPro took the tech photography world by storm a few years back when they introduced a mountable camera that let you capture your world from just about any angle. This year they came out with a GoPro Fetch Dog Harness, so you can strap that camera to your pooch and see your dog's world in the same new light.
Related links: Exilim Fr10 Dog Cam
Mount your GoPro Camera to your dog to capture the world from your favorite pup's point of view. There are two mounting locations so you can have different perspectives of your pup's adventures. There is the Chest Mount, which is great to check out bone chewing, digging, and anything your buddy wants to do with his front paws. Then there is the Back Mount for the over-the-head shots of running, playing fetch, jumping over obstacles and so much more.
The GoPro Fetch Harness is made of a water-friendly material so your pooch can swim or get dirty and then just toss it into the wash. It is fully adjustable and fit any size dog from 15-120 pounds. The chest mount is removable for smaller dogs. What I like the best is that it has a quick release base that allows attaching and removing the camera easy peasy.
The GoPro Fetch Dog Harness is already available on the market, so you can get started on capturing your dog's adventures right now. It retails for $59.99 on Amazon. The GoPro Camera is sold separately and comes in several different versions with different price tags. The HERO retails for as little as $129, with bundle options pushing the price point up.
What types of adventures would you use your GoPro Fetch Harness to capture? Have you used the GoPro mountable camera in the past? Tell us your thoughts in the comments!