If you're searching for the perfect gift ideas for Shih Tzu lovers, you're in luck!
From darling mugs to comfy tees, we've got you covered (literally, in some cases!).
These top 5 gifts are perfect for Mother's Day, Father's Day, birthdays, and more!
Or just grab yourself one as a special treat.
You deserve it!
Let's check them out!
Check out our store, Cat Dog Gifts, for more wonderful dog lover gift ideas!
Gift Ideas for Shih Tzu Lovers
This post contains affiliate links. If you make a purchase through these links, we earn a small commission at no extra charge to you.
If you've checked out some of our other gift ideas posts, you know what's coming here: a couple of quick notes!
All of these gift ideas are available in our shop, where you can get free shipping on all orders $50+.
Some are also available on Amazon in either the same style or alternate styles.
The "Buy it Button" takes you to our shop, while the little Amazon card beneath it takes you (obviously) to Amazon.
Now that we've clarified that, let's get started with these gift ideas for Shih Tzu lovers!
1. My Heart Belongs To My Shih-Tzu Black Coffee Mug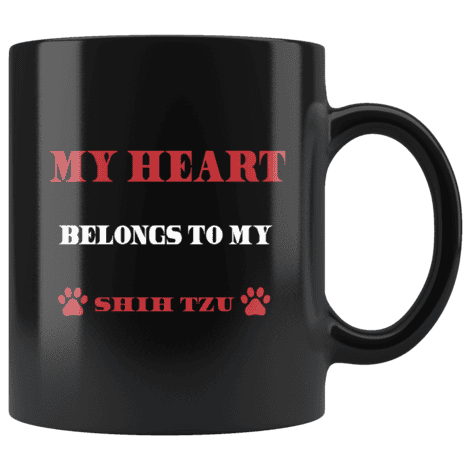 I think every Shih Tzu dog parent feels this way!
I love this mug because it's a great gender-neutral style. Both Shih Tzu moms and dad would be proud to drink their coffee out of it.
It's dishwasher and microwave safe, and the special coating helps the colors stay put through many, many washings.
Fun fact: did you know that, according to the AKC, the Shih Tzu is one of the top 20 most popular breeds?
It just slides into the list at #20.

2. My Heart Belongs To My Shih-Tzu Accent Coffee Mug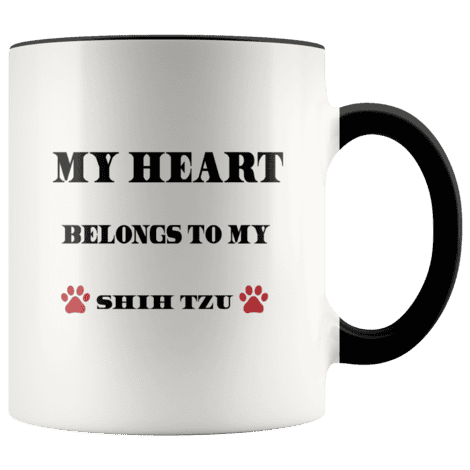 If you're not a fan of the black mug, check out our accent mug collection for Shih Tzu parents!
While I love the black handle because it goes so well with the text, it comes in 6 other colors.
Like the black mug, all accent mugs are fine to put in the dishwasher or microwave.

3. My Heart Belongs To My Shih-Tzu Ceramic Beer Stein Mug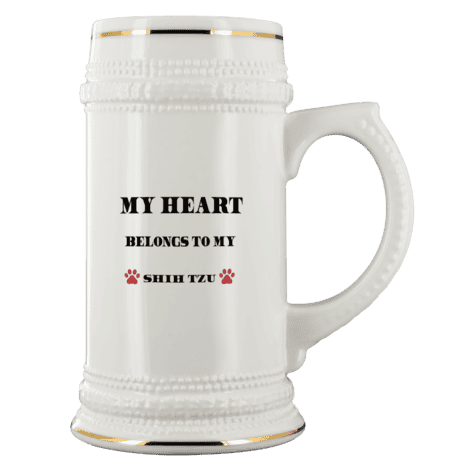 I love beer steins, which is funny because I don't actually drink beer! They're really great for any cold drink, including soda and iced-tea.
For klutzy people like me, they have a nice wide base to prevent spilling. Trust me, I need that!
Theoretically, you can also use them for hot drinks. They're made of the same ceramic as the mugs.
Just a head's up, though: these are NOT microwave safe! The gold trim will catch fire. So while you can put coffee in them, you can't reheat it!

4. Just A Girl Who Loves Shih Tzu Coffee Mug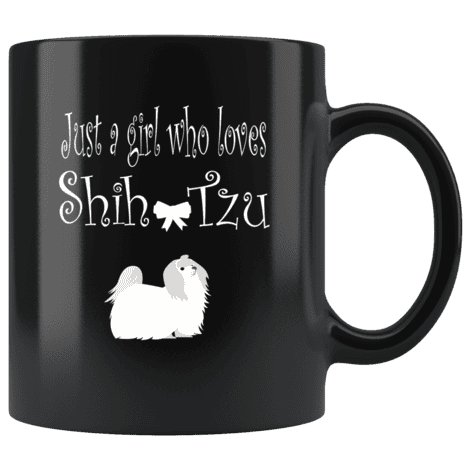 This one is just for those Shih Tzu dog moms out there! How cute is the white puppy graphic?
We also have it with red text over on Amazon, so check that out, too!

5.  Just A Girl Who Loves Shih Tzu T-Shirt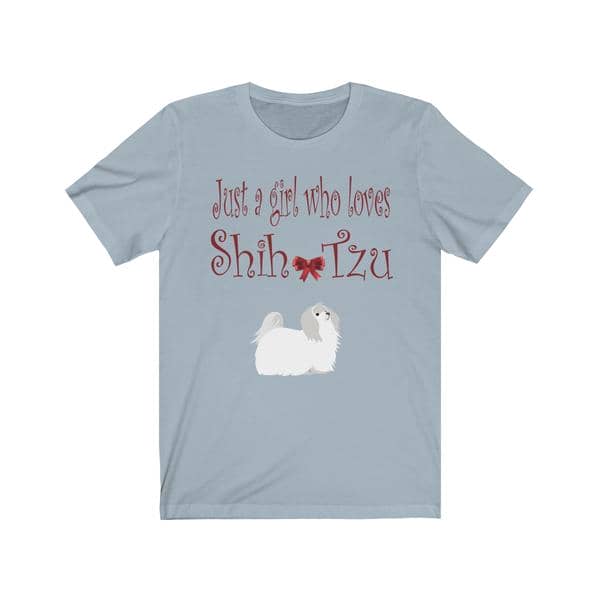 Spring will be here before you know it, meaning t-shirt weather is on its way!
Start the season off right with this cute t-shirt for Shih Tzu lovers!
It comes in 7 different colors in our shop.
Or, head to Amazon and get the white text version on 5 different colors.

Any Shih Tzu lover would be thrilled to have these cute gifts!
If you don't see something you love here, check out our other mugs, beer steins, t-shirts, and more over on CatDogGifts.com.
We have a ton of cute stuff for all dog lovers (and cat parents, too!).
Which of these gift ideas for Shih Tzu lovers is your favorite? Share below!