Looking for some awesome geography dog names inspired by beautiful places around the world?
We've got you covered with 200 ideas from every corner of the globe, from sea to shining sea and everything in between!
We even included some geographical terminology that makes for fun dog names!
Let's get globe-trotting, shall we?
P.S.- if the beach is your idea of the perfect geographical location, check out these 100+ Surf Dog Names!
Content & Quick Navigation
Ultimate List of Geography Dog Names
We're making it easy for you to find just the right geography dog names by breaking this massive list down into sections.
Below, we'll start with some actual geography terminology that makes for a great puppy name!
Then, we'll start traveling around the world to find ideas inspired by cities, continents and more!
Dog Names Inspired by Geographical Terms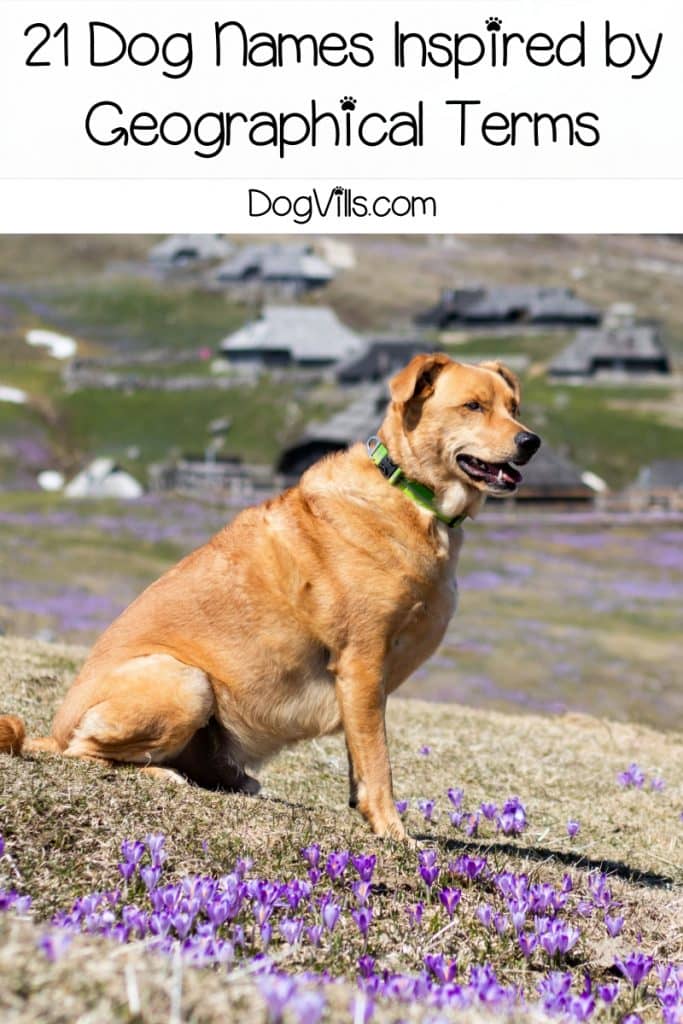 Just in case you're not up on your geography terminology, I've added very brief definitions next to each one.
Also, some of these names are fairly gender-neutral, so don't feel locked into choosing a male name for a boy dog or a female name for a girl dog.
Male Dog Names from Geography Terminology
Ash (fragments of lava)
Atlas (collection of maps)
Bay (part of sea within the shoreline)
Chinook (warm dry wind in the Rockies)
Col (lowest point on a mountain ridge
Fen (a type of wetland)
Firth (coastal inlet)
Glen (valley)
Hamlet (small town)
Horst (raised block of earth crust)
Piedmont (region formed at the base of a mountain)
Female Dog Names from Geography Terminology
Arête (sharp, narrow mountain ridge)
Ayre (a shingle beach in Scotland)
Delta (land at the mouth of a river)
Coulee ( dry canyon made by Pleistocene floods)
Esker (winding ridge of sand)
Lahar (mudflow)
Magma (molten rock)
Mesa (flat-topped hill or mountain)
Moraine (rocks & soiled carried by a glacier)
Ria (seaward end of the river valley)
While these would all make cute names, I personally love Fen for a boy and Ayre for a girl!
If your idea of geography dog names is more along the line of cities, continents & other places, keep reading for 179 ideas that you'll adore!
Geography Dog Names Inspired by Cities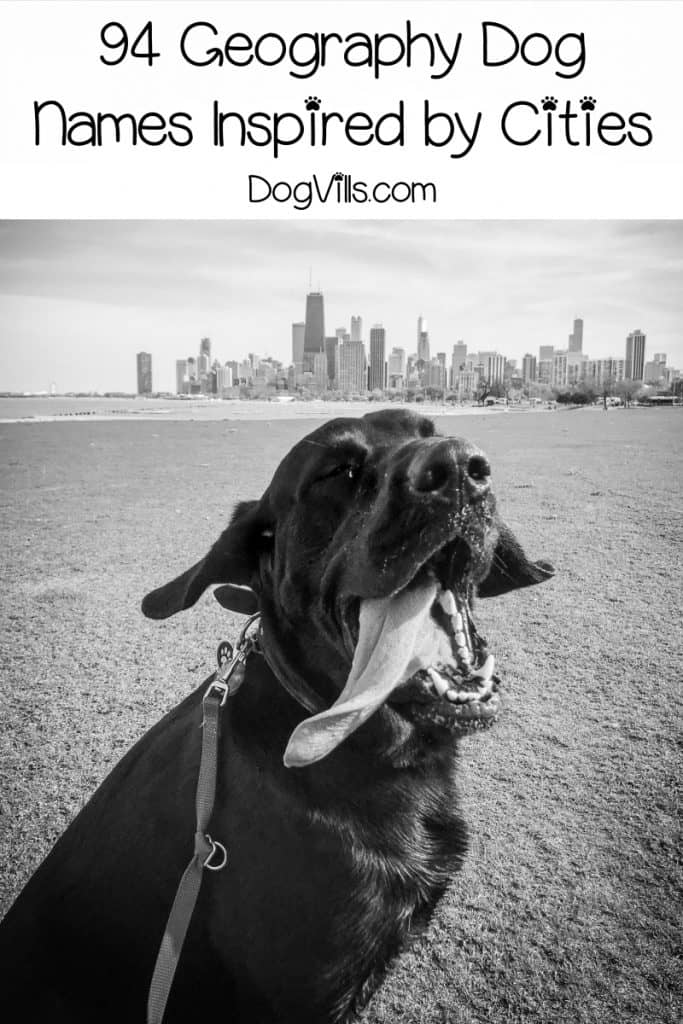 Did you know that there are over 4,400 cities in the world with a population of at least 150,000 people?
That doesn't even take into account all of the smaller suburbs, towns and villages!
Obviously, we're not going to list all 4K+ or we'd be here all year, right?
So, below is our very pared-down list for the best geography dog names inspired by cities.
Male Geography Names Inspired by Cities
Austin
Bantam
Birmingham
Boston
Bronx
Cairo
Camden
Carson
Chandler
Charleston
Chicago
Cleveland
Cody
Columbus
Dallas
Davenport
Dayton
Denver
Diego (San)
Dublin
Fairbanks
Fenwick
Francisco (San)
Harlem
Houston
Hudson
Jackson
Jacksonville
Jericho
Kent
Kingston
Leandro (San)
Lexington
Lincoln
Logan
Macon
Mason
Memphis
Newton
Omaha
Orlando
Philly
Phoenix
Pierre
Portland
Raleigh
Reno
Roswell
Santiago
Seattle
Shiloh
Trenton
Vegas
Female Geography Names Inspired by Cities
Adelaide
Alexandria
Anchorage
Aspen
Atlanta
Augusta
Aurora
Baltimore
Berlin
Bristol
Brooklyn
Charlotte
Chelsea
Cheyenne
Florence
Geneva
Helena
Juneau
London
Madison
Manhattan
Marietta
Miami
Milan
Monroe
Nashville
Odessa
Olympia
Paris
Queens
Regina
Salinas
Samara
Savannah
Soledad
Stonington
Sydney
Valencia
Verona
Vienna
Winnipeg
Geography Dog Names Inspired by Continents & Countries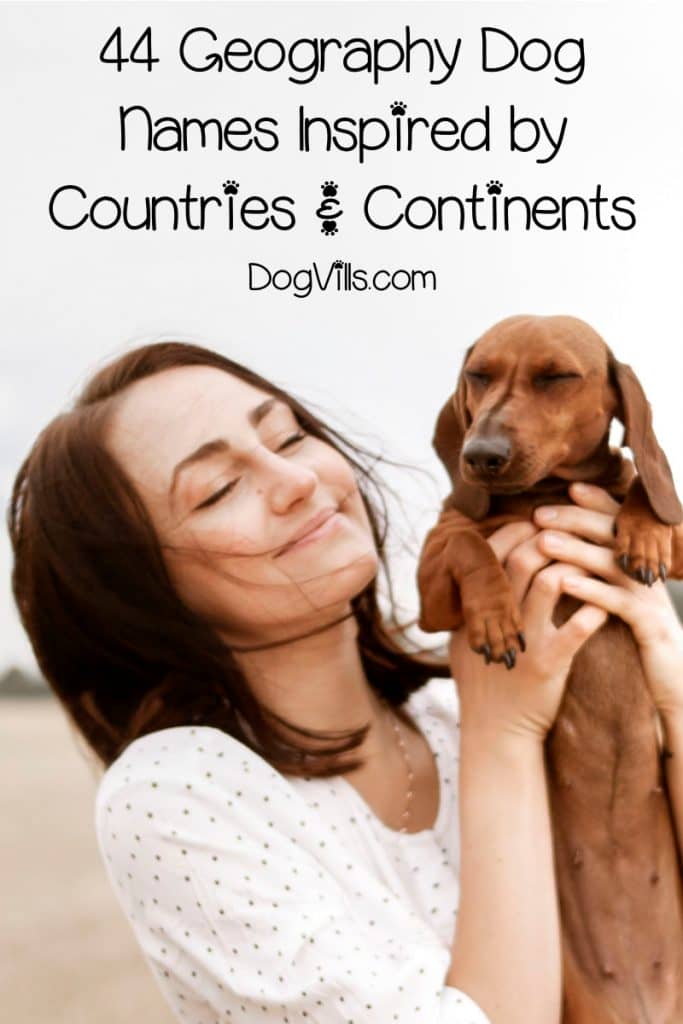 This would be a fairly short section if we just went with the seven continents, so we're also including dog names inspired by countries!
Male Geography Names Inspired by Continents & Countries
Australia
Brazil
Chile
Cuba
Denmark
Europe
Israel
Japan
Jordan
Lebanon
Mexico
Monaco
Morocco
Namibia
Norway
Pakistan
Peru
Portugal
Senegal
Zimbabwe
Female Geography Names Inspired by Continents & Countries
Africa
America
Antarctica
Asia
China
Egypt
France
Germany
Greece
Holland
India
Indonesia
Ireland
Italy
Jamaica
Kenya
Mali
Persia
Poland
Russia
Rwanda
Spain
Sweden
Zambia
Geography Dog Names Inspired by Provinces & States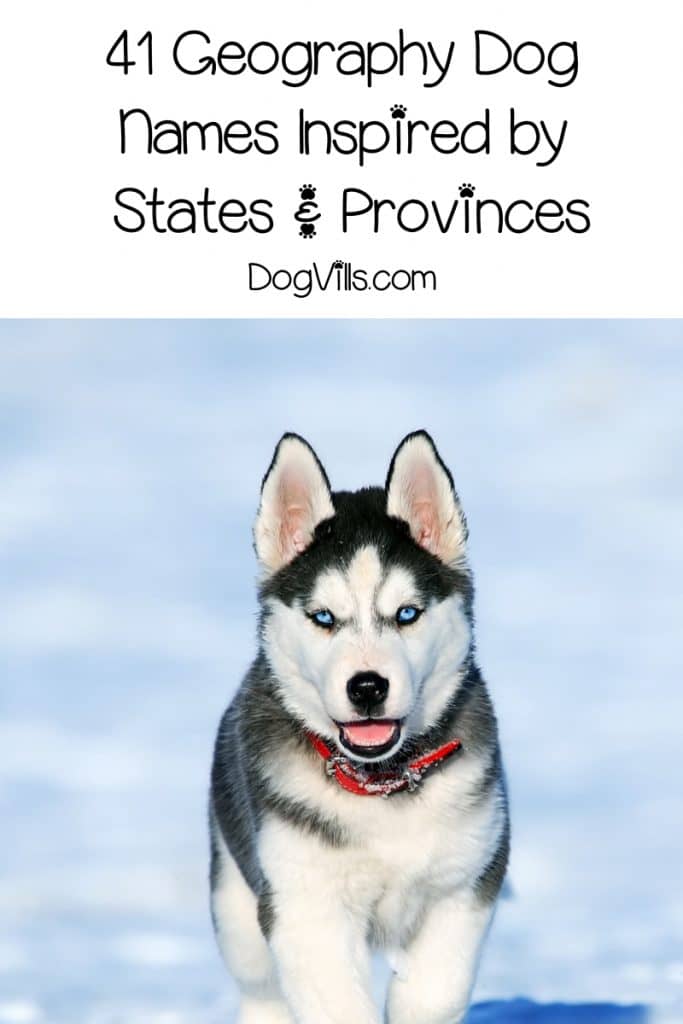 Male Geography Names Inspired by Provinces & States-
According to the Collins English Dictionary, a province is defined as "a large section of a country that has its own administration." According to Your Dictionary, a state is defined as "a territory with its own government and borders within a larger country."
Arkansas
California
Colorado
Delaware
Hawaii
Idaho
Jersey (New)
Kentucky
Michigan
Ohio
Ontario
Oregon
Quebec
Tennessee
Texas
Vermont
Washington
York (New)
Female Geography Names Inspired by Provinces & States
According to World Population Review, there are 10 provinces in Canada. Also, there are 50 U.S. states.
Alabama
Alaska
Alberta
Arizona
Brunswick (New)
Carolina (North/South)
Dakota (North/South)
Florida
Georgia
Indiana
Iowa
Kansas
Louisiana
Manitoba
Maryland
Mississippi
Montana
Nevada
Oklahoma
Saskatchewan
Scotia (Nova)
Virginia
Wyoming
What are your favorite geography dog names? Share below!