If you need a great gift idea for your favorite pet parent, you'll adore these travel mugs for dog lovers!
They combine two of my favorite things: coffee & dogs!
I love them as a gift for any occasion, from Mother's Day & Father's Day to graduation.
These high-quality stainless steel travel mugs will delight anyone on you list.
Of course, you can always just grab one for yourself!
Let's check them out!
10 Cute & Funny Travel Mugs for Dog Lovers
This post contains affiliate links. If you make a purchase, we earn a small commission at no extra charge to you. Thanks!
Quick notes:
All of these mugs are available in our shop, Cat Dog Gifts, where you can get free shipping on all order $50+.
They are also available in our Amazon store.
The "Buy it" button takes you to our shop, and the little ad card below it takes you to buy it on Amazon.
1.  Heart Filled with Dogs Travel Mug
Let's start with one that's perfect for everyone from moms and dads to grads: a cute heart made up of dogs!
This gorgeous designs on these mugs are laser-etched right onto the stainless steel, so they will last for many years.

2. Proud Pitbull Dad Stainless Steel Travel Mug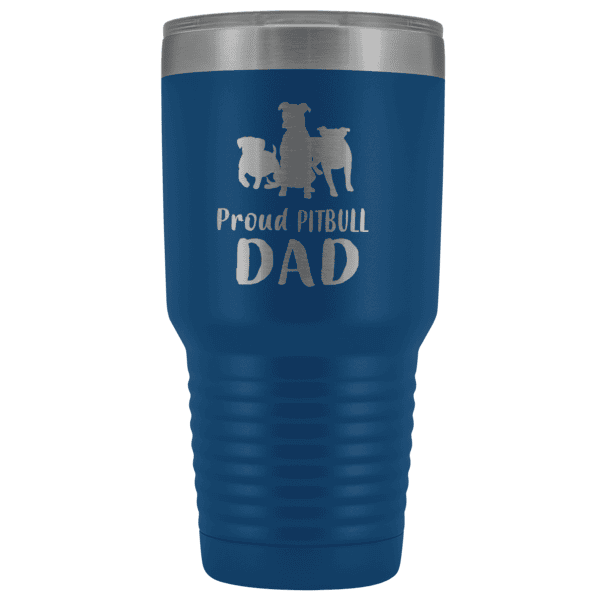 Need a clever gift idea for your favorite pitbull-loving guy? This stainless steel travel mug says "Proud Pitbull Dad" and features a trio of adorable pitties!
Like all of these 30 oz traveling mugs, it comes in 12 vibrant colors (I'm including black and white as colors).

3. Pittie Mom Coffee Travel Mug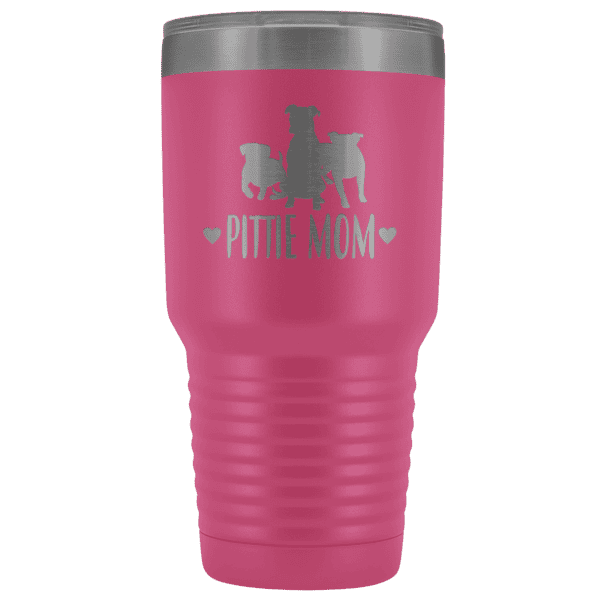 Don't forget your favorite pitbull mom! Like the pitbull dad mug, this one features a trio of darling pups!
I love the base of these traveling coffee mugs because they fit in pretty much every cup holder. I've had too many travel mugs that just didn't fit.

4. Dog Mom 30 oz Travel Mug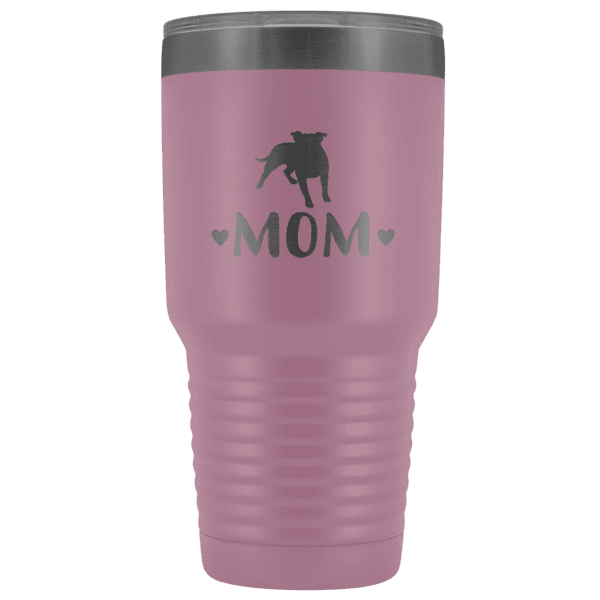 Although this one technically features a pitbull graphic, it's perfect for all dog moms because the breed isn't noted on the tumbler itself.
The double wall vacuum insulation on these tumblers makes them my top pick for the best travel coffee mugs!
No worries about your drink getting cold after a few minutes!

5. I Love My Deaf Dog (with ASL) Tumbler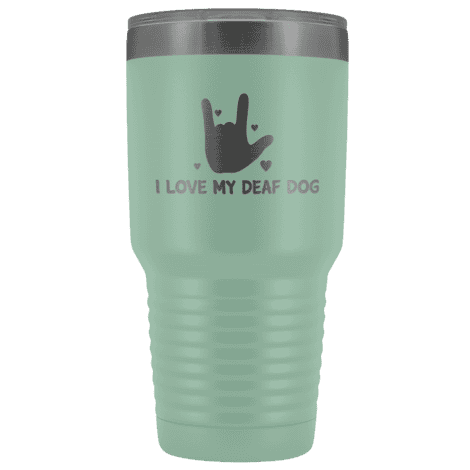 This one a beautiful  deaf dog gift idea for dog parents and siblings. The unique ASL sign language design makes it extra special.
FYI, all of these stainless steel travel mugs are BPA and lead free. While I think the lead part should be a given, it's good to know there is no BPA in them!

6. Proud Dog Mom Tumbler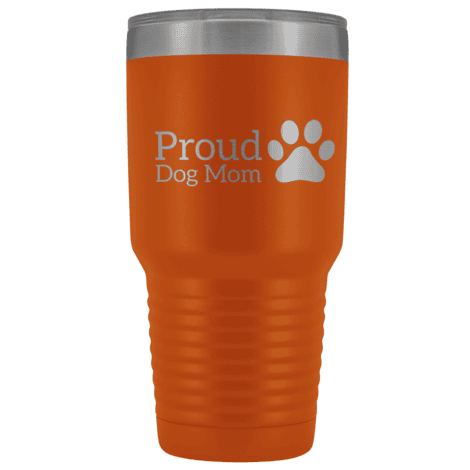 A great gift idea for all dog moms, this one lets her show off her pride everywhere she goes!
In case you're wondering, each of these tumblers are made by Polar Camel, well-known for making some of the best coffee travel mugs.

7. Puppy in a Pocket Travel Mug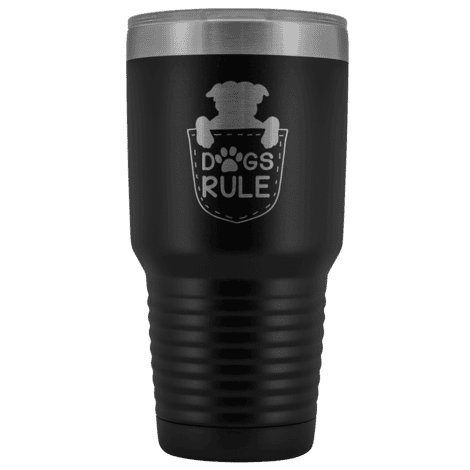 You may not be able to take your real puppy everywhere you go, but you can take this pitbull puppy in a pocket along with you to remind you of what's waiting for you at home!
Isn't it just darling? The pocket says "Dogs Rule," which we all know is true!

8. Best Dog Mom Ever Travel Mug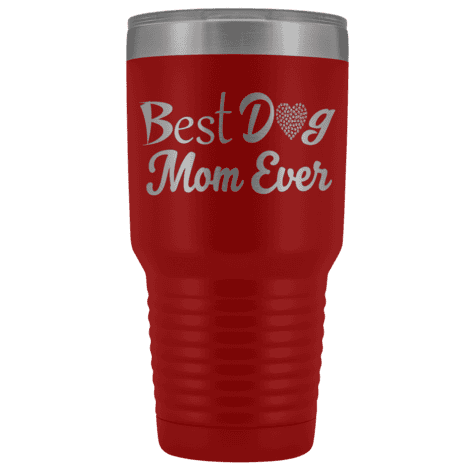 I love this one for Mother's Day! It says "Best Dog Mom Ever" and features a cute heart filled with paw prints in the place of the "O."
Just a heads up: don't microwave these travel tumblers. They're made of stainless steel.

9. Proud Pitbull Parent Tumbler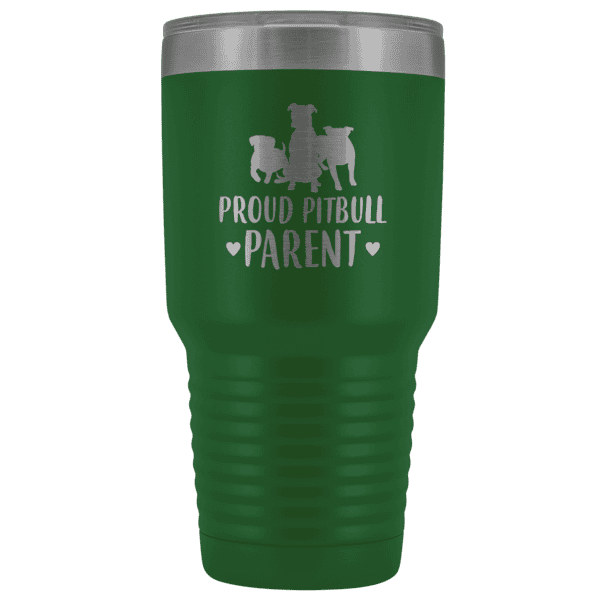 A perfect one for all pit parents, this gorgeous mug has the three darling dogs and hearts around the "parent."
That makes sense, since dogs are always in our hearts!



10. Proud Pitbull Dad Travel Mug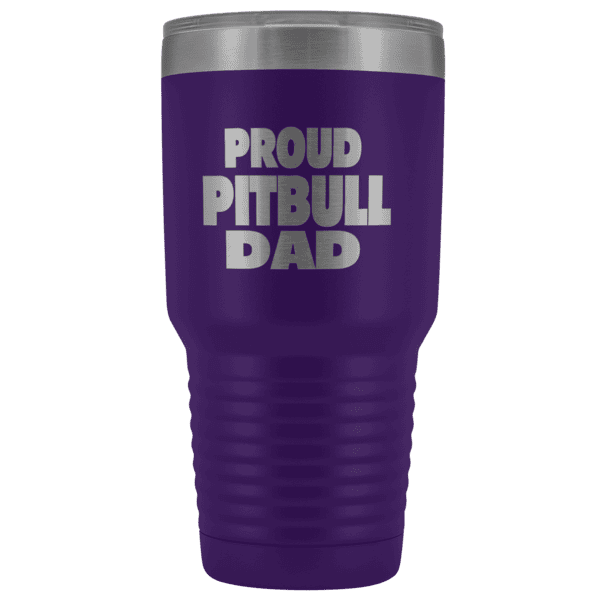 Got a pitbull dad in your life who prefers something a little simpler than the ideas above? This one is very straight-forward, yet still stunning!

Don't see one that really jumps out at you? Check out our entire selection of stainless steel tumblers  over on Cat Dog Gifts!
Remember, if you buy these traveling mugs in our shop, you'll get free shipping on all orders $50+!
Which of these travel mugs for dog lovers is your favorite? Share below!