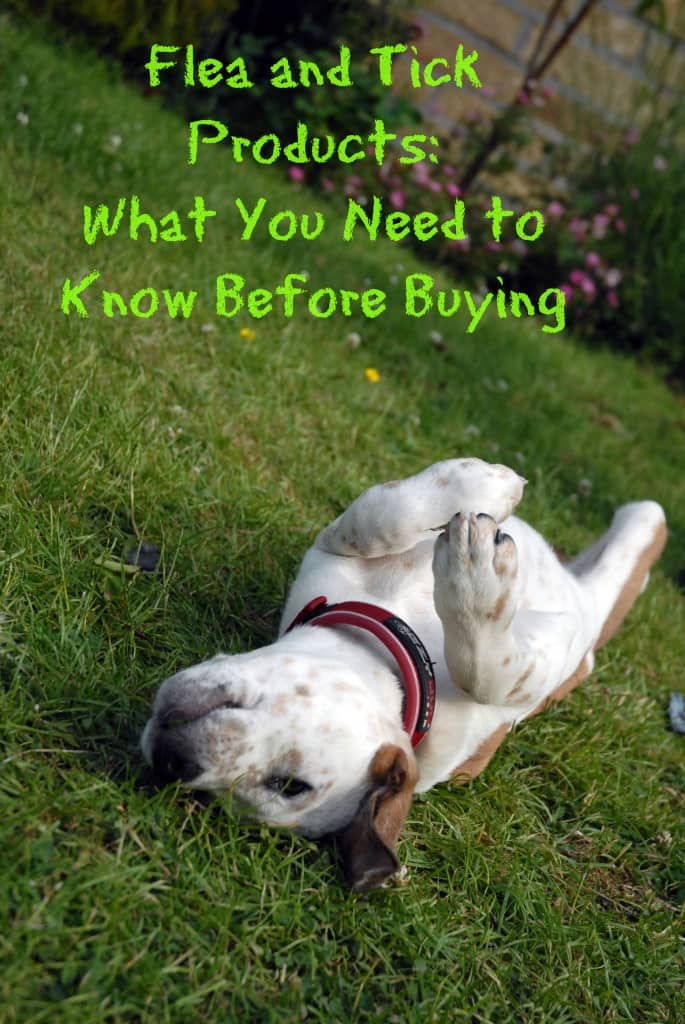 Being a dog owner has its rewards.  However, finding fleas or ticks on your dog is not one of them.  A number of diseases can be transmitted to both humans and your dog such as Lyme disease, Rocky Mountain spotted fever, and tapeworm to name a few.  Naturally, you want to protect your dog and family.  What do you need to know before purchasing and applying such products?
Flea and Tick Products: What you need to know before buying
There are many flea and tick products on the market.  In 2010, the United Stated Environmental Protection Agency (EPA) issued caution as to the use of spot-on pesticide flea and tick products.  Why?  According to their report, there was a significant increase in adverse incidents.  News Releases – Pesticides and Toxic Chemicals   Basically, EPA indicated caution is to be used when using spot-on pesticide flea and tick products. Here are a few items for you to consider:
Always check with your veterinarian first to determine what type of flea and tick product would be recommended for your dog, especially if your pet is aged, weak, sickly, pregnant, or nursing.
Incidents with adverse effects of spot-on flea products were found on smaller dogs.  Not using the correct dosage for the dog's weight can have a very serious effect. Therefore, read all labels and product inserts.  Changes could have been made on the product's usage since your last purchase.
Some animals are sensitive to spot-on flea products.  If using for the first time, please watch your dog's reactions to the product.
Do not use flea and tick products on puppies unless label indicates to do so.
Do not use spot-on pesticide flea products that are specifically for cats on your dog, or vice versa.
Keep your pet separate from any other pets in your house until the spot-on flea product is dry.   This is to keep the other pet/s from grooming each other and ingesting the product or pesticide.  Read your label.  It may indicate a longer period of time to keep your pets separated.
Keep family members, especially children, from petting the dog until the pesticide dries or longer if the product label indicates a longer period of time.  Remember—most spot-on flea products are considered pesticides.
Should your dog have a bad reaction, immediately bathe them with a mild soap and lots of water.  Call your veterinarian immediately.
To report problems with your spot-on flea or tick products, you can contact the National Pesticide Information Center at 1-800-858-7378.
Spot-on pesticide flea and tick products like Advantage (affiliate) are the most common products used by millions of conscientious pet owners.  Many animals do not have any adverse effects from these products.  Also, there are other forms of flea and tick treatment that can be given orally to your dog.  However, no matter what product you decide to use, you must read carefully the product's label and check with your veterinarian to make sure you are using a safe product.
Depending on where you live and the degree of flea and tick exposure, you may be able to use a more natural product to prevent fleas and ticks. A number of years ago, I almost lost my dog to exposure to an over-the-counter flea product.  So be wise, read, and use caution when using any products that may expose your family to additional pesticides and put your dog's health at risk.