You might be searching for the right hypoallergenic dog for you, but you don't know just what breed is right for you.  That is where you can take one of the many hypoallergenic dog breed selectors available to you online!  I found two and tried them out for myself.  I used www.dogtime.com which asked more of personality type questions and then I tried www.selectsmart.com which was more of dog selector  based on my answers.  Keep reading to see what they came up for me!
Using Hypoallergenic Dog Breed Selector

Dogtime breed quiz
Dogtime has a dog breed selector quiz which asks a bunch of qualifying questions.  Some seem so far out there that you are wondering why they are asking them and how are they related to me owning a certain kind of dog?
Some sample questions are:

"How do you react when someone cuts you off on the highway?"
"What is your ideal way to spend an hour with your dog?"
"What kind of home do you have?"
"What kind of amusement park ride best describes the energy in your home?"
"How old are the children in your home?"
"How would you rate your health?"

There are 21 questions in all (sort of like the game '21 questions')  At the end, it gives you a list of the top 5 matches based on personality (see, that was a personality test they were giving you!)
Related: Small Hypoallergenic Dogs That Are Easy To Housebreak
After taking the test myself, my top 5 results are:

Sussex Spaniel: A medium sized dog who will outsmart me, test my patience and embarrass me (What?! I am not sure I am down with a dog who might embarrass me).

Pharaoh Hound: He is gentle and loving (and apparently gets embarrassed rather than embarrassing me!)  He blushes, yes I said he actually blushes.

Petit Basset Griffon Vendeen: He is cute and a sturdy hunter (well I don't hunt, but he might be fun to be around).

Golden Retriever: Everyone loves a Golden Retriever!  Eager to please and a great family dog, he's a great working dog too (good, maybe I can get him to do some of the laundry that has piled up!)

Labrador Retriever: I think this guy shows up on everyone's list!  After all he is America's Favorite dog!  Pick your color, black, yellow or chocolate, whatever the color he is a great family dog, or a wonderful companion for a single person or couple.

I believe my matches were not necessarily hypoallergenic as I was choosing for me, and when it asked if anyone was allergic, I answered no. Going through it with some different answers and saying "yes' to the allergy question, I got different options: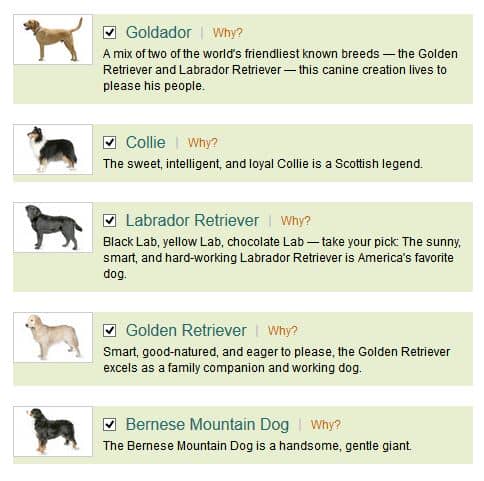 At the bottom it also gives a healthy list of some other matches for you to choose from if you do not like the top 5 selected for you.

Related: Hypoallergenic Dogs that Don't Shed
SelectSmart Hypoallergenic Dog Breed Selector
Another site to check out is www.selectsmart.com.  With each question you have a slide bar at the bottom of it wanting to know what priority you place on your selection above.  You can slide the bar from left to right (low to high).  It is preset in the middle however.\
Some of the questions are centered around compatibility with other pets, kid appropriate, intelligence, swimming, activity level, quiet versus watchdog, lifespan, popularity versus rarity in breed.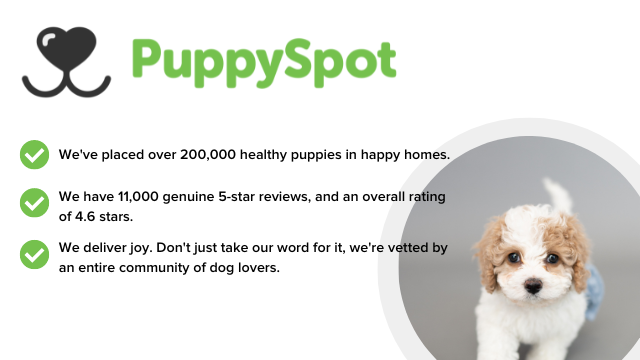 At the end of the selector quiz, it gives a list of over 100 breeds that work for you in order of best.  For me, it chose a Poodle, a Toy Poodle to be exact.  With Standard Poodle coming in second and Bichon Frise coming in third.  And in case you were wondering, the Miniature Poodle was holding down the fourth spot.  Maybe I chose wrong in my dogs, I have a Pitbull and a Chiweenie (that is a Chihuahua mixed with a Dachshund in case you were wondering).

These are actually pretty great tools to use as they give you a variety of hypoallergenic dog breeds you may not find if you search otherwise.  I know myself I had never heard of Pharaoh Hound (a dog that blushes!)  Take the dog breed selectors and see what they come up with for your matches!  Post your results below and let us know what you think of their selections for you.
Have you tried either of these dog breed selectors? What were your results?