If you're looking for the best elevated dog beds on legs, I've got you covered!
Today, you'll learn all about the top 5 brands that we recommend most highly.
First, though, we'll discuss why you'd even want a dog bed with legs in the first place.
Settle in with a cup of coffee and let's get started!
Related: Complete Guide to Buying the Best Dog Beds! (With Reviews)
What is an Elevated Dog Bed?
An elevated dog bed is exactly what it sounds like: a raised bed with legs. Basically, it looks like those old roll-away cots your parents brought out when guests stayed over.
While styles can vary (as you'll see below), for the most part, it's made up of a durable fabric stretched over a sturdy frame.
It's a super simple concept, yet the benefits are fantastic. I'll share those with you later on if you're curious. First, though, I want to dive right into the beds for those of you who already know why you want one.
Top 5 Best Elevated Dog Beds With Legs
The first three dog beds with legs on our list should look familiar, as we've recommended them quite a bit in the past.
The last two are "new" to you (at least in terms of beds that we've talked about), but they're perfectly solid options. Let's check them all out.
Use the table below for a quick reference. Read the reviews for further details.
Table could not be displayed.
1. Kuranda All-Aluminum Heavy Duty Dog Bed Review
My #1 choice for the best elevated dog bed should sound very familiar, as it's one of my top 5 picks across just about all categories.
The Kuranda All-Aluminum Heavy Duty
bed is one of the most chew-resistant dog beds on the market (along with one other on this list).
Check out our Kuranda dog bed review for a more in-depth look. For now, though, let's take a peek at the main features, pros and cons.
Features & Pros of the Kuranda
Super sturdy frame and heavy-duty fabric makes destroying it a challenge even for the most aggressive chewers.
The  nylon and aluminum combo makes cleaning it a cinch.
Kuranda offers inexpensive replacement parts for every single piece of the bed.
Comes in 6 sizes ranging from itty bitty "mini" to XXL for giant breeds.
Kuranda Cons
Even the most perfect of the elevated dog beds has its drawbacks.
Along with the cons of all dog beds with legs listed above, the main issue with the Kuranda is the price.
While I think it's a good buy for the money, it's the 2nd most expensive elevated bed on this list.
The other drawback: ONLY the all-aluminum frame and heavy duty fabric option is chew-proof.
Make sure you don't accidentally buy one of the other models if you have an aggressive chewer.
Aside from those two potential issues, this is a fantastic option if you want the best dog bed with legs.
2. K9 Ballistics Cujo Cot Review
The K9 Ballistics Chew Proof Elevated Dog Bed
(formerly called the Cujo Cot) is neck-and-neck with Kuranda as my top choice.
Again, we covered this one in depth in our Cujo Cot bed review, so we'll just cover the basics here.
Features & Pros of the Cujo Cot
Made with durable "ripstop" fabric that resists chewing.

That same fabric also makes it waterproof, so it's great for outdoor use.
It's designed to fit inside most standard-sized crates, making it a good replacement to a crate mat.
Comes in 5 sizes and 7 colors, so it's easy to find the perfect bed for your dog.
Cujo Cot Cons
The main cons are the same as all elevated dog beds: your dog may not like it and senior dogs may have a hard time getting onto it.
Like the Kuranda, the price may also be an issue here, as it's the most expensive on the list.
My biggest issue, though, is with the warranty. Cujo Cot only covers damage to the fabric for 180 days, and they'll only replace the fabric once free of charge.
Still, it remains one of my top 2 choices for the best dog beds with legs.
3.
The Original Elevated Pet Bed by Coolaroo Review
For those on a tighter budget, the Original Elevated Pet Bed by Coolaroo
is a fantastic option, since even the largest size comes in at under $50.
Features of the Coolaroo Bed
Increases air flow on all sides of the bed, keeping your pet cool

Breathable high-density polyethylene fabric

Resists fleas, mites, mold and mildew, and it's easy to clean

Made of a lightweight yet strong steel frame

Portable design makes it ideal for both indoor and outdoor use

Comes in three basic sizes (S, M,L) and four different colors
Coolaroo Cons
Unfortunately, the Coolaroo fabric sling isn't really designed for dogs who dig or chew. It's not nearly as durable as the first two options.
I've also seen quite a few customers say that it's not the easiest bed to assemble. For impatient people like me, that could be a major con.
Still, it's one of the best budget-friendly options for those with relatively mellow dogs.
4. AmazonBasics Elevated Cooling Pet Bed Review
Another good budget-friendly option is the AmazonBasics Elevated Cooling Pet Bed.
It's priced around the same range as the Coolaroo, but has a few more options size-wise.
Features and Pros
Made with b

reathable mesh fabric to keep pets cool by allowing air to flow.

Elevates your dog more than 7 inches off the ground.

Easy to clean with just tap water.

Comes in 5 different sizes.

Amazon also sells inexpensive replacement fabric if needed.
Cons
While the fabric is a bit more durable than that of the Coolaroo, it's still not strong enough for aggressive chewers and diggers.
It also only comes in two colors, and they aren't what one would call attractive.
That said, it has fabulous reviews and the largest size is big enough for a Great Dane, so it's a stellar option for those of us on tight budgets!
5.
K&H Original Bolster Elevated Pet Bed Review
If you prefer your elevated dog beds to also have some sort of side and back, grab the K&H Original Bolster Elevated Pet Bed
.
It's budget-friendly like the Coolaroo and AmazonBasics but has a nice added feature: the bolster.
Features & Pros
Made with 600-denier nylon fabric that is waterproof, bacteria, mold and mildew resistant

Removable over-stuffed

plush bolsters add a nice touch of comfort

Mesh center helps dogs stay cool

Easy assembly that requires no tools

Non-Skid Rubber feet for added safety
Cons
While the bolsters are a huge draw to this bed, K&H doesn't sell them separately. That means if your dog destroys them, you have no way of replacing just the bolsters.
Also, while this does come in a large size, it's not exactly durable enough for a giant-breed dog. Also, once again, it's not really designed for chewers or diggers.
My Recommendation
While there are a ton of other elevated dog beds with legs out there, these are definitely my top 5 picks.
If you need me to narrow it down to just one, it would be a toss-up between the Kuranda and the Cujo Cot, especially if you have a chewer or a digger.
On the other hand, if your budget is too tight for those, I'd say go with AmazonBasics.
Why Would You Want a Dog Bed with Legs?
An elevated dog bed with legs has a few distinct advantages over a traditional bed that just sits on the floor. Of course, it also has a couple of drawbacks.
Let's start with the many pros, then we'll discuss the very few cons.
This post contains affiliate links. If you make a purchase through these links, we earn a small commission at no extra charge to you.
Related: Elevated dog bed for large breeds
Pros of Elevated Dog Beds
While the pros depend on your dog and needs, there are a few that come to mind.
1. Great for outdoor use
My dog loves to lay outside on the deck in the sun during the warmer months, but I worry about how it will affect her joints.
As a Pharaoh Hound, she has very little body fat, which means very little natural cushioning.
She has a hard time laying down on hard surfaces. In fact, she's so naturally bony that when she sits her butt never hits the floor!
An elevated bed is perfect for her because she can enjoy her sun bath in comfort with all the pressure on her bones and joints.
It also keeps her from lying in the dirt, which is great because it means fewer bugs and other creepy crawlies in my house!
Plus, since the bed is easy to clean and waterproof, I don't have to worry about forgetting to bring it inside at night!
2. Orthopedic without all the fluff
Think you can only use memory foam beds for dogs with arthritis? Think again!
Dog beds with legs do a great job at evenly distributing your dog's weight, making them a fabulous choice for pups with achy joints.
Plus, it won't flatten over time the way fluffed beds can. Bonus points: no fluff means nothing to trap urine or other odors!
3. Good for dogs who like to chew
While nothing short of concrete is 100% chew-proof, the top elevated dog beds on our list come as close as possible.
The materials are super strong, making them a challenge to get through even for the most aggressive chewer.
For defluffer dogs like mine, the lack of stuffing also gives them less incentive to chew.
4. Super easy to clean
If you want a bed that's a breeze to clean, you can't go wrong with an elevated bed.
Most of the beds on our list below stay clean with just a quick hosing off.
Every once in a while, you can use a pet-safe general household cleaner
to give it a deep clean.
5. Good value for the money
For those of us on a super tight budget, most dog beds seem as out of reach as that vacation home in the Cape.
The best elevated dog beds can be just as pricey, yes, but they tend to last a lot longer than stuffed beds.
Plus, replacement parts are typically very inexpensive, so you can pay just a couple bucks to fix one part that's broken, rather than toss the whole bed.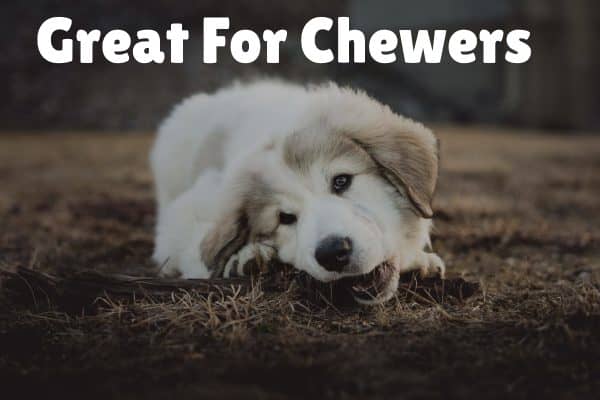 Cons of Dog Beds with Legs
As far as the drawbacks of elevated dog beds, there are really only two that come to mind.
1. May be a challenge for dogs with mobility issues
Although an elevated dog bed has some great orthopedic advantages, for dogs who have major issues climbing up it may be a non-starter.
Yes, the "climb" is only a few inches (most elevated beds average around 7″ off the ground), but it's still too much for some dogs to handle.
When my Shepherd was nearing the end, she couldn't even handle the first step to our staircase.
2. Your dog just might not like it
Some dogs just plain don't like beds with legs. I had a lab/collie that refused any dog bed that wasn't practically flat on the ground.
She even rejected a cushy traditional bed because it was too high for her comfort. She didn't have any mobility issues, she just didn't like raised beds at all.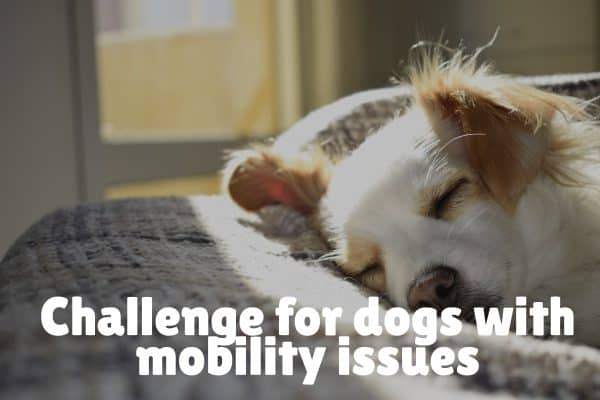 Unfortunately, both of these are issues that it's kind of hard to get around.
If they're not a concern with your dog, though, keep reading to learn what to look for in an elevated bed, then check out the top 5 dog beds with legs that I recommend.
How to Buy an Elevated Dog Bed With Legs
When you're shopping for your elevated dog bed, keep these things in mind:
1. Size
When it comes to an elevated dog bed, size is super duper important. Even more important than with traditional beds!
See, with a floor bed, if your dog is 100 pounds and you get one made for an 80lb dog, the worse that happens is the bed flattens like a pancake under their weight.
If you get a raised bed made for an 80lb dog, though, it can collapse under their weight, potentially injuring your pooch.
For dogs on the cusp between sizes, err on the side of caution and go with the larger size.
2. Materials
Remember how we said that elevated dog beds are made with a sturdy stretched fabric? Well, some materials are definitely more durable than others.
If you have a dog that chews or digs, opt for a bed made with strong nylon fabric. You don't want your dog to chew a hole in the bed and fall through!
For smaller (and lighter) breeds or dogs who are beyond their chewing phase, it's okay to go with one of the cheaper fabrics if your budget doesn't allow for the better model.
3. Overall Design
Honestly, elevated dog bed designs don't really vary much from brand to brand in a major way. Just take a look at the table down below and you'll see what I mean!
However, there are a few tiny differences that can impact your buying decision.
The Kuranda and Cujo Cot, for example, have a rounded, sturdy, "trampoline-like" look to them, while the cheaper ones look, well, cheaper.
Regardless of which model you buy, look for a fluid design devoid of sharp angles or edges.
4. Value vs. Price
As much as we'd love to say otherwise, money does matter when buying a dog bed. Sure, we'd love to get our dogs the best of the best, but some of us are on tight budgets.
While I've included a few budget-friendly options below, consider this: sometimes it's better to shell out more for a bed that will last.
It makes more sense to pay $150 today for a bed that will last 5+ years than to pay $50 today, $50 in two months, $50 in six months…you get the point.
5. Assembly & Portability
For those of us who tend to burst into tears when putting things together, ease of assembly matters quite a bit!
I always read the reviews to see how many people complain about how hard it is to put something together.
Portability goes along with assembly because, if you need to move the bed, you want to make sure you don't to dismantle it every time.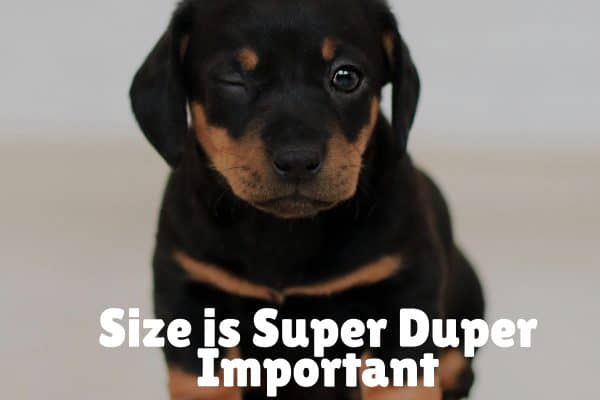 Do you have any other favorite elevated dog beds with legs? Share below!
Last update on 2023-06-07 / Affiliate links / Images from Amazon Product Advertising API