White and Gold Paw Print Christmas Ornament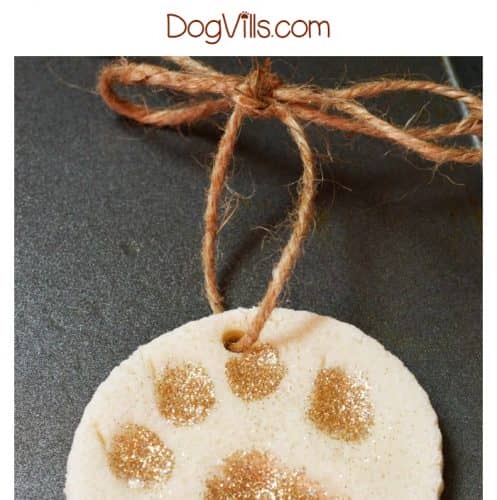 Ingredients:
½ Cup Salt
½ Cup Flour
⅛ Cup Water
Items Needed:
Scissors
Fine Gold Glitter
Mod Podge
8-Inch Piece of Twine
Wax Paper
Round cookie cutter
Combine all ingredients in a bowl and mix well.
Form mixture into a ball and either flatten it out with your hands on wax paper or use a rolling pin. Be sure to put flour on the rolling pin so the dough doesn't stick to it.
Using the cookie cutter of your choice, cut out however many ornaments you're going to make. This mixture should be enough to make three. Make sure the cookie cutter makes a big enough shape for your dog's paw to fit in it.
Next, take your pet's paw and firmly press it into the dough shape.
Using a straw, make a hole at the top of each ornament.
Place in the oven for about 2 hours on 200 degrees.
Allow to cool and then apply mod podge to just the indents of the paw prints. You can use your finger to do this or a small paint brush.
Next, pour fine glitter over the mod podge. It's ok if it doesn't stay in the lines.
Give it a few minutes to dry and then dump the excess glitter outside or in the sink.
Tie your piece of string through the hole and hang it on the tree.
Recipe by
DogVills
at https://www.dogvills.com/white-and-gold-paw-print-christmas-ornament/