Holiday Dog Treats Recipe: Candy Cane Cookies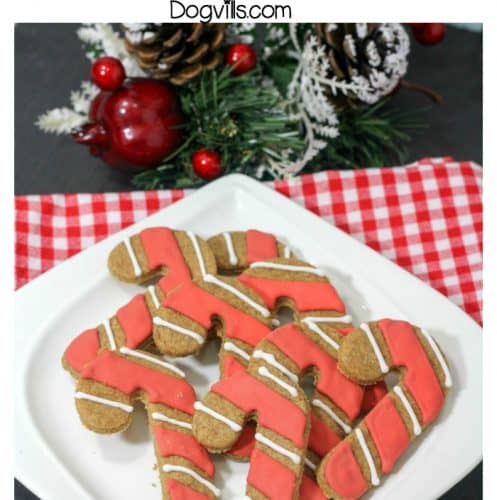 2 C almond flour
½ tsp baking powder
½ C creamy peanut butter
1 C skim milk
Icing Ingredients:
1½ tsp meringue powder
½ C powdered sugar
3-4 TBSP warm water
Red gel food coloring (see our note below)
Preheat oven to 350 degrees
Combine flour and baking powder in a bowl.
Whisk together the milk and creamy peanut butter.
Add flour mixture a little at a time.
Mix together until fully incorporated.
Toss some wheat flour on a cutting board.
Roll out dough with a wheat flour-covered rolling pin.
Roll out the dough and using the candy cane cookie cutter, cut out the doggie treats.
Transfer the candy canes to a parchment lined cookie sheet.
Bake at 350 degrees for 8 minutes.
Allow to cool completely on the cookie sheet.
Icing Directions:
-Combine all ingredients (not the red gel food coloring) into a bowl.
Beat on low speed until the icing can hold a stiff peak.
Divide the icing into 2 bowls.
In bowl #1 add several drops of red gel food coloring. Stir well.
Spoon the icing into a frosting bag with a #2 tip.
In bowl #2 of the icing….leave it white.
Spoon the white icing into another frosting bag with a #2 tip
First outline the red stripes on the candy cane. Allow to dry for 30 seconds.
Outline the white stripes allowing 30 seconds for it to dry.
Fill in the white outlining with more white icing.
Allow to dry for at least 1 hour.
Check to make sure that it is dry by touching a small area of the icing.
Recipe by
DogVills
at https://www.dogvills.com/holiday-dog-treats-candy-cane-hypoallergenic-dog-treat/