Looking for the best dog travel accessories for a smoother getaway?
We've got you covered!
We all want to take our dogs on vacation with us.
However, some dogs just flat-out hate driving around in the car and get riddled with anxiety.
Others just can't seem to get comfortable and start moving around the car causing mayhem.
Fortunately, you can buy certain dog travel accessories to make sure traveling with your dog isn't a nightmare.
Let's check them out!

Content & Quick Navigation
The 7 Best Dog Travel Accessories 
Affiliate links included below. If you make a purchase through these links, we earn a small commission at no extra charge to you.
1. Vastar Adjustable Dog Car Seat Belt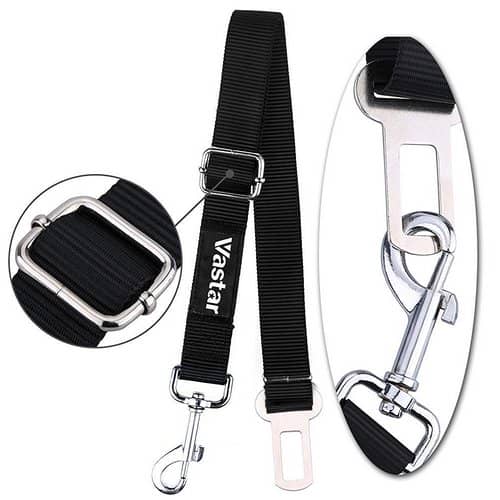 If your dog refuses to sit or lay still in car, the Vastar Adjustable Dog Car Seat Belt
is perfect for you.
As we all know, allowing a dog to move around in the car is dangerous for both you and your dog.
Thankfully, this product's made with high-quality nylon fabric that will ensure your dog will be safely secured in their seat. No longer will you have to worry about a sudden stop displacing your dog into the undercarriage.
Likewise, you won't have to worry about your dog deciding your lap's the best seat in the car. Simply, strap this product to your dog's harness and your worries will flutter away. If you buy just one of these dog travel accessories, make it this one!
Related: Top 4 No-Pull Harness
2. Winner Outfitters Dog Car Seat Covers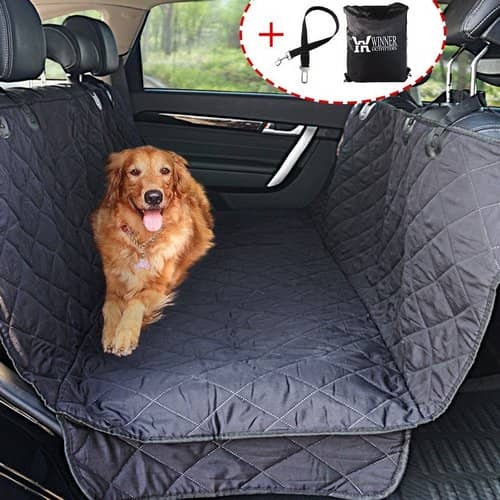 Looking to protect your car seats from your dog?
Winner Outfitters
has a dog car seat cover that prevents digging, biting, or even shedding from becoming an issue.
Additionally, this dog seat cover removes the risk of your dog falling into the space between the front and back seats.
Now, you won't have to worry about a sudden stop becoming a terrifying issue.
Most importantly, this product is waterproof making those trips to the beach seem less problematic.
After all, there's nothing worse than a wet dog smell lingering around inside your car seats.
3. WOpet Deluxe Portable Pet Dog Booster Car Seat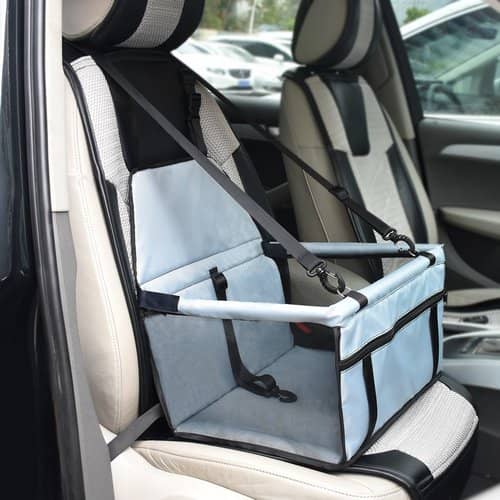 If your dog's on the small side, WOpet's Booster Car Seat
is a product you need to consider buying.
Like the products above, it will keep your dog secured to a specific area of the car.
As with the Vastar Adjustable Car Seat Belt, you strap your dog into the booster seat with a clip that connects to their harness. This restricts their movement and confines them safely in the booster seat.
Small dogs are notorious for trying to sit in their owner's lap on car trips. This can make driving quite difficult and worrisome: some dogs are small enough that they might fall into the space beneath the steering wheel.
By buying this booster car seat, you can avoid this nightmare scenario through having a safe and comfortable place to put your dog in the car.
Other great car booster seats:
Related: 5 Best Pet-Friendly Places to Stay When Traveling with Your Dog
4. Solvit PetSafe Deluxe Telescoping Pet Ramp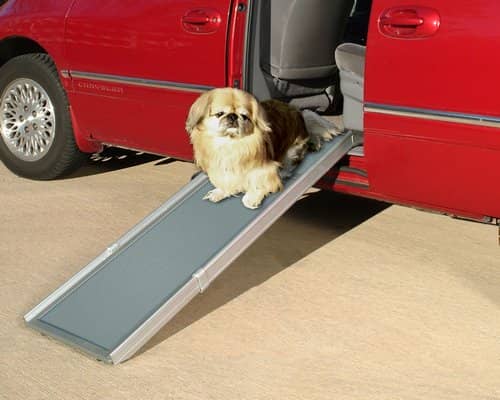 Getting inside the car is a little challenging for some dogs.
Whether it's old age or simply their size, some dogs are going to need help getting into the backseat.
If you have one of these dogs, buying a Solvit PetSafe Deluxe Telescoping Pet Ramp
would offer you a solution.
Solvit's pet ramp can support weight up to 400 pounds.
In other words, no dog on earth should have trouble using this ramp.
In fact, this product is a godsend for dogs with hip dysplasia or other leg issues that restrict mobility. Likewise, it saves your back from being stressed by picking up your massive dog.
Save both you and your dog from getting hurt by simply connecting this ramp to the back of your trunk or the side door.
Then, lead your pup up the ramp to safety.
5. MidWest Homes for Pets Dog Crate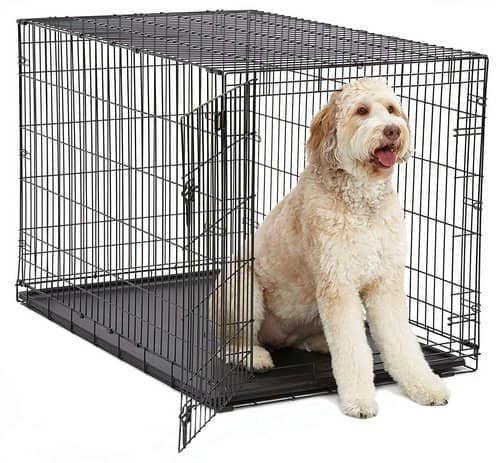 Most owners like to avoid using crates because they resemble a prison cell. They assume their dog's going to feel trapped and scared inside a crate.
However, dog crates can act as a secondary home for your dog. It offers them a safe place to wind down and relax.
This is something that's crucial for an anxiety-filled situation such as traveling in a car.
In these situations, you want them to feel comfortable and a crate such as MidWest Homes for Pets Dog Crate
offers a sense of comfort.
If left roaming free around a car, dogs tend to overexert themselves causing worrying issues like excessive panting. This crate would prevent them from tiring themselves out before you get where you're going.
In terms of practicality, this crate's easily assembled and has two heavy-duty bolt latches to make sure your dog doesn't escape. In addition, it folds flat for easy storage.
If you want something a little more heavy-duty, we also love the Pet Gear The Other Door Steel Crate. 
6. SABUY Collapsible Dog Travel Bowl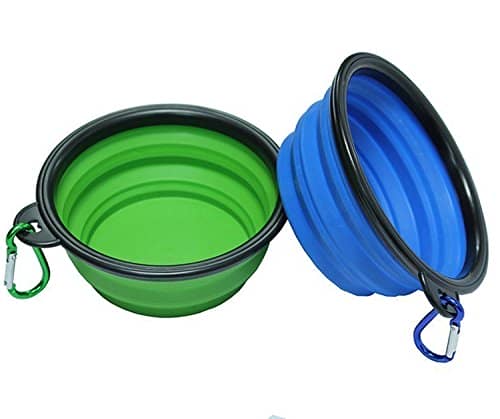 If you're taking your dog on a trip, you're going to need a reliable traveling water bowl.
SABUY's Collapsible Dog Travel Bowl
is the most reliable water bowl on the market.
Its collapsible feature makes it easy to store. With its clip feature, you can hook the bowl onto your dog's harness during their walks.
By using the clip feature, you can give your dog water on their walks rather than waiting until they're back home.
With this bowl, those walks in the hot summer days of July and August won't seem so daunting. In fact, they might even be fun. 
This bowl's only suitable for small to medium dogs. It's a little too small for the bigger dogs such as Rottweilers, Great Danes, or Golden Retrievers.
If you do have one of these bigger dogs, the next water bowl product will be better suited for them.
7. Bonza Collapsible Dog Bowl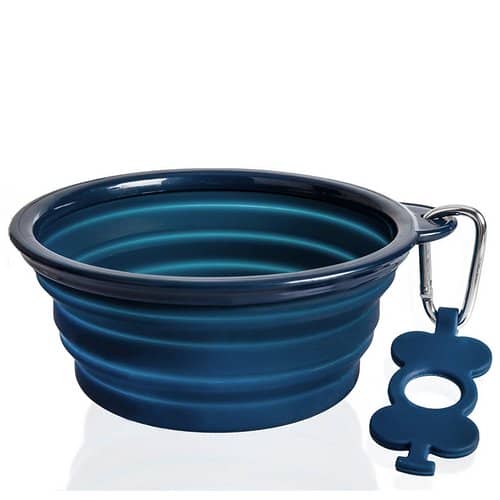 Specifically made for large breeds, Bonza's Collapsible Dog Bowl
comes in a large and XL size that should satisfy your dog's water and food needs.
Just like SABUY's travel dog bowl, it has a collapsible feature that makes storage much easier. In addition, it has the same clip feature that makes it very practical for walks/travel.
Due to being for larger dogs, this bowl is able to contain large amounts of food and water: the large bowl can hold up to 5 cups, and the XL bowl can hold up to 7 cups.
This bowl's unique ability to hold massive amounts of food and water makes it a must get for large breed owners.
If you want to make traveling with your pooch a great experience, invest in these 7 dog travel accessories.
You won't regret purchasing them.
What are your favorite dog travel accessories? Share below!