Dog paw problems are something that all dog owners should be on the lookout for. A dog's paws are constantly in contact with the floor and the ground, so it's key to make sure that they stay healthy. Our dog's paws can leave them open to infection if they have open wounds or just be painful if they have another issue. The importance of healthy paws is why we'll be looking at 9 common dog paw problems and how to treat them.
9 Common Dog Paw Problems
Dogs can have a variety of paw-related issues ranging from simple issues like hairy feet to more complicated conditions, like fungal infections.  It's important to check your dog's paws daily, along with their ears, eyes, and teeth. However, today, we're focusing solely on the old feetsies, so let's dive into it.
1. Yeast Infections
Yeast infections are the most common type of fungal infections in dogs. Yeast is always on your dog's paws, but sometimes underlying issues can cause that yeast to multiply and lead to a fungal infection. These infections are often secondary to allergy issues, which is why they can get so bad. Allergies make the paws itchy, which causes the dog to lick his paws. The warm, moist environment that licking produces allows the yeast to explode and cause a yeast infection.
Symptoms
Excessive licking
Red nail beds
Pink fur – a reaction to the dog's saliva
Itching
Discharge
Treatment
There are a variety of treatments for yeast infections, and they are usually used in conjunction with one another. After testing the area to ensure that it actually is a yeast infection, your vet may prescribe any or all of these:
Topical ointment
Antifungal wipes
Shampoos
In addition, your vet will most likely want to treat the underlying cause of the infection – the allergies- with:
Antihistamines
Anti-itch medications
2. Bacterial Infections
Bacterial organisms are a normal part of  your dog's paw flora. Like yeast, bacterial organisms can become bacterial infections due to secondary health conditions such as allergies.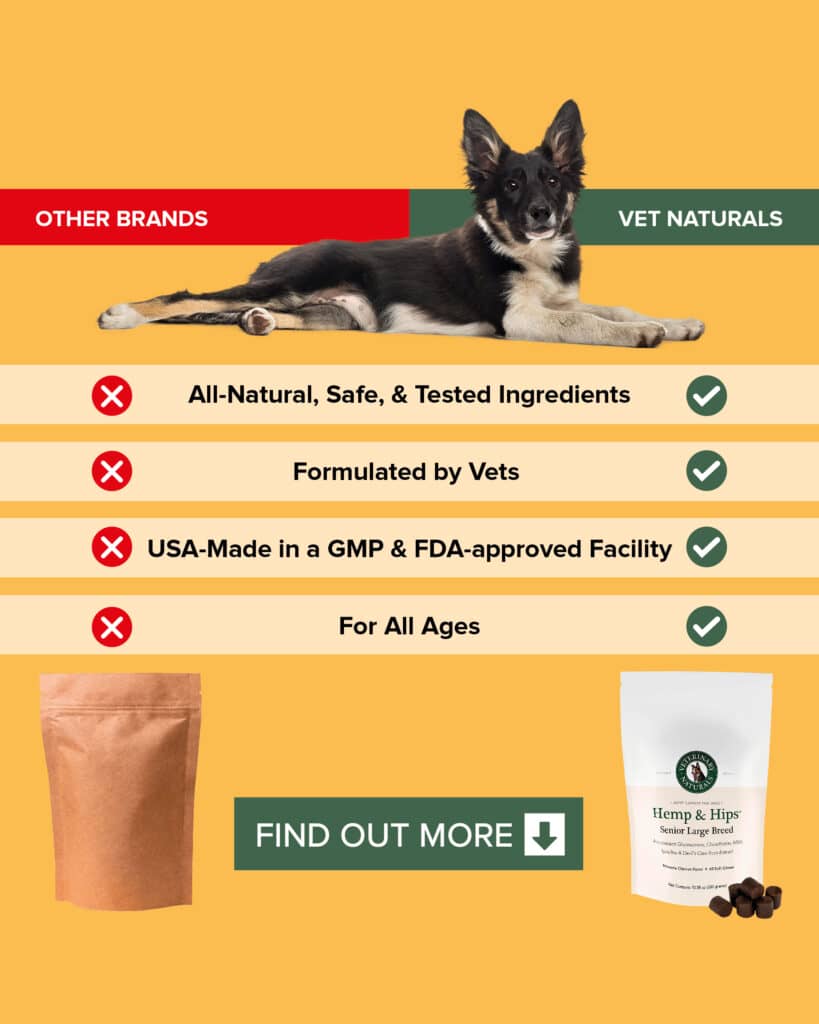 Symptoms
Excessive licking
Redness
Swelling
Itching
Pain
Abscess
Treatment
A small tissue sample is required to determine what type of bacteria is causing the problem. After that is determined, your vet will prescribe on or more of the following treatments.
Oral or topical antibiotics
Antibacterial shampoos
Antibacterial soaks
3. Torn Toenails
Torn toenails are one of the most common dog paw problems. When I worked at the vet, we treated several of these each month. Torn toenails result from wrestling or fighting with other dogs or snagging on carpet or other material. The best way to reduce the likelihood of torn toenails is to keep the nails trimmed. However, if your dog does get a torn toenail, your vet will cut the nail down past the tear, prescribe antibiotics to prevent infection, and my prescribe pain medications.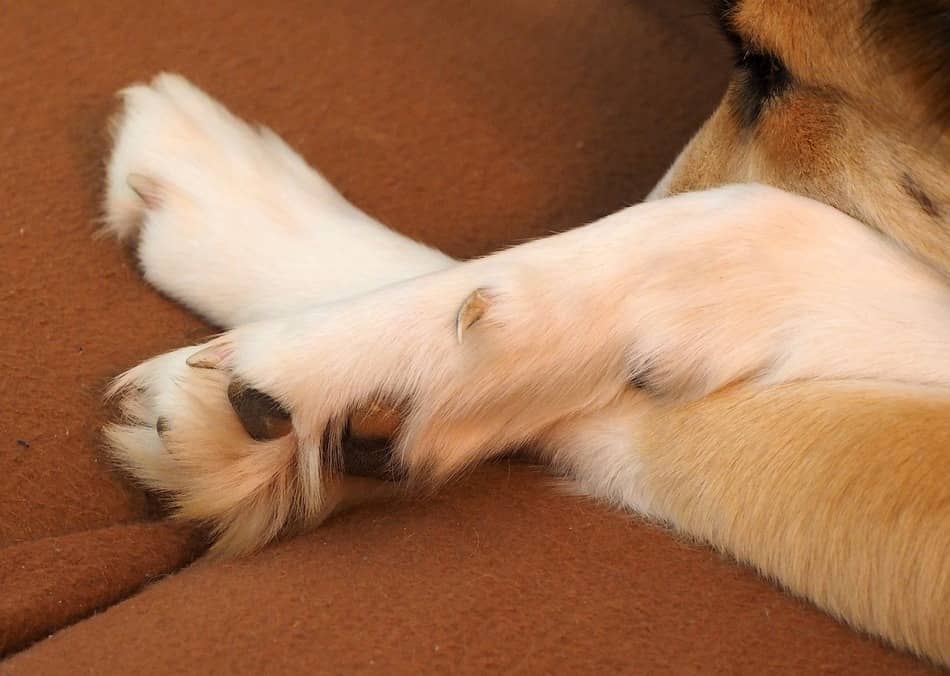 4. Ingrown Toenails
Like torn toenails, ingrown toenails are typically caused by nails that are too long. This occurs when the toenails become so long that they curl around under themselves and begin growing into the pad.
Treatment
Treatment for ingrown toenails is multi-faceted.
Sedation
Cutting the nail far, far back (quicking)
Possible surgical removal from pad if the ingrowing is deep
Pain and antibiotic medication
5. Burns
Believe it or not, the majority of dog burns come from doing what they love the most – going for walks. Summer sun on asphalt can make for an extremely hot surface. Many dog owners don't think of this when walking their dogs. Often times, your dog's paws will burn, and you won't know it until later. If your dog's paws burn, treatment will usually be antibiotics and pain medications along with bandaging the affected area.
6. Frostbite
Frostbite is basically a burn caused by cold. Just like burns, frostbite generally occurs when we take our dogs for walks. The best way to avoid frostbite is to limit the time your dog is outside. Get him out, get his business done, and get him back in. If your dog's paws become frostbitten, treatment includes bandaging, pain control, and anti-infection protocols.
7. Ticks
Another of the most common dog paw problems are ticks. Ticks love the dark, warm area between your dogs toes. If you've read any of my posts you know what I'll be saying next… Keep your dog on flea and tick preventative all season long! If you do that, you'll never have to worry about this. However, if you've missed a dose or waited a few days too long to apply the preventative, and your dog gets a tick in the area, take him to the vet. It's always better to let professionals remove the tick, as leaving the head in the skin can lead to infection of the area.
8. Mites
Mites are a particularly nasty problem for your dog's paws, especially if you're dealing with Demodex canis. If Demodex is tickling your memory, it's because you might be thinking of Demodex mange. It's nasty, and it's caused by Demodex mites.
Why is this such a behemoth of a problem? Because they are hard to kill, and they cause major problems for your dog's skin. These buggers live in your dog's hair follicles, where they multiply and cause all sorts of problems.
Symptoms
Swelling
Hair loss
Scaling
Pain
Treatment
Even diagnosing this mite infestation is a pain, requiring a deep skin scrape or biopsy to identify. Once Demodex mites are identified as the problem, treatment generally includes a combination of:
Oral medications to reduce swelling and pain
Medicated shampoo to kill the mites
These treatments can take up to several months to completely remove the mites.
9. Hairy Feet
How can hairy feet make the list of common dog problems? It's easy, they are trash magnets. Excessive hair between the toes can pick up everything from gum to fresh asphalt to burrs, and more and allow it all to collect between the toes. These can be difficult to find and painful to remove. In short haired dog, excessive hair between the toes can lead to ingrown hair, which can in turn lead to infection in the hair follicle, which can then lead to an abscess in certain instances.
The best way to prevent this is simply to have your groomer trim the hair between the toes, to limit the possibility of infection or collected debris between the toes.
Watch for These Common Dog Paw Problems
These common dog paw problems should always be on your radar. Many of them are preventable, and the ones that aren't need to be addressed sooner rather than later. Avoid prolonged exposure to hot asphalt, limit outdoor activity in the winter months, and conduct a daily check of your dog's paws to ensure that you protect your pooch against these common dog paw problems.
Have you dealt with any of these common dog problems with your pooch? Share your thoughts and experiences below.