Wondering if there are any good dog names with two letters?
While the list may not be as long as, say, funny food names for dogs, you do have quite a few neat options!
Simple names pack a powerful training punch and they're easy for kids to remember.
Read on for our favorites for both boys and girls!
Best Dog Names with Two Letters
Short monikers is very powerful, especially when it comes to training your puppy to learn his name!
Sure, there are plenty of long names that sound gorgeous.
Hawaiian names that that are light and eloquent, or Native American names that are steeped in mystery and history (hey, that rhymes!).
Don't count out simple ideas, though. Many of them have beautiful origins, too!
Plus, not a lot of dogs have a 2-letter name, so yours will be unique.
Let's take a look at all the creative ones we found!
Male Dog Names with Two Letters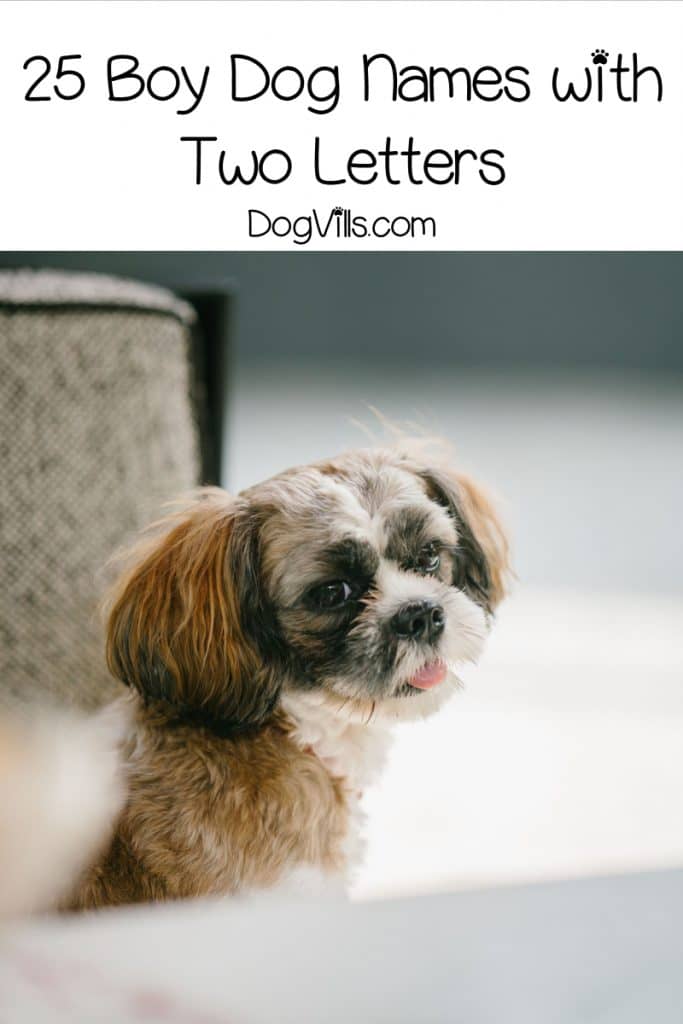 From names originating in ancient China and Greece to short two-letter dog names that just sound cool, you'll find plenty of ideas below!
Ai – In Chinese, this means love.
An – An in Mandarin Chinese means "safe".
Al – Think Alexander the Great, a fearsome ruler but a great one, just like your dog.
A.J. –
Az – In Hebrew, it means "powerful". No matter your dog's stature, we're sure his love for you is powerful.
Bo – You might recognize the name as one that belonged to the First Dog.
Ba – Meaning 8 in Mandarin. Maybe your dog was born in August, on the eighth of a month or is your eighth fur baby!
Cy – Short for Cyrus, and it also means "lord".
De -Pronounced with a short "e", it means virtue in Chinese.
Da – Meaning father in many languages, this is great if you plan to breed puppies.
Ea – It's just a cool sounding name, the "a'" is pronounced. It also means "fire".
Ed – The short form of Edward.
Fu – Luck in Chinese. You will see this character a lot during Chinese New Year.
Jr. – A shortcut for the word Junior.
Ka – A part of the soul, as Egyptians believed.
Mo – Short for whatever you want- Moe, Moses, Mojo!
Om – The Buddhist sound believed to sustain the universe.
Oz – Short for Ozymandias, the King of Kings.
Pi– Math lovers know why this one is so fantastic!
Po– Just like the panda from Kung Fu Panda!
Sy– Short for Simon.
Qi – Pronounced Chi, which is a form of energy.
Ra – Egyptian Sun God. I
T.J. and J.T. – Another great example of a name with two initials.
Ty– Short for Tyler or Tyrone.
It wasn't that hard to find two-lettered names after all.
If you think of all the nicknames and short versions of other names, there are quite a few.
Since two-letter names aren't that easy to distinguish between male and female, we tried our best to find more unisex ones that could work for both.
Female Dog Names with Two Letters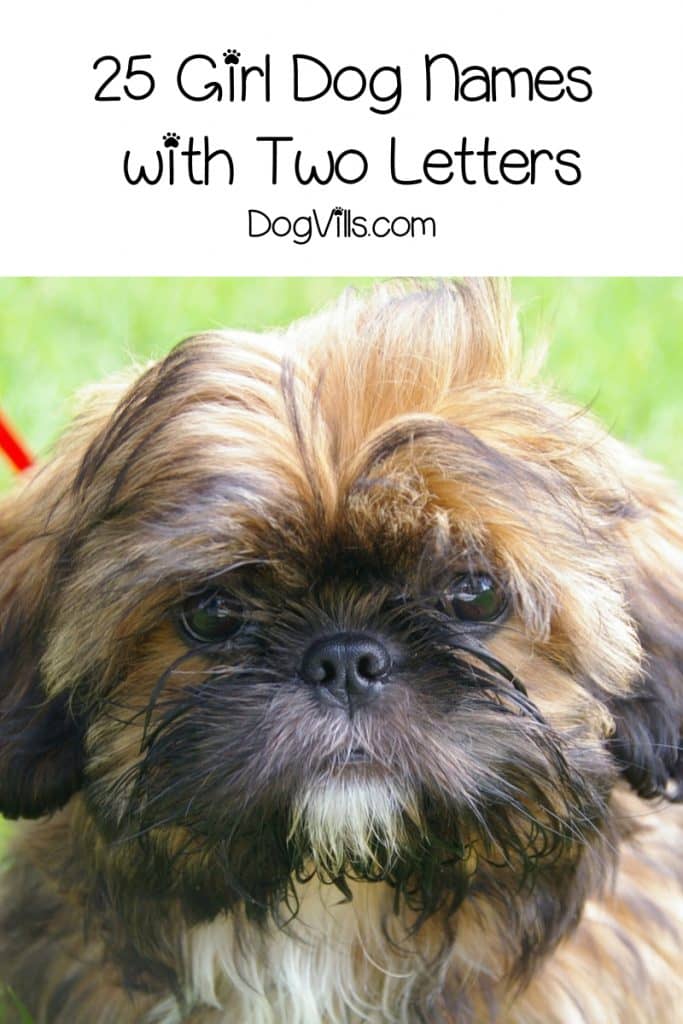 Ao – Meaning "pride" in Chinese.
Di – Short for Divine, and any other name that begins with "Di".
Em– Short for Emily
Fi– Short for Fiona.
Ga – The word for "goddess" in Indian.
Ha – The "kiss of like" in Vietnamese.
In – "Wise" in Korean.
Ja – Fiery and attractive in Korean
Jo – Short for Josephine. It can also make a great boys' name too.
Ka – It can also mean "beautiful angel" in Indian.
La – Just an elegant sound for an elegant fur baby.
Li – Meaning "pretty" in Chinese, because your fur baby girl is the most gorgeous!
Lo– Short for Lois, Loraine, and many others.
Lu– Short for Luanne, means "renowned warrior" in Latin.
Ma – Short for "mom" in many languages
Ms. – The abbreviation for miss, for the little missy
Mi – Means "honey" in Chinese. The sweet stuff that is your dog.
My – Swedish for "beloved". It also means belonging to you.
Ni – Meaning "you" in Chinese.
Ry – A name with the same sound as "Rai", which means "thunder", in Japanese.
Si – A moon goddess. How great would it be for those pure white dogs.
Tu– Means "You" in French.
Vy – A purplish-blue flower.
Yu – Chinese for "jade" the precious stone.
Ya – It means graceful and full of grace. A lot of dogs are clumsy and can benefit from this name.
Names with two letters can have a significant elegance to them.
A lot of names in certain languages have only two letters and carry significant meaning.
Maybe your fur baby's calling is right here somewhere on our list!
What were your favorite two-letter dog names?
We loved all the ones with deity meanings and the ones that carry significance to the role your dog plays in your life.
For example, Ai, An, etc.
Tell us your favorite dog names with two letters below!