So, you're looking for the perfect dog names inspired by travel?
That makes sense!
After all, both traveling and our dogs bring us such bliss, so why not combine our two passions?
The extensive list below includes everything from general travel names to famous traveler names to ideas inspired by places.
Let's check them out!
Related:Top 20 Nature Names for Female Dogs
Dog Names Inspired by Travel
Let's start with some general travel-related dog names, shall we?
There aren't many in this section because not a lot of travel terms translate to good dog names, but here are a few from which to choose!
Aviator
Cruiser
Journey
Ranger
Rover
Sailor
Traveler
Trekker
Wanderer
Wayland
You may also like these Camping Names for Dogs
Dog Names Inspired by Famous Travelers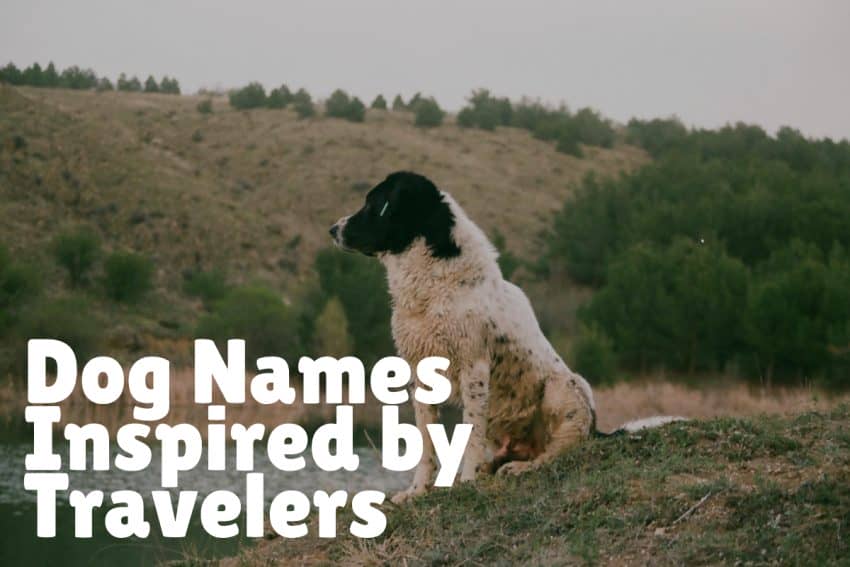 Ah, now we're getting into the fun stuff! All of these names come from famous travelers throughout history!
I put the full name in parenthesis in case you want to look them up.
Famous Traveler Names for Boy Dogs
Armstrong (Neil Armstrong)
Asher (Michael Asher)
Bartolomeu (Bartolomeu Dias)
Battuta (Ibn Battuta )
Cabot (John Cabot)
Captain Cook (James Cook)
Cartier (Jacques Cartier)
Clark ( William Clark)
Gunther (Gunther Holtorf)
Hemingway (Ernest Hemingway)
Herodotus
Landau (Rom Landau)
László (László Almásy)
Lewis ( Meriwether Lewis )
Magellan (Ferdinand Magellan)
Marco (Marco Polo)
Nanak (Guru Nanak)
Niccolò (Niccolò Polo)
Pyotr (Pyotr Beketov)
Roald (Roald Amundsen)
Sascha (Sascha Grabow)
Tsang (Hsuan Tsang)
Uko (Ikechi Uko)
Vespucci (Amerigo Vespucci)
Vitus (Vitus Bering)
Love hiking? 189 Outstanding hiking dog names
Famous Traveler Names for Girl Dogs
Adeline (Adeline Van Buren)
Alma ( Alma Maximiliana Karlin)
Aloha (Aloha Wanderwell)
Amelia ( Amelia Earhart)
Augusta (Augusta Van Buren)
Belinda (Belinda Kirk)
Cassandra (Cassandra DePecol)
Chiaki (Chiaki Mukai)
Clärenore (Clärenore Stinnes)
Eva (Eva Dickson)
Freya (Freya Stark)
Gertrude (Gertrude Bell)
Hester (Lady Hester Stanhope)
Isabel ( Isabel Godin des Odonais)
Jeanne ( Jeanne Baré )
Kira (Kira Salak)
Nellie ( Nellie Bly)
Octavie (Octavie Coudreau)
Osa (Osa Johnson)
Polly ( Polly Letofsky)
Renata (Renata Chlumska)
Robyn (Robyn Davidson)
Tania (Tania Aebi)
Yelena ( Yelena V. Kondakova)
Ynes (Ynes Mexia)
Need more inspiration? Check out these Roman and Greek dog names!
Dog Names Inspired by Places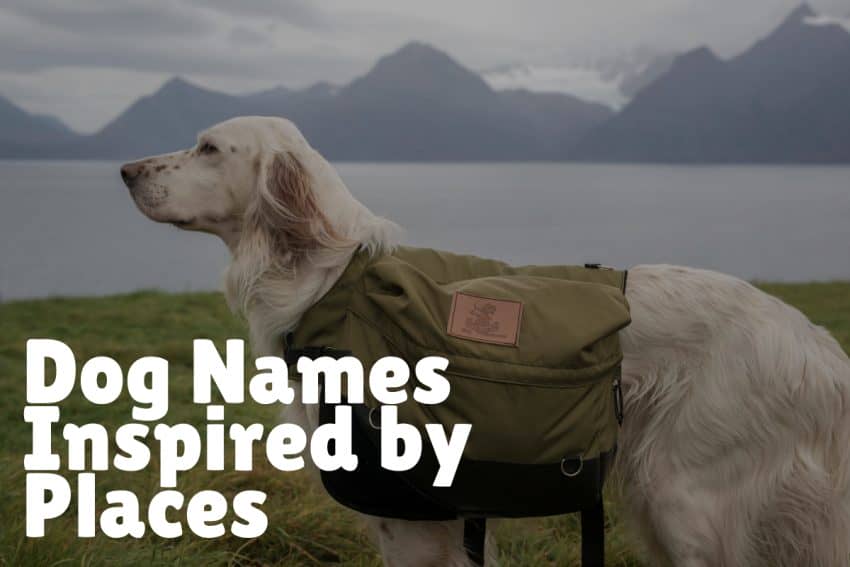 Now for my favorite part, dog names inspired by places!
Once again, I'll divide it into boy and girl names but some can be considered unisex.
I'll put the country or general geographic location in which it's found in parenthesis, although some names exist in different countries (Alexandria is in Virginia and Greece, for example).
Place-inspired dog names for girls
Alexandria (Greece)
Annaba (Algeria)
Arizona (US state)
Asia
Aurora (US, Colorado & Illinois)
Bahama (Caribbean)
Berlin (Germany)
Brasilia (Brazil)
Charlotte (US, North Carolina)
Corona (US, California)
Dakota (US, as in North and South Dakota)
Farah (Afghanistan)
Joliet (US, Illinois)
Kenya (Africa)
Lahore (Pakistan)
London (England)
Mérida (Mexico)
Miami (US, Florida)
Odessa (US, Texas)
Paris (France)
Regina (Canada, Saskatchewan)
Rosario (Columbia)
Tempe (US, Arizona)
Vienna (Austria)
Winnipeg (Canada, Manitoba)
Boy dog names inspired by places
Austin (US, Texas)
Cairo (Egypt)
Dallas (US, Texas)
Darwin (Australia)
Dayton (US, Ohio)
Denver (US, Colorado)
Dublin (Ireland)
Frisco (US, Texas)
Gilbert (US, Arizona)
Israel (Asia)
Jackson (US, Florida)
Jersey (US, as in New Jersey)
Kent (US, Washington)
Lincoln (US, Nebraska)
Mazatlán (Mexico)
Memphis (US, Tennessee)
Moscow (Russia)
Oslo (Norway)
Phoenix (US, Arizona)
Reno (US, Nevada)
Santiago (Chile)
Salem (US, Massachusetts and Oregon)
Sydney (Australia)
Tokyo (Japan)
Warren (US, Michigan)
These 100+ dog names inspired by travel should help you find the perfect idea for your pooch!
Do you have any other favorite dog names inspired by travel? Share below!