Looking for a clever and unique t-shirt for dog lovers with funny sayings?
Or maybe you just really want the world to know how much you love your own pooch?
You're going to love our t-shirts!
Yep, I said "our" t-shirts! We recently launched our own line of super spectacular shirts for pet lovers, and we couldn't be more excited.
Check out our fab offerings, and keep your eyes peeled because there's more to come!
Awesome T-Shirts for Dog Lovers
Affiliate links included below. We earn a commission if you make a purchase, at no extra cost to you.
These t-shirts make the perfect gift idea for every dog lover in your life. Wear them out and about to show off your pet parent pride or grab them in a size larger to wear to bed! Seriously, you can never go wrong with a clever t. Let's check them out!
You might want to check these sweatshirts for dog lovers. You will absolutely LOVE THEM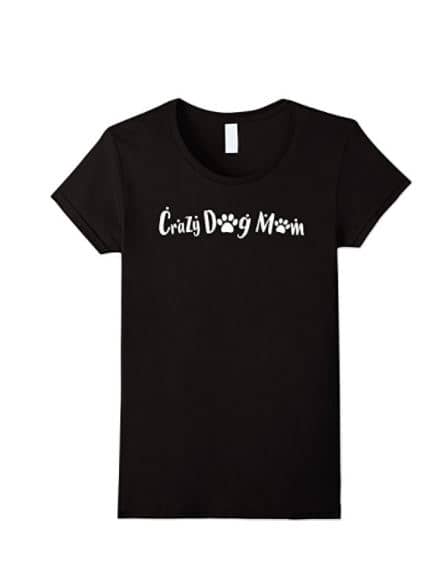 The Crazy Dog Mom shirt is my personal favorite because it totally fits me.
I kid you not, I have more pictures of my dogs than of my son!
To be fair, though, I have multiple dogs and only one kid.
This shirt is super soft and lightweight, perfect for those crazy hot summer days. It comes in black and red.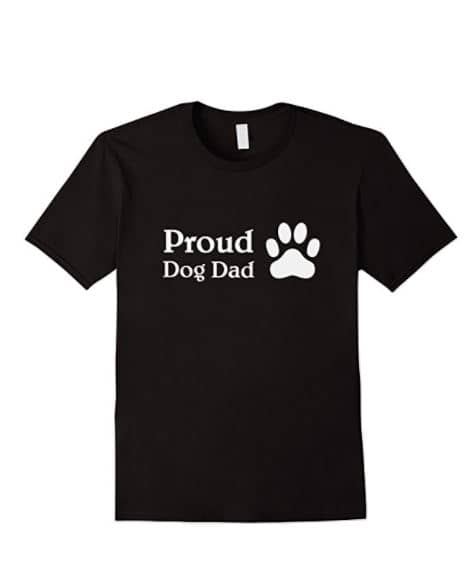 Dog dads are always proud to show off their pup's latest tricks!
Now they can do it in four classy colors, including black, navy, royal blue and silver!
This is perfect for that special guy in your life who wants the world to know that he's a dog lover! Isn't it a cool Father's Day gift idea?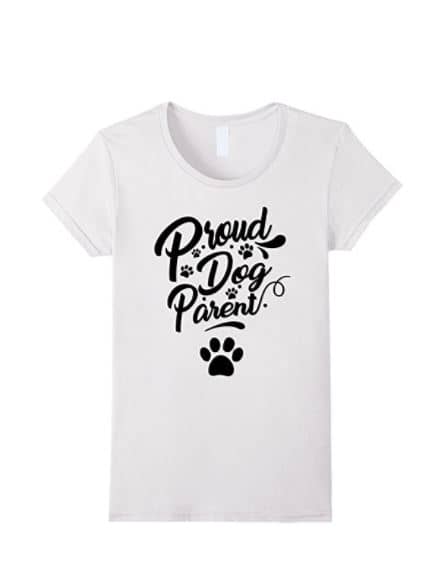 While our Crazy Dog Mom is definitely geared towards women, our Proud Dog Parent shirt is perfect for all pet parents.
Plus it comes in 5 different colors, including: white, grey, royal blue, Kelly green, and red.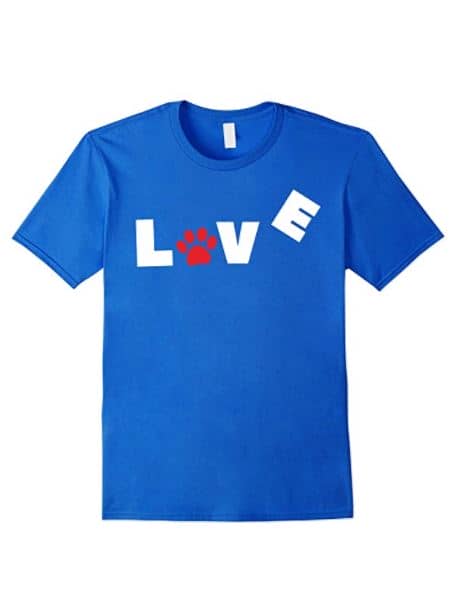 Want something a little more subtle that still shows off how much you love your dog?
Grab out aptly named "I love my dog" shirt! If you lean more towards darker colors in your wardrobe, you'll love this one.
It comes in: Asphalt, Grey, Black, Blue and Dark Heather. Basically ever color you need to conceal dog hair!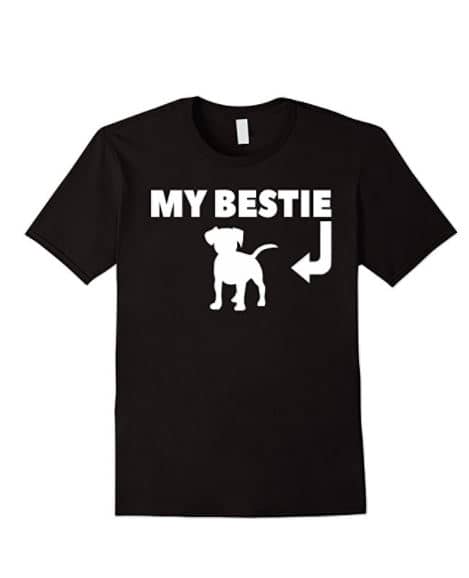 Your dog is your best friend and you're proud of it. Now tell the world with our Dog is My Bestie shirt!
This one also comes in five fab neutral tone colors, like black, brown, and grey.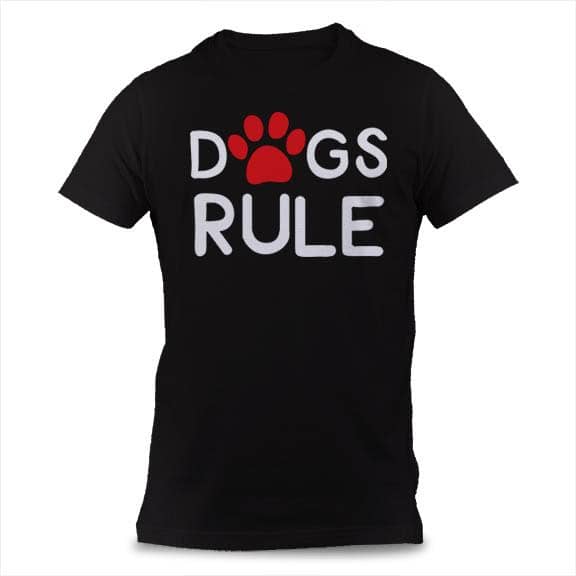 Simply put, dogs rule, and everyone should know it!
I love this shirt in black, but it also comes in a few other colors, including green, silver, navy, and royal blue.


7- Puppies Make Me Happy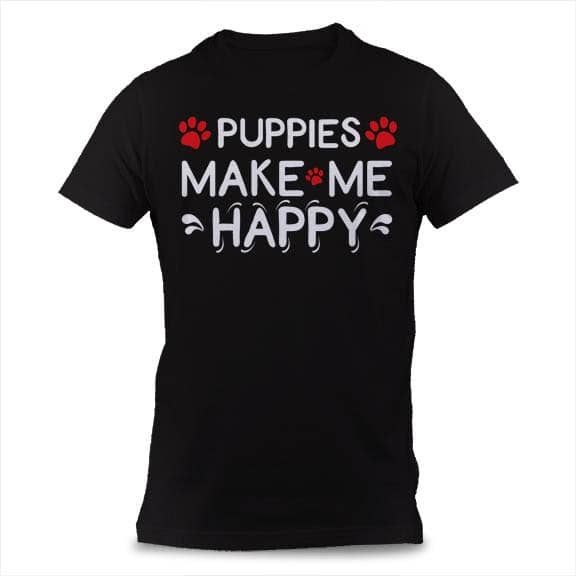 They sure do!!
Our Puppies Make Me Happy shirt isn't just perfect for dog parents, it's great for anyone who wants to show off just how much they adore itty bitty little bundles of fur!
Comes in five colors, including: black, silver, brown, royal blue, and navy.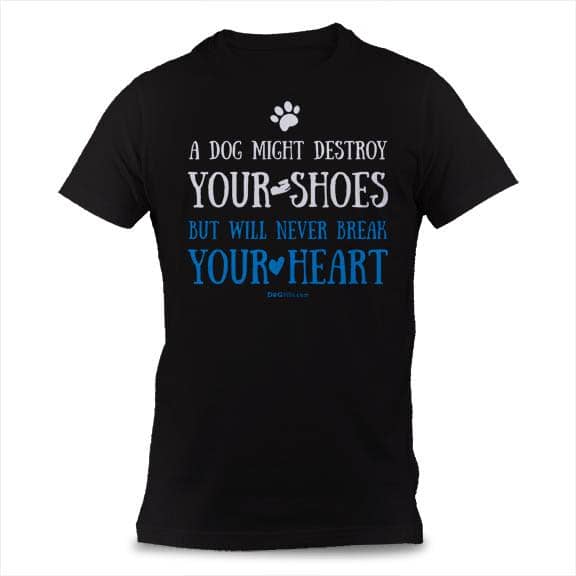 Oh, my friends, I can't even tell you how many pairs of shoes I've lost to Mocha and Freya's teeth in the past few months, including my ONE pair of comfy sandals.
Still, like this shirt says, they may destroy your shoes, but dogs will never, ever break your heart. At least not as long as they are with us.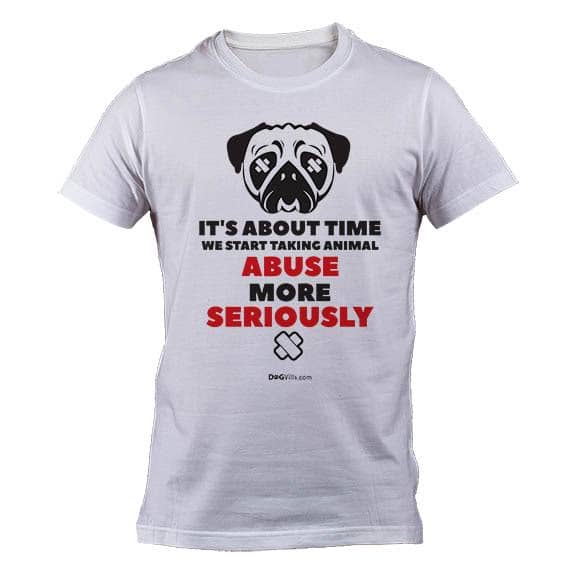 It's time to get serious for a moment. Animal abuse happens WAY too often, and honestly, the penalties just aren't stiff enough.
Simply put, we need strong laws to protect our four-legged friends. This shirt is a good way to raise awareness and let the world know that you will not stand for animal abuse.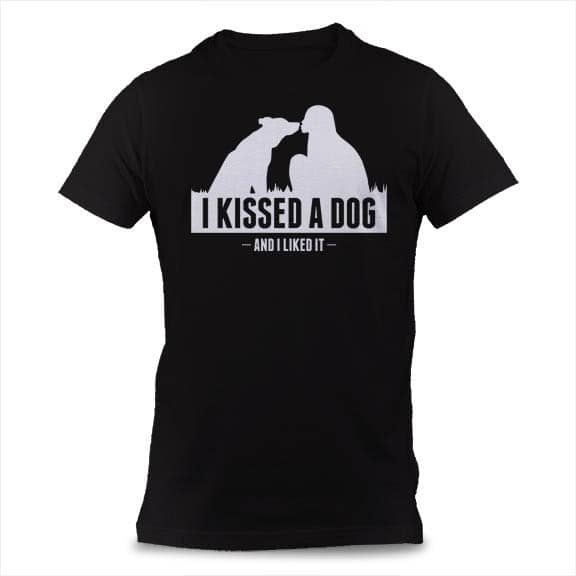 Puppy kisses are the best, aren't they?
Okay, so maybe not after they've raided the cat's littler box (seriously, what is up with that???), but most of the time, I love kisses from my dog.
If you kissed a dog (and liked it), let the world know!
Comes in three colors: black, brown, and navy.
All of our shirts are printed on classic fit, lightweight material with double-needle sleeves and bottom hem. They're all super comfy! You'll love them! The last two shirts from Redbubble also come on hoodies, throw pillows and other fun items!
Which of these dog lovers t-shirts do you love the most? Share below!