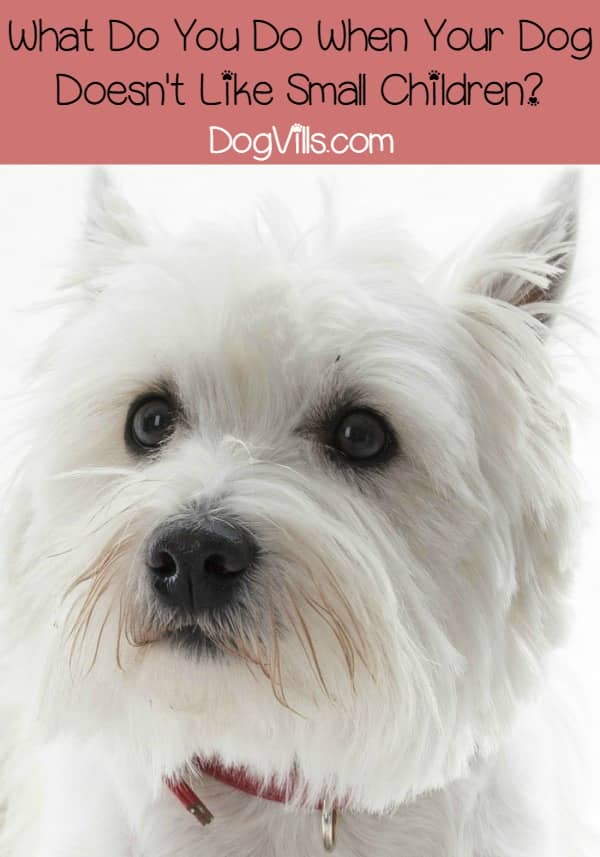 What do you do when your dog doesn't like small children?  Children can be scary to dogs.  They are right at their level, ready and willing to pull a tail or ear, and poke an eye.  So, it may not be that your dog doesn't like small children, but maybe that he is fearful he might come out injured after coming in contact with one.  You should evaluate whether it is just children your dog can be aggressive around and also how you monitor the interaction between your dog and your small child.
➔➔ You might want to read: How to tell if your dog hates you.
What to Do When Your Dog Doesn't Like Small Children
Is he aggressive all the time?
First evaluate if he is aggressive all the time or is it just around small children?  What does he do that makes you say he doesn't like small children? Many times I hear people say 'He growls at small kids, but he would never do anything'.  A growl is letting you know that he is not happy with whatever happening, he is using it as a warning.  If he is aggressive a lot, you might want to think about scheduling some behavioral training sessions.
Is his space being invaded?
Small kids are like tiny little space invaders; they don't yet understand the concept of personal space, and dog's are no different.  They actually probably fare even worse than humans because they are more at the child's level than an adult.  Many dogs, regardless of them being kid-friendly, can dislike small children just for this reason.  You as a human have words you can use with the little ones, like 'Quit hangin' on my leg!' a dog though, he only has his teeth and paws.
Does he need a little QT with your child?
Your child and the dog need to spend some quality time fostering a healthy relationship, just like anyone would.  So sit on the floor and toss a ball back and forth, or play a game of tug (if your dog can handle gentle).  Show your small child how to be gentle and nice to the dog.  Show the dog your child means no harm and show your child to respect your dog.  I often take my son's hand (he is 1) and pet the dog and say 'gentle, nice puppy' because he gets excited and hits when he wants to touch.
Do you know your dog?
Dogs give us warning signals all the time.  Dogs do not just bite for no reason, their teeth are their only line of defense against things that bother them.  Look for his warning signs.  Teach your children (and all children who will be around him) how to respect your dog's space.  I know my daughter is always picking up our little dog and playing with her, and for the most part the dog is fine.  But not everyone likes to be touched and held all the time, and when she has had enough, she let's her know and my daughter has learned that her dog needs space.
Is the child too wild for your dog?
 Kids can drive anyone crazy, even your dog!  Adults are taller than the dog, adults don't (typically) run crazy around the house screaming, and adults don't try to ride the dog.  Dogs don't forget things, if your small child has pulled his tail, tried to mount him like a horse or chased him around the house, your dog is going to remember that.  When your child wakes up in the morning and comes barreling down the hallway screaming, he is going to probably be thinking 'Oh man, this kid again, better be on the defensive'.
With all that being said, it never okay for a dog to bite or act in an aggressive way towards children (or anyone for that matter).  It is the dog owner's responsibility to watch the dog and child together.  You might be able to help foster a better relationship with them!  The good news is your child will grow and won't be small forever, and your dog just might grow to love him too.
What have you done to handle situations where your dog doesn't like small children?  Share with us in the comments below!