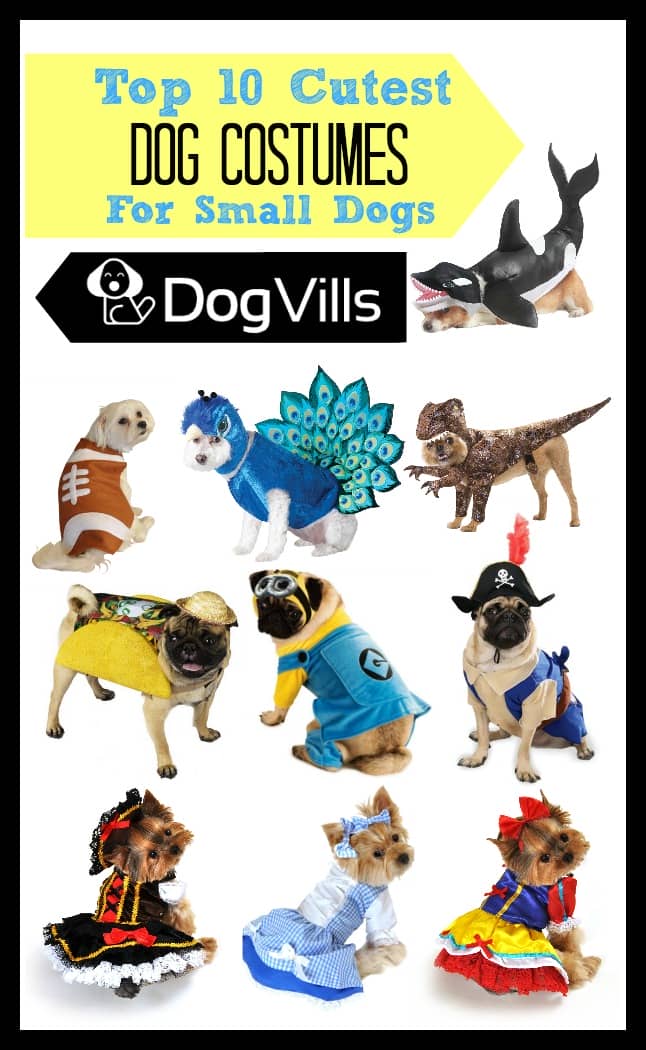 If you're looking for the cutest costumes for small dogs, you'll love these! Doggy clothing has been a fashion statement since before King Arthur. Many outfits were designed as protective clothing for service dogs and others were created for the enjoyment of the wealthy. Today, anyone can take delight in dressing up their tiny pooches to participate in holiday activities and parades.
Take a look at our top ten picks for the cutest costumes for small dogs around. These costumes will make passerby's "Oooh", "Aghhh", and laugh hysterically. My favorites are the Raptor, Minion, and Pirate costumes. What is your favorite?
Cutest Costumes for Small Dogs
The most cunning predator in your back yard. The raptor costume comes with foam raptor head piece with foam padded costume.
Now your favorite four-legged member of the family can join the fun. With a pet costume from Rubies', dogs will be ready for parades, parties, or just having fun. Rubies' Costume Company has been creating costumes since 1950, of course they'd remember your pet.
Two piece enchanted snow princess dog costume, includes scalloped hem dress with bow details, pouffed shoulders, attached red lace petticoat, and adjustable drawstring bow headpiece. Easy to wear front closure.
The Animal Planet Orca Dog Costume includes a character headpiece with printed eyes. A character body piece with fin and tail details.
The Animal Planet Peacock Dog Costume includes a character headpiece with plush details and printed eyes. A jumpsuit with a printed tail.
One piece brown football dog costume. Easy to wear velcro front closure. Available sizes: XS, S, M, L
Dorothy dog costume blue gingham dress with bow accents and two hair bows. Easy to wear front closure.
Available in seven different sizes to fit dogs large or small, this Pirate is sure to become captain of your ship!
Two piece swashbuckler pirate girl dog costume with adjustable drawstring pirate hat. Layered lace dress with bow and attached lace petticoat. Easy to wear front closure.
Turn your little pooch into a crispy, crunchy, meat filled goodie with this Taco Dog Costume. He'll look so appetizing you'll want to reach down and take a bite. WARNING: biting your dog is considered animal abuse. Please eat a real taco instead!