What better way to celebrate the love between your pooch and your child than by letting your little one dress up in one of these cute dog costumes for kids?
Think about it: we often dress up our dogs in people costumes, so why not let our kids dress up in dog costumes?
Whether it's for Halloween or pretend play,  there are a couple of different directions you can go.
You can pick out a costume that's a classic Dalmatian, a cute puppy costume, or even pick out a beloved doggy character based on children's books, tv shows, and movies.
Whichever way you pick, your little dog will be adorable in their new costume.
Check out some of our favorite dog costumes for kids below!
7 Adorable Dog Costumes For Kids That They Will Love
Affiliate links are included with this post. We earn a commission if you make a purchase at no extra cost to you.
1.Scooby Doo
This tot can never resist a good mystery or a good Scooby snack! Check out this fun Scooby Doo costume! Your Mystery Machine will be a lot more fun with your very own Scooby Doo on board.

2.Toddler Puppy
Are you looking for an adorable toddler costume? I can barely stand the cuteness with this toddler puppy costume!
This fuzzy costume not only looks adorable with a plush and padded belly, but it also does cushion your toddler if they fall.  I love the sweet face on this costume, and the collar completes the cuteness!

3.Duke the Dog Costume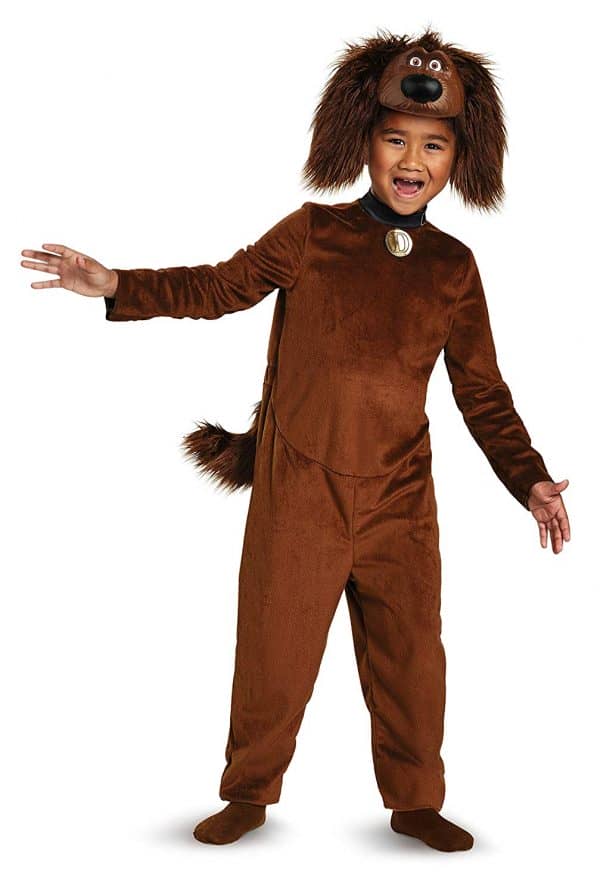 When I think of a dog costume for kids, a costume that is soft and comfortable comes to mind.
Check out this adorable Duke the Dog Costume! This costume comes in sizes for all ages and has an adorable plush feel from head to toe.
4.Dalmatian Costume
A dalmatian costume is a great choice for kids and makes some pretty adorable pictures.
This is the perfect costume for a little kid who dreams of saving the day, or just moves super quick on their feet. If your kid is up for it, this costume would be super cute with white face makeup and black spots, but it's not vital to this amazing costume.

5.Dalmatian In a Dress
Some little girls don't just want to be a puppy. They insist on being a puppy in a dress!
Check out this adorable Girl's Dalmatian costume. Yes, girls or boys can both wear the unisex costume featured above, but this cute costume with a skirt may just win your heart with adorableness for your little dalmatian!
6.Clifford The Big Red Dog
Clifford The Big Red Dog is a perfect dog costume for little kids.
Not only is Clifford one of the sweetest dogs you'll ever meet, but he also has plenty of adventures with his friend, Emily Elizabeth. If you know a little one who is a fan of reading and dogs, Clifford is a fantastic costume idea!

7.Toto
Check out another famous pup costume, Toto from the Wizard of Oz! This fuzzy Toto costume is the perfect complement if you are considering having your family dress up as a matched set! We are off to see the Wizard, Toto!

Did you have a favorite from these dog costumes for kids? Tell me your favorite costume down below in the comments!