Do you want to know about dog breeds with bad breath?
Few things are more unpleasant than a dog with stinky breath trying to give you slobbering kisses.
If you're curious about it, keep on reading to find out which breeds have the worst halitosis ever.
Plus, learn what you can do to freshen up those kisses a bit!
Find out: Dog breeds that lick a lot
Content & Quick Navigation
10 Dog Breeds with Bad Breath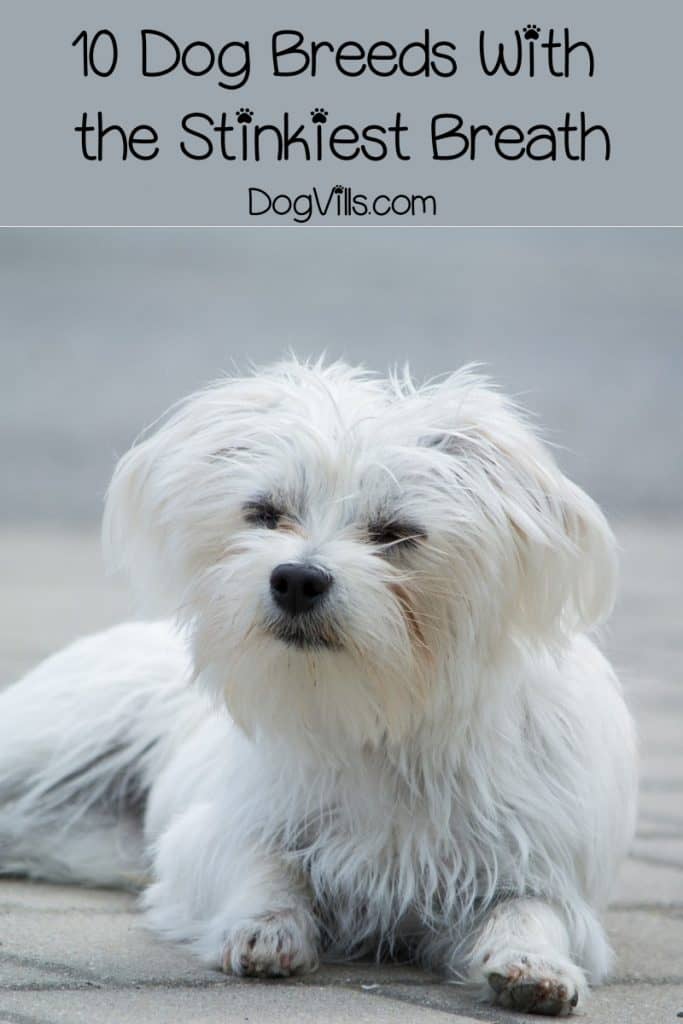 Owners often think that it's normal for their dogs to have stinky breath.
Well, while most pups have that typically "doggie" mouth odor, when their breath smells like garbage, it's not that normal.
Usually, bad breath in dogs is the result of dental disease or another medical condition, like diabetes or kidney disease.
It's also possible that low-quality dog food is causing bad breath as well as your dog going through the garbage or snacking on your cat's poop.
So, for this list of dog breeds with bad breath, I've selected those that frequently suffer from dental disease and other infections that cause stinky odor.
#1 Chihuahua
Chihuahuas have quite a reputation thanks to their big personality confined in a small body.
However, these cuties often have bad breath because they have too many teeth in a tiny mouth. The teeth overcrowding makes it easy for food to get stuck inside the mouth.
Furthermore, Chihuahuas often have issues with retained milk teeth. As such, they are predisposed to gum disease and infections. Hence, their incredibly stinky dog breath.
The good news is that with proper brushing routine, you can have a dog that doesn't have bad breath.
#2 Schnauzers
When you have a Schnauzer, you might come to ask yourself why your dog's saliva smells so bad.
While Schnauzers are not as prone to dental disease as other breeds, they have too much hair around the faces.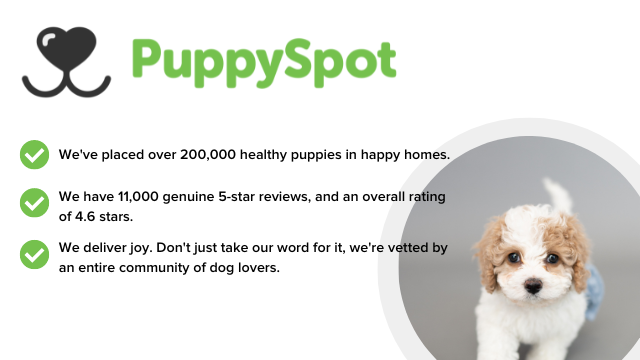 So, whenever a Schnauzer eats, saliva and food get trapped in the fur and become the ideal breeding ground for bacteria.
Once bacteria multiply, your dog's saliva will stink in a way you can't imagine.
Fortunately, trimming the hair around the mouth is how you get rid of a Schnauzer's stinky dog breath. And brush the teeth regularly, of course.
#3 Yorkshire Terriers
Since Yorkshire Terriers are one of the most popular small breeds, it's hard to imagine that these adorable pooches have one of the worst breaths.
Unfortunately, Yorkies have the typical teeth problem of small dog breeds.
I'm talking about retained milk teeth. If the adult teeth erupt abnormally, that might lead to bad bite patters and tooth decay.
Furthermore, Yorkies tend to get more tartar buildup on their teeth than other breeds. As such, they often lose teeth early in their lives without proper dental care.
Most specialists recommend that you get your Yorkie a professional dental cleaning once a year to get rid of their stinky breath and keep their pearly whites in pristine condition.
#4 Maltese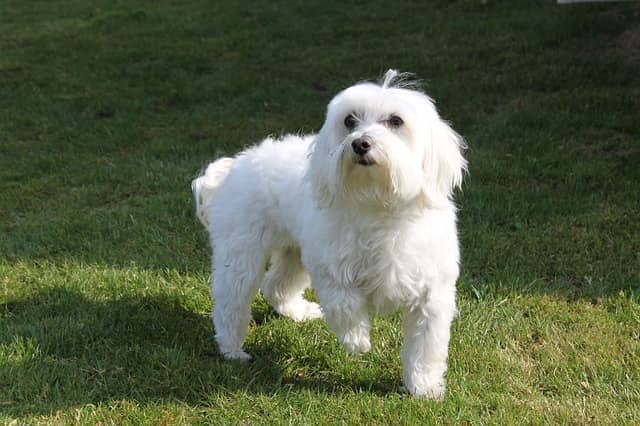 Maltese are one of the most adorable dogs with their magnificent white coats and sweet disposition. However, don't be surprised that they are not among the dogs that don't have bad breath.
For one, Maltese are prone to tartar buildup and need regular teeth brushing to keep their teeth free of plaque and bacteria.
In addition to this, Maltese can suffer from chronic ulcerative paradental stomatitis (CUPS), which causes bad breath and drooling.
#5 Pug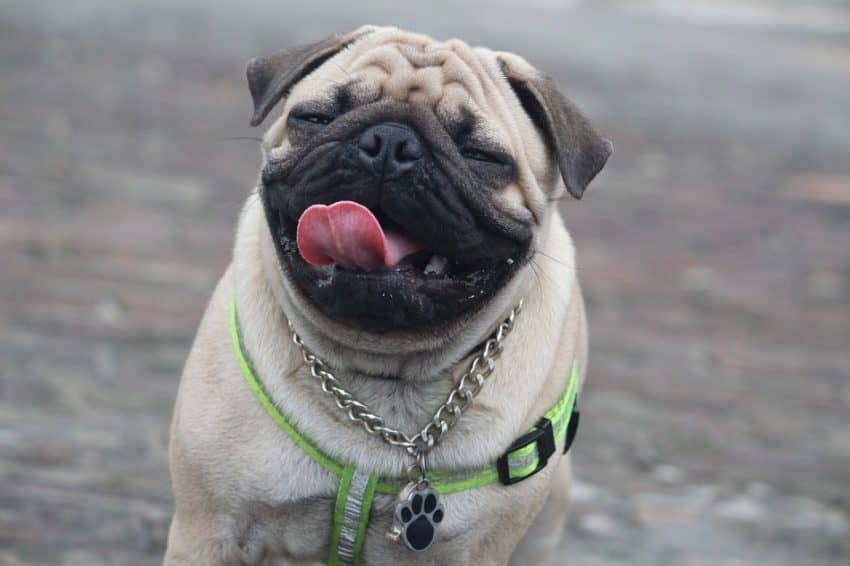 Pugs are one of the best dog companions you can wish for, and they always steal the show with their adorable looks and goofy character.
However, these pooches also have the reputation of having bad breath and a stinky body odor.
Usually, bad breath in Pugs is due to periodontal disease and mouth infection.
In addition to this, the breed is prone to yeast and staph skin infection, which contributes to their stink.
#6 Pomeranian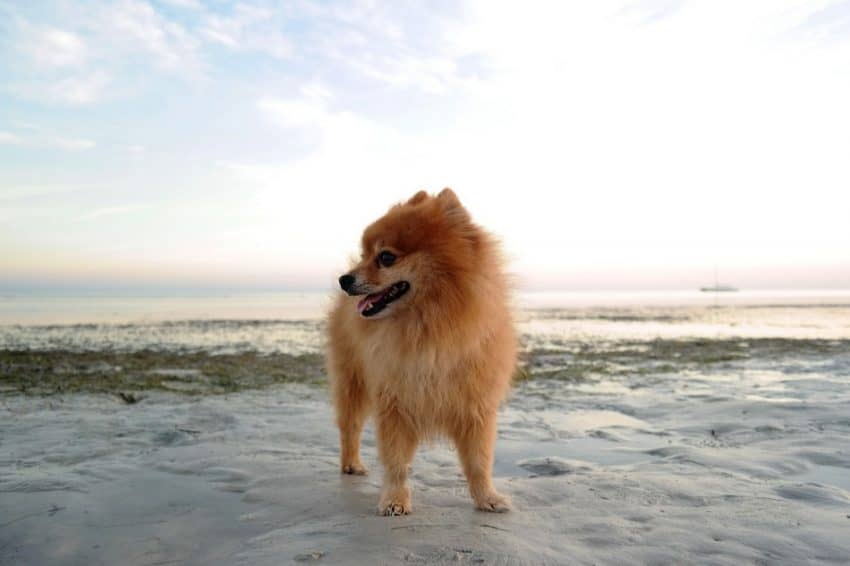 Another popular pup on our list of dog breeds with bad breath is the cute Pomeranian.
Unfortunately, this toy breed has a problem with retained teeth, gum diseases, and oral infections.
Furthermore, Pomeranians get food particles and saliva stuck around their furry mouths.
That's the main reason why some Pomeranian owners might complain that their dog's breath smells like garbage.
#7 Dachshund
You can't deny that Dachshunds are a unique dog breed with an independent streak and mischievous nature.
However, bad breath is a problem for this breed because they are more prone to plaque and tartar buildup.
In addition to this, Dachshunds have a small mouth and tend to retain their puppy teeth.
Dachshunds also suffer from gum inflammation due to teeth crowding inside the mouth and food getting stuck between the teeth.
#8 Greyhound
Greyhounds are one of the fastest dogs in the world. They often capture people's hearts with their elegance and sweet temperament.
I wish I could tell you that Greyhounds are dogs that don't have bad breath. But the breed has poor oral health, meaning dental disease and gum problems.
So, a Greyhound needs extensive teeth care to prevent gingivitis and get rid of their stinky breath.
#9 Pekingese
Pekingese haven't forgotten that they used to be royal companions of the Chinese emperors.
However, despite their fluffy appearance and irresistible puppy eyes, they won't win any competitions for fresh breath.
For one, Pekingese has typical problems for a dog with a small mouth, such as teeth overcrowding, tooth decay, and gum inflammation.
In addition to this, this dog's saliva often smells bad because food particles get stuck in the coat.
#10 Bulldog
Despite their many positive characteristics, Bulldogs are famous for their bad smell, drooling, and snoring.
These impressive dogs have an undershot jaw, which means that their lower teeth stuck out.
As such, it's no wonder that they are prone to dental disease and bad breath.
How to Get Rid of Stinky Dog Breath?
Bad breath in dogs is not something you want to get used to. So what can you do if your dog is among the dogs with bad breath?
Well, I've got some bad breath home remedies for dogs. However, if your dog suddenly has bad breath, you should call your vet.
As I mentioned, bad breath might be due to some serious conditions like diabetes. Your pooch might also have a problem with the kidneys or the liver.
Otherwise, you can try the following tips for bad breath home remedy:
Regularly brush your dog's teeth and check for decaying teeth and cavities.
Get some dental chews to remove plaque and tartar buildup.
Try some homemade dental chews for fresh breath.
Change the food. Sometimes dog food causes bad breath. As such, you can switch from dry to wet or vice versa.
Limit your dog's access to unapproved snacks if your dog's breath smells like garbage.
Give your dog some wheatgrass to freshen his breath.
You can also use coconut oil to make your dog's breath smell nice.
Schedule a professional dental cleaning. If your dog has a bad breath after a dental cleaning, your pooch likely has another medical issue that needs evaluation.
Don't ignore bad breath in your dog and think it normal. Dental disease is a serious problem because your pooch might lose all his teeth.
It also contributes to kidney failure and a myriad of other health problems.
But take good care of your dog's teeth, and you'll have a healthy dog that doesn't have bad breath.
What do you think about these 10 dog breeds with bad breath? Do you agree or disagree with our list? Share your thoughts in the comment section.