Are you wondering about dog breeds prone to anxiety?
While all dogs might get anxious, some breeds are more likely to develop sudden anxiety.
To help you, we're going to talk about which dog breeds are more prone to it and how to calm an anxious dog.
Just keep on reading.
7 Dog Breeds Prone to Anxiety
People often don't think that dogs can suffer from anxiety, but stress is widespread among our four-legged friends.
Dogs can suffer from general anxiety, get triggered by a negative experience, or develop phobias.
Separation anxiety in dogs is also quite common.
Unfortunately, some breeds are more prone to sudden anxiety than others.
Usually, these dog breeds are too sensitive, attach strongly to their owners, and are emotionally needy.
On the other hand, dog breeds that are less likely to have separation anxiety include dogs who are less affectionate and more independents.
Think Chow Chow, Basenji, Shar-Pei, or Bullmastiff.
#1 German Shepherd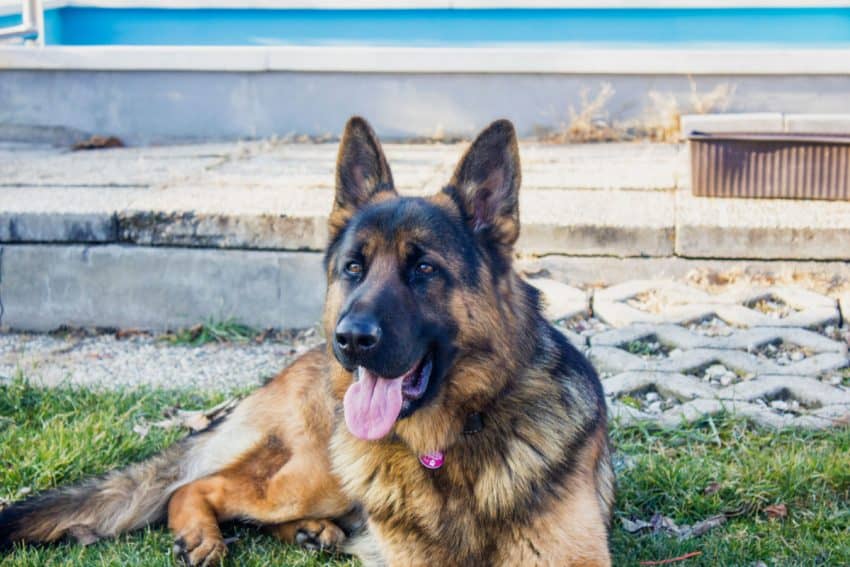 Powerful, muscular, and athletic, the German Shepherd impresses their owners with versatility, intellect, and agility.
Most people think the German Shepherd is too tough to suffer from anxiety, but they'd be wrong.
In general, German Shepherds are high-energy working dogs who thrive when they've got a job.
Leave them idle too long, and a German Shepherd will get anxious without enough stimulation and become destructive.
As a herding breed, German Shepherds are also used to working side-by-side with their humans and don't like to be alone.
German Shepherds are also among the most sensitive dogs and take "failures" hard.
#2 Labrador Retrievers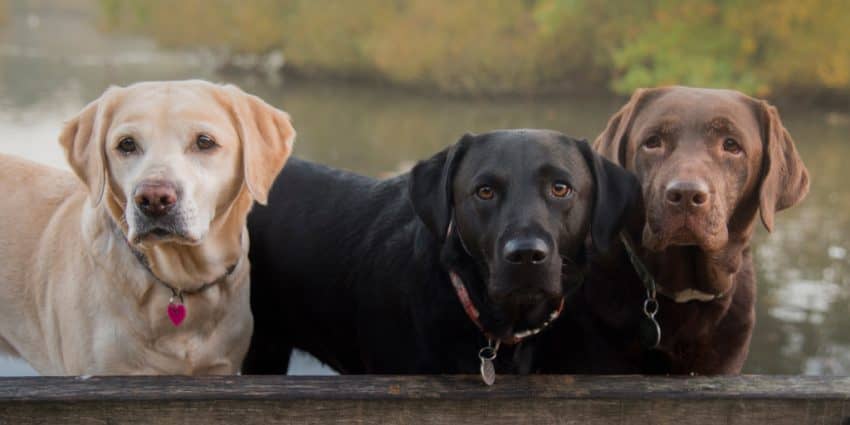 Labrador Retrievers are famous for their gentleness, playful demeanor, and mellow temperament and are still one of the most popular breeds.
However, these charming dogs often suffer from general anxiety and separation anxiety.
Since Labrador Retrievers are working dogs, they thrive on human company and affection.
They're social dogs that can't live in the backyard and become distressed when you're not around to anchor them.
Moreover, Labradors have a gentle soul and can get stressed by sudden changes or tension between family members.
#3 Chihuahua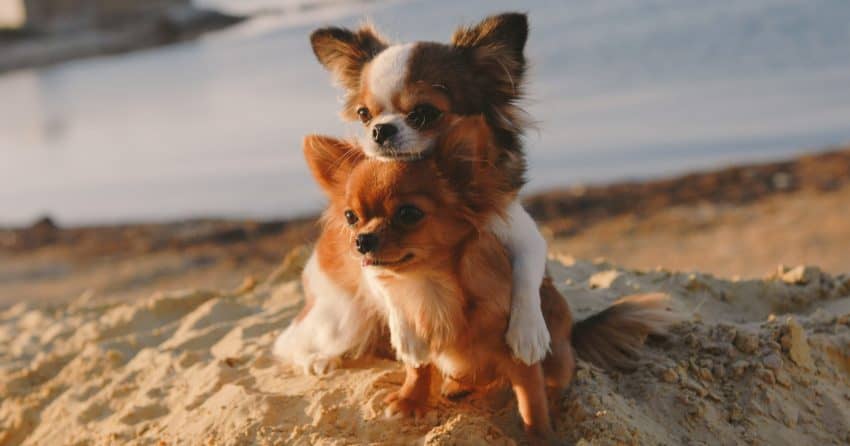 For a dog that weighs no more than six pounds, the Chihuahua has a lot of spunk. Nevertheless, these brave dogs can be prone to anxiety.
For starters, Chihuahuas are companion dogs and bond to a single person.
Their sole purpose of existence is to ride in your bag when you go shopping, sleep on your lap while you're working, and follow you like a shadow around the house.
Due to their small size, Chihuahuas are also prone to accidents that might trigger anxiety.
They can slip through a hole in the fence, get attacked by a hawk, or start a fight with a bigger dog and lose.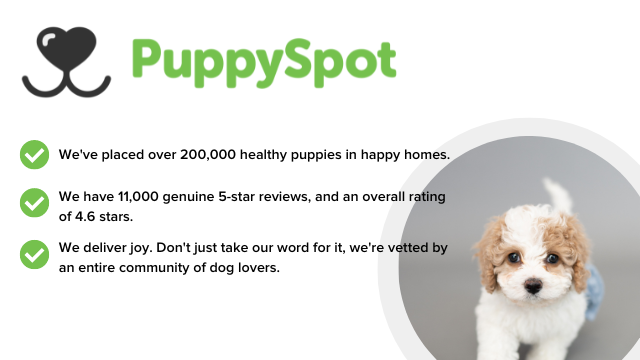 Any negative experience might leave your Chihuahua emotionally scarred, so be careful with them.
 #4 Bichon Frise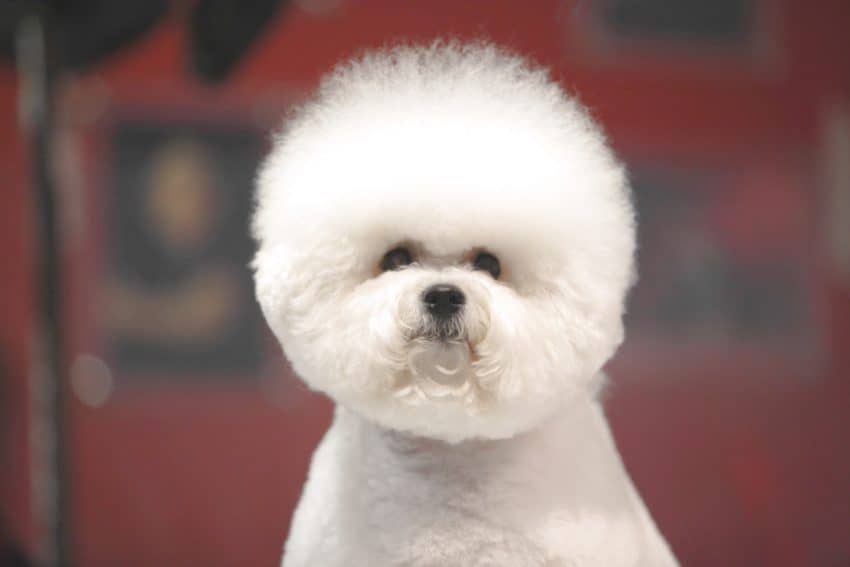 Another tiny dog that's among the dog breeds prone to anxiety is the adorable Bichon Frise. Their charming personality, deep black eyes, and teddy-bear appearance make them popular as companion dogs.
While Bichon Frise is almost always happy and cheerful, they are prone to anxiety when left alone. These cute small dogs bond too strongly to their owners and can't spend long hours without human company.
While the Bichon Frise is highly trainable and obedient, they can be a bit stubborn during housebreaking.
If you have to scold them, do it gently.
A Bichon Frise has a sensitive soul and doesn't take well to harsh corrections. Scolding and yelling can cause anxiety in this tiny dog and make them shy and timid.
#5 Vizsla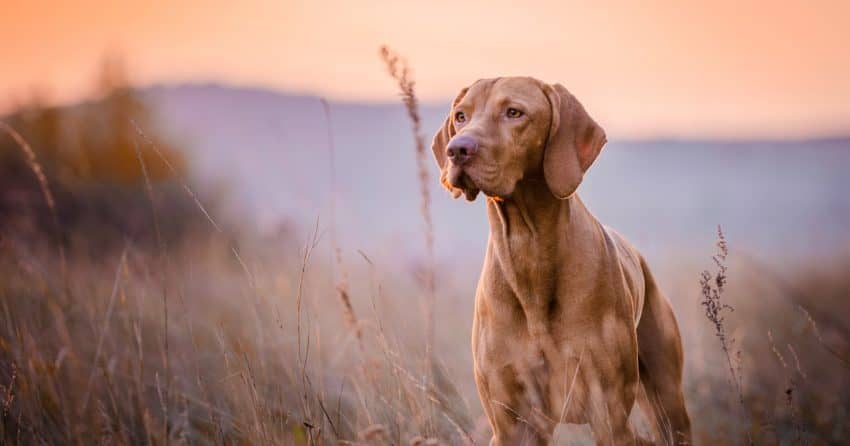 Do you know that people call the Vizsla "Velcro Vizsla"?
That's because this medium-sized dog thrives on human company and can't stand to be alone.
Vizslas are so affectionate that they will stick to your side no matter what.
As you can imagine, such strong attachment means that Vizslas are prone to separation anxiety.
They might become destructive when left alone and start chewing on the furniture or bark excessively.
Moreover, the Vizsla is an active and adventurous dog that enjoys long walks and can be an excellent jogging companion.
But if you don't burn off their excess energy, they can become anxious and stressed.
Still, this emotionally needy dog breed is an excellent choice for those who provide the Vizsla with the affection they need.
#6 Border Collie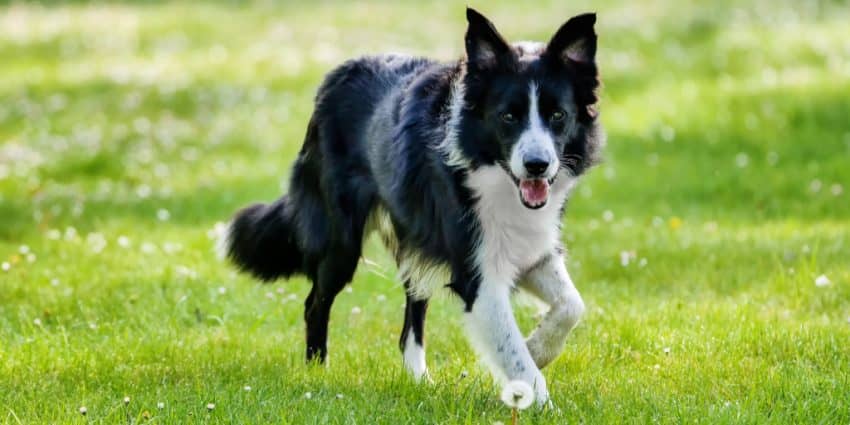 Border Collies are among the most intelligent dogs and often excel in competition and agility sport.
However, these magnificent dogs are prone to anxiety and stress much more than others breeds.
Border Collies are a herding breed, which means that they're used to be around their owner 24/7.
They're so in tune with their owner's emotions that they can accurately predict your actions and need the barest cues to do their job.
Unfortunately, such close relationships with humans is a predisposition for anxiety.
So, it's not that uncommon for Border Collies to panic when you leave them alone and act destructively.
Moreover, Border Collies have high energy needs, making them a bad choice for novice owners. Too much pent up energy is going to make your Border Collie anxious and unable to stay still.
#7 Cocker Spaniel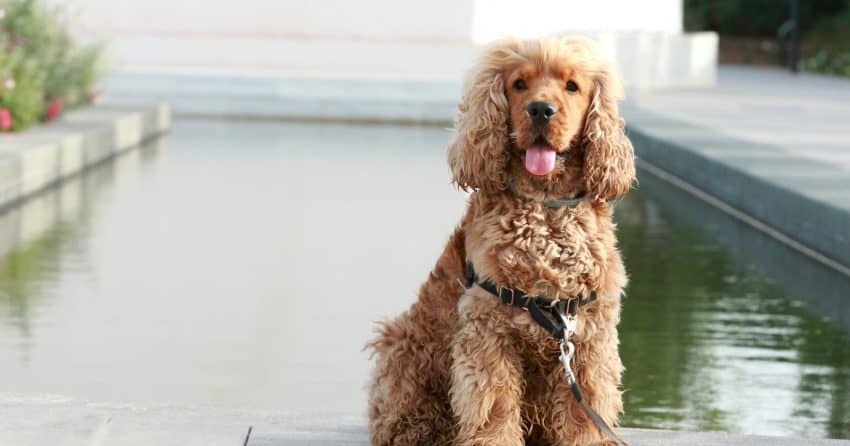 With their long ears, flowing coat, and gentle temperament, the Cocker Spaniel is a joy to have around the house.
They're affectionate dogs who live to please their owners, snuggle on the couch, and chase small animals.
Unfortunately, they are known to be a slightly nervous breed.
Even when you properly socialize your Cocker Spaniel, they're prone to submissive urination when excited or agitated.
Moreover, they are big softies who don't take well to any form of harsh treatment.
Yelling, physical force, or too much reprimanding can make a Cocker Spaniel fearful and anxious.
They do best with lots of positive reinforcement and love.
How to Calm An Anxious Dog?
It can be scary to see your dog shaking from anxiety, so you're probably wondering if you can do something to calm your pet.
First, you should take your dog to the vet as soon as possible.
Pre-diabetes, hypothyroidism, and Graves' disease, among few, can cause sudden anxiety in dogs.
You want to make sure that your dog is healthy and not in pain.
Once you've ruled out a medical condition, you should try to determine what's causing your dog's anxiety.
It might be loud noises, previous traumatic experiences, or lack of sufficient socialization.
Unfortunately, it's not always easy to identify your dog's anxiety triggers, especially in shelter/rescue dogs.
In these cases, you can use these tips to calm your anxious dog:
Learn to recognize your dog's anxiety symptoms. Pacing, trembling, shaking, overgrooming, lip licking, and yawing are common signs of stress in dogs.
Remove or avoid the anxiety trigger if you know what it is.
Establish a daily routine and make changes slowly.
Provide plenty of exercise and physical contact to soothe your dog.
Don't make a big deal of your coming and goings to avoid stressing your pet.
Create a safe space where your dog can hide when they're scared/anxious. Crates are an excellent choice for such situations if used correctly.
Talk to your vet about dog anxiety medications.
Don't panic if your dog seems anxious.
The more you get worked up, the more upset your dog will become because he can smell your emotions.
Stay calm and allow your dog to retreat to their safe spot.
As you can see, it's easy for a dog to develop anxiety.
The best you can do is to socialize your puppy extensively so that your pet isn't afraid of noises, sounds, people, and objects as adult dogs.
Moreover, don't keep your puppy company 24/7. Your puppy should learn to function without you around.
Otherwise, you'll have a dog with separation anxiety that goes crazy when you leave the house.
What do you think about these 7 dog breeds prone to anxiety? Does your dog get anxious, and what do you do? Share your experience in the comment section.