What is the breed of the Pun Husky? It's actually a pretty good question with a surprising answer! If you're looking for an adorable picture of a dog (or any animal, really), a quick internet search will give you plenty of options to get your fix. There's one particular adorable dog, though, who is commonly referred to as the "Pun Husky." His facial expressions are totally meme-worthy, and you can't help but love him!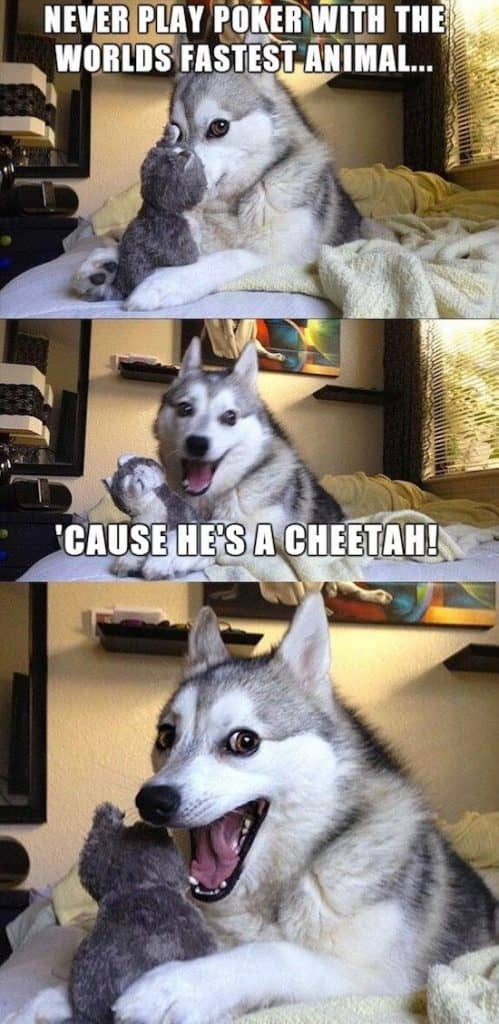 What is the breed of the Pun Husky?
What breed is this incredibly cute dog? You might think he's a miniature Siberian Husky, but he's not. Miniature huskies are the just that – small Siberian Huskies, bred by pairing two smaller-than-normal huskies. The "Pun Husky" is an altogether different breed – an Alaskan Klee Kai. This breed is relatively new (1970s) and was founded by a woman named Linda Spurlin after she and her husband visited his family in Oklahoma. There was an unusual farm dog they called "Curious" – he was a 17 pound gray and white husky. Linda and her husband took the dog back to Alaska and eventually began breeding these little huskies, being careful to breed only those that would make the breed itself stronger.
Linda was convinced by friends to sell one of the dogs to be given as a Christmas gift in 1987, and requests started flooding in for the dogs. Quickly, Linda realized she needed to name the breed and chose Klee Kai – Eskimo words meaning "little dog." If you're interested in the full history, take a look at this letter from Linda Spurlin – it's pretty neat!
Both the Alaskan Klee Kai and Alaskan Husky are Spitz breed dogs, and while their markings look similar, the Klee Kai is smaller and has a different temperament than the husky. The Alaskan Klee Kai was bred to be a companion dog rather than a sled dog; they are very intelligent and love to please their humans. That said, they may be shy and uncomfortable around strangers, making their temperament a bit more like a cat than an Alaskan or Siberian Husky.
If you're looking to bring an Alaskan Klee Kai into your family, there are two good resources for you find a reputable breeder or adoption agency – the Alaskan Klee Kai Association of America and Alaskan Klee Kai National Rescue. Because of the demand for these cute dogs, there is a greater likelihood of unethical breeding standards or scams, making it even more important to do your research before selecting a breeder.
Who knows – if you do decide to welcome an Alaskan Klee Kai into your home, you might just become an internet sensation with the cute pictures you post! Do any of our readers already have an Alaskan Klee Kai? We'd love to hear more about your experiences, if so!
Were you surprised by the breed of the pun husky? Do you have a favorite dog meme? Share in the comments!