"Does my dog need a bed?"
You might be wondering that, especially if your dog seems content napping on the couch or cuddling with you at night.
So, should you get your pooch a comfy dog bedor just let him continue sleeping on the sofa?
Keep on reading to find the answer.
Content & Quick Navigation
Does My Dog Need a Bed?
Several decades ago, the notion of a dog bed would have seemed ridiculous and strange.
Nowadays, every pet store today has a selection of dog beds that ranges from cheap ones to luxurious one that cost a small fortune.
But do you need one?
Even if your dog sleeps in their dog bed occasionally, your pooch should have a bed.
Let's see why and how many dog beds you need for your dog.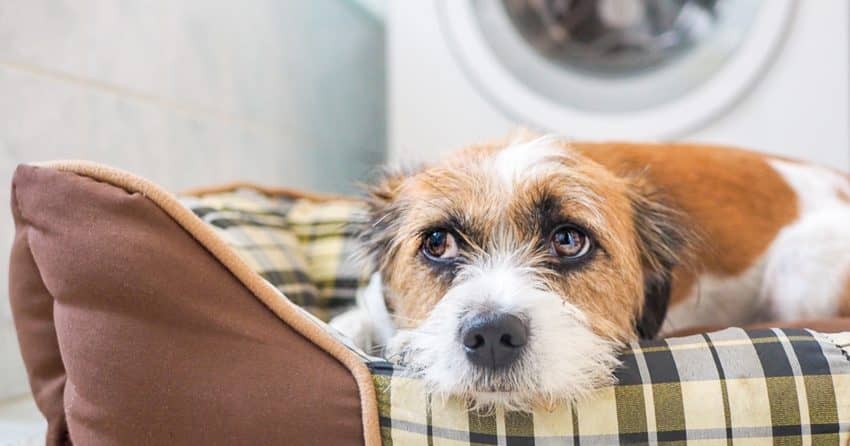 Why Does Your Dog Need a Bed?
We all know that dogs can sleep anywhere, be it on the floor or at your bed.
However, your dog deserves to have a separate bed for several reasons.
For starters, your dog should have their private spot, which they don't have to share with anybody.
Sleeping next to might not be comfortable all the time, especially when you toss and turn all night.
Your dog should have the choice to move to their bed if they want to.
It's also not good for some dogs to sleep in human beds or on the floor. Neither your bed nor the floor can support your dog's joints.
Some dogs are prone to bone problems, and older pets often need orthopedic beds to lessen the pressure on the joints.
Moreover, if you're allergic to dogs, you have to keep your pooch out of the bedroom so that you can breathe at night.
Some dogs also have accidents during the night.
It's never pleasant to wake up in the middle of the night in a wet, stinking bed.
And unlike your mattress, dog beds are easy to wash.
Another reason why you need a dog bed is that you can take the bed with you when you travel.
If your dog is used to sleeping on the couch, they will be anxious. But if you have your pooch's favorite bed, your dog will be less stressed.
And let's face it. There would be times when you want the bed for yourself, and if your dog doesn't have a napping spot, they can feel neglected.
How Many Dog Beds Should a Dog Have?
In general, specialists recommend that your dog should have a bed in every room where you spend time sitting or sleeping.
For example, you should get one for the living room, one for the bedroom, and one for the family room.
While your expenses might not allow you to get so many dog beds, you should have at least two —one for your dog to sleep in and one for emergencies.
Otherwise, your dog won't have anything to sleep in if they wet their bed.
Do two dogs need separate beds?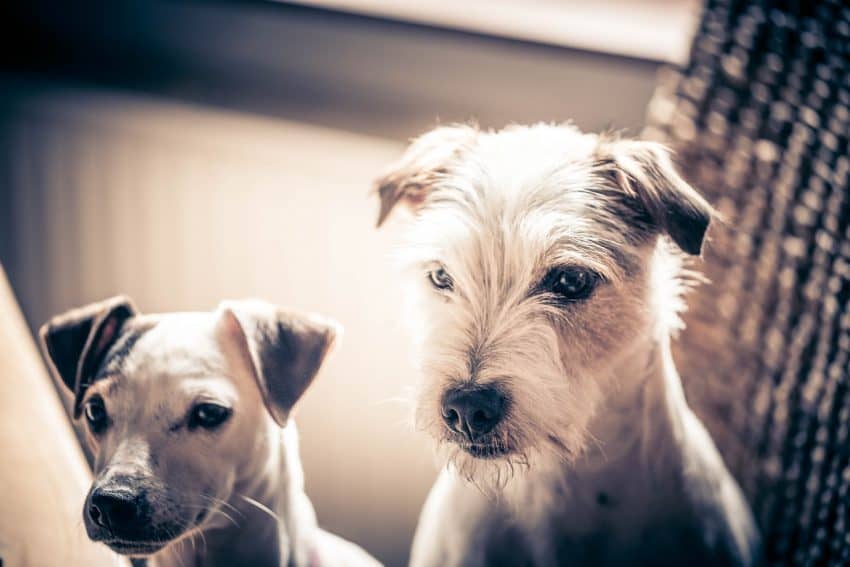 So, your dog requires a separate bed from yours. But what about if you have two dogs? Do your dogs need separate beds?
Specialists recommend that all your dogs have a separate sleeping spot.
So, if you have two or three dogs, you'll have to get a bed for each of them. Otherwise, there might be tension about who should sleep in the dog bed.
Introducing a new dog to your old one is a process.
Your two dogs won't become friends immediately, and your old dog isn't going to be in the mood for sharing.
Having one bed for two dogs can trigger your dog's resource guarding behavior, and you don't want that.
Of course, in time, your dogs might start to share a bed.
But that should be their decision, and each should have a resting place where they can sleep without being bothered by the other.
How to Choose a Dog Bed?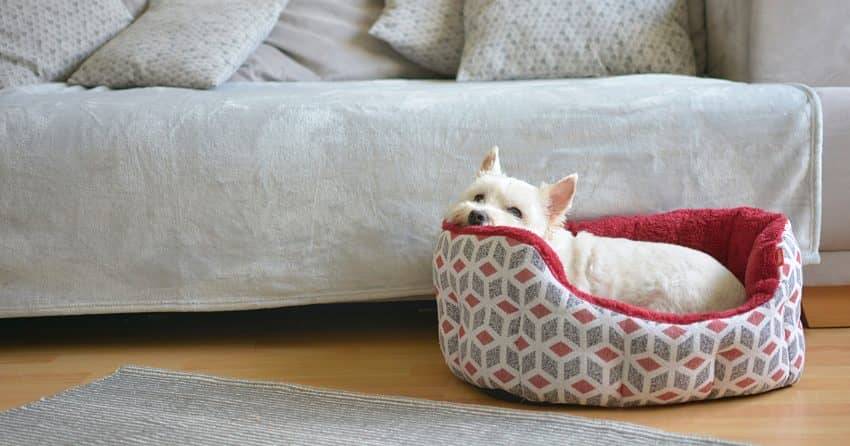 Before you go on a shopping spree for dog beds, you should consider your dog's preferences, size, and age.
Otherwise, you'll end up with a bed that your dog might never use.
Some dogs like to snuggle and feel unprotected if they're too exposed. Cave or nest beds would be their natural choice.
Others prefer to stretch and have enough room to move around. For them, you might get a mattress with memory foam or a flat pad.
Usually, small dogs prefer nest-like beds, while larger breeds go for mattresses or cot-like beds that keep them elevated from the floor.
As for age, older dogs might do better with orthopedic beds to support the joints. On the other hand, heated beds are perfect for pets that get cold easily or ones with arthritis.
The size of your dog also matters.
As a rule, your dog's head and limbs shouldn't hang out of the bed's edge. So, you should measure your dog before you start looking at potential dog beds.
You should also keep in mind that small dogs don't big beds since they feel exposed and big dogs might not be fans of covered beds.
So, it will take you time to find the best dog bed for your small dog or the best dog bed for your big pooch.
When choosing a dog bed, you should also consider your lifestyle.
Some people are worried about the planet and prefer to buy recyclable products. In these cases, you can get an eco-friendly dog bed.
[embedpost postid="24955″]
How Often Should You Buy a New Dog Bed?
If your dog has stopped using their favorite bed, you might be wondering what's going on.
Dogs are clean creatures, and they won't sleep in their bed if it's too dirty and smelling.
As such, you have to wash your dog's bed every couple of weeks.
Fortunately, most dog beds are machine washable. So it's a matter of tossing them in the washing machine.
When you do it, you should also bath your dog. Otherwise, they will get the dog bed dirty before you know it.
If washing doesn't do the trick, it's probably time to buy a new bed.
Unfortunately, beds lose their stability over time and get uncomfortable.
Moreover, dogs get tired of their beds sometimes and want something more comfortable or spacious.
How Long Does a Dog Bed Last?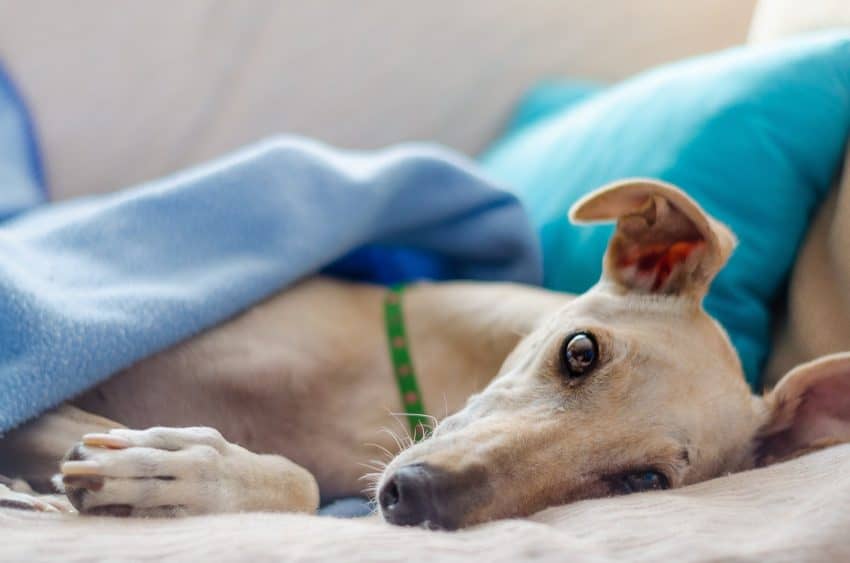 When you understand that your dog does need a bed, you might be wondering how long that bed would last.
Speaking frankly, it depends on the quality of the material and your dog's tendency to chew the bed.
Cheap dog beds are more affordable, but they tend to break apart quickly.
Moreover, their stuffing might not be to your dog's liking, since it's usually too thin to be comfortable.
Expensive dog beds aren't a guarantee that your dog will like them.
But they're usually made with better material and can withstand chewing. So, they're going to last your dog longer.
No matter the bed, your dog is going to wear it down eventually or chew through the material.
Large dogs usually do it faster than small ones.
That's why it's smart to keep one in reserve when such accidents happen.
In short, yes, your dog needs a bed.
Maybe his survival doesn't depend on it, but it's definitely up there on the list of things that make a dog's life better.
It doesn't have to be anything too fancy, but it should offer comfort, stability, and appeal to your dog's preferences.
It's that simple.
What do you think about the topic? Does your dog need a bed? Do you have more than one? Tell us in the comments.