Have you ever wondered if Pitbulls make good therapy dogs?
The breed has such a bad rep that most people imagine a vicious, aggressive dog whenever someone says, "Pitbull."
But what's the truth, and how suitable Pitbulls are for therapy?
Keep on reading to find the answers.
Do Pitbulls Make Good Therapy Dogs?
We all know that dogs are loyal and affectionate companions.
But they also can help reduce your stress level, lower your heart rate, and relieve depression.
It's not a coincidence that dogs are one of the most popular therapy animals.
Most people will never consider a Pitbull to be a suitable therapy dog due to the breed's reputation.
However, they would be wrong because Pitbulls can make excellent therapy dogs, given a chance.
So, let's learn more about what therapy dogs do and what makes Pitbulls suitable for this job.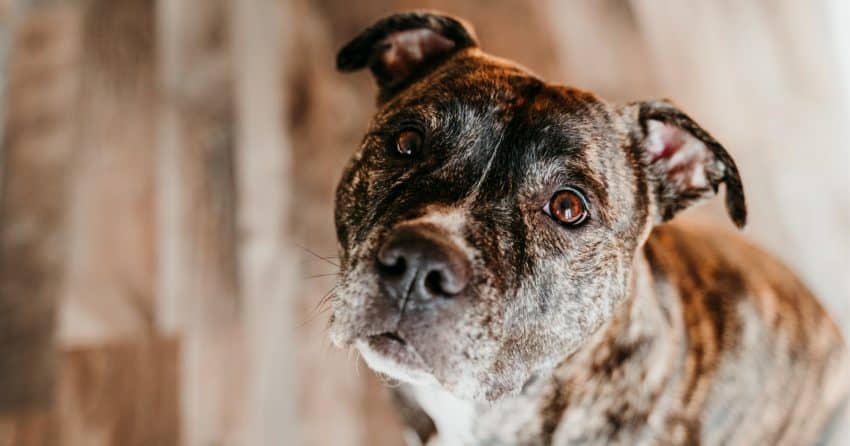 Pitbull Origin and Temperament
"Pitbulls are aggressive, dangerous, and likely to attack out of the blue."
A lot of owners hear such statements about their dog from people who know very little about the breed.
Unfortunately, the general public has a very bad opinion of Pitbulls and believes myths circulating in social media.
So, let's debunk some of these stories.
Pitbull myths and misconceptions
For starters, Pitbull is not a breed.
It's a name people use to describe Bully breeds that share common traits, such as muscular bodies, square heads, and short stature.
Such Bully breeds would be the American Pit Bull Terrier and the American Staffordshire Terrier, for example.
Originally, people created the Pitbull breeds for bull baiting, which was a popular sport centuries ago.
Later, these dogs were used in dog fights and rat-baiting.
This bloody and violent past makes people think that Pitbulls are "natural killers" and far too dangerous to be around children.
The truth is quite different. Since handlers had to remove the dog from the fighting pit, bite inhibition towards humans was encouraged. 
So, Pitbulls aren't more likely to bite a person than other breeds.
They don't have lockjaws and they do feel pain as much as any other breeds.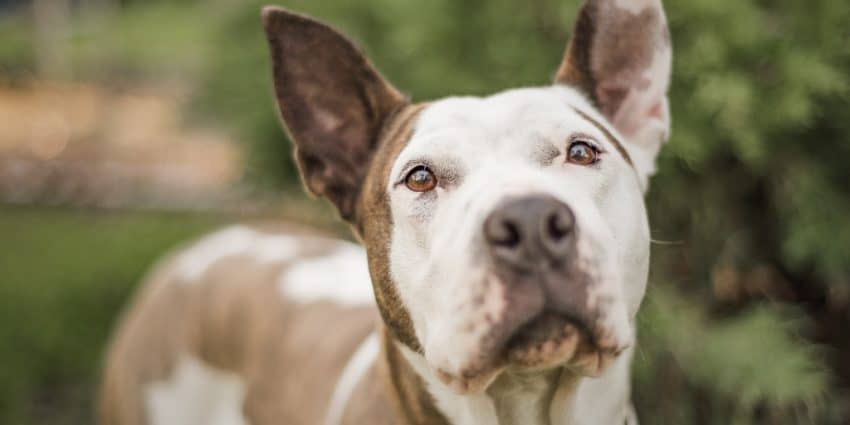 Instead, Pitbulls are sensitive dogs whose only purpose is to please their owner.
They're playful, charming, and get on well with children.
Despite what you've heard, Pitbulls don't make good guard dogs because they greet people with a wagging tail.
Their intelligence, high trainability, and eagerness to please are what makes Pitbulls great family dogs.
They're tenacious, agile, and determined, so they excel at agility training and sport.
Unfortunately, these qualities often attract the wrong type of owner that turns a sweet dog into a vicious one.
What Do Therapy Dogs Do?
People often confuse therapy dogs with service dogs or emotional support animals.
I want to make the distinctions clear before we discuss why Pitbulls make good therapy dogs.
Service dogs are trained to perform a task for a person with a disability. For example, they might alert their owner about low blood sugar levels.
They're working dogs, not pets, and are allowed inside public buildings.
Most service dogs wear a special vest to identify their status. That's not an official requirement, but it saves people the explanation when they walk into a building.
On the other hand, therapy animals provide comfort to people in hospitals, nursing homes, hospices, and so on. To do their job, these dogs have to be certified.
In general, we can distinguish three types of therapy dogs:
Therapeutic visitation dogs.
They are household dogs who visit people in hospitals, hospices, nursing homes, etc. to comfort them.
When they finish their job, they go back home with their owner.
Animal-assisted therapy dogs.
These dogs are part of the therapy treatment plan and work alongside therapists to help people recover.
Facility therapy animals.
Such dogs commonly work in nursing homes to assist patients with Alzheimer's or other mental diseases.
On the other hand, emotional support dogs help their owners deal with depression, anxiety, and fears.
They provide support and companionship only to their owner.
As such, they don't require a certificate, unlike therapy or service dogs.
Why Pitbulls Make Good Therapy Dogs?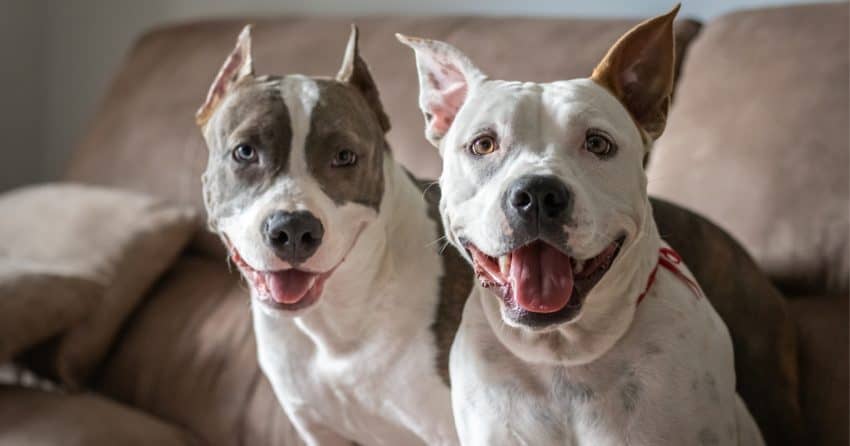 When you say "therapy dog," most people will automatically think you're talking about Labradors or Golden Retrievers.
While some breeds are more suitable for such a job than others, all well-behaved dogs can become therapy animals.
But they have to meet certain criteria and get certified.
So, what qualities should a therapy dog have? In general, therapy animals are calm, gentle, and thrive on attention.
They like it when people pet them and don't get triggered when handled clumsily.
Other important therapy dog characteristics are:
Be comfortable around stimuli. Loud noises, crowds, or unfamiliar people shouldn't freak out the dog or make them skittish/aggressive.
Get along with other people/animals. A dog that doesn't like children or is shy around strangers won't make a good therapy dog.
Be balanced. A therapy animal shouldn't be too playful or energetic because they might get carried away.
Intelligent, obedient, and eager to please. Therapy dogs should respond to their handler's commands all the time.
Be adaptable. Since therapy animals visit many places, the dog should be able to adapt quickly to different situations.
Be gentle.
As you can see, Pitbulls have most of these characteristics.
They're intelligent, eager to please, and people-orientated.
Pitbulls are also affectionate, gentle, and love to be part of your daily activities.
Some Pitbulls have a problem with other dogs and might be aggressive towards animals, but that could be fixed with early socialization.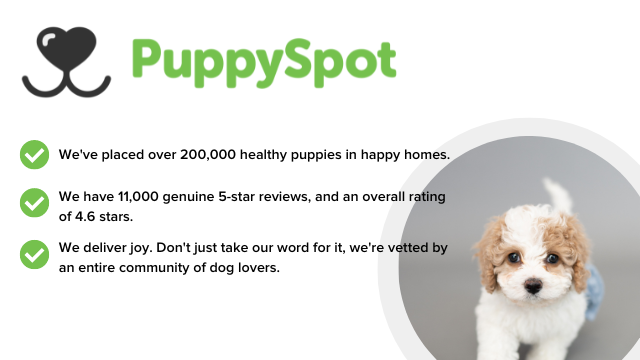 Obedience training can also help you keep in check the Pitbull's playful nature and their endless supply of energy.
How to Know If My Pitbull Will Make a Good Therapy Dog?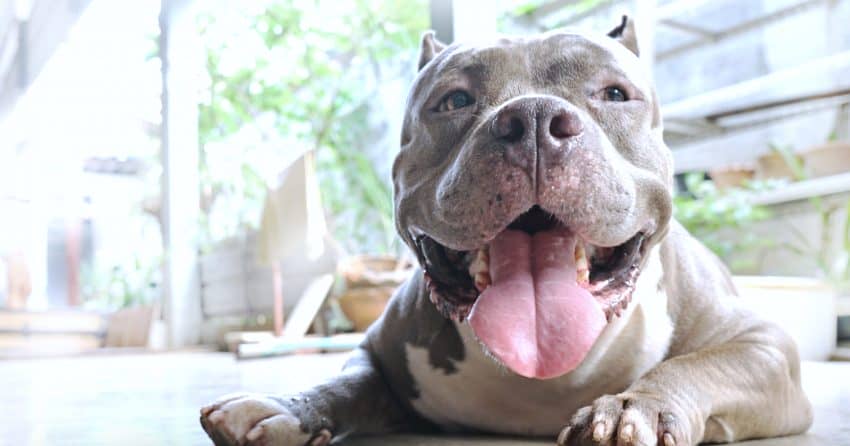 While Pitbulls make good therapy dogs, not all Pitbulls will want to do this job.
Some Pitbulls bond too closely with their owner and won't be so comfortable around strangers.
Others might be too energetic and playful to make good therapy dogs.
Unfortunately, you won't be able to tell how suitable your dog is until they mature and lose their puppyish demeanor.
That happens when your Pitbull is around 2-3 years.
In the meantime, you can do two things – socialization and obedience training.
Socialization ensures that your Pitbull is used to meeting different people and isn't bothered by strange sounds, sights, and smells.
That's imperative if you want your Pitbull to be a mellow dog.
Obedience training is essential for Pitbull ones due to widespread misconceptions and fears.
Moreover, all therapy dogs should respond to their handler without hesitation.
No one will allow you access to a hospital if you can't command your dog to sit, stay, or leave it.
You can check the Alliance of Therapy Dogs website to get more information about therapy dog training and the process.
All well-behaved dogs can become therapy dogs, as long as you train them properly and get them certified.
Pitbulls aren't an exception, and they can make excellent therapy dogs with the right training.
However, before you start therapy dog training your pet, you should consider it carefully.
It can be a difficult job not only for the dog but also for the handler.
What do you think? Do Pitbulls make good therapy dogs according to you? Share your thoughts in the comment section.