Do dogs get sad when you get another dog?
If you're thinking about getting a second dog, it's definitely something to consider.
So, let's explore the answer together (hint, it's not going to be a simple "yes" or "no" deal).
We'll also look at some other potential emotions your dog could experience when you bring home another fur friend.

Do Dogs Get Sad at all?
Ask a dozen experts if dogs feel sadness at all, and you'll get a mixed bag of answers.
Some adamantly claim that, no, dogs don't get sad when you get another dog, or at all for that matter.
At least not in the sense that we understand sadness.
Others say yes, absolutely, dogs experience depression and melancholy, and a whole range of emotions.
In fact, one expert- Gregory Berns, a neuroscientist-actually did a whole MRI study to examine dog's brains and determine if they have feelings.
According to his research, they not only get sad, but experience a whole range of emotions.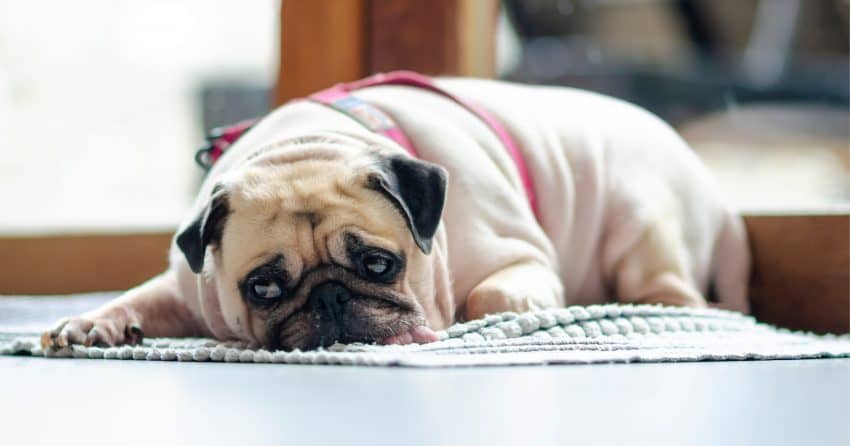 Do Dogs Get Sad When You Get Another Dog?
I've seen my dogs experience heartbreak. I've seen the pure grief that came from losing their fur siblings.
However, I've never seen it from the opposite end. I've never experienced a dog getting sad because I brought home a new friend.
That doesn't mean it can't happen, or that they don't have strong feelings about this new furry bundle of joy.
Let's take a look at some of the most common emotions (or, at least the human version that we attribute to certain reactions) involved in bringing home a second dog.
Excitement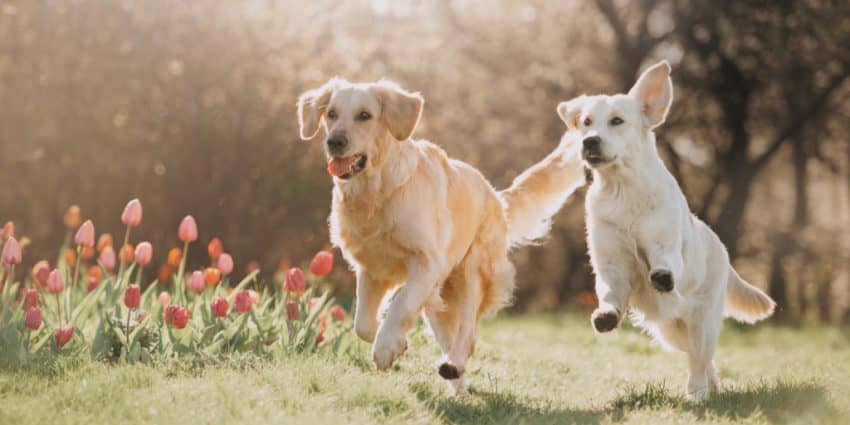 When my first dog, a German Shepherd named Tasha, was about 6 months old, we brought home 8-week-old Maia, a lab/collie mix.
Tasha was absolutely overjoyed! She followed her around, couldn't wait to play with her, and even shared her bones.
That last one was a big mistake, because from then on Maia decided all bones belonged to her, but Tasha was so crazy about her "sister" she didn't even seem to mind.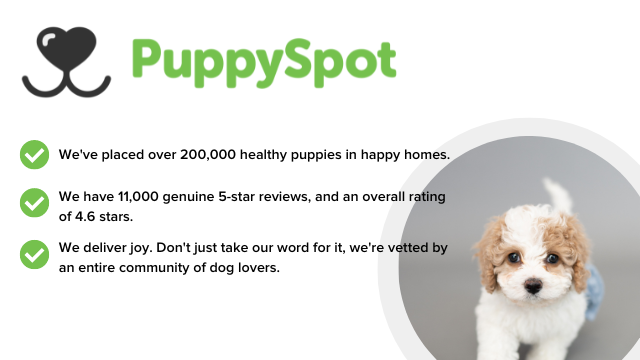 The two of them bonded instantly and practically become one single puppy. Where one went, the other followed.
Anxiety
Dogs who are so tightly bonded with their owners and used to being "top pup" in the house can experience anxiety towards new arrivals.
Maia may have loved her big "sissy" Tasha, but she was petrified of other puppies. Not older dogs, mind you, but puppies.
We  dog-sat my grandparent's GSD puppy, Amber when Maia was about two.
She was so freaked out, she jumped up on our buffet table to get away from Amber!
If your dog experiences anxiety when you bring home a second pup, consider consulting an expert.
You may need to introduce them to each other more slowly, keeping them separated until they adapt to each other.
Depression
Yes, it turns out dogs do get sad when you bring home another pup, at least sometimes.
If you're worried that your dog is sad to the point of depression, consult a vet. Symptoms include:
Loss of appetite and, if left unchecked, potentially extreme weight loss.
Low energy, lack of desire to do his favorite things.
Withdrawing and hiding, even avoiding his favorite people.
Restlessness, can't seem to settle.
Signs of aggression, like snarling and snapping.
Just like in people, the signs can vary significantly from dog to dog, so if you notice any of them at all, call your vet.
Suspicion and Cautiousness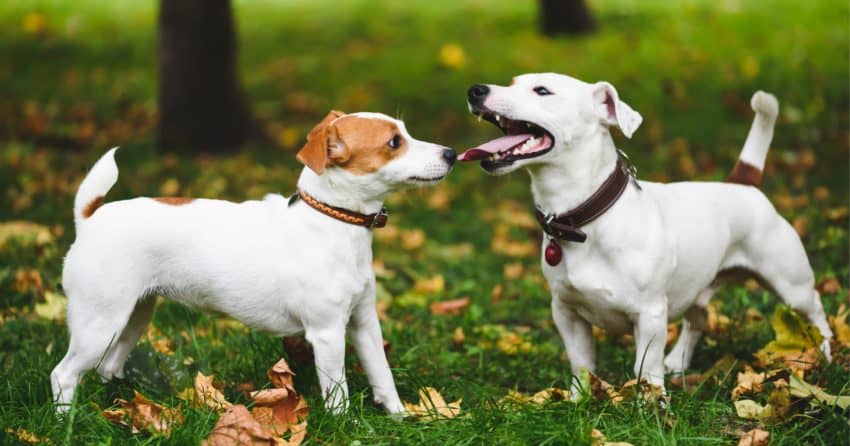 Your dog may view the newcomer with a sense of suspicion and caution.
Who is this guy? Where did he come from? Is he going to steal my favorite fluffy bunny? My food? My people?!?!
When we brought Cooper home at six months, we figured we were in the clear with Maia. He wasn't a puppy, after all.
Sure, she wasn't petrified, but she was super wary of him. Tasha loved all dogs great and small, so she accepted him immediately.
It took years for Maia to really bond with Cooper, and even then she was never as close to him as she was to Tasha.
If you think about it, this is probably the most logical and natural reaction to a new dog.
After all, your current pup has no way of knowing this guy can be trusted!
Protectiveness
If your dog is naturally over-protective, then he may react to the newcomer with borderline aggression.
It's not that he hates your new dog, it's just that he's afraid this boisterous little being will harm you in some way.
There's a fine line between protecting and over-protecting. If you think your dog has crossed that line, consult an expert.
It's not cute to have a dog that will do anything to stand between you and danger, because honestly, your dog isn't always the best judge of what counts as a threat.
Not only does it make introducing a new dog difficult, it can lead to tragedy with other humans as well.
Indifference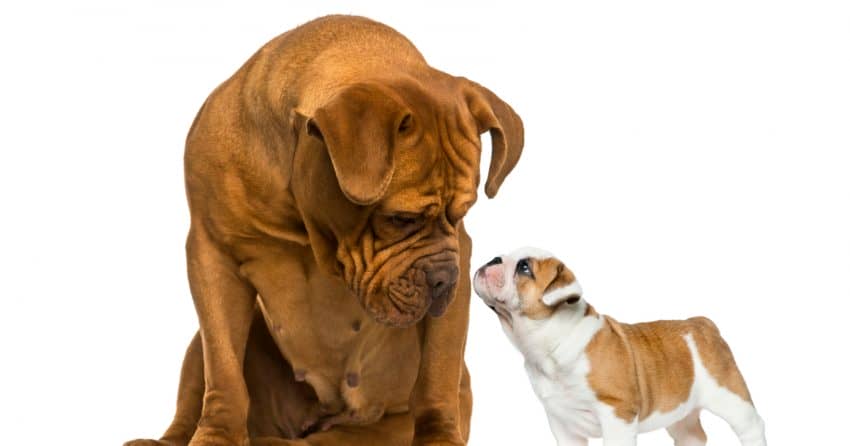 Sometimes, you'll find that your dog doesn't get sad, mad, excited, scared, or protective at all. He may not react, period!
Cooper was 10 when we brought Freya home. I kid you not, he looked at her once, huffed a bit as if to say, "really?" then proceeded to ignore her.
He'd let her sleep up against him (as indifferent as he was, she was equally fervent in her adoration of her big brother), even let her steal his food.
He drew the line at biting his tail, but even then, he just got up and walked away from her. Total indifference.
A Full-On Existential Crisis
Your dog could go through a period of all of the above and more.
He could find himself questioning his place in your life, your home, and his entire world.
While recent research says that dogs aren't pack animals, the analogy kind of still works.
He had a very specific place in your world, a very set routine. Now, this newcomer is throwing all of it into disarray.
You take her for a walk first! The humanity! (He doesn't know she has a smaller bladder and can't hold it like he can).
She steals his toys, his food, his attention, his spot on the sofa. Oh, he's just so mad he could bark!
Yet, at the same time, he kind of likes her. She's funny, she's fast, she knows how to play tug!
But she's noisy when he's trying to nap. She's scary with those sharp puppy teeth. She bites his tail and toes. She's awful!
Oh, but she leaves behind half-eaten bones and snacky treats! She's amazing!
See, full-on existential crisis. Honestly, that's the most likely scenario!
Dogs are far more complex being than a lot of people give them credit for being.
Proceed with Caution When Introducing Dogs to Each Other
There's really no way to tell ahead of time how your dog will react to a new pup.
Even if he was thrilled to meet dog #2, he may despise #3.
So, treat each situation as if the worst case scenario could occur.
Introduce them slowly and keep them separated until you know they'll get along.
Keep a close eye on their body language, and be prepared to intervene if things start to turn ugly.
If your dog does start to show signs of depression, remember, consult your vet.