Thinking about doing DNA testing for mixed breed dogs to find out what kind of pup you have?
I've been looking into this quite a bit myself!
I'm super curious to know if those DNA kits are worth the money, so I did a bit (okay, a lot) of research.
Learn what I found out, plus discover the best DNA test to try with your dog! 
Content & Quick Navigation
All About DNA Testing for Mixed Breed Dogs
 DNA was first used in 1986 to aid a criminal investigation. Since then, this technology has only gotten better and more accurate.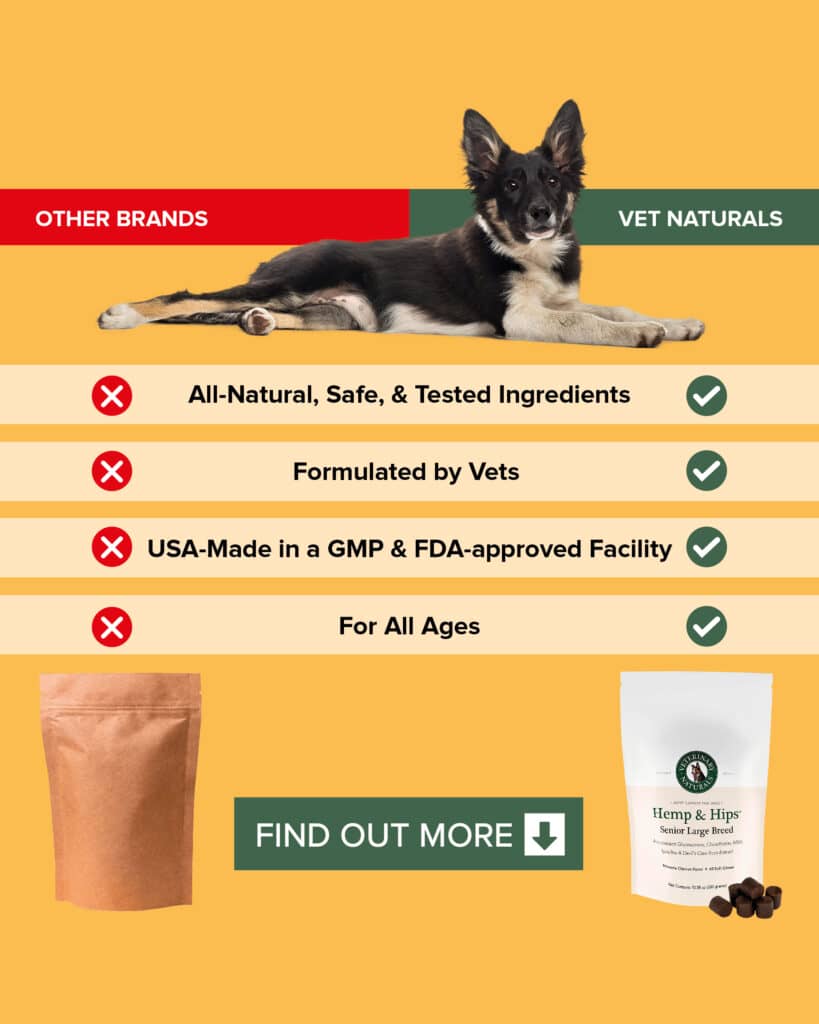 Today, we not only use DNA to put the bad guys behind bars, and to discover paternal links, but it can also be used to determine what our canine companions are made up of.
In this post, we will dig deeper into the world of DNA testing for mixed breed dogs and what you need to know. Plus, we'll review the top DNA test kit on the market today.
What is DNA?
DNA is an acronym for 'deoxyribonucleic acid,' which is the hereditary material in humans and almost all other organisms, including our dogs. This "genetic code" carries information about personality, appearance, and health and allows us to understand our mixed breed dogs better.
Testing our dog's DNA has been simplified and brought to the masses through easy-to-use kits. These kits can be purchased online, through a pet retailer or a veterinarian.
The good thing about these kits is you don't require any special skills to conduct one – most DNA kits require swabbing the dog's cheeks. It's painless and takes less than a minute to do, yet is accurate enough to identify most breeds.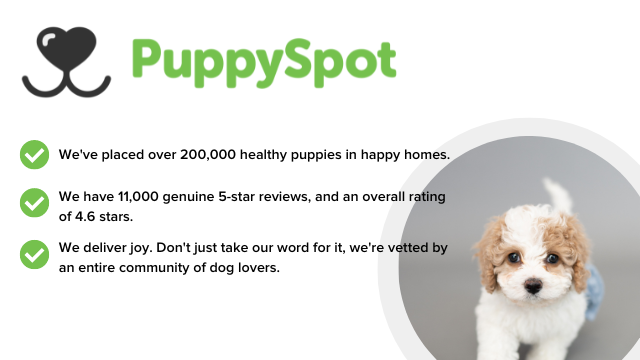 Why Do DNA Testing on Mixed Breed Dogs?
Although we may think we know what our mixed breed dog is genetical, based on its appearance, there can be a lot more going on in there than we believe.
Knowing the DNA makeup of our pets will allow us to better provide for their needs. We will have more insight into their exercise requirements, coat, and general health concerns.
We will also have a better understanding of their personality and temperament traits – as a pet parent, this would enable us to anticipate factors that could affect its behavior.
Once we have the DNA results, we can discuss any genetic predispositions our mixed breed may have with our veterinarians, to either prevent or treat it.
Top DNA Testing Kit for Dogs
Affiliate links included below. If you make a purchase through these links, we earn a small commission.
| | | | |
| --- | --- | --- | --- |
|   |  Best Dog DNA Kits |  Benefits | Price |
| |  Embark |  Tests for over 175 breeds and 160 diseases. Most comprehensive overall. |  $$$$$ |
| |  Wisdom Panel |  Tests for over 250 breeds. Only test to screen for the mrd1 drug sensitivity. |  $$$ |
| |  Find My Pet DNA |  Custom photo certificate of your dog's genetic breakdown. |  $$$ |
| |  Canine Health Check |  Checks for over 150 diseases and genetic conditions. |  $$$$ |
If you've decided to DNA test your mixed breed dog, we've tracked down the top pick on the web.
Check it out.
Embark DNA Testing Kit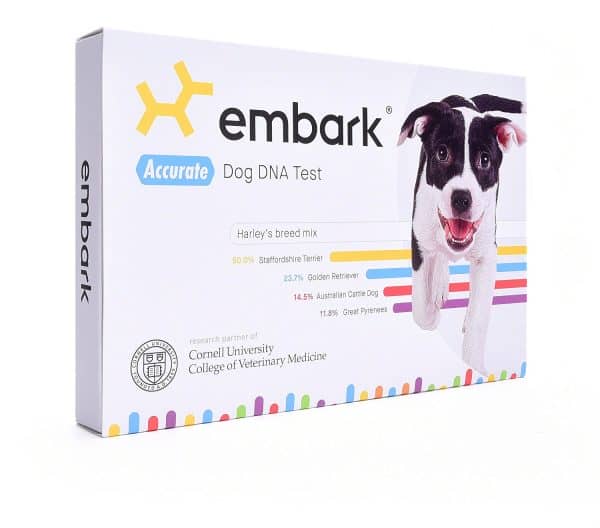 Embark uses the most accurate breed identification scientifically possible.
It tests for over 175 dog breeds (even

wolf

, coyote, and village dog ancestry). Together these breeds cover over 98% of canines in America.

The Embark Dog DNA Test can also tell you the maternal and paternal group that your dog has in his or her ancestry, back to great-grandparents.

It also tests for over 160 diseases so you can better plan for healthy aging.

It provides information on everything from genetic disorders to drug sensitivities.

It even checks for those conditions that occur later in life including glaucoma, degenerative myelopathy, and dilated cardiomyopathy.
How are the results found?
Embark is partnered with Cornell University College of Veterinary Medicine which is certified by the Orthopedic Foundation for Animals.
Professional dog breeders and veterinary hospitals trust it.
Results will tell you information on traits that range from coat color to altitude adaptation.
Where other tests just show you the breeds in your dog, Embark looks at the genetic basis of appearance to explain why your dog looks the way it does.
Pros of the Embark DNA Test
Partnered with Cornell University

Ensures quality control

Test results are confirmed

Provides graphic representation of dog's DNA

Includes a vet report of the genetic summary of the breeds

Results delivered via Smartphone, tablet, and PC devices

Tests for more than 200,000 canine genetic markers
Cons of the Embark DNA Test
Can take over two months to get results back

Cost two to three times more than other DNA tests
Check out a sampling of what you'll see on your report here. 
Other DNA Tests for Mixed Breed Dogs
While Embark is our top choice, it's not the only DNA test for mixed breed dogs on the market.

Let's check out a few of the others.
1. Wisdom Panel
Our second choice, and a very close second at that, is Wisdom Panel.
At about half the cost of Embark, Wisdom Panel features the largest breed database of all the dog DNA tests.
It covers more than 250 breeds and types.
Wisdom Panel is also the only canine DNA test that's licensed to screen for the mrd1 drug sensitivity. They'll do that at no extra charge.
As for what to expect from your results, you'll find out your dog's ancestors down to the great grand-parent level…to a certain degree. The test only determines a certain amount of DNA ancestors. Basically, if your dog is super mix with dozens of breeds throughout her DNA, you may only find out about the top few.
It comes with pre-paid shipping and results take just about 2-3 weeks to get back.
2. 
Find My Pet DNA Dog DNA Test
For around the same price as Wisdom Panel, you can also try out Find My Pet DNA.
Like the other tests on this list, you just need to swab your dog's cheek and send it in the pre-paid envelope.
You'll get your results back in about 3 weeks.
You'll also get a custom photo certificate of your dog's DNA composition that you can take along to your vet to use as a reference.
Here is a sample of their result:
3. Canine Health Check
This one is NOT a DNA test per se, but it belongs on the list because it helps you screen for diseases in your mixed breed dog.
When you don't know the breed, you don't really know what to watch out for.
Canine Health Check screens for more than 150 different dog diseases and traits.
It's useful to determine if your dog is a carrier for any of the diseases.
Just keep in mind that being a carrier doesn't mean your dog will get sick.
Use this test as a guide to help you work with your vet to keep your pup healthy.
As with the other tests, you'll send a cheek swab back in a pre-paid shipping package.
Results come back fast!
Typically in about 7-10 days.
DNA Testing and Your Mixed Breed Canine
Whether you use DNA testing or not is up to you. However, having the genetic makeup of your mixed breed dog can help you be a better pet parent.
DNA testing will give you insight into your dog's present and future health issues, diet requirements, exercise needs, and of course, your dog's physical appearance.
If you want to conduct a DNA test on your dog, use the leading brand being toted by experts or ask your veterinarian for suggestions.
Give your mixed breed the best life possible by arming yourself with all the information available today in DNA testing.
Have you ever done DNA testing on your mixed breed dog? Share your results below!