Looking for some brilliant gift ideas for dogs?
Maybe you're starting your holiday shopping early?
Perhaps you just want something cute to celebrate his adoption day?
Whatever the reason, we've got you covered with adorable ideas below!
10 Adorable Gift Ideas For Dogs
From super cute toys to cozy personalized blankets, we've rounded up some of the most diverse gift ideas for your dog!
FYI, this post contains affiliate links. If you make a purchase through these links, we earn a small commission at no extra charge to you. 
1. Natural Hemp Rope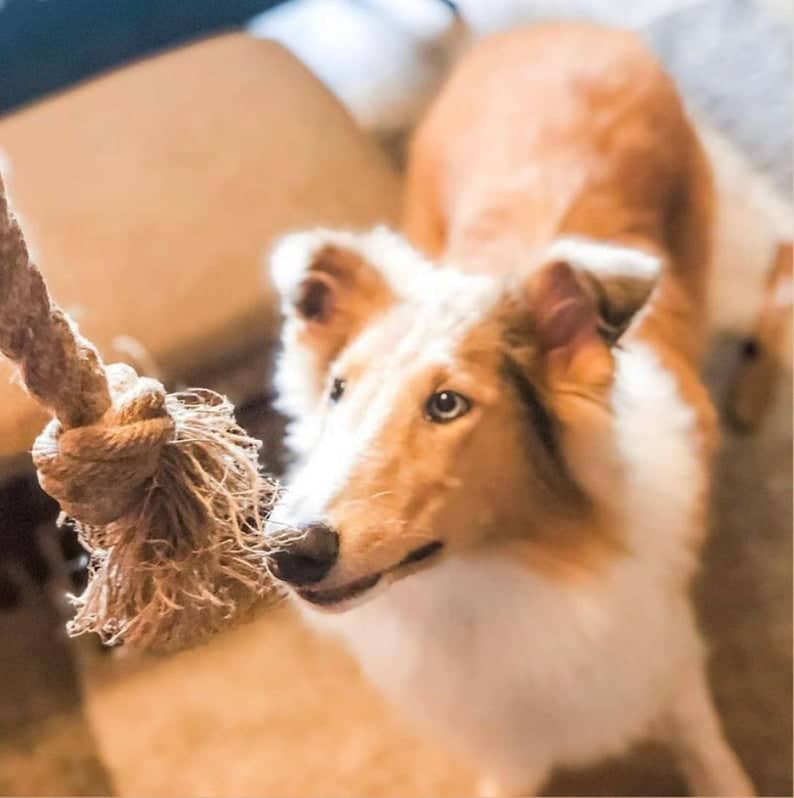 Dogs love to play tug-of-war, and this natural hemp rope will help the two of you initiate the best play sessions.
It comes in four different sizes, so you can choose something proper for your breed.
I really like how the ends are extra-knotted, making it much easier for you to hold onto while playing tug with your pup!
You can find it on Etsy. 

2. Durable Firehose Toy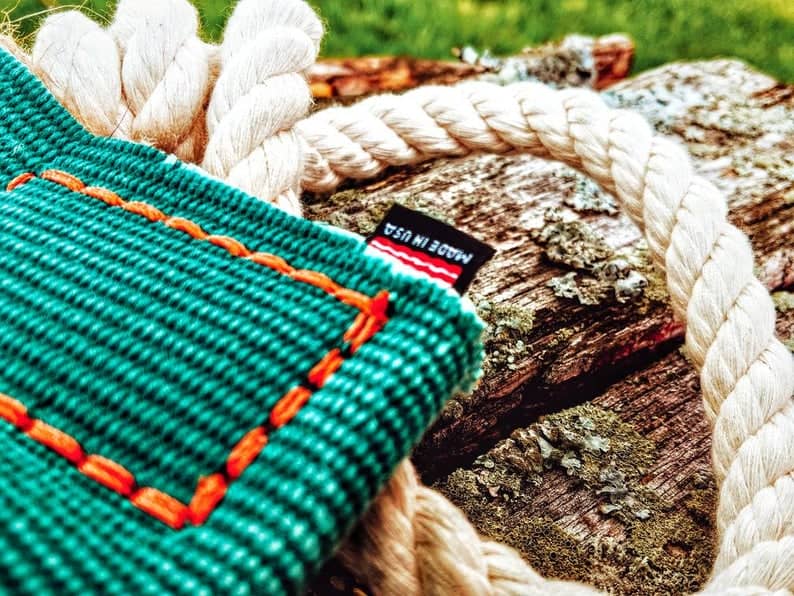 These toys are so neat, and they're actually designed for "spirited interactive play."
They're made from recycled firehoses, making them perfect for eco-conscious dog lovers.
Since they're super durable, they're fantastic for aggressive chewers.
If you love these, you may want to check out some more of the Best Dog Chew Toys For Large Dogs.

3. Squeaky Fruit Toy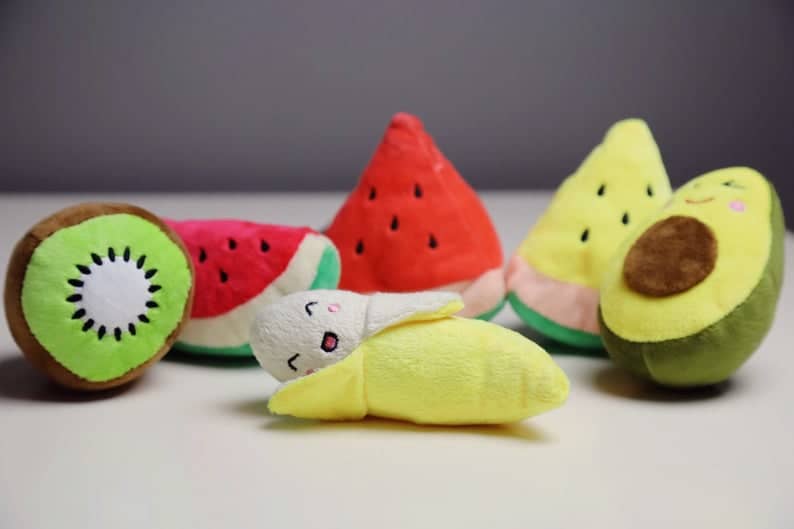 This is one of those toys your dog won't get enough of.
They are cute, come in eight different cute fruit varietes!
The squeaky toy will keep him entertained for hours at a time.
That said, they're not exactly durable enough for aggressive chewers.
So, if your pup loves to unstuff every new toy he gets, you may want to stick with cheaper options.
You can find these on Etsy!

4. Dog is Good Play The Field Gift Pack
If you're looking for a set of cute gifts for dogs that are perfect for any occasion, this box is cute!
It comes with 4 fun little toys, including two plush and two tennis balls.
The plush ball is just right for an indoor game of fetch on a rainy day!
Again, though, these are really made for super chewers!

5. Custom Dog Bandana
Every explorer needs a cute bandana, so this one will make the perfect gift.
They come in 4 different bandana colors and 11 different thread colors.
Plus, choose from three different sizes so you can find the perfect fit for your pooch!
YaoYao Personalized Dog Bandana Handmade Custom Dog Scarf Cotton Breathable Puppy Kerchief with Adjustable Bandana Bib Embroidered with Dog Name L for Large Dog
[4 Sizes & 4 Colors Available] There are 4 sizes from XS(6''-12'') to L(13''-24'') and 4 colors (Blue / Dark Blue / Pink / Light Yellow), which is appropriate for most dog breeds. Just selected the favorite and most suitable one for your dog.
[100% Cotton Fabric, Soft & Comfy] Made of 100% cotton, the dog bandana features ultra softness, smoothness and comfort, effectively protecting puppy's skin and making him/her feel comfortable and relaxed.
[Easy to Wear] The dog bandana bib is specially designed with a quick release buckle which is knitted and adjustable. Just release the buckle and circle it on dog's neck, then close the buckle. The process is really simple.
[Custom Name Embroidery] The dog scarf can customize dog's name. And the name embroidery and stitching of the scarf are so exquisitely handcrafted that your lovely dog will look quite pretty and adorable on it.
[Multi Functions] The dog kerchief can not only dress up your dog, but also can stop him from scratching on his neck, ensuring both nice look and security.
NOTICE:We have to stop shipping from January 24 to February 5 Due to the Spring Festival. All orders during this period will be shipped from February 6 to February 7. We are sorry for the inconvenience.
6. Christmas Stocking with Toys
Because dogs celebrate Christmas with us, this stocking from Amazon will make them very happy.
They are filled with fun toys, and you can hang them along with yours!
I actually buy several of these during the holiday season and give them to my dog throughout the year.
Hey, she doesn't know that Santa and snowmen are supposed to be seen only in the winter!
7. Dog Birthday Treat Goody Box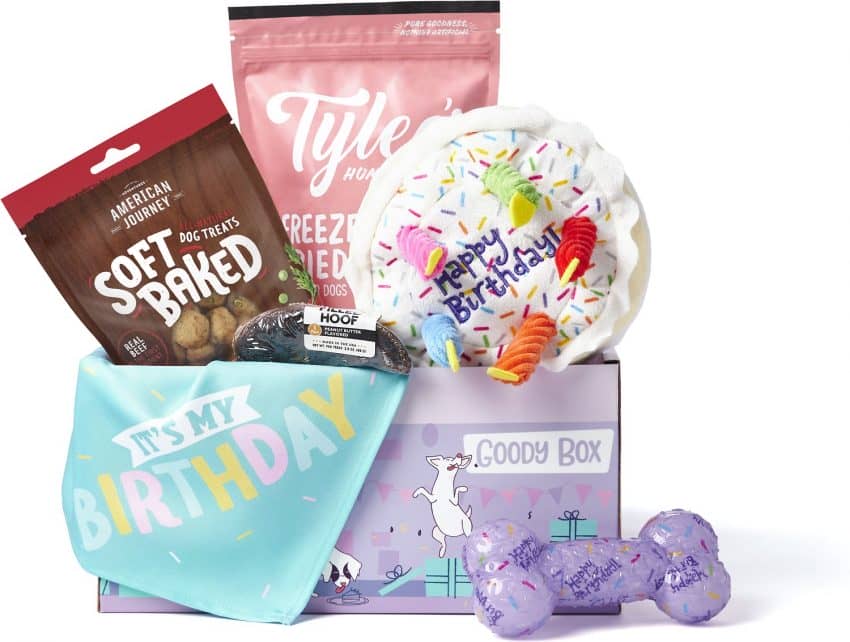 This is the perfect gift box for any dog's birthday!
I love that it's filled with a variety of different goodies.
You'll get toys, treats, and even a cute bandana all in one package!
You can find in on Chewy!
If you're looking for a holiday-specific one, check out our favorite Christmas-themed dog treats.
You'll find a holiday goody box on that list!

8. Personalized Dog Blanket
Talk about holiday coziness!
This personalized dog blanket may just become your pup's favorite accessory.
You have five personalization options, as well as the possibility to add something custom to it, according to your preferences.
You can find in on Etsy and order it right now!
By the way, we shared more of our favorite dog blankets here if you need more ideas.

9. Macarons Treats
As expected, dogs LOVE treats.
These ones are made to resemble macarons, so they will assure one of the fanciest treats.
They also have added collagen to help support healthy bones and joints.
That makes them the perfect gift for older dogs!

10. Interactive Snuffle Mat
This interactive dog toy is exactly what your dog needs in order to be happy!
Snuffle mats encourage nose work and engage your dog's mind.
This one is among the most affordable, making it the perfect first snuffle mat.
If you find that your dog really loves it, you can always buy larger ones later.
Xiaohudui Snuffle Mat for Dogs Treat Interactive Puzzle Toy Machine Washable Nosework Blanket for Feeding Medium Large Dogs, Feed Game for Boredom
Interactive Dog Training Toy - By guiding your puppies to find snacks or dog toys, the snuffle mat for dogs/cats can release their extra energy,10 mins sniffling like 1 hour running, improve the ability to deal things, interactive dog toys enhance the feelings between you and your dogs
Get more Healthy - Most of doggies have stomach problem due to eating too fast, our slow eating snuffle mat can slow doggies eating speed and train a good eating hobby
Safety & Environmental - Our dog puzzle toy snuffle foraging mat made of harmless and odorless felt, oxford and non slip pad, make sure your puppies' safety when bringing them happiness
Durable and Portable - The dog snuffle mat can be packed with a minute, as long as you guide their behavior correctly in the early use, snuffle mat can be used for a long time and you will find your dogs become much more intelligent
Enough Size for Large Dogs - The size of nose work blanket snuffle mat up to 18.8 x 18.8 inch when expending fully, such great interactive puzzles toy for dogs
These are some of the best gift ideas for dogs, and you can now easily prepare for the holidays!
All of these gifts are also perfect for other holidays and occasions throughout the year, of course.
What are your favorite gift ideas for dogs? Share below!
Last update on 2022-06-16 / Affiliate links / Images from Amazon Product Advertising API