This post is sponsored by Hill's. I am being compensated for helping spread the word about Hill's® Science Diet® Perfect Weight 10 Week Turnaround, but DogVills only shares information we feel is relevant to our readers. Hill's Pet Nutrition, Inc. is not responsible for the content of this article.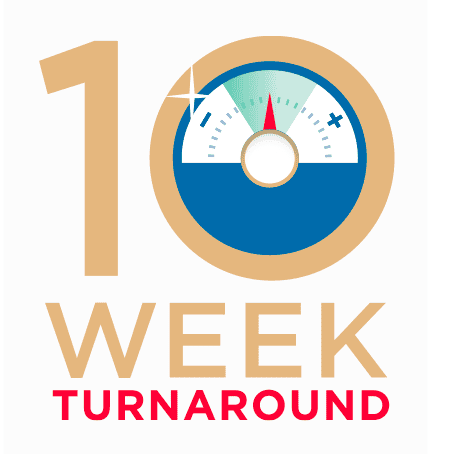 Remember a couple of week's ago we told you about finding out if your dog is a healthy weight and how Hill's® Science Diet® Perfect Weight can get you there? If you need a refresher, the most startling statistic was this: more than 50% of pets are overweight! Hill's Science Diet is a specially formulated food for both dogs and cats designed to help get them back on track with its breakthrough blend of natural ingredients. In fact, 70% of the cats and dogs who used the food lost weight within 10 weeks.
Today, I'm sharing with you some tips on how you can create a routine to achieve a healthy weight for your dog. You can't really buy your dog a gym membership or a treadmill, can you? Well, maybe in SOME cases you can, but for the average dog parent, that's not feasible. You'll need to come up with your own routine that works for you and your dog.
Tips for Creating a Routine to Achieve a Healthy Weight
You also don't have to go all crazy with scheduling every moment of your dog's day to achieve a healthy weight. You can use this handy 10 Week Turnaround Calender from Hills to help you come up with your strategy: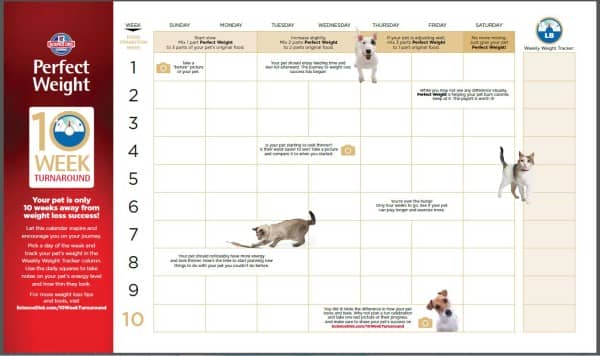 I have three dogs. Two are almost 14, one is 8. Their daily routine goes a little like this: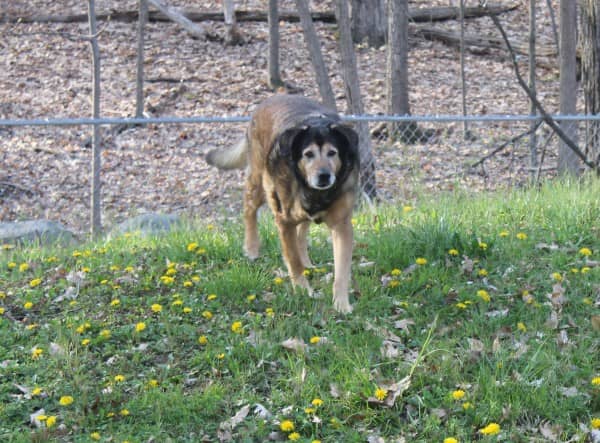 8AM: Wake up and outside bathroom time in the fenced-in yard
8:30 AM: Breakfast using a measuring scoop to ensure they get the right amount. I also watch Cooper, because he'll eat everyone's food if they look away for a moment!
9:00 AM: Dogs get a workout jumping up and down barking at the stray cats outside that we feed.
10-4 All three dogs run in and out all day, engaging in highly important activities like barking at wildlife, the UPS man and helicopters over head. Cooper also chases crows in the sky. Crows are his arch nemeses.
4PM- I pick up my son, Maia gets a workout greeting him.
5PM- Dinner, again with a measuring scoop.
Where are all our walks? Winter hasn't been kind to us here in the Poconos, so they were put on hold quite a bit this season. If spring ever arrives, I'll alternate the dogs with visits to a new dog park in our area, where the hills won't kill my back. I also give my pups treats. I was probably giving them too many. I check out this great Treat Translator from Hills and it's really opened up my eyes.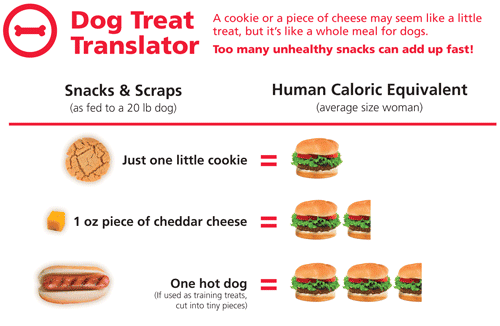 As I said earlier, YOU need to decide on the right routine for you and your dog. Your vet can help, but ultimately, it's up to you to choose something that you can stick to if you want to achieve a healthy weight AND maintain it. Don't promise yourself, your dog and your vet that you'll go for daily 6-mile jogs when you know you can only walk around the block.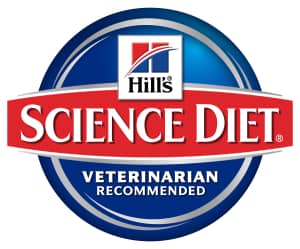 Exercise is important, but it's only one part of the equation. It's also the easiest to work into your schedule. A game of fetch is often enough to keep your dog engaged and moving! In her youth, Tasha could play for hours! The right attitude and food are also important. The attitude is all up to you, your dog will follow your lead. As for the food, Hill's Hill's® Science Diet® Perfect Weight dog food with its 100% precisely balanced nutrition can help get you on the right path.
Find more information about Hill's Science Diet Perfect Weight for dogs (and cats!), then head to Pet360 and find out how you can save on orders when you autoship it.
What is your routine like with your dog? How do you help ensure your pup maintains a healthy weight?