As a change of pace, I thought it would be fun to share my dog adoption story with you and tell you how Cooper came to our family. I shared a bit about Cooper's particular weight challenges in our post about the best dog food for weight management, but now I'd love to give you the whole story!
About seven years ago, we decided we needed a third dog. See, we got Tasha and Maia back in 2001 within weeks of each other. They were growing up together and incredibly close. My mom (who lives with me) was worried that if something happened to one of them, the other would be terribly lonely. I realize that sounds like Cooper is kind of a "spare" dog! We also thought a younger dog would be great for my son, who was turning two that year.
My Dog Adoption Story: Searching for the Right Dog
Our search began months before finding Cooper. See, I wasn't totally on board with the idea of a third dog at first. Our other two were already trained and older. I had a toddler to look after and was basically a single mom. I thought it would be taking on too much responsibility to add a puppy to the mix! So I got super picky. If I was going to take on another dog, it had to be THE dog, the perfect dog for my little boy.
We searched high and low. We checked out ads in the paper, pored over local rescue websites. We even went to check out an adorable Lab/Beagle mix that I fell in love with. Sadly, she did not fall in love with my son and I had to pass on her. I cried all the way home. Actually, I cried for weeks, because I felt so bad that we couldn't take her. We continued searching. Then one day my mom saw an ad for a Collie at a Humane Society about an hour away from us. Our Maia is a Lab/Collie mix, so it sounded like a good fit.
When we got to the place, we checked out the girl. My mom loved her. I wasn't so sure. I just wasn't feeling the bond with her for some reason. Turns out she was meant for another family: one that had recently lost both a husband/father AND their beloved Collie. I said I needed to take a look around a bit more. We headed to another section, where the workers pointed us towards a female lab in a cage. As I went to look at her, a handsome black and white dog quietly stepped in front of her and looked at me. He just looked at me, with a quiet "take me please."
I knew in a moment that he was the one. I can't tell you exactly what it was about him. He just looked at me and it was over. It's funny because we were set on getting a female, since we had two girls already. I took him for a walk around the property and bonded with him before we got back. I was in love. It was over.  We took him home that night. Cooper is a mystery dog! We've never quite figured out just what breed or mix of breeds he is.  The vet thinks he's a Border Collie and Lab mix, but he's on the big side. He has a deep hound dog bark.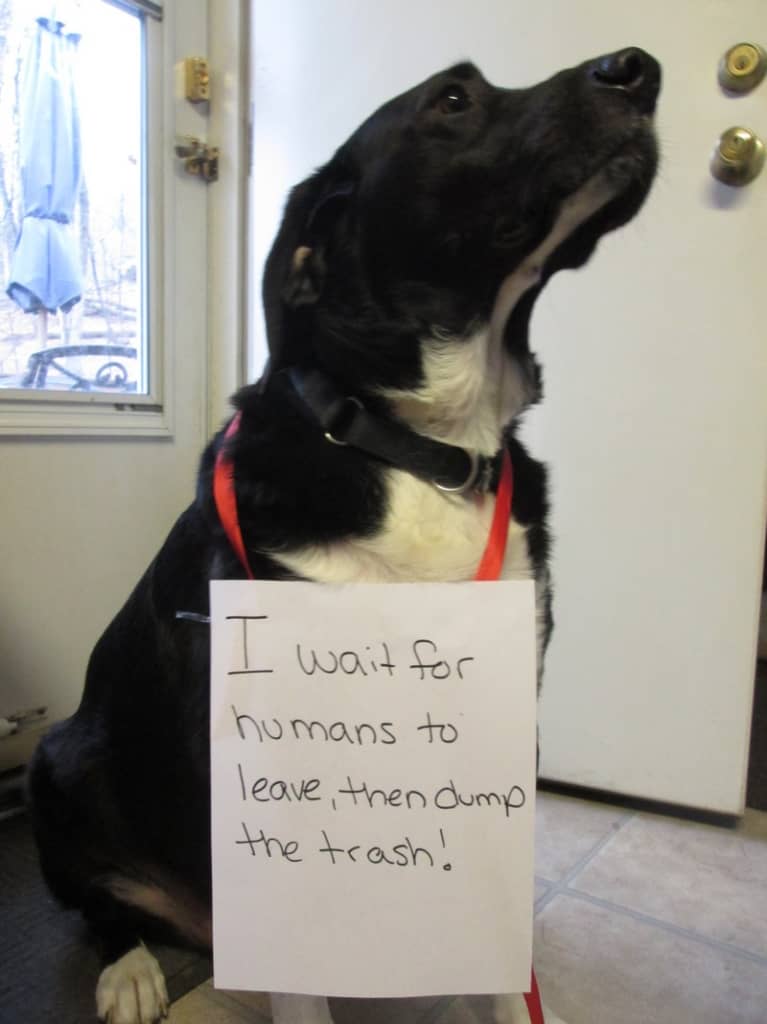 Cooper spent the first six months of his life in a cage with ten other puppies. He was at a kill shelter in Ohio before the Pike County Humane Society rescued him. He had some issues in the beginning. He chewed everything I owned! He talks back quite a bit too! If we don't put the garbage up at night, we can expect to find it strewed across the room in the morning. He steals cat food, human food, probably even bird food! But he's a good dog and we love him. When my grandmother died, Cooper sat with me for hours with his head on my shoulder. He makes me laugh with his deep bark and chatty disposition. I am grateful every day that I found him. He is my son's dog in every way, and there is nothing more magical than a boy and his dog.